Orange Bridesmaid Dress
I'm continuing today with working my way through the rainbow of colors for bridesmaid dresses. Last week, we had a poppy red bridesmaid dress, so today we have orange! An orange bridesmaid dress certainly has a lot of pop and visual impact.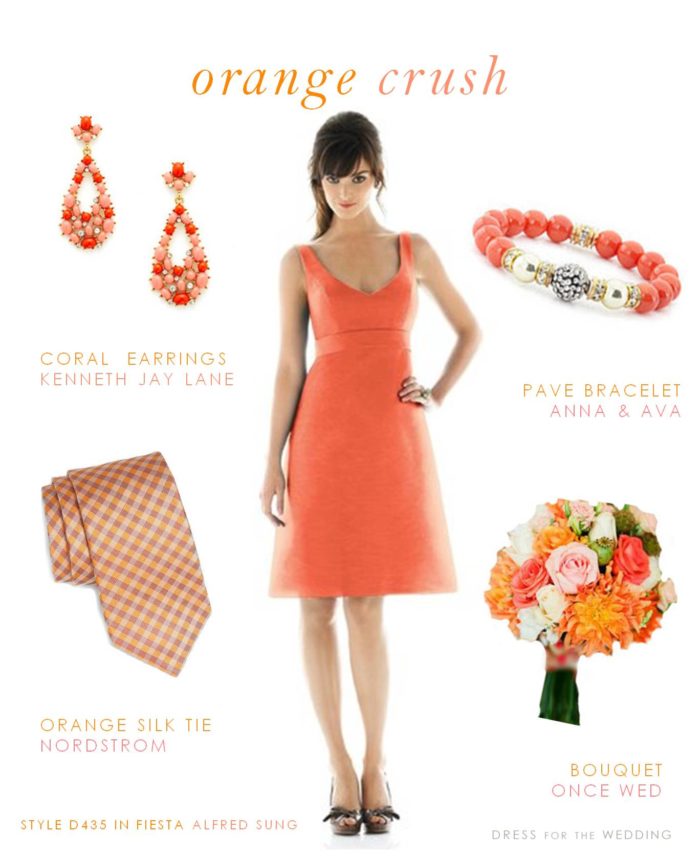 Alfred Sung Style D435 Bridesmaid Dress in Fiesta from Weddington Way / Kenneth Jay Lane Orange and Coral earrings /Anna & Ava Pave Ball Bracelet  /Orange bouquet image via  Once Wed /Orange Woven Silk Tie from Nordstrom 

While it may seem like a bold color choice, from the images I've seen of orange weddings, this color actually looks great on many skin tones,  and orange in general adds an invigorating feeling to a wedding and can stand alone or be an accent to so many colors.
If you're planning on an orange themed wedding, my orange wedding Pinterest board is full of pictures and ideas for you. For this collage I found that this dress ( the color is called Fiesta -- how fun!) looks best with white, yellow, pink, and even a touch of green or turquoise blue. I started accessorizing in all orange because that was my plan initially to show monochromatic collages of  dresses and accessories so that that the bride-to-be could choose the right concentration, but all orange was just too much to even look at in theory. Trust me -- it was bad!
Instead, I decided on orange with a little bit of pink and coral for accessories, and a tie for the groomsmen, and I'd suggest some neutral gold or tan shoes. Check out that lovely bouquet for some more color ideas -- see how well all those colors play off of the citrus orange?
If you like this style of dress, but orange isn't your color, this style comes in a whole rainbow of colors and can be found through Weddington Way, or if you'd love this fiesta orange color, but want different styles, there is that option too!
I hope this collage have given you a little "crush"  on this inspiration! I also have a full collection of bridesmaid dresses by color on this shop page. Find more orange dresses for bridesmaids here!