Sponsored post. This post about Party Outfit Ideas has been generously sponsored by Nordstrom. Affiliate links are also used in this post and in the shopping sections of this article.
Party Outfit Ideas from Nordstrom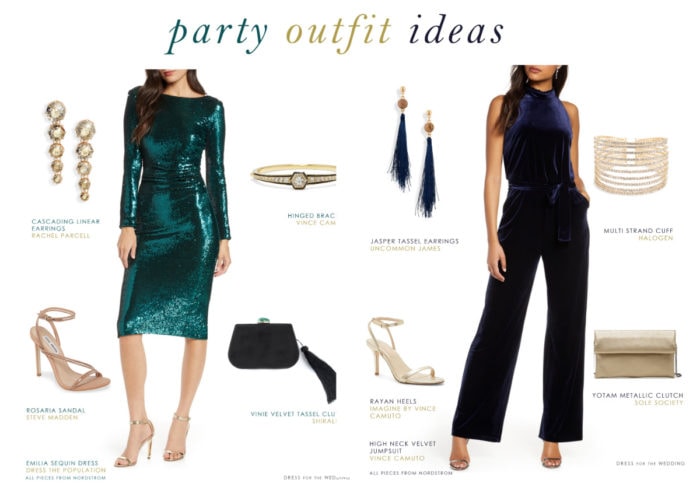 The holiday party season is almost here, and Nordstrom is one-stop shopping for everything from winter outfits for your whole family, cold-weather essentials, and holiday gifts for everyone on your list.
During this festive season, Nordstrom is the place for party outfit solutions with their huge selection of cocktail dresses, hostess gifts, and beauty products to get glammed up for special events!
Right now, the legendary Nordstrom Fall Sale is also on now through November 17th, so it is a great time to stock up on fall outfits, beauty products, and all the amazing deals on brand names before they sell out.
Here are a few of our picks from the cocktail and party looks Nordstrom has to offer for the season, accessorized with jewelry, handbags, and shoes. Nordstrom is the spot for head-to-toe style for everyone!
Long-Sleeved Emerald Green Sequin Cocktail Dress
This emerald green sequin dress is the perfect balance of classic and dramatic style. Sequins are always a great idea for a party dress, and even more so when presented in this form-fitting silhouette with a deep low back. The dazzling color and fabric is balanced by long sleeves, ruching, and a mid-knee length.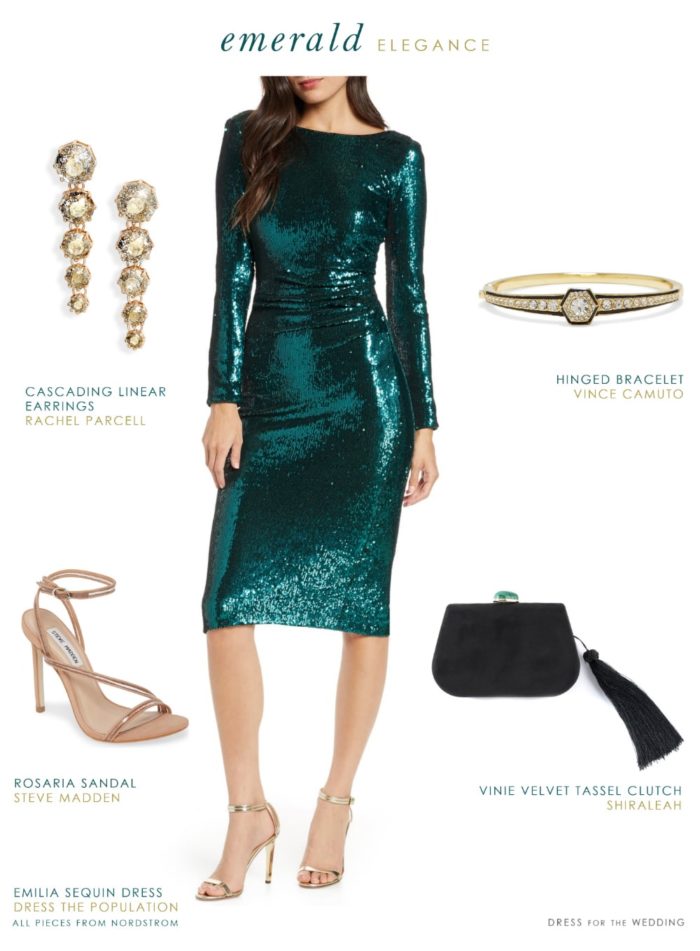 Emerald Green Sequin Dress: Emilia Sequin Long-Sleeve Cocktail Dress from Dress the Population from Nordstrom | Gold Earrings: Cascading Linear Earrings by Rachel Parcell from Nordstrom | Gold and Black Bracelet: Hinged Cuff Bracelet by Vince Camuto from Nordstrom | Velvet Clutch: Vinie Velvet Tassel Minaudière by Shiraleah from Nordstrom | Strappy Heels: Rosaria Sandal by Steve Madden from Nordstrom
This classic sequin dress by Dress the Population also comes in several other colors. Even though the dress we're showing here, Emilia, is sexy little dress, the high neck, and long sleeves and stretch make this sheath also company-party appropriate.
If you love this color and want an even more form-fitting style, try the more body-con version of this dress called Natalie. There are also a few dresses in this same emerald sequin color scheme: a spaghetti strap fit and flare called Mimi, a long evening gown style called Jordan.
All of these dress options are the reason Dress the Population is one of our favorite labels for special occasion cocktail styles. We also love this brand because all of their sequin dresses are fully lined so there's none of that sequin scratch, and they usually have a bit of stretch! We also love their velvet styles, long gowns, and sequin lace fabrics.
Accessories for a Green Sequin Holiday Dress
We paired this emerald green cocktail dress with gold, black, and neutral colors, and a velvet clutch that has a green malachite clasp that perfectly picks up on the green in the dress.
We ended up with a neutral strappy heel by Steve Madden, but we also considered a pair of sequin shoes like these Badgley Mischka Daisy pumps for even more sequin from head-to-toe.
When selecting make-up, we think pairing the green dress with bright cherry red lipstick like this special holiday edition of Lancome lipstick gives an appealing contrast.
Shop The Look

Navy Blue Velvet Jumpsuit
Jumpsuits are one of our favorite options for this holiday and party season! If you don't like wearing dresses -- or just want to change up your look -- a jumpsuit can be the way to go! Velvet is the fabric for the winter season because it has winter party style in spades and the added benefit of a little warmth!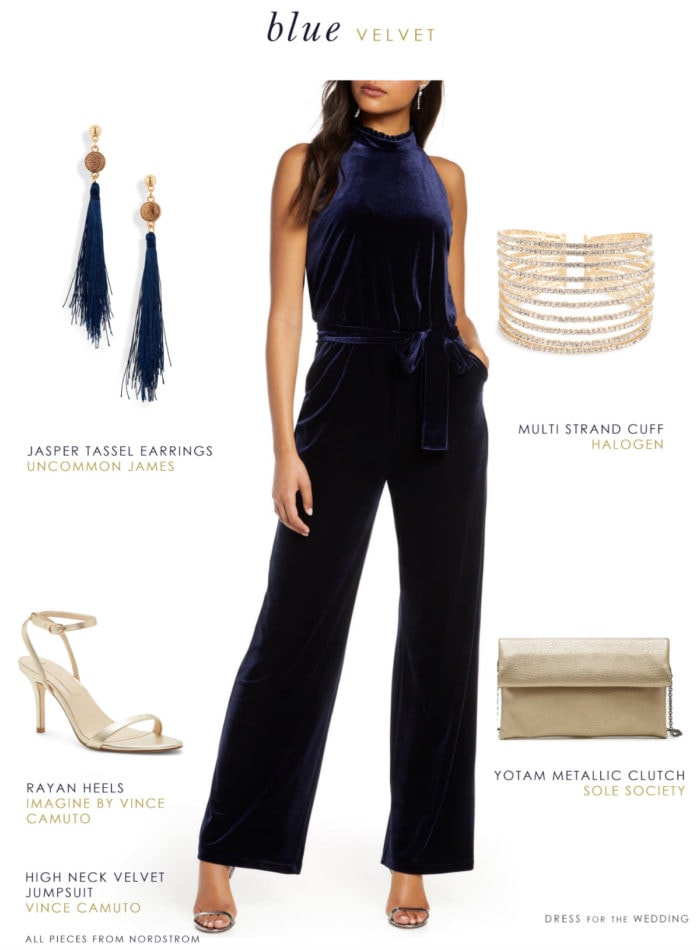 Navy Blue Velvet Jumpsuit: High Neck Sleeveless Jumpsuit by Vince Camuto at Nordstrom | Tassel Earrings: Strawberry Fields Jasper Tassel Earrings from Uncommon James by Kristin Cavallari at Nordstrom | Bracelet: Multistrand Flex Cuff from | Bronze Clutch: Yotam Metallic Faux Leather Clutch from Sole Society at Nordstrom | Shoes: Rayan Ankle Strap Sandal by Imagine by Vince Camuto at Nordstrom
This jumpsuit is by Vince Camuto, one of the brands Nordstrom carries that always has modern classics. Vince Camuto is a stylish brand that always finds the balance the best of new trends and clean lines into high-quality clothing. Vince Camuto is also known for its great accessories, women's work clothing, and great shoes!
Styling a Navy Blue Jumpsuit
Jumpsuits are perfect for events where you might be slightly unsure of the dress code. They have a relaxed look to them, but can also easily be just as formal as an evening gown when worn with the right accessories. To make this jumpsuit ready to party, we've added some gold pumps, a clutch, some tassel earrings to match the navy and bring attention to the face, and added a crystal statement cuff to show off the arms and contrast with the high neckline.
Shop the Look

One Stop for Style for the Holidays and Party Season
One of the best things about the holiday season style is that nearly every invitation and get-together brings an opportunity to dress up festively!
Here are a few of the other amazing party dress brands at Nordstrom to check out depending on your holiday style goals.
Eliza J has loads of amazing party dresses and plenty of winter styles from sweater dresses, to elegant velvet dresses in classic silhouettes, and formal gowns with a great range of sizing.
City Chic has a fantastic selection of size-inclusive cocktail dresses in new holiday styles and velvet and lace fabrics.
Lulus is one of our favorites for affordable black tie gowns and special occasion styles, as well as cute fit and flare dresses, and fitted cocktail dresses in gorgeous winter colors.
With Nordstrom, there are party styles for the whole family, every body type, and all in one place making it easy to get all the brands you love with a few clicks and delivered to your doorstep. Nordstrom offers free shipping and free returns as well!
When you shop, be sure to join the Nordy Club to get more benefits. It's free to join and easy to start accumulating points. If you are or decide to become a Nordstrom cardholder, you'll earn bonus points even more rapidly!
Shop More Party Outfits from Nordstrom
Get ready to celebrate! Here are more ready-to-party looks from Nordstrom. Shop now for the best selection, because like a party guest on the go, these holiday party dresses don't stay long!

Sponsored post. This post about party dress picks has been generously sponsored by Nordstrom. Affiliate links are also used in this post and in the shopping sections.