A navy lace dress with deep red accessories make up this fall wedding guest style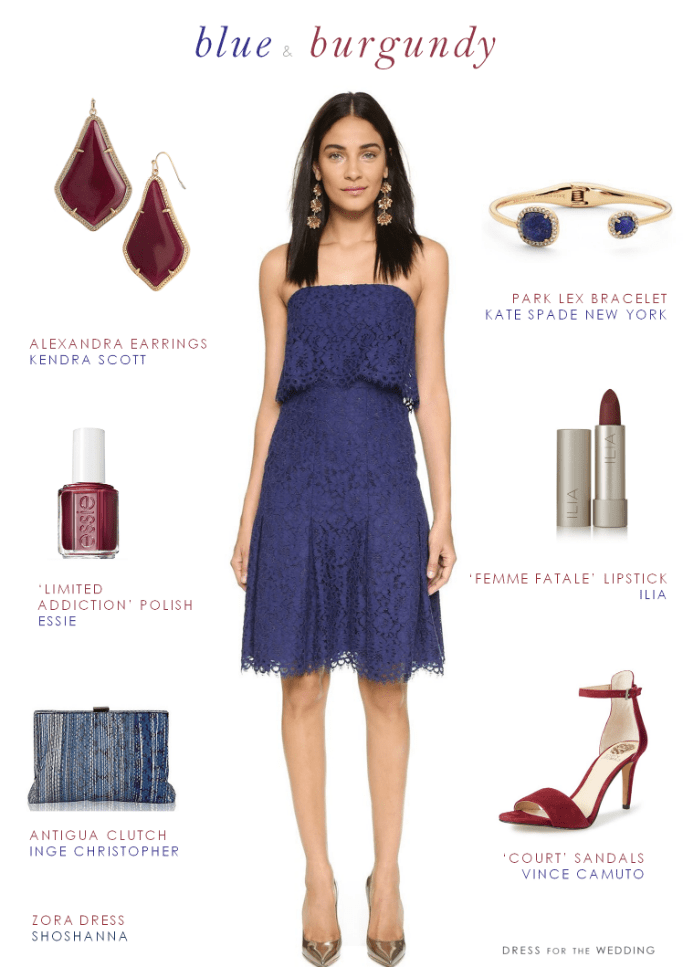 Sponsored shopping links in are underlined and in italics: Dress: Zora Lace Dress by Shoshanna from Shopbop want a non-strapless version? Try the Mariah Lace Dress | Earrings: Alexandra Earrings in Maroon Jade by Kendra Scott at Nordstrom | Bracelet: 'park lex' station cuff in Blue Lapis by kate spade new york from Nordstrom | Lipstick: Femme Fatale Ilia Lipstick from Net a Porter | Shoes: 'Court' Ankle Strap Sandal in Chianti by Vince Camuto at Nordstrom | Clutch: Antiqua Clutch by Inge Christopher from Bluefly | Nail Polish: 'Limited Addiction' red nail polish by Essie from Nordstrom
Sometimes it takes a look at your Instagram feed to show you that you've been stuck in a color rut - and apparently mine has been gold, purple, and pinks. It's not a bad rut to be in, but it's time to change things up ! Today, I'm sharing a look that I think will work for semi-formal fall wedding guests, featuring two of my favorite fall colors; deep blue and burgundy.
Navy Blue and Burgundy Outfit
Speaking of things I'm stuck on, have you noticed that I can't help but put Kendra Scott accessories in every post? I can't help it, I'm not sure that I can promise that that behavior will stop anytime soon. I've always been a fan because these pieces can be worn during the day, but make a statement for night. Now my fandom has been upped to super-fan, because the colors and sizes in this newest collection just look right with every dress I like right now.
Blue Lace Dress with Burgundy Accessories
Okay, on to the dress - I love this popover style, and I love Shoshanna dresses in general, and I think seeing it in a strapless dress and in lace is a fun new twist. I really, really love the gold oversize earrings shown in the Shopbop styling, but again, I'm focusing on some burgundy colors here. Gold always works, but burgundy is a bit more of a statement. These accessories I'm showing here can individually become fall wardrobe staples after you've worn them to that fun September or October wedding.
If this is too matchy for you - add in another color like emerald, or gold, or bronze, but I love this pairing of dark blue and burgundy and really wanted to run with it. I've also updated the shop with some fall wedding guest picks and more dark blue dresses for those who are seeking those styles!
Links underlined and in italics and images in the shop section are from our affiliate retail partners and sponsors, meaning that this blog may earn a small referral commission if a qualified sale is made. Have fun, happy shopping!



More style ideas you might enjoy :