Mint and Gold Dress
This time of year, I tend to get into the rich and dark colors that I equate with the season, but every few days I feel like I need to lighten it up and get back some of the bright and light colors. Today I'll be doing just that with some mint and gold style inspiration.
Image by Kate Holstein via Magnolia Rouge
I'm also going to start a slightly new post type (who knows if it will be a series or a sporadic thing -- knowing my creative bursts, my money is on sporadic thing).  In these posts, I'll seek out a dress from some of the wedding images that inspire me (like the one above), and either attempt to recreate the look or create a new style idea from that inspiration. With any luck it will feature some of the dresses you have been pinning, dreaming about, and trying to find too!
I'm starting with one of my absolute favorites - this image above of bridesmaids wearing this mint and gold dress by Shoshanna. Every time I see this dress image floating around Pinterest it makes me happy, and I have the urge to pin it even though I already have several times! I've had my eye that dress on all year - it's an appealing mix of minty aqua with gold flecks - so right there you have 3 off my favorite things - mint, gold, and dots! Here's one way to style it: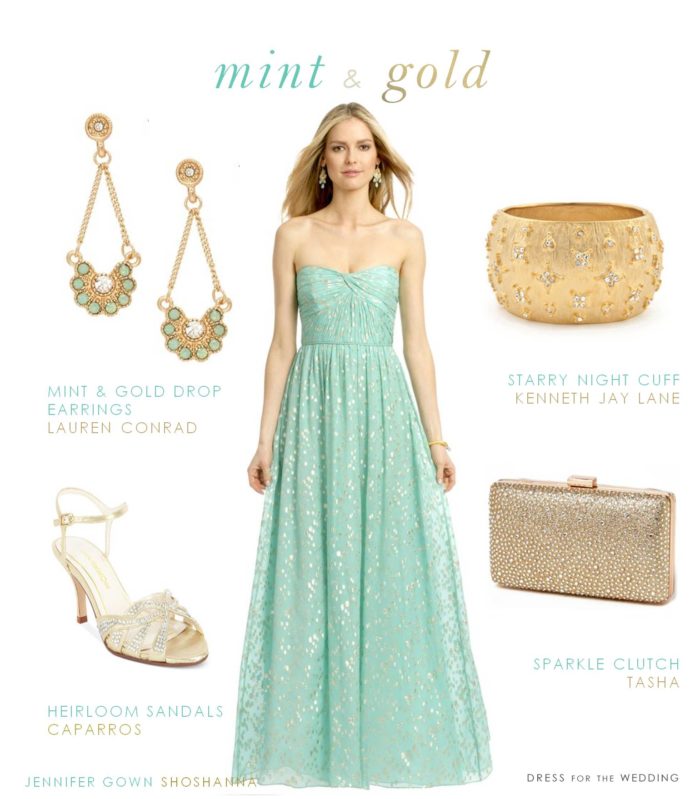 Shoshanna Jennifer Maxi in Mint / Mint and Gold Drop Earrings by Lauren Conrad /Starry Night Cuff by Kenneth Jay Lane at  Rent the Runway / Tasha Textured Sparkle Clutch / Caparros Heirloom Sandals in Gold
If you ask me, a muted mint and gold could work really well for a winter wedding, although for some reason, I can't make this particular dress go that direction ( probably because the strapless looks cold to me - adding a gold shrug would work!) This combo as I've styled it looks spring or summery to me. I also absolutely would love to see these colors for a beach wedding, and it could also suit a wedding guest dress for a summer formal wedding or a formal beach wedding. I played up the dotted pattern of the dress by echoing it in the bag and shoes and cuff - giving a little texture, although this dress doesn't need much to stand out. A pair of simple gold sandals and some earrings is almost all you need!
If you love this dress as much as I do, you have a few options although they each have some limitations - Rent the Runway carries it, so you can rent it for $100, Shopbop used to carry it, but I think it may be sold out ( but they often restock things in other seasons), and Shoshanna had it on sale, but when I looked it was nearly out of stock there as well. Renting might be the only option, and if you're set on owning it, sometimes Rent the Runways sells off their stock. In any case, it's fun to see on the Rent the Runway site to see how others wore it. You'll see that I'm not alone in loving this dress, and it seems to love people right back!
Don't forget to follow me on Pinterest for more inspiration I have an entire board for mint weddings!
Also check out these pages: