Pretty Peach and Champagne Bridesmaid Style
What do you get when you combine peach and a little champagne or prosecco? A peach bellini! That tasty concoction is the inspiration behind the color pairing in today's style post.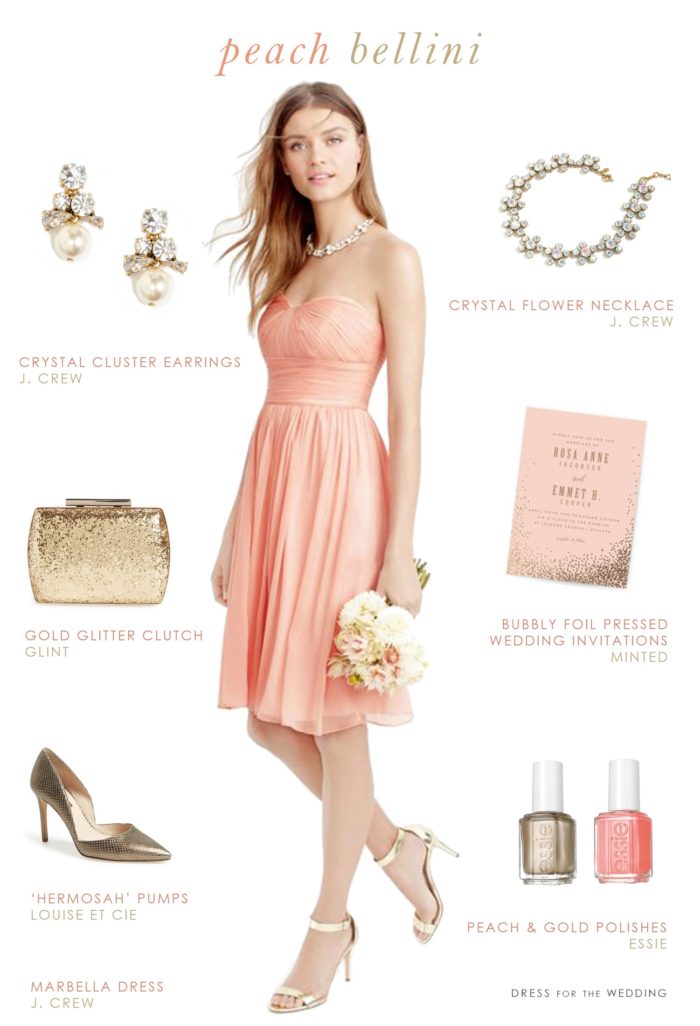 Shopping links are from our sponsors and affiliates. Dress: Marbella Dress in Misty Rose by J.Crew // Earrings: Pearl Cluster Earrings from J.Crew // Necklace: Crystal Floral Necklace from J.Crew // Invitation: Bubbly Foil Pressed Invitation from Minted // Nail Polishes in Peach Side Babe  and Good As Gold by Essie // Pumps: 'Hermosah' Pumps by Louise Et Cie from Nordstrom // Clutch: Glint Glitter Minaudiere
There's no doubt that spring weddings always put me in the mood for soft pastels. Peachy -pinks like this misty rose shade are like a sorbet cleaning our visual palate from the aftertaste of the darker winter tones. Ok, perhaps that's a bit of an awkward metaphor, but in other words, I'm excited to see a return to brighter summer shades!
This dress from the new J.Crew Spring Summer 2016 lookbook for bridesmaids is just one of the spring season's dresses that uses these soft colors to the best advantage. With J.Crew's signature clean, classic lines and beautiful fabrics as a backdrop, the collection shows a beautiful array of these colors that seem to be freshly picked. Adding the sparkle of gold, and some pearly and iridescent accessories to peach and pink give this color pairing some wedding-ready effervescence.
Peach Dresses Shop The Look

More looks you might love:
Shopping links are from our sponsors and affiliates.