Yellow Wedding Ideas
Hi friends! Happy April! This month is going to be something else, and by something else, I mean it will be FUN! Before I share today's style idea, I just wanted to let you know of some changes for the next few weeks ( this isn't an April Fools Day thing, I guess my timing is off 🙂 ) I have some travels planned for the first few weeks to places where I know my little portable WiFi definitively doesn't work, so I'll be at the mercy of yet-to-be-determined internet connections, so my posts might be a little more sparse than usual. To my wonderful blog friends and visitors who always leave such nice notes and comments, I hope you'll all bear with me, but I might not be able to drop in and reciprocate as much for a few weeks but be assured I'm still thinking of you and I'll be keeping up with your posts and pins and whatever I can see from my phone!
I'm looking forward to my time back out in the world after a hermit-like existence this winter. It's actually what I had in mind when I started the blog; that I'd be out and about being inspired and sharing ideas, and then posting inspiration as it happens.  Somehow I've defaulted to the mode of managing to-do lists and getting things done for the sake of having something checked off the list, and that's not the direction I want to go in. So this spring I'm going to try to get out there more and bring you things more naturally as they inspire me more  instead of rushing to post something that is half-done. Don't worry, there will still be tons of dresses and style ideas, just at a different pace and maybe a different perspective!  And there's also another fun adventure in the works, but I'm not quite ready to share it yet. ( Just want you to know I'm not slacking and eating the proverbial bon-bons 🙂 )
In mid-April I'll be heading to NY Bridal Market again, and I am already planning to see so many great lines that I know my readers love. I couldn't be more excited for that. If you can't wait to see what's next in wedding dresses, be prepared for tons of images from current collections starting right around April 11th.  I actually got up to speed and started using Instagram more frequently so that I can all the views of bridal market and other fun sights more readily, so follow along there for the fun! Ok, enough housekeeping! Here's  today's "real" post!
Yellow Wedding Details
I know last week I said yellow is the color of March for me because it's the month of daffodils, but even now that it's April, I really can't stop thinking about this bright citrus color. It must be some kind of sunshine deficiency on my part, or a sign of bright things to come with my new outlook for spring. To celebrate this cheerful shade, I've picked out everything for a yellow-themed wedding from a pretty lacy yellow bridesmaid dress, wood block invites, and my usual favorite focus: candy! It's a great color for spring and summer outside weddings.    If yellow is your wedding color scheme here are 8 ways to make it come to life.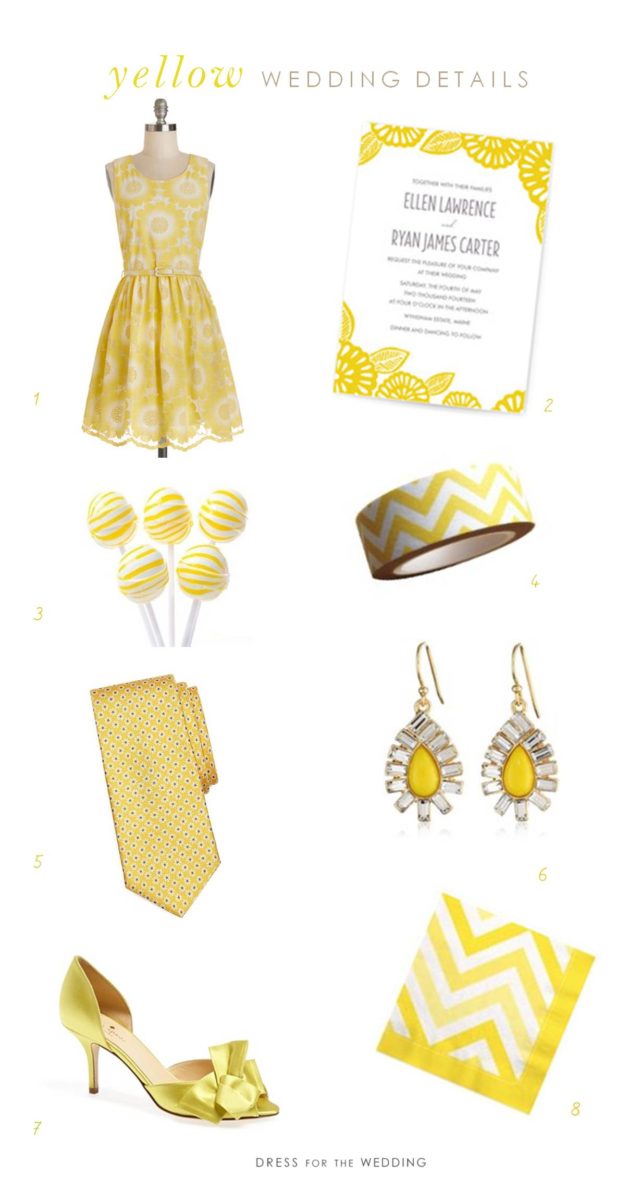 1. Bridesmaid Dress: Soiree of Light Dress by ModCloth 2.Invitation: Bold Block Print Wedding Invitations from Minted  3. Candy: Yellow Striped Lollipops  4. Washi Tape: Dress My Cupcake tape for Gifts and Favors   5.Tie: Panama Print Yellow Flower Tie by Brooks Brothers  6. kate spade new york capri garden drop earrings 7. Bridal Shoes: kate spade new york sala heels in yellow  8.  Yellow Chevron Napkins 
Want more Wedding Inspiration? Check out:
Yellow Bridesmaid Dresses in the Shop