Our tips for how to style a satin slip dress. Slip dresses like this gorgeous rust-red cinnamon satin gown are one of the freshest dress styles for the season. We'll help you find accessories and dresses to get this look!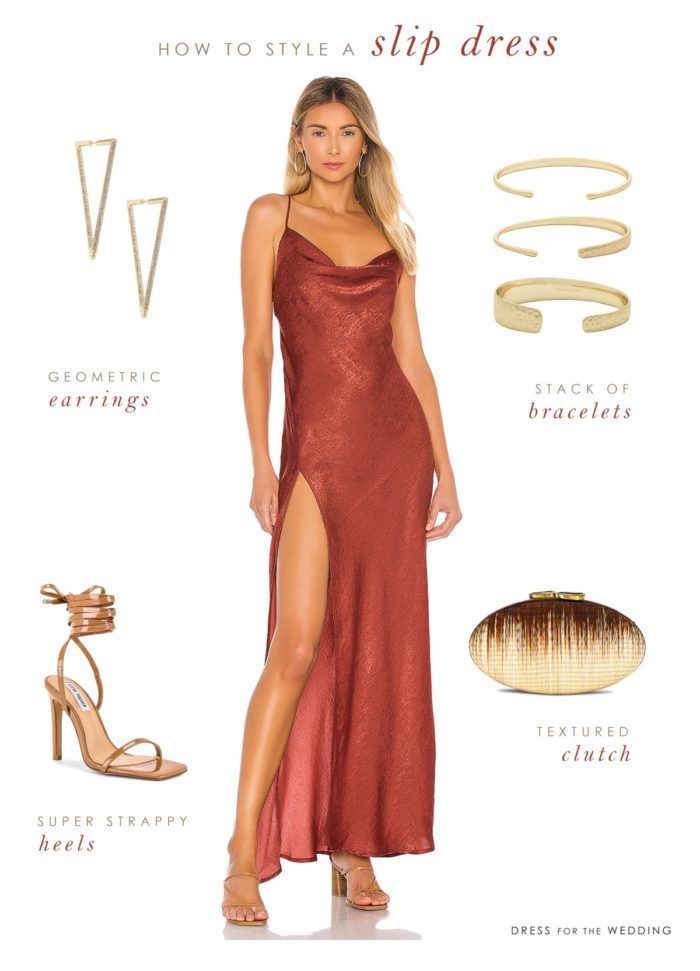 Shopping sources: Dress: River Slip Gown from Revolve | Earrings: Edie Earrings by Uncommon James from Revolve | Bracelet: Kendra Scott Tiana Bracelet in Gold from Revolve.com | Heels: Steve Madden Uplift Heels from Revolve | Clutch: florabella Porteno Clutch in Chestnut & Natural from Revolve.com
How to Style a Slip Dress
Be still our 90's style loving hearts - slip dresses are back! The style made chic in the 1990s by style icons like Kate Moss and other celebrities and models is back for the 2020s! The most wonderful thing about this gown is how clean and simple it is. It's a perfect fit for the modern minimalist styles we're seeing.
There are many ways to style a slip dress! In the 90s and now, we saw these strappy thin gowns contrasted with heavy boots and leather jackets. That look is still viable for everyday style, but maybe not so much for formal events. So, with that said, here's our take on how to style a slip dress for a wedding or formal event.
Satiny Slip Dresses for Wedding Guests and Bridesmaids
Satin dresses are nothing new at weddings; silks and satin have of course been a special occasion and wedding mainstay for years. However, an updated style of a slip dress is making a comeback in rich colors and with attention to both fabric and structure. We are seeing satin bridesmaid dresses as a popular look for wedding parties like these from the BHLDN 2020 Bridesmaid Collection. Satin slip dresses in a midi or maxi length are also a wonderful style for wedding guests!
This cinnamon maxi is styled for a formal or semi-formal wedding guest look. To our thinking, the key to styling a slip dress for a formal look is to highlight the delicate and luxe nature of a silk or satin slip dress but to include enough jewelry and some substantial pieces so the dress looks evening-elegant, but doesn't veer into the satin sleepwear style.
How to Accessorize a Slip Gown
Here, we've paired this dress with some geometric earrings that provide a nice linear contrast to the flowy gown. Some big bold chandelier earrings can work as well. For formal dressing, it can be good to think of the slip dress as a clean canvas to put some high wattage accessories against. We also have included some strappy-statement high heels, that echo and accentuate the spaghetti strap gown. A chunky stack of bracelets gives some delicate texture and weight to the expanse of the arm that this dress shows. Lastly, for a bit more textural contrast we've added a plush clutch in colors that play off of the rich rust coppery tone of this gown. A long necklace that breaks up the neckline is also an option.
The maxi length, cowl neck, bias-cut details, and leg slit also give this gown a look that is decidedly black tie. If you need some warmth, a gown like this pairs perfectly with an elegant topper, wrap, faux fur, or other warm top layers!
Shop Our Picks for Slip Dresses
If you're smitten with the slip dress style here are more slip dresses that are perfect for weddings and other formal events.
Commissionable links are used in this shopping section.

More Dresses to Love
You might also like these red dresses for weddings, fall wedding guest dresses, and formal gowns for wedding guests.
More style ideas you might enjoy :