Pink Eyelet Dress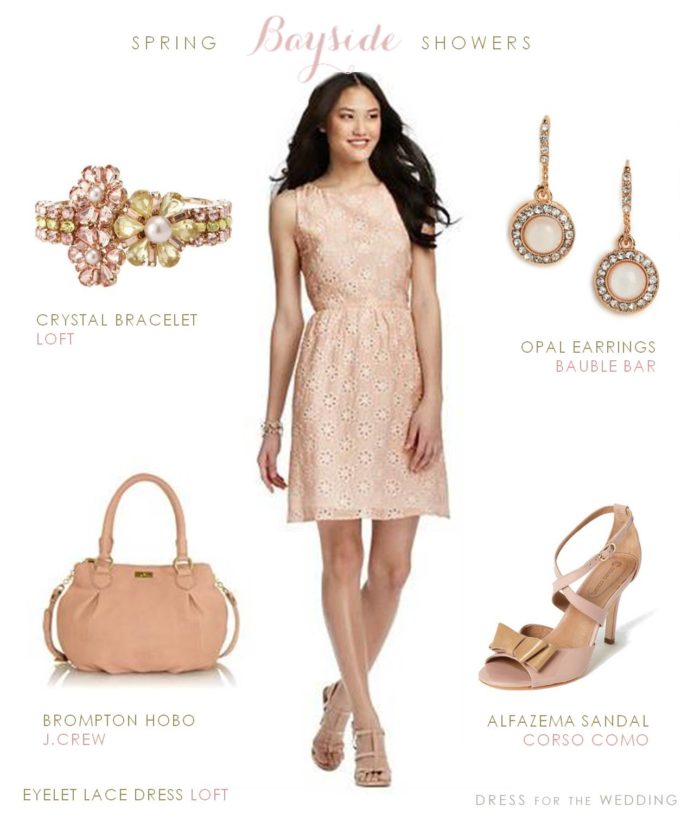 Floral Eyelet Sleeveless Dress from Loft  / Opal Frame Drops from Bauble Bar / Corso Como  Alfazema Sandal from Nordstrom  /Brompton Mini Hobo from J.Crew / Crystal Flower Hinge Bracelet from Loft
Pink Dress for a Bridal Shower
This post on a pink dress for a bridal shower was originally part of my monthly feature on Bayside Bride.
As the saying goes, "April showers bring May flowers," referring to the rainy spring season we're about to enter, and the pretty blooms that will result. April can also be the peak time for bridal shower season, since many of the brides planning for summer nuptials are having their showers right about now.  To prepare for the fun, I'll be showing a few dress options for shower guests and brides, as well as my take on great things to register for and to give.
I recently saw a comment on a fashion forum that was encouraging brides to wear white to all of the wedding events like showers, rehearsal dinners, and engagement parties. I love the idea of having the bride-to-be stand apart at those events–and all white certainly accomplishes that.  However, I also feel that if the bride wears white to all the events, it can slightly detract from the big reveal of  THE white dress on one's wedding day. (Not to mention leaving the bride with a lot of white dresses in her closet!)
Instead, I like the idea of the bride selecting a few little white dresses to wear for one or two events, but then picking up some other colors –perhaps your wedding's signature colors,  pale pastels, and colored lace–to wear to other events to still look suitably bridal.
With those thoughts in mind, I've selected this pale pink eyelet dress from Loft. I love the little lacey eyelet touches, and pink color. I picked up some sparkly accessories to make it special and paired it with blush and tan heels–a ladylike combination. Even though it's not white, I can see the bride being a standout wearing this at a bridal tea in her honor.
More style ideas you might enjoy :