Pink Dresses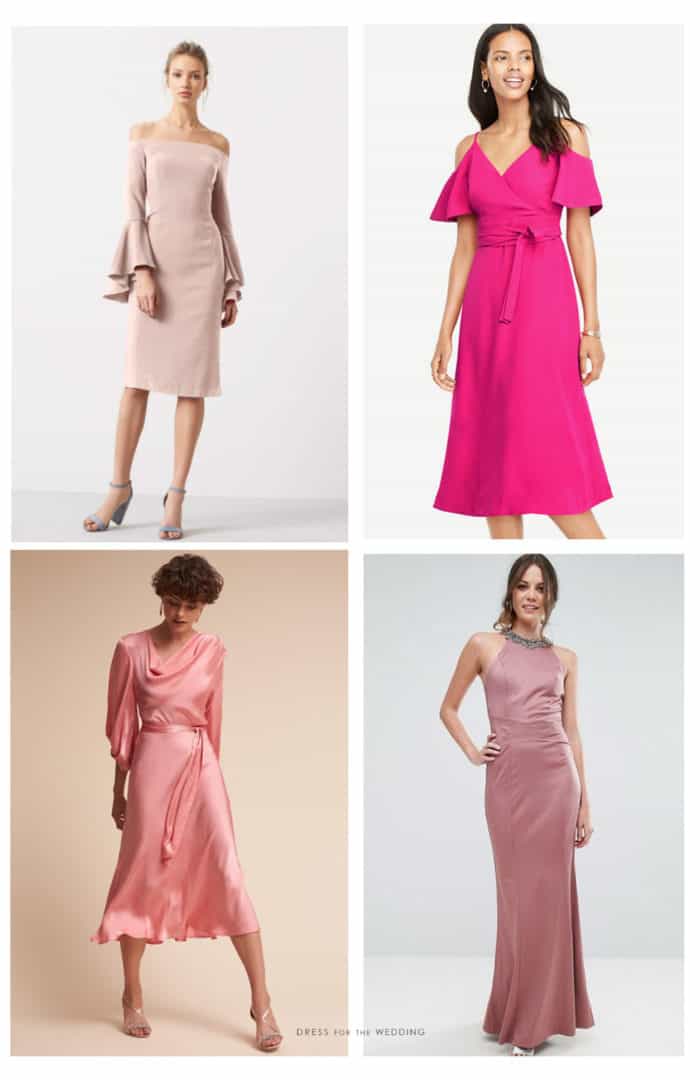 1// 'Solange' Off the Shoulder Midi Dress from Nordstrom 2// Cold Shoulder Wrap Dress from Ann Taylor 3// Astrid Dress from BHLDN  4// Little Mistress Tall Embellished High Neck Fishtail Maxi Dress from ASOS
Links in the shop section are from affiliates and sponsors. This blog may earn a small referral commission from the retailer, at no cost to the purchaser, if a qualified sale is made.
This is our hand-picked selection of collection of pretty pink dresses for wedding guests to wear to weddings.  If you're in the wedding and looking looking for pink mother-of-the-bride gowns or pink bridesmaid dresses please also check out those shop pages!
Pink Dresses to Wear to a Wedding
Pink dresses are a beautiful color to wear to weddings! When picking the perfect pink dress or gown, just be cautious of pale blush pink, since many wedding dresses are that color. Instead, a deep pink, rose, mauve, or coral is a great choice. While a pink is always a favorite choice for summer, deep pinks and rose colors are even great for fall and winter weddings. This is our current selection of pink dresses to wear to a wedding or to a rehearsal dinner or bridal shower!
PINK DRESSES : SHOP THE LOOK

Affiliate links are used in product listings, meaning this site may receive a commission for purchases or clicks made through links in this post.
More Dresses to Wear to Weddings
Didn't find the perfect dress yet? Try the Wedding Guest Shop Page or find more dresses: Casual or Dressy Casual Dresses  | Semi-Formal Cocktail Dresses | Long Formal Gowns | Maxi Dresses to Wear to Weddings 
Or shop by color: Red Dresses |  Pink Dresses | Coral Dresses | Yellow Dresses | Green Dresses |Light Blue Dresses | Dark Blue or Navy Blue Dresses | Purple Dresses | Floral Dresses | Black Dresses | Dresses for Wedding Guests Under $150
Are you in the wedding? Check out Wedding Dresses | Mother of the Bride Dresses | Bridesmaid Dresses