Pink Strapless Chiffon Gown and Accessories
Affiliate links are used in this post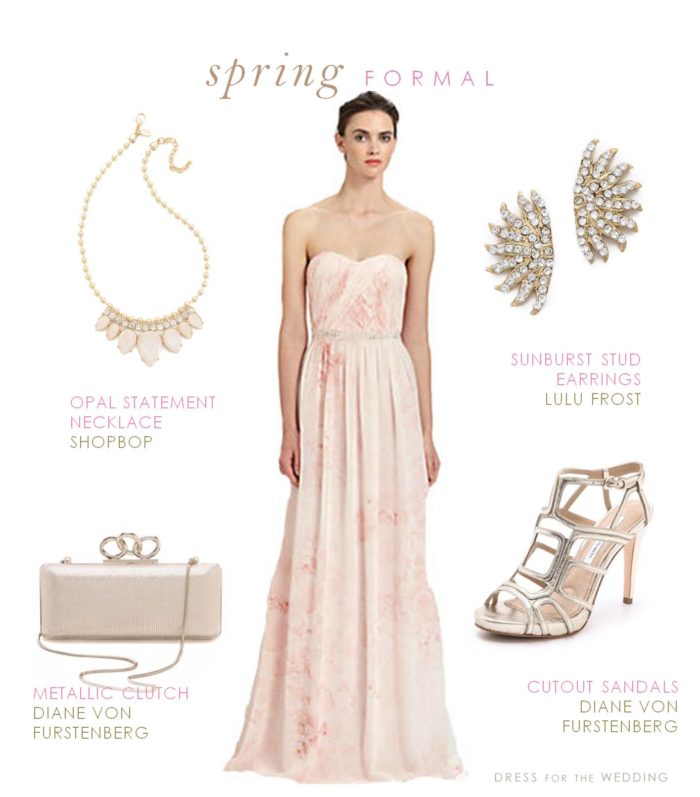 Strapless Chiffon Gown/Diane von Furstenberg Jeanette Cutout Sandals / Diane von Furstenberg Sutra Metallic Canvas Clutch / Opal Statement Necklace / Sunburst Stud Earrings from Shopbop
Pink Strapless Chiffon Gown
I'm getting lots of visitors and readers who are looking for beach formal gowns, which leads me to believe you have some pretty fun weddings to attend this spring and summer! I chose this pink chiffon long gown with a very formal beach wedding in mind, but this long pink dress would also be great for bridesmaids, or for a springtime or summer formal wedding where a long black gown wouldn't suit the festive, light mood.
Back to beach formal classification for a second: when I wrote up the attire guidelines, I mentioned that beach weddings can have a real range to them. You'll know better than I would if your occasion qualifies as this level of beach formal, but I would think an evening beach destination wedding at a high-end resort, or a beach wedding at a tony beach club or hotel would be the type of invitation that would be this kind of beach formal.
If you'll actually be on the beach, 1. things may be a little bit more casual (see the guidelines for what to wear there!) so more of a pretty sundress, and tamer accessories and a natural beachy look can also qualify, while still being formal 2. The most important element should be that you are dressed for the weather, and wearing flats or sandals that you can navigate the sand in.
If the beach is just a backdrop, and you'll just be overlooking a beach from the elegant confines of a 5-star hotel while tuxedo-ed waiters pass you champagne, ( like the guests at this wedding ), then the heels, a formal gown, and as much sparkle as you wish should be just fine. This dress is styled for just that sort of grand occasion, or a formal spring or summer wedding in a hotel ballroom or elegant reception venue.
Here is some beach wedding inspiration (both formal and casual), that I've pinned on Pinterest, as well as some other beach looks for weddings like this sea glass inspiration board on Burnett's Boards, this naturally chic wedding from Elizabeth Anne Designs, and these elegant beach decor ideas from Wedding Chicks.
Let me know in the comments; is this the kind of dress you'd wear to a formal spring or summer wedding?
Affiliate links are used in this post
More Long Pink Dresses for Weddings