Are you looking for bridesmaid earrings to give as a gift to your wedding party, or as the perfect finishing touch for their outfits? This guide will show you where to find the prettiest earrings for bridesmaids, and where to shop for bridesmaid earring sets.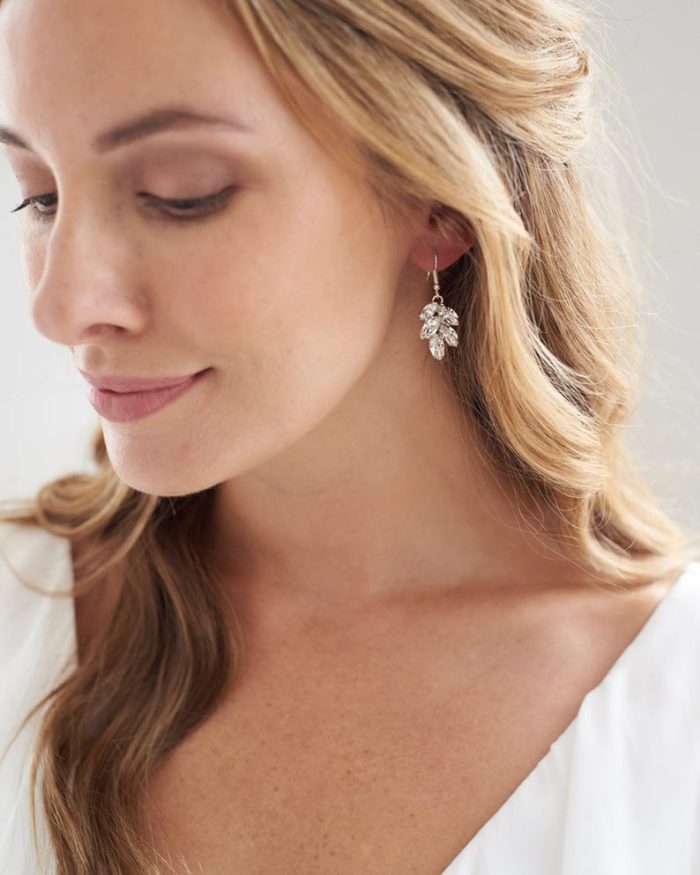 Image and product source: Dareth Colburn Designs on Etsy. This pair of earrings comes with the option of a matching bracelet - perfect for a bridesmaid gift set.
Bridesmaid Earrings
Bridesmaid earrings are usually a must-have to dress up a bridesmaid dress and add elegance to complete your wedding party style. They also make for thoughtful and kind gifts that your attendants and bridesmaids will be able to wear again. If you're trying to find some good sources for buying earrings for your bridesmaids, we've rounded up some of our favorite picks, as well as shopping sources for where you can find more ideas for bridesmaid earrings!
We'll show ideas for earrings for bridesmaids with gold, silver, and other metals as well as popular gemstones and other styles.
Each one of our collages and outfit ideas for bridesmaids usually includes a pair of earrings selected to perfectly compliment the featured bridesmaid dress and overall look. Thanks to doing those posts we've found some amazing sources for bridesmaid jewelry and earrings over the years! You can get more info or shop some of your favorite styles from these retailers.
Where to Shop for Bridesmaid Earrings

More Places To Find Earrings for Weddings
We have found several places that are great resources for purchasing bridesmaid earrings. Most department stores have earrings that are wedding appropriate. We especially love brands like Nadri at Nordstrom and Belle by Badgley Mischka, Cezanne, Givenchy, and Gemma Layne which you can find at Dillard's. For more unique picks you can try Etsy. For trendy, whimsical, and colorful styles try the picks at BaubleBar or brands like kate spade or Kendra Scott. Here are more ideas!
Etsy

Etsy has the biggest selection of handmade and unique earrings and jewelry for weddings that we've seen. Etsy is a particularly good place to find sets of bridesmaid earrings to buy in to give to your entire wedding party. We love shops like Dareth Colburn Designs, Rosy Stone Inc or check out some of our other Etsy bridesmaid earring finds.
BHLDN

BHLDN has a vast array of jewelry for weddings. Their hand-picked styles for bridesmaid earrings are just what one would hope for: elegant, high-quality, delicate, and charming pieces of jewelry.
More Bridesmaid Jewelry at BHLDN
David's Bridal

David's Bridal has everything for wedding attire, from shoes to dresses. So, it's no surprise to learn they have a very large selection of reasonably-priced and wedding-perfect jewelry! They often have sales, to make jewelry purchases even more affordable.
Azazie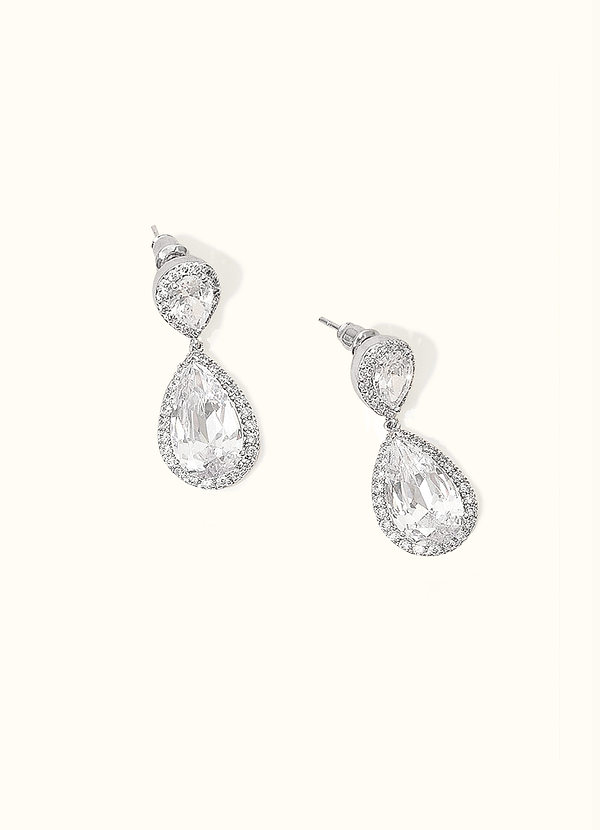 Azazie has just launched a new line of affordable, and beautiful wedding jewelry to complement their offerings of wedding dresses, bridesmaid dresses, and more. This includes some beautiful earrings, with most, priced under $20!
Kendra Scott

Kendra Scott's jewelry is loved for both special occasions and every day. We often feature the Kendra Scott earrings in our bridesmaid outfit posts because we love the colors and modern shapes. These earrings make an easy transition from being a special style to be worn for the wedding, as well as a pair of earrings that your bridesmaids will cherish and love to wear again. Kendra Scott offers
More Earrings from Kendra Scott
Lulus

We have loved how many dress options Lulus has for weddings, and that has extended to accessories and jewelry. If you want an affordable and trendy style for earrings, you can certainly find some great picks here, usually well under $20!
What Style of Earring Should I Chose?
Here are some ideas of materials and styles of earrings for weddings, and which styles of dresses and events to pair them with.
Pearl Earrings
Pearls are a classic gem to use in weddings. They are wonderful because they can work for day or evening and usually will accent or complement any outfit. While real pearls might be a little cost-prohibitive to give as a gift, there are some cultured pearl and faux pearl options that will give this polished look! We love this set from Allure Wedding Jewelry on Etsy for under $10 a pair!
Silver or Gold Earrings
The choice is really up to you as to which metallic you prefer. Gold and rose gold give a warmer look, while silver is a cooler tone that can look just right with black, silver, and other cool tones.
Statement and Long Chandelier Earrings
For a black-tie, evening, or formal bridesmaid look, a pair of statement earrings can be just the right pick. Many of the chandelier bridal styles elevate a long formal gown from simple to striking! We also love the look of a tassel earring for a statement look.
Crystal or Rhinestone Earrings
A pair of sparkling earrings either in statement or cluster form always add high sparkle, which is always a good idea for a special occasion like a wedding. While real diamonds would be lovely, affordable options like crystal and CZ earrings are a great choice.
Studs and Cluster Earrings
For a daytime wedding, or to bring attention to the face, simple studs and cluster earrings can be a great pick! We personally love to wear studs and cluster earrings in the case where wearing a larger earring might complete with the dress or with the other accessories. These earrings are also so easy to wear again. You can find some wonderful stud earrings from kate spade new york, or J.Crew as well as the other earring sources we've named above.
Hoop Earrings
Hoops are having a major comeback. Hoop earrings are both classic and modern: a pair of big hoops can give a nice modern boho style, while a part of huggie hoops can give a classic subtle polish to a look.
Inexpensive Earrings
Everyone has their own budget and idea of what affordable means, but we've tried to find some earrings under $20 or that are affordable to buy in sets so that buying earrings for your bridesmaids isn't too much of a financial imposition. Try Lulus, Azazie, and Etsy for affordable finds!
Styling and Etiquette
If you are a bridesmaid, and you have been given a pair of earrings from the couple or bride, then it usually indicates that they are meant to be worn to the ceremony as a part of your outfit. In the case that there's any question, check with the other attendants or bride to be sure. If for some reason you can't wear the earrings (i.e., you have unpierced ears, allergies to metal) see if there's a workaround. You can purchase a converter to make them clip-on, or have a different backing put on, or coat the post with something like clear nail polish to protect your ears. If you're giving earrings as a gift, consider the wearer as well and try to purchase nickel-free and hypoallergenic styles when possible.
More Style Ideas for Bridesmaids
We keep a running list of shoppable bridesmaid gift ideas, as well as our latest picks for where to find bridesmaid dresses under $100, and our picks for the best places to shop for bridesmaid robes. You might also want to check out our post on the Best Places to Buy a Wedding Dress Online
More style ideas you might enjoy :