Fig and Gold
I'm starting to warm up to the idea of autumn being just around the corner, and here's one of the fallish images that made me look forward to this snug season! The image below with the beautiful natural tones of fig and gold alongside the green leaves and silver patina of that goblet immediately spoke to me as an elegant twist on some of the earthy colors we see for autumn.
Image via Bash Please  Photography by Our Labor of Love Photography
The purple and gold colors image so inspired me, that I wanted to make one of these color pairing boards to show just how well the purple and gold yellow shades go together. I'm calling it fig and gold because that sounds more delicious than fig and mustard, but this really is more of a mustard yellow, buttercup, marigold, goldenrod, or yarrow color. I've put together this mix and match pairing of dresses, shoes, accessories and even ties for your date or the groomsmen in your wedding.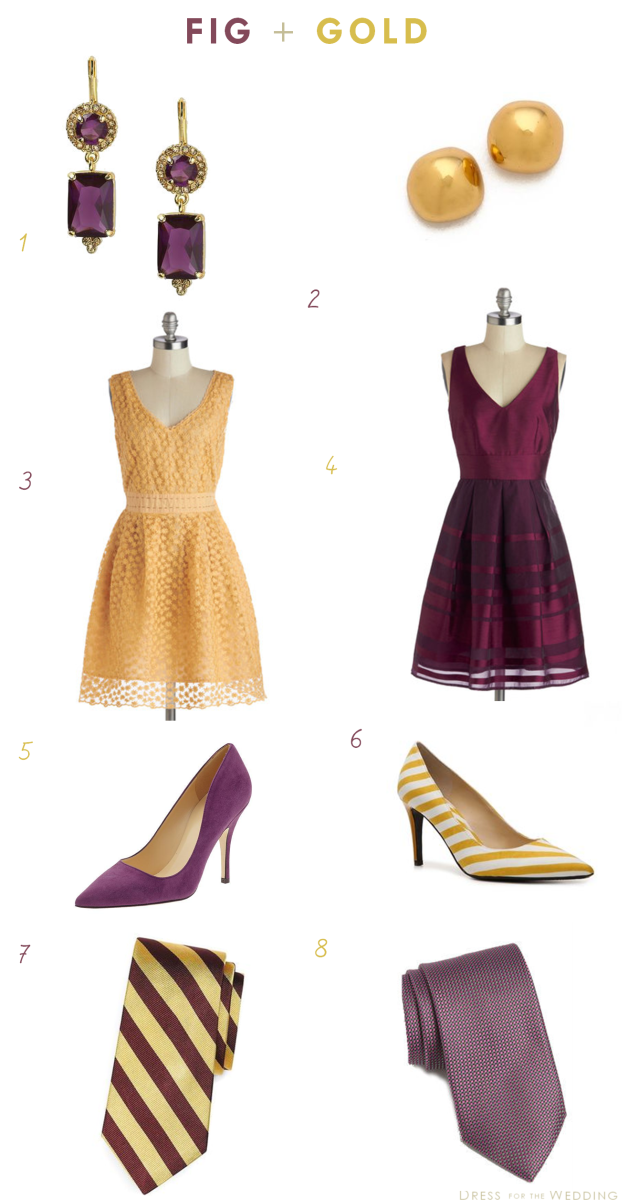 1. Carolee Double Drop Earrings  2.  Puck's Garden Mushroom Earrings 3. Early Morning Moments Dress  4. Formal or Ladder Dress in Plum  5. Kate Spade Licorice Pumps 6. J. Renee Rylie Pump from DSW  7. Brooks Brothers Guard Stripe Tie 8. Ermengildo Zegna Tie in Purple
This color set of gold and fig is certainly one to consider for fall wedding parties, but these colors and dresses and ties would look lovely on autumn wedding guests, too! I'll leave it to you how you'll wear these colors, but I hope they will inspire your wedding planning or fall wardrobe!
Like this look? Here are a few more ideas  with different saturation of the purple and yellow hues:
Whimsical wonderland weddings shows ups vibrant purple and yellow ideas
The Perfect Palette hit this theme perfectly with this palette of autumn elegance of fig, plum, gold and ivory
And this amazing Fig & Buttercup board by Limn & Lovely!
And this marigold inspiration from Burnett's Boards
And since I"m really into the way figs looks in bouquets (even when they are still green) check out these fig bouquets compiled by Belle & Chic!