Ultra Violet Bridesmaid Dresses and Style Ideas
This bridesmaid outfit idea shows off the Pantone Color of the Year for 2018 as imagined for wedding party attire - here's a bit of inspiration for Ultra Violet Bridesmaid Dresses!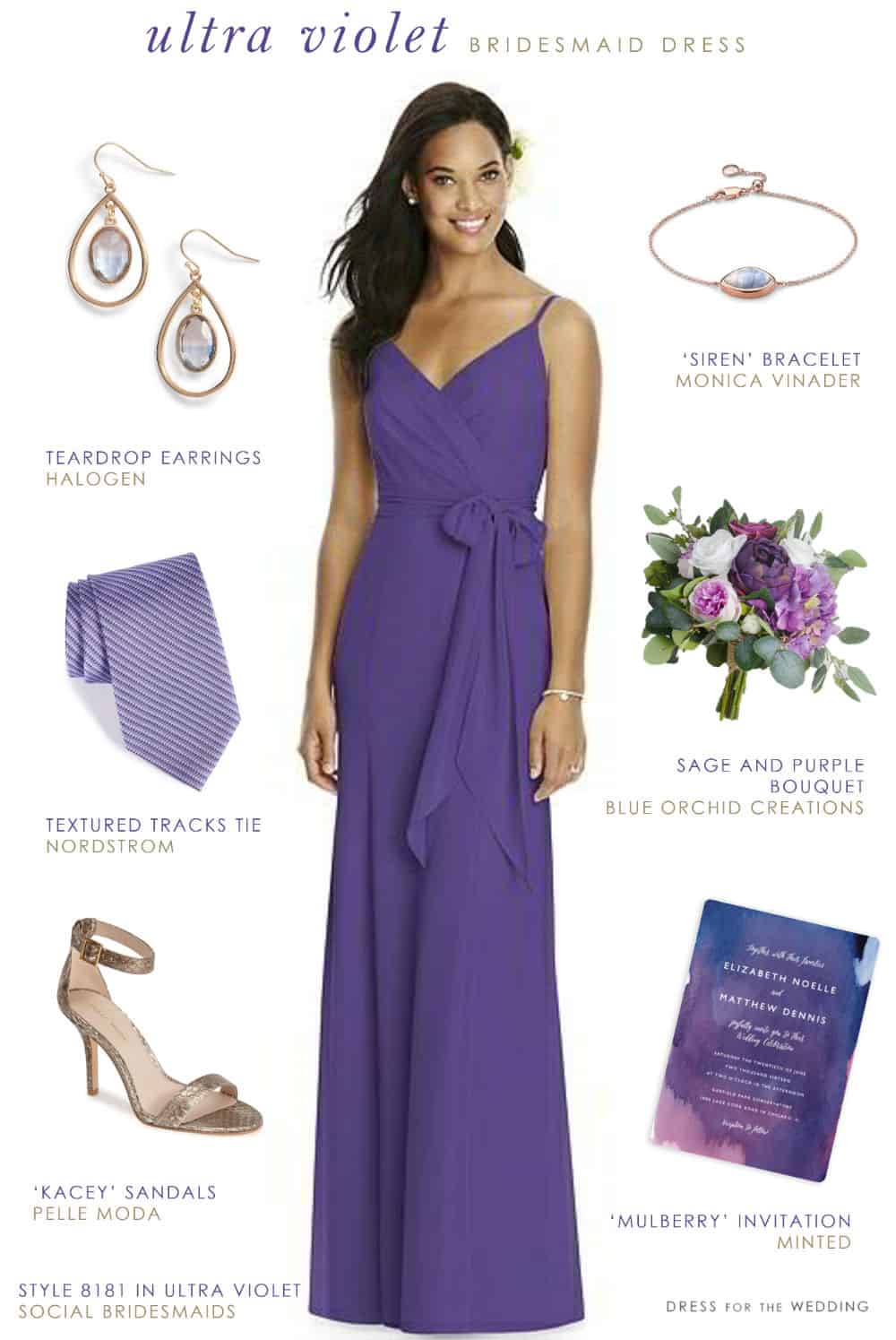 Shopping sources use affiliate commission links.
Dress: Social Bridesmaids Style 8181 in Ultra Violet from Dessy See all the Ultra Violet Dresses Dessy offers | Earrings: 'On the Rocks' Teardrop Earrings from Nordstrom | Bracelet: 'Siren' Teardrop Bracelet by Monica Vinader from Nordstrom | Bouquet: Silk wedding bouquet by BlueOrchidCreations on Etsy | Invitation: "Mulberry" - Customizable Wedding Invitations in Purple by Lindsay Megahed from Minted | Sandals: 'Kacey' Sandals by Pelle Moda from Nordstrom | Tie for Groomsmen: 'Textured Tracks' Silk Tie from Nordstrom
Ultra Violet Is the 2018 Color of the Year
As a you may have heard, earlier this week Pantone announced their much-awaited pick for color of the year for 2018: Ultra Violet 18-3838.
Historically, the color of the year not only speaks to fashion and design trends, but also to the perceived mood and message that the color brings to society in general. Ultra Violet, and purple in general is a color of royalty, which makes it a perfect fit with the Royal wedding we're expecting in May 2018. According to Pantone, Ultra Violet also symbolizes, 'the mysteries of the cosmos, the intrigue of what lies ahead, and the discoveries beyond where we are now.' In addition to being a color associated with creativity. Pantone also suggests: "The color is often associated with mindfulness practices, which offer a higher ground to those seeking refuge from today's over-stimulated world.'
Sounds like this color is multi-faceted; peaceful, innovative, and inspirational!
Ultra Violet in Weddings
The color of the year and Pantone colors in general are also always big for wedding inspiration! The wedding world has welcomed Ultra Violet with a few mixed reviews, mainly because another purple - Radiant Orchid - was heavily featured quite recently. But as time has shown, wedding pros will soon find ways of working the color into weddings in ingenious ways that are sure to make you see all the possibilities in this indigo-meets-purple color!
Where to Find an Ultra Violet Bridesmaid Dress
While ultra violet was a little hard for me to find in some of the purple dresses in stock in department stores for the current season, Dessy Bridesmaids, always specializes in having a full rainbow of hues for bridesmaid dresses, (at last count they offer over 120 colors in some styles!) They certainly do not disappoint when it comes to Ultra Violet bridesmaid dresses - because Dessy always features Pantone color matches, so they offer Ultra Violet dresses in several designer bridesmaid dress lines, and in every silhouette, size, neckline, and fabric in the exact color Pantone recommends. Ultra Violet bridesmaid dresses are easy to find when you take a look at their amazing selection. Today's featured bridesmaid outfit inspiration is a dress from Dessy's collection, Social Bridesmaids Style 8181 in a beautiful wrap style! See all of Dessy's Ultra Violet Pantone wedding accessories and bridesmaid dresses.
What Colors Go with Ultra Violet?
Whether you make ultra violet a focal point of your wedding, or use it as an accent color, it actually has quite a range of hues that it looks great with! It's a vibrant color that can stand up to other bright shades, or it can take an even more sophisticated style when paired with metallics.
For starters, ultra violet looks great with greens like lime green and sage. It looks elegant with navy blue, gold, gunmetal, bronze. One can also pair it for contrast against hot pink and yellow. For a subtle wash of color, use it or balanced with light blue, lavender, pale orchid, and pale pink -- as seen in the invitation and floral arrangement we're showing in this collage. Ultra violet also looks marvelous with iridescent shades like opal and other multifaceted rainbow colors. like those found in moonstone gemstones or prismatic crystals that have this same violet tinge. For that reason, it would be a great shade to use in any season, and especially in celestial or starry night themed weddings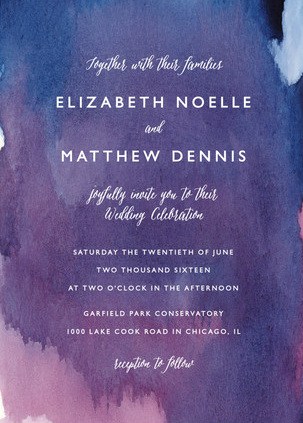 This invitation: "Mulberry" - Customizable Wedding Invitations in Purple by Lindsay Megahed from Minted has some great colors to pull from for ultra violet wedding inspiration!
How to Use Ultra Violet in Your Wedding Bouquet
Ultra Violet is also a great color in florals. Many purple flowers like irises, some shades of hydrangeas, orchids, and stock are available in this vibrant purple shade. Whether you coordinate with Ultra Violet or use it as contrast, I think you'll be loving this color by the time 2018 gets into full swing!
If you're looking for bridesmaid dresses in Ultra Violet, check out the selection of styles from Dessy. Also take a look coordinating ties they offer! You won't be disappointed!
Shopping sources use affiliate commission links.
SHOP THE LOOK


Also check out theses shop sections and posts:
Purple Dresses for the Mother of the Bride or Mother of the Groom