Seersucker Bridesmaid Dress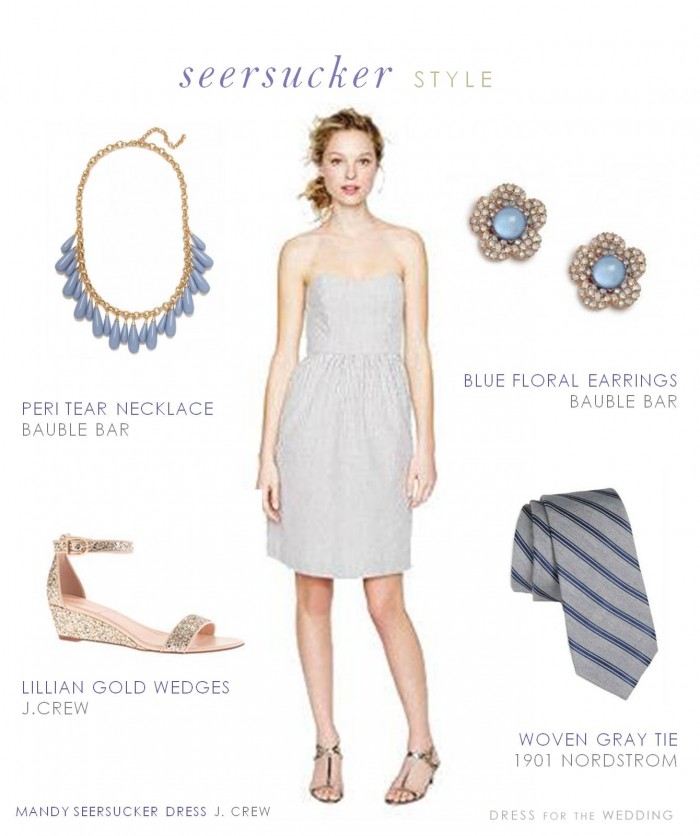 J.Crew Mandy Dress in Gray Seersucker/ Blue Pave Studs from Bauble Bar /1901 Woven Tie From Nordstrom /Lillian Glitter Low Wedges J.Crew /Peri Tear Fringe Necklace from Bauble Bar /

Seersucker Striped Bridesmaid Dress
Oh, how I love cotton bridesmaid dresses, and I particularly have a soft spot for seersucker bridesmaid dresses! For my own summer wedding, I desperately wanted cotton seersucker dresses, and they were so hard to find in the right color and dress styles.  Thankfully, the trend is back and J.Crew offers many cotton options, and brings us this seersucker look, too.  I also know that bridesmaid dress designers like LulaKate and Coren Moore offer seersucker dresses, too. Want to see how sweet they can be? Check out this adorable ruffled style from LulaKate featured in Southern Weddings!
One thing to keep in mind when selecting seersucker is to make sure your photographer knows how to shoot the images - seersucker can look strangely blurry if it is not photographed correctly, but images like the one from Southern Weddings show just how cute and crisp this look can be. In addition to being perfect for preppy Southern weddings, seersucker is the perfectly sweet choice for a casual rustic wedding, a daytime outdoor wedding, or especially for a nautical wedding.  This dress is a definite wear-it-again style, too. It looks cute with a cardigan, and I'd recommend  this dress  for a guest of a beach wedding or a casual country wedding.
Since the neckline is strapless, and the color is gray, I decided this needed a big statement necklace with it, and I loved how this periwinkle shade  looks against the neutral gray stripe.  I usually suggest small earrings like these studs to go with a big necklace, and I wanted to warm up the gray a little by choosing blue and gold. I put this with these gold wedge sandals, to add sparkle that also acts as a bit of a neutral. If you dare mix your stripes, I also kind of wonder  if the dress would coordinate in person with these striped heels. Matching gray peeptoes or sandals are an option as well.
For the groomsmen or for a coordinated look for your date, I thought this gray and navy tie looked pretty snappy with everything here.
If this is the dress you choose for your bridesmaids, I think it would look lovely with some pink peonies, or some really bright blooms like these. If you need this dress in another color J.Crew offers two other shades, and LulaKate and Coren Moore have a whole rainbow!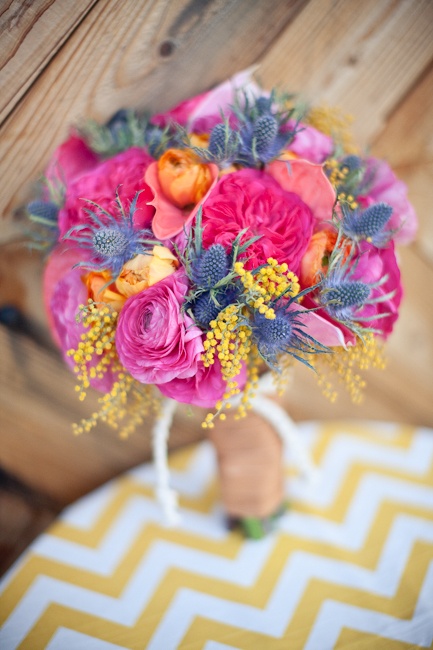 Bright Flowers Photo By Gabriel Ryan Photographers Event by Jesi Haack Design
From Design Scouting
Or pick any other bright blooms from these bouquet inspirations.
Looking for more bridesmaid ideas? LulaKate, Coren Moore, and J.Crew are all part of The Collection, on Dress For The Wedding; a source for finding top bridesmaid styles and designers.