Pantone's Iced Coffee Color is perfectly represented by this beige bridesmaid dress
The latest look from our series of posts on colors for spring weddings according to Pantone's color reports.
Strapless Beige Bridesmaid Dress
Shopping sources on this site use affiliate links, which means this site may earn a commission if you make a purchase from our links.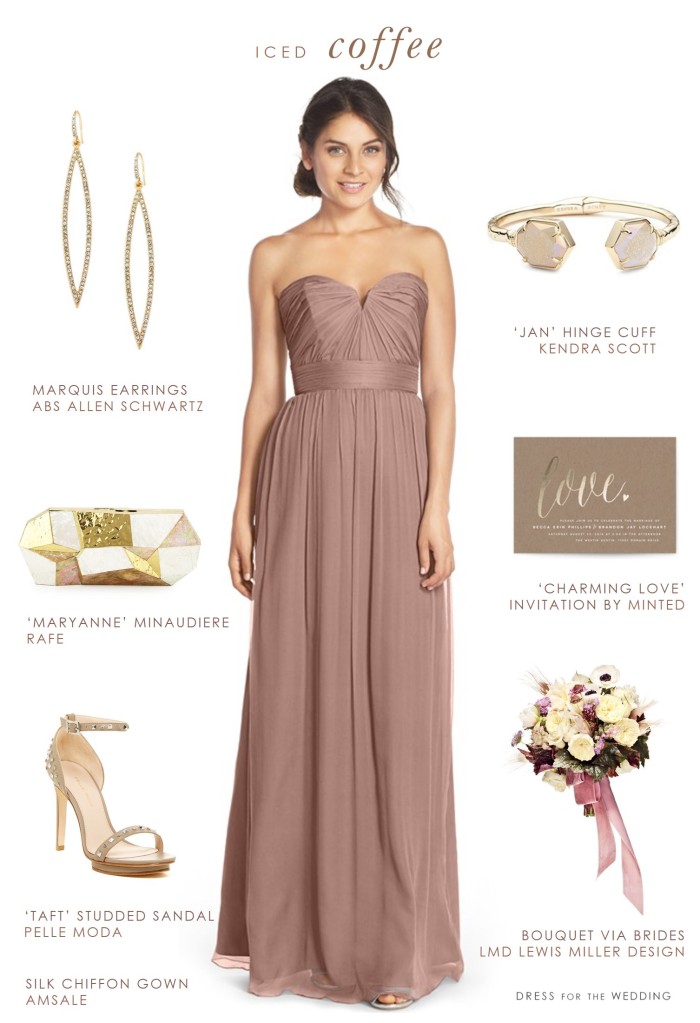 All shopping links in italics are affiliate links from our sponsors. Dress: Strapless Silk Chiffon Gown by Amsale in Tuffle from Nordstrom | Earrings: Gold Tone Pave Crystal Earrings ABS by Allen Schwartz Earrings | Bracelet: 'Jan' Hinge Cuff by Kendra Scott from Nordstrom | Invitation: Charming Love Invitation by Melanie Sevarin from Minted | Bouquet: Bouquet from Brides.com feature on 1920s wedding ideas, design by LMD Lewis Miller Design | Shoes: Taft Studded Sandal by Pelle Moda from Nordstrom Rack | Clutch: Maryanne Faceted Minaudiere by Rafe from Neiman Marcus
Coffee Colored Strapless Bridesmaid Dress
This delicious shade of taupe, called 'Truffle' by Amsale, is a great match for Pantone's 'Iced Coffee' color. It's a great color for any coffee or latte lover, and elegant shade for really any season of wedding.
For spring weddings, this color works with some of the pastels and also some of the bright shades we associate with the season. Try it with gold, bronze, mauve, blush, lavender or for more contrast, a bright berry, a deep burgundy, or coral.
In this collage, I've paired the color with some elements that I consider to be "ice" of this iced coffee look. For starters, that clutch by Rafe, has so many cool angles and facets, it reminds me of an ice cube, as does the stone in the cuff. I also like the studded element of those sandals and those same geometric cube-like angles and the icy crystals of the pave earrings.
More Beige and Taupe Dresses for Bridesmaids

Other Beige Bridesmaid Dresses to Love
This dress may be now low in stock, so we've updated this post and shop section above for the current season, to better help you find more beige or tan bridesmaid dresses, you also might want to check out our posts of mismatched neutral bridesmaid dresses, and our Pinterest board by the same name with more ideas.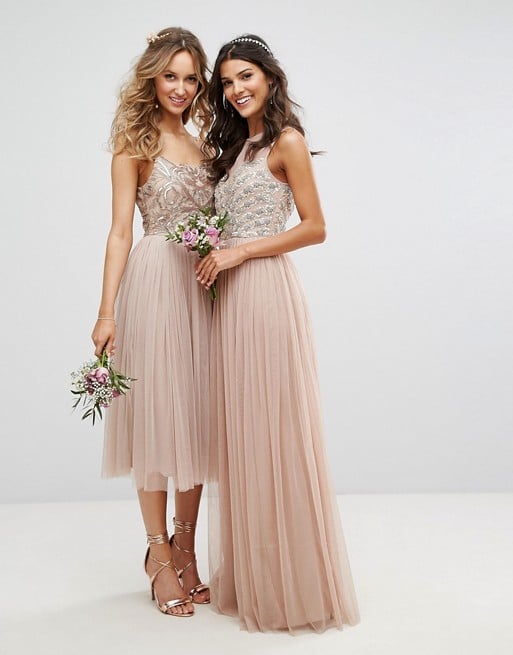 These styles are by Maya from ASOS, part of their embellished tulle collection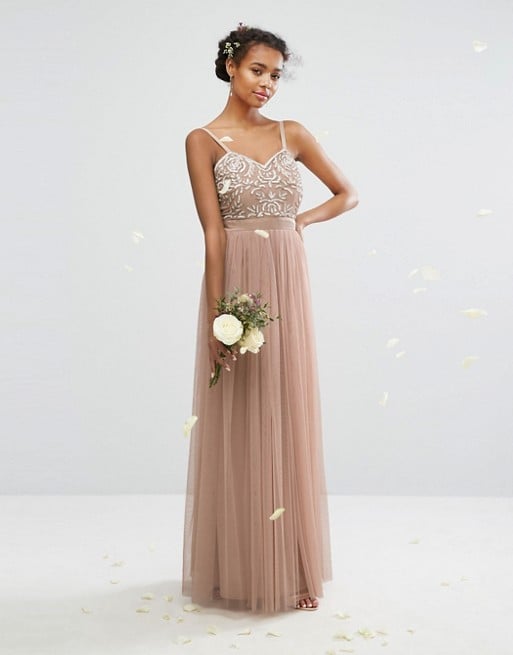 This stunning taupe tulle maxi dress with embellished top is only $135 at ASOS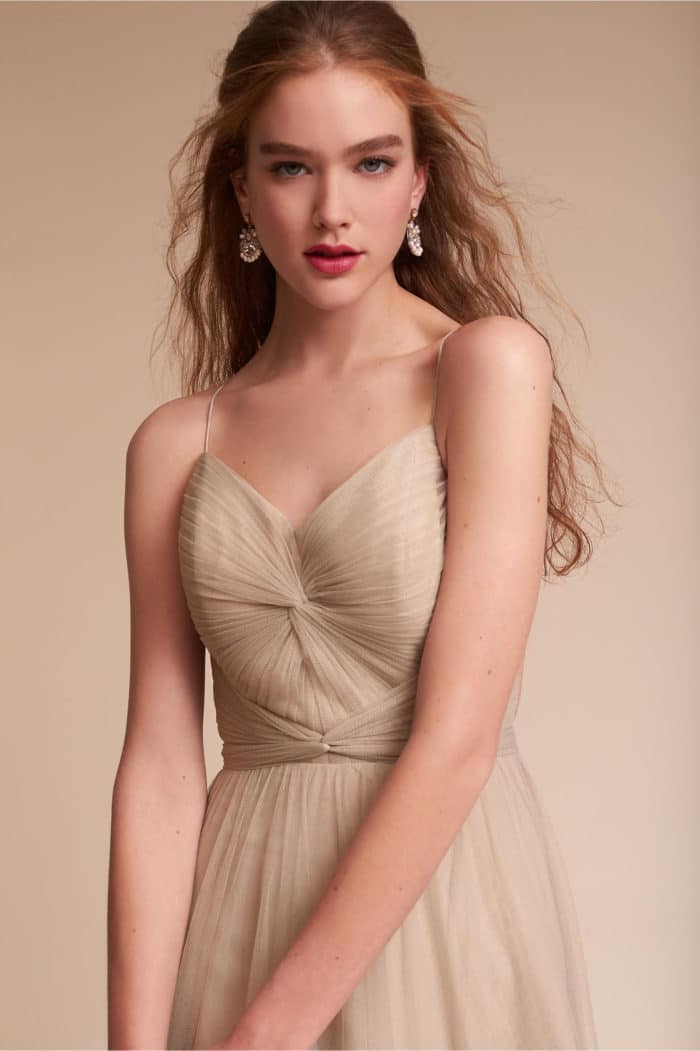 This neutral tulle gown with straps the Tinsley Gown from BHLDN
This strapless style is called Sirene by Show Me Your Mumu in Dune Chiffon - such a great color, and comes in several other styles, if you want a different neckline or silhouette for your wedding party.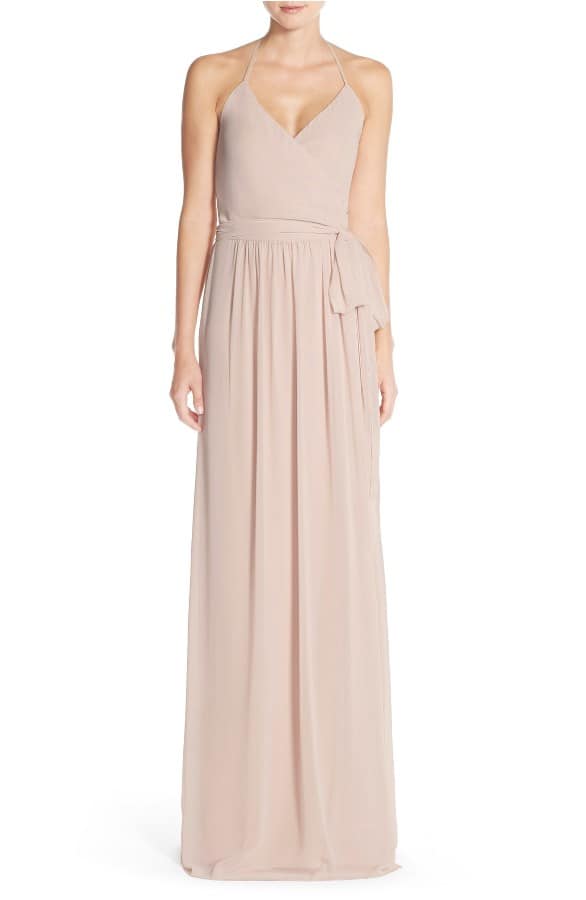 This soft beige or taupe color is a beautifully flattering wrap style. It's Joanna August DC Wrap Gown in 'All Tomorrow's Parties'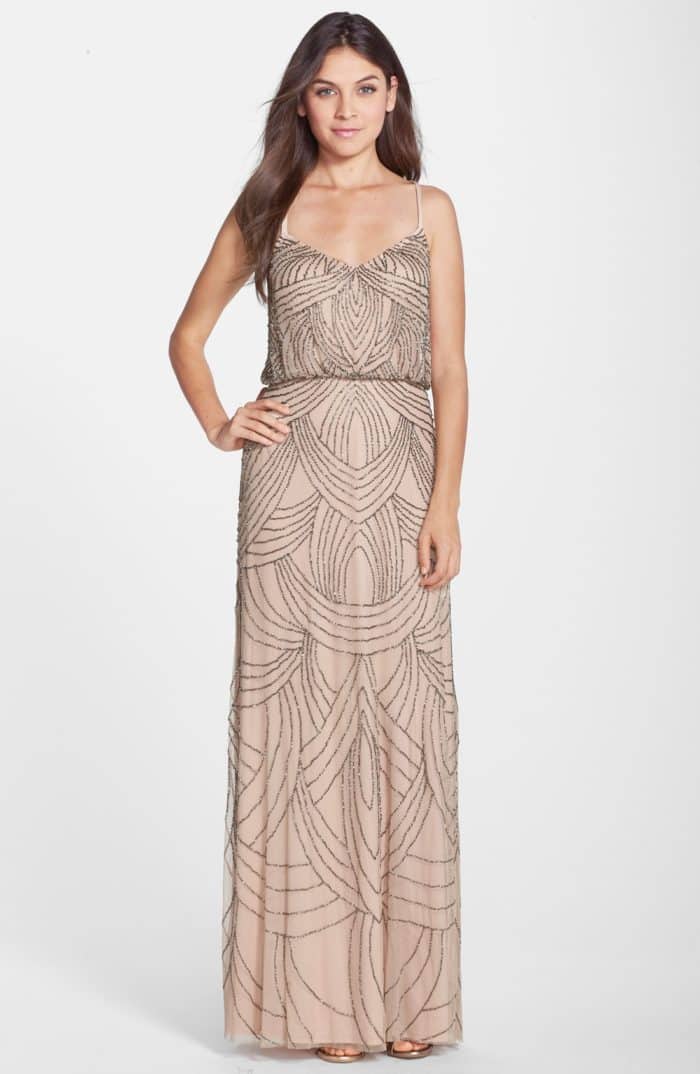 If you're seeking a beaded beige style Adrianna Papell always has great neutral choices like this beaded gown. See more Adrianna Papell beaded dress styles.
More posts you might like:
You also might find some other great taupe dresses for your wedding party under $150 at Azazie.
More Bridesmaid Dresses in Colors for Spring 2016:
Buttercup Yellow / Limpet Shell / Fiesta Red / Snorkel Blue / Lilac Gray
Affiliate links from our sponsors are used in the shopping sections in this post.