It's time to find cute wedding guest dresses to wear for spring weddings! It's one of our favorite times of year to take a look at the new dress styles for spring and summer, and pick some of the prettiest styles for you to wear if you're attending an April, May, or June wedding!
Shopping sources on this site use affiliate links, which means this site may earn a commission if you make a purchase from our links.
Shop Spring Dresses for Weddings

Cute Wedding Guest Dresses for Spring Weddings
This post is from a few years back, but these picks have been updated for the current season. We also keep picks in our shop page just for spring wedding guest dresses.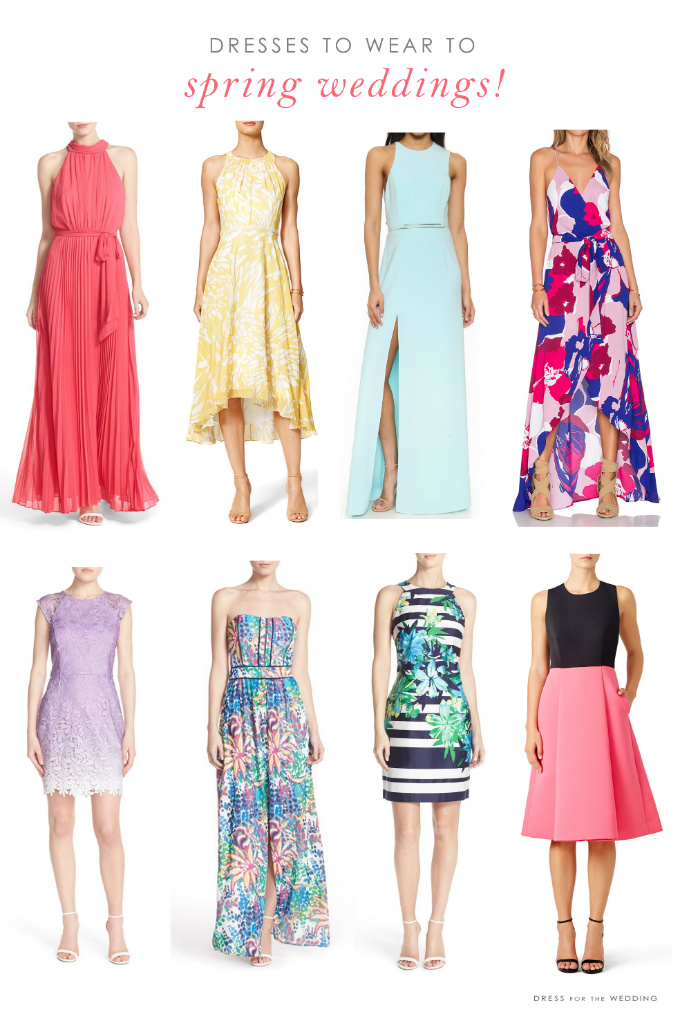 Links in italics and in the shop section are from affiliates and sponsors.
1. Eliza J Pleat Chiffon Dress from Nordstrom 2. Badgley Mischka Paradiso Dress from Rent the Runway 3.Round Neck Gown by Halston Heritage from Shopbop 4. Egypt Maxi Dress from Revolve 5. Adelyn Rae Ombre Lace Sheath Dress from Nordstrom 6. Adelyn Rae Strapless Print Chiffon Maxi Dress 7.Vince Camuto Print Sateen Fit & Flare Dress from Nordstrom 8. Colorblock Bow Back Dress by kate spade new york from Rent the Runway
Dresses to Wear To Spring Weddings
Well, it's late in April, and we've gotten a late start to kicking off the wedding season for our wedding guest picks, but we finally did our annual spring wedding guest dress round up, and picked some of our favorite styles to wear to a spring wedding. We've selected spring semi-formal cocktail dresses, daytime dresses, or longer styles for formal and black tie spring events! Here are the highlights followed by shopping options for even more dresses. Of course, in these pastel dresses and vibrant colors, there are plenty of dresses to hold on to for summer weddings as well, but we'll be sure to bring you the newest styles in the next month or so, for June, July, and August! Some of our favorite trends and looks for the season are laces, color blocking, floral dresses and prints! See the looks we recommend to any spring wedding guest below!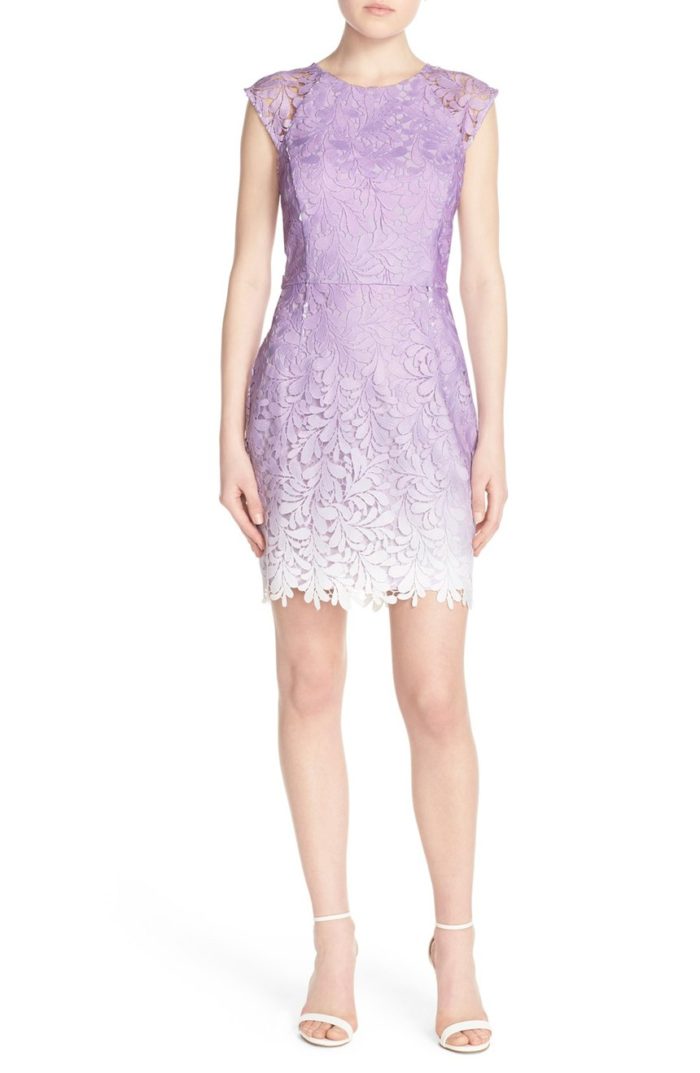 Adelyn Rae Ombre Lace Sheath Dress from Nordstrom A classic lace sheath is always one of our first picks for wedding guest attire. The ombre pattern on this makes it modern, not stuffy, but still as wedding dress-code perfect as possible. In fact, this line, Adelyn Rae, has several styles we love! This particular dress also comes in pink!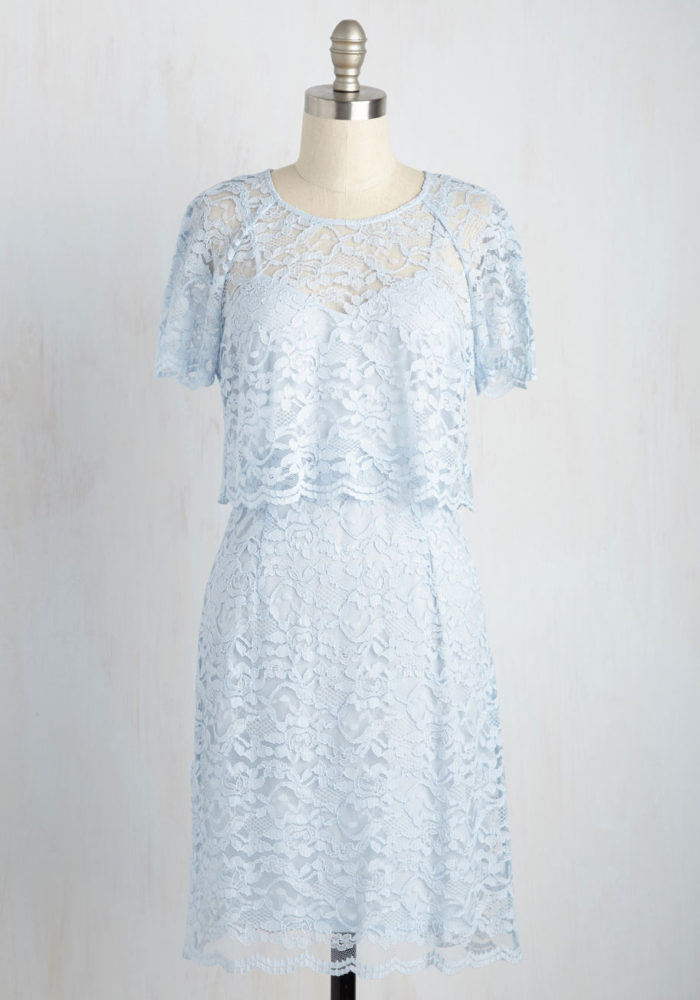 Pop-over styles are hot right now, and this light blue lace is also a dreamy, cool color to wear for warming spring days. This one is from our friends at ModCloth. Sweet Team Dress- only $100!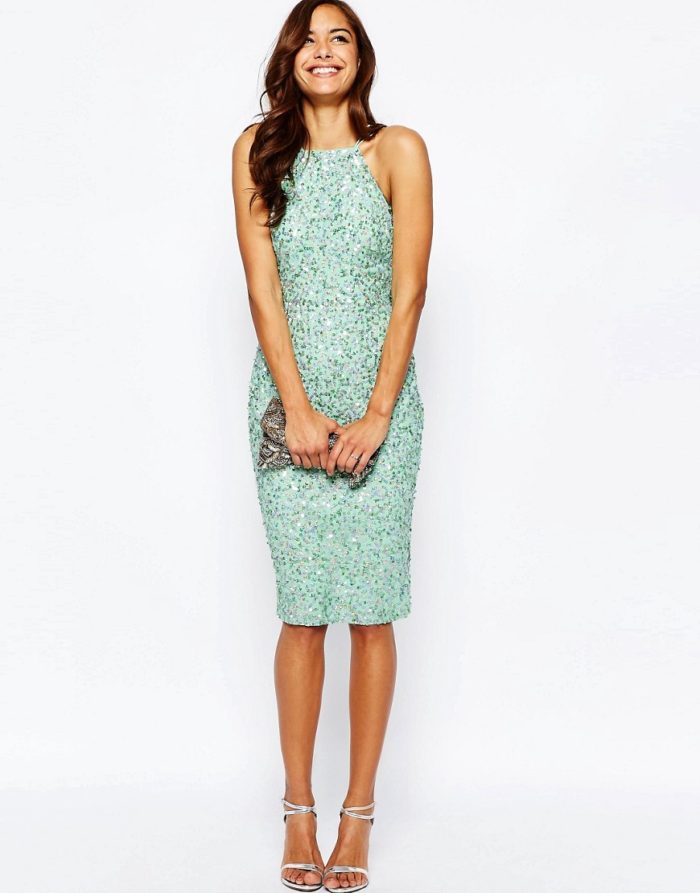 Sequins aren't just for New Year's Eve! Wear them to evening events in the spring in pretty pastels like this! Iridescent Drape Back Midi Pencil Dress from ASOS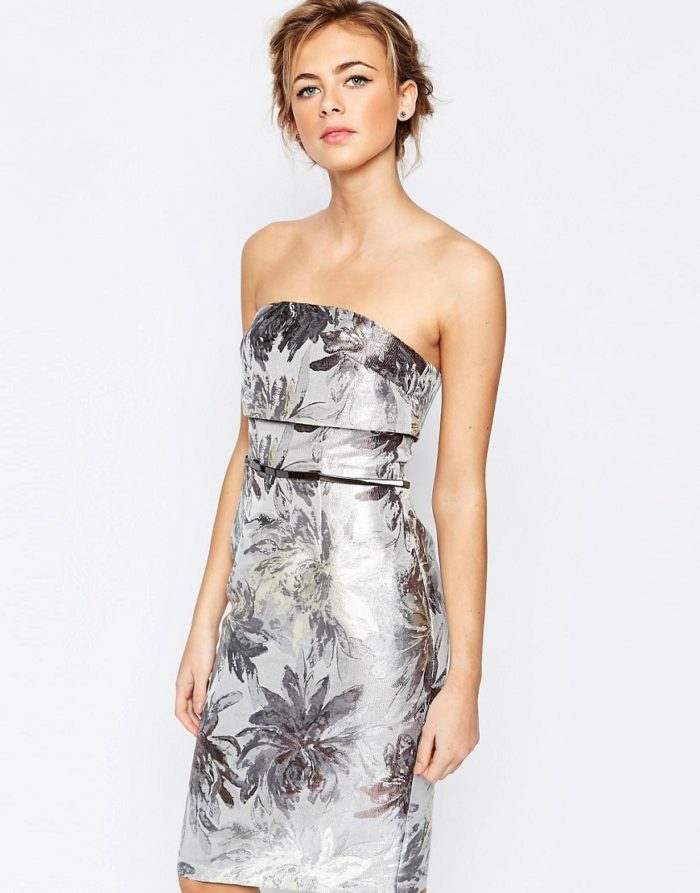 Need something sleek for an evening spring wedding? Try the Little Mistress Strapless Pencil Dress!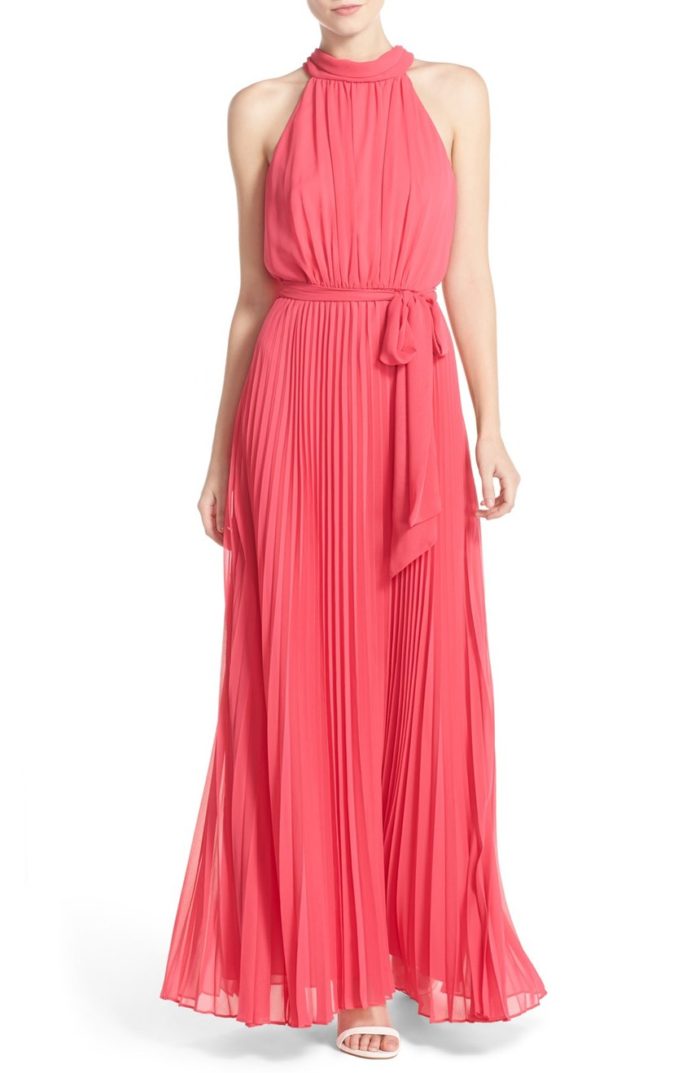 This might be one of my favorite picks of the whole lot. It can be dressed down for casual events, or glammed up for formal event events as well. If coral isn't your color, it comes in navy too! Eliza J Pleat Chiffon Dress from Nordstrom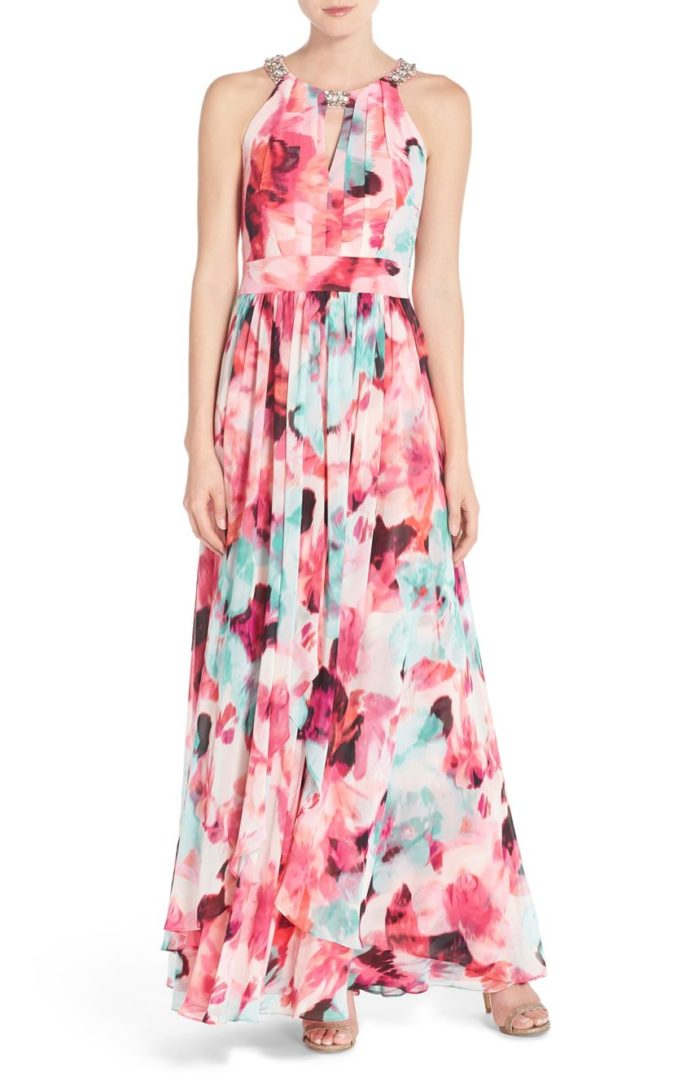 Or try the look with a print. Above is the Embellished Cascading Chiffon Maxi Dress from Nordstrom. Another great style from Eliza J!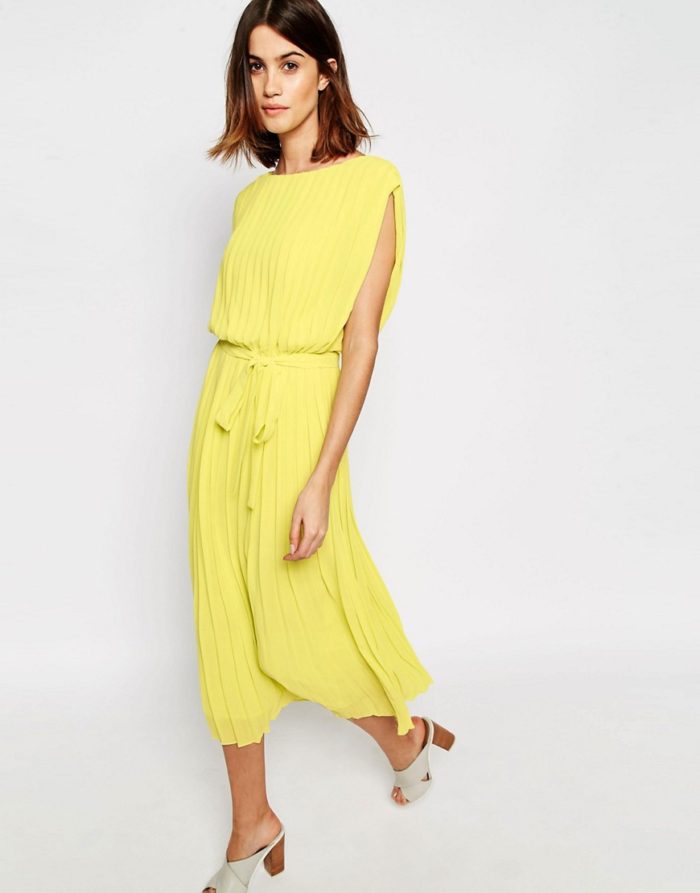 Continuing with longer dresses in spring colors, this yellow pleated midi dress is a beauty for day or afternoon wedding guest attire. Warehouse Pleated Midi Dress from ASOS.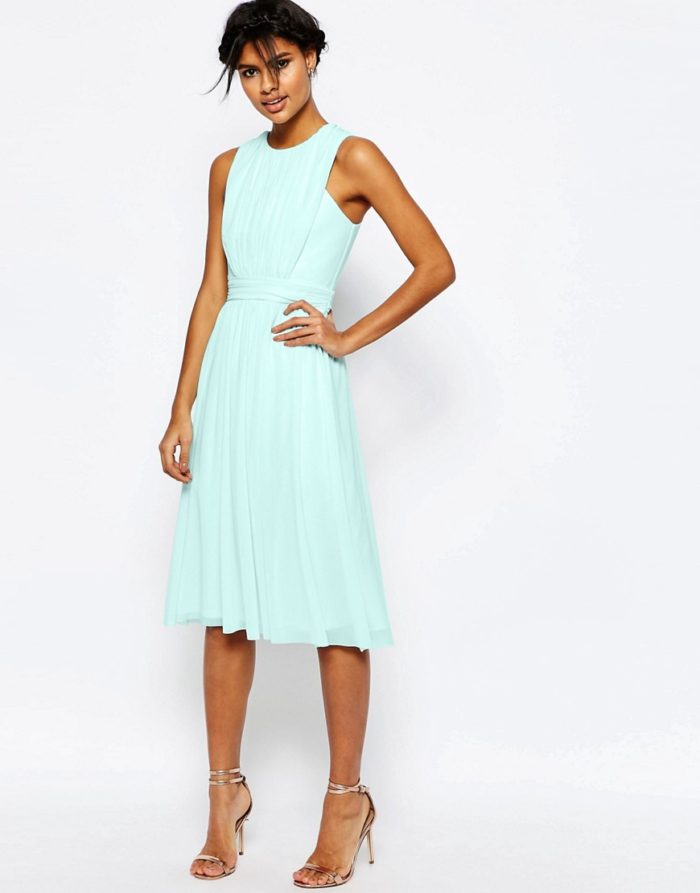 More sweet pleats in this demure length and a beautiful hue of mint! ASOS Mesh Ruched Midi Dress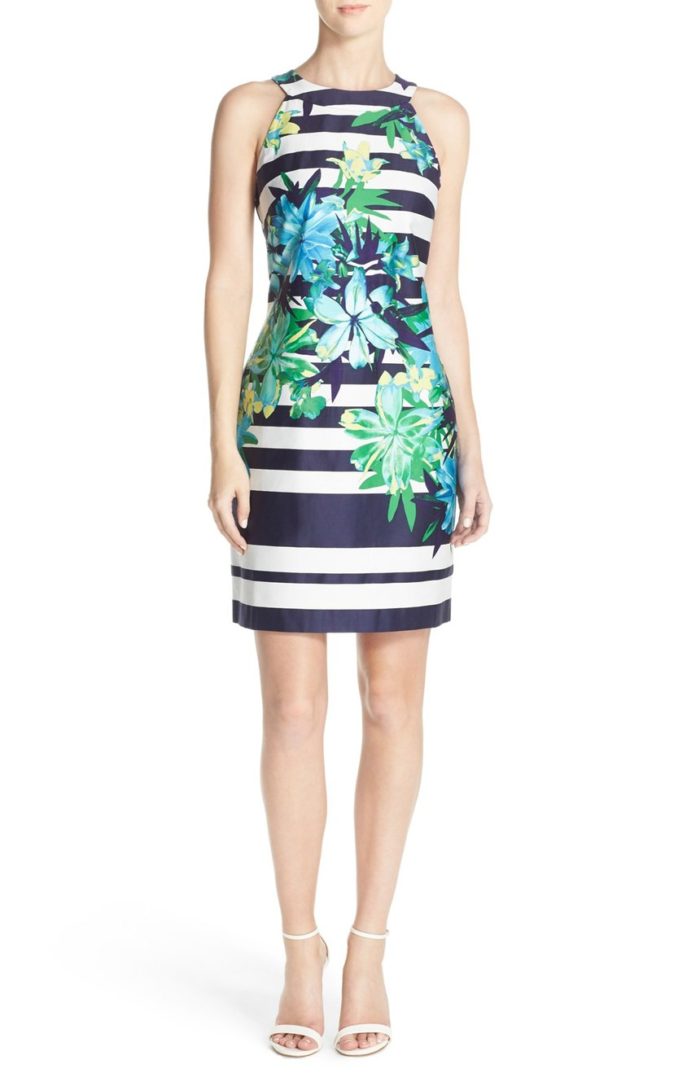 Vince Camuto Print Sateen Fit & Flare Dress from Nordstrom For a casual outdoor wedding, or a nautical themed wedding, this combination of stripes and florals is two hot trends in one.
Betsy Lace Sheath Dress by Saylor from Rent the Runway Another popover lace look – this time in navy. Wear it for semi-formal dress codes.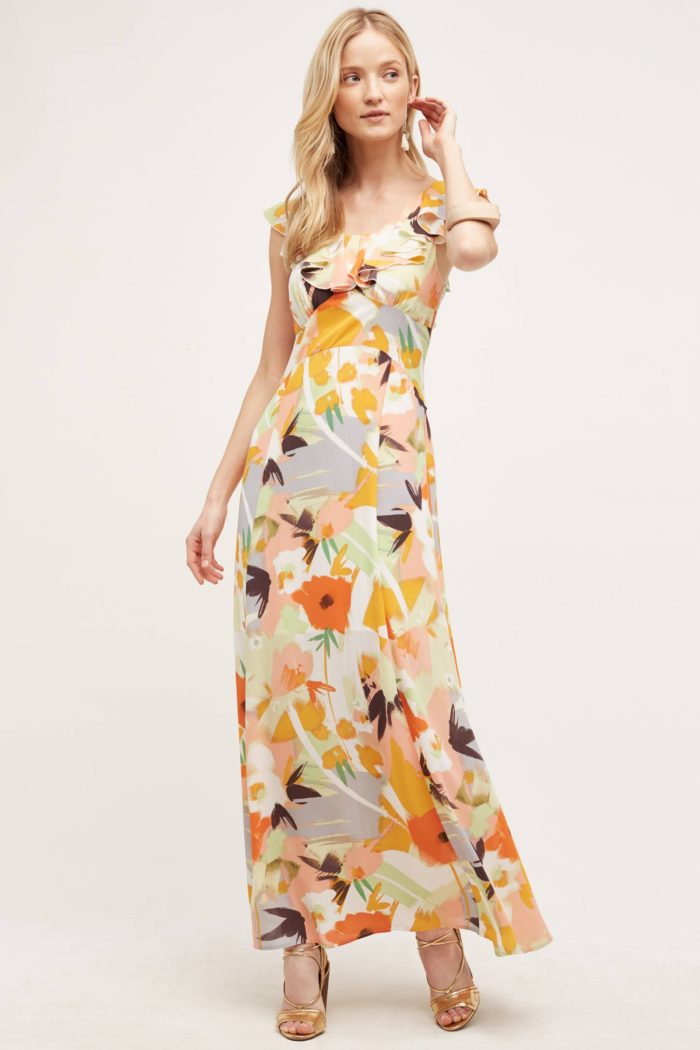 From Anthropologie. Gilded Garden Maxi Dress. Going to a warm climate or a beach chic wedding? This punchy print would be our pick!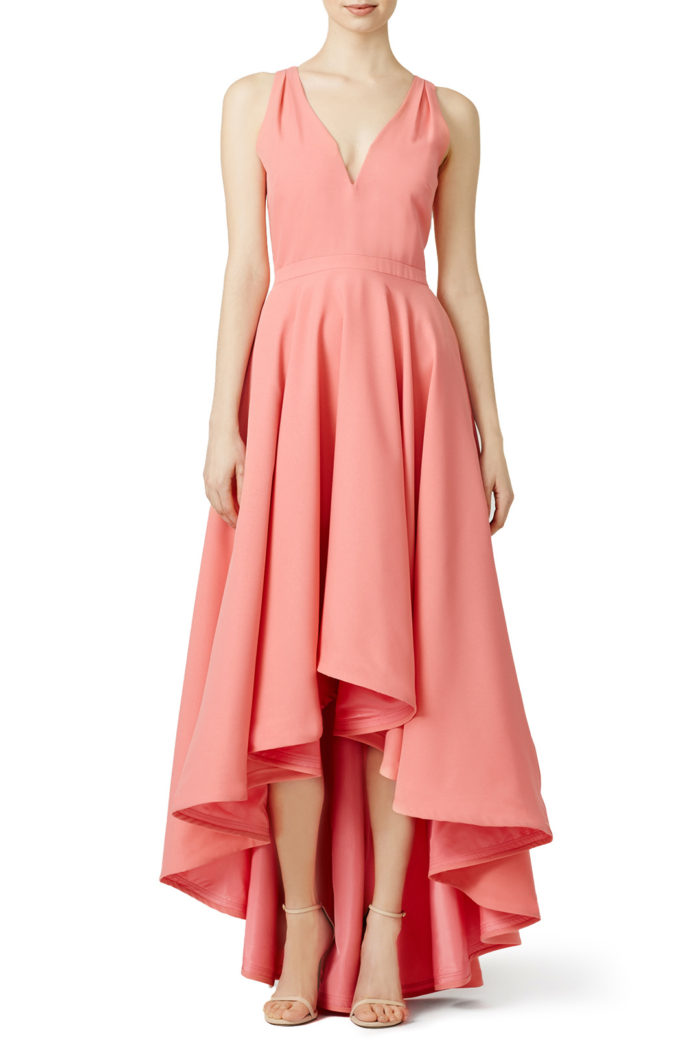 Need a fun-meets-formal style? A hi-low hemline in a rich fabric might be the answer! Coral Marilyn Gown from Rent the Runway.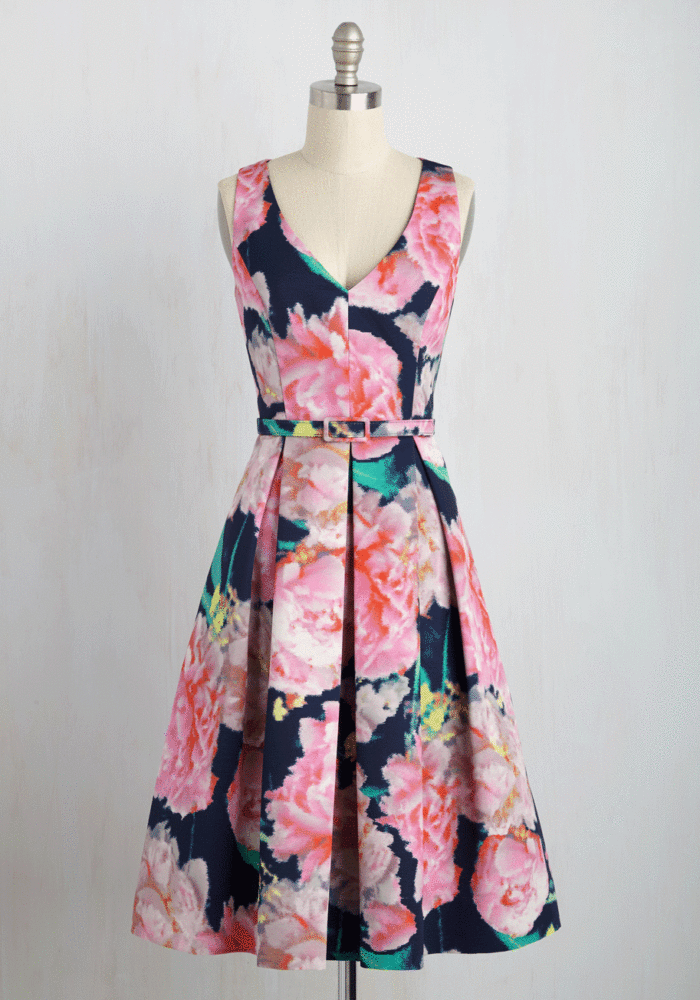 Florals are synonymous with spring, and navy always works, making this fit and flare a winner for an outdoor afternoon wedding! Oeuvre and Oeuvre Again Dress from ModCloth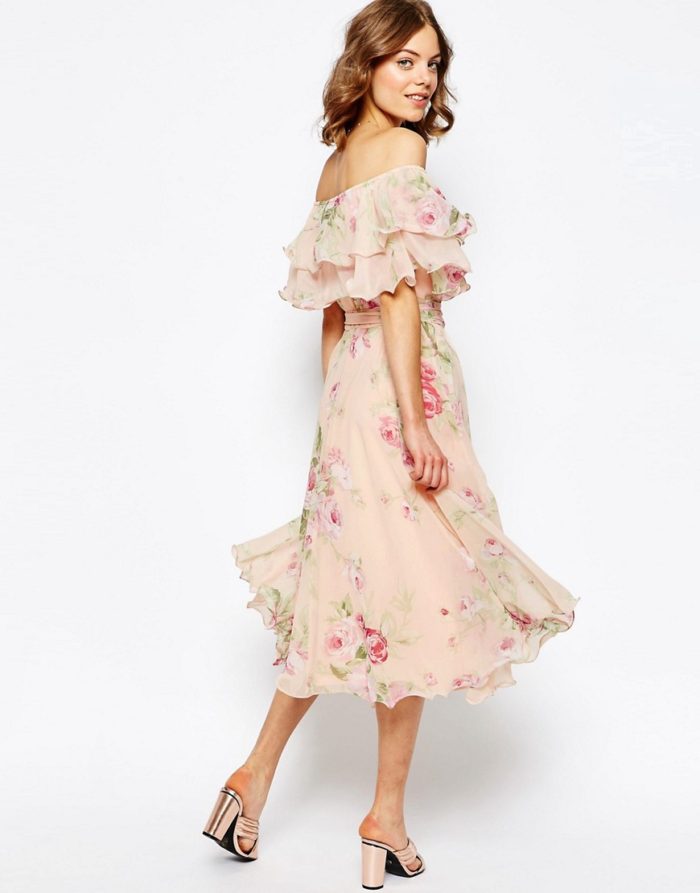 For a rustic spring wedding, or a garden party reception try a soft and romantic floral dress like this off-the-shoulder look. Bardot off-the-shoulder midi dress from ASOS.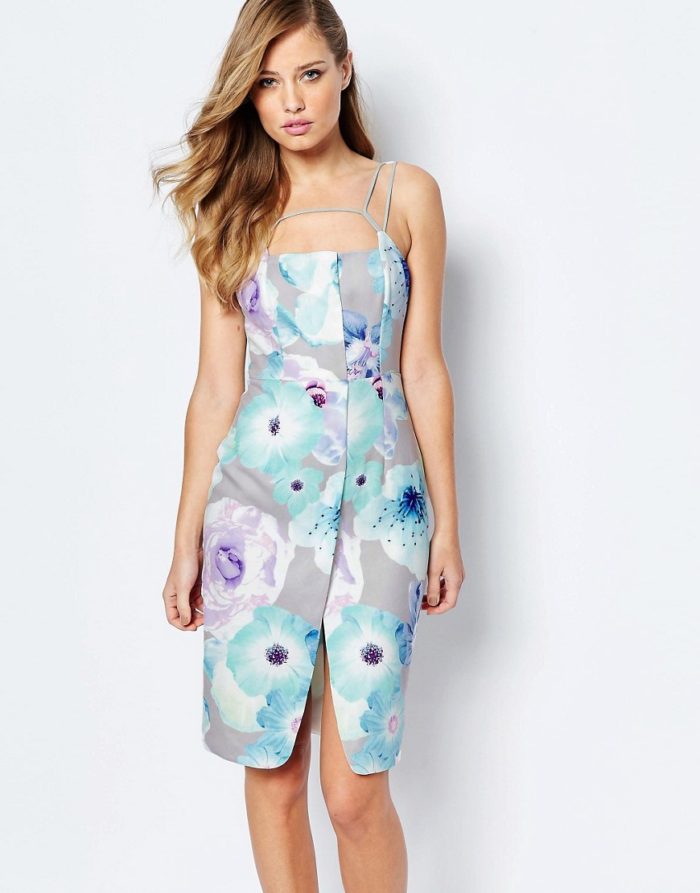 Sleek lines and a gray background beautiful set off this pastel print. Ginger Fizz All Over Floral Pencil Dress With Strap Detail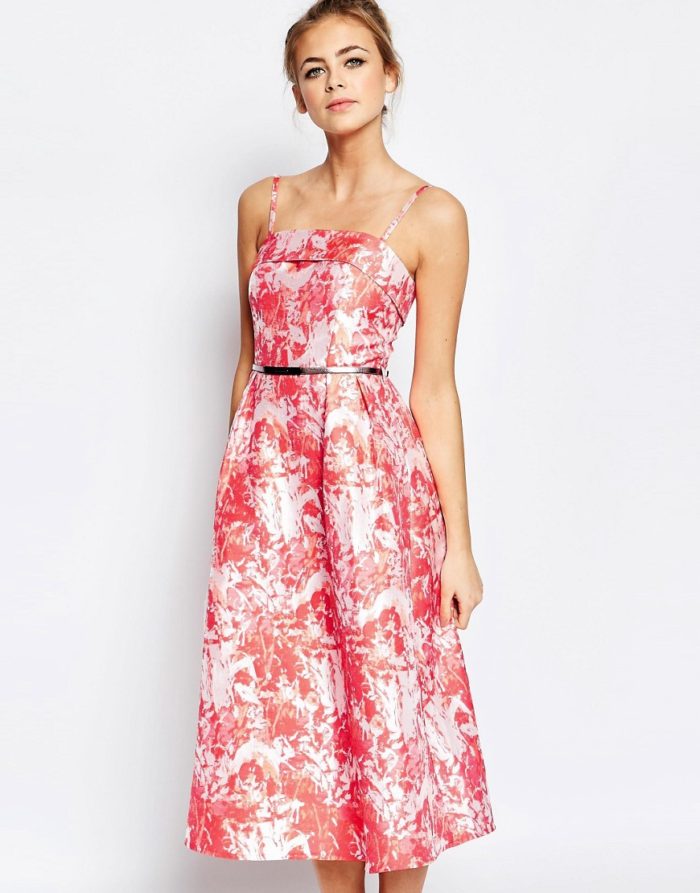 Or try this bold pink patterned look from ASOS. Little Mistress Midi Dress in Jacquard.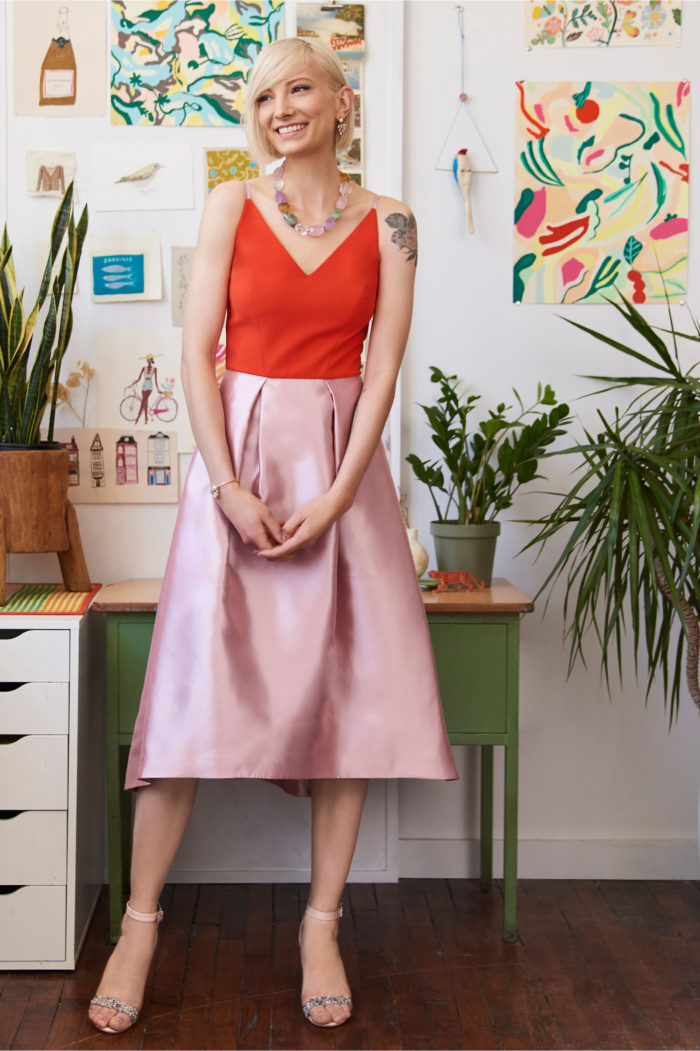 Romy Dress from BHLDN. Be bold! Colorblocking is hot this summer and this look from BHLDN nails the style in orange and pink, Too bold for you? It's also available in pink and orchid!
Links in italics and in the shop section are from affiliates and sponsors, meaning that this blog may earn a small referral commission from the retailer, at no cost to the purchaser, if a qualified sale is made.
Search looks by wedding type:
Wedding Attire for a Black Tie Wedding
What to Wear to a Spring Wedding
More style ideas you might enjoy :