How To Accessorize a Strapless Wedding Dress
Strapless dresses are the perfect wedding dress to choose if you really want a custom look! In addition to the usual, earrings, necklaces, shoes, headpieces and veils, one can also add a topper or sash or sleeves to really change the style. A strapless wedding dress can give you several looks in one!
Shopping sources on this site use affiliate links, which means this site may earn a commission if you make a purchase from our links.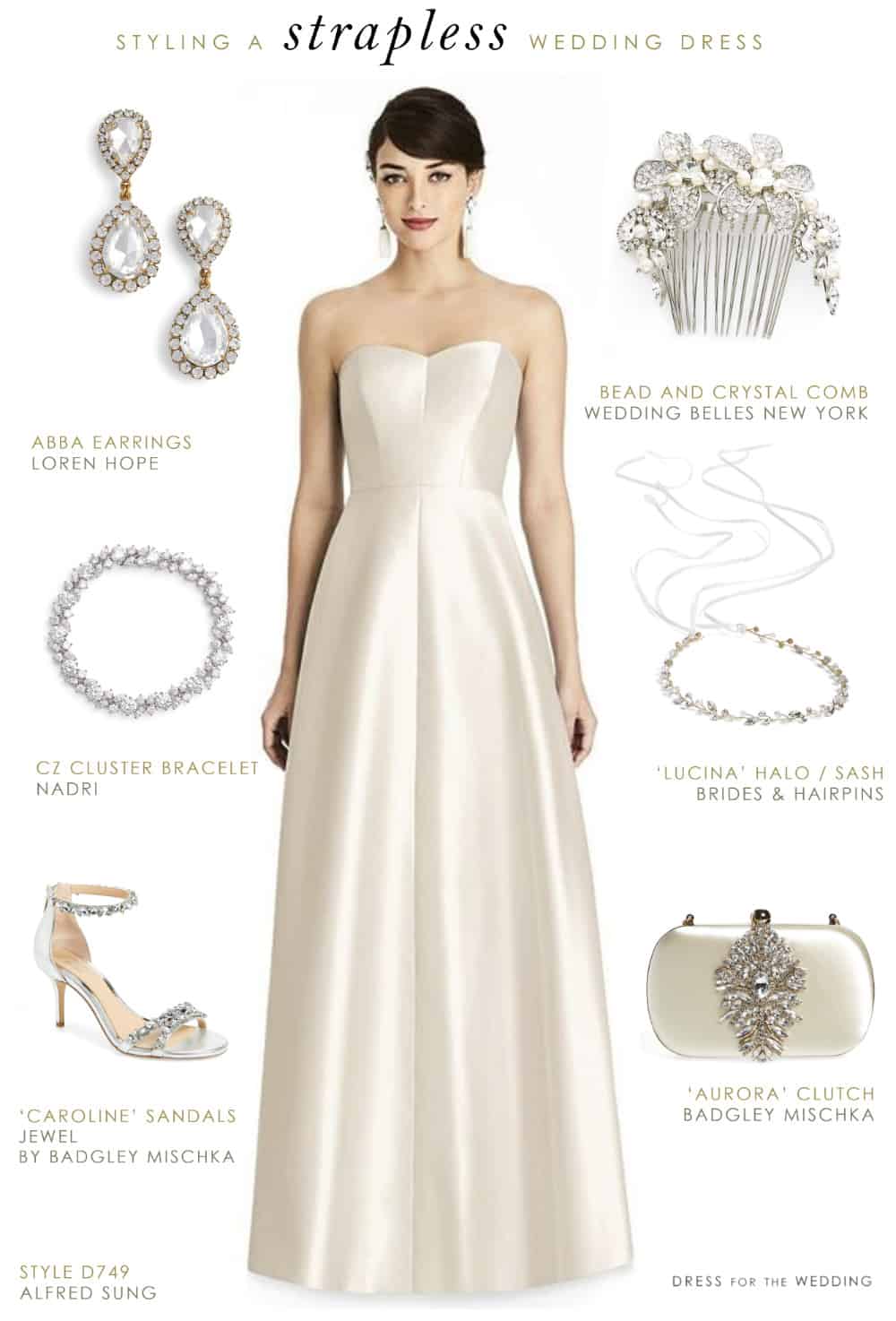 Dress: Alfred Sung Style D749 by the Dessy Group | Earrings: Abba Crystal Drop Earrings by Loren Hope |  Hair Comb: Bead and Crystal Comb from Nordstrom | Sash (Can also be used as a headpiece or halo): Lucina Crystal Halo and Sash from Brides & Hairpins  | Clutch: Aurora Clutch  | Heels: Caroline Embellished Sandal by Jewel By Badgley Mischka from Nordstrom | Bracelet: Cluster Cubic Zirconia Bracelet by Nadri
Strapless bridal gowns are one of the most popular styles of wedding dresses. Today, we'll discuss a few tips for how to accessorize a strapless wedding dress!
Choosing Jewelry and Elegant Accessories for a Strapless Wedding Dress
The wedding outfit ideas I create usually have an accessory pairing to go along with the dress I've selected, but often the dress takes center stage, and the accessories don't always get noticed!
Today, I'm hoping to break down how to accessorize your strapless wedding dress using the same thought processes that I usually follow for the collages!
I'm starting with how to accessorize a strapless wedding dress, not only because they are one of the most popular styles of bridal gowns, but also because they offer the most options for how to accessorize!
We'll work head to toe for how to accessorize your strapless wedding dress!
Accessories for Strapless Bridal Gowns
In general, many strapless wedding dresses are simple and unfettered because there aren't sleeves or a neckline to compete with the accessories. Adding some or all of the following accessories can give even the simplest strapless gown a very unique look!
Should One Wear a Veil or Headpiece with a Strapless Wedding Dress?
Choosing between wearing a veil or bridal headband, hair accessory, or nothing at all, is a very personal choice.
Some brides feel that wearing a veil is the finishing touch to complete the look which makes them feel like they are wedding-ready, while others feel that they veil can be fussy to wear, or take away from some other aspect of the look.
Wedding veils can also have religious or cultural significance, but all in all, the choice is up to you!
Some brides even chose to do both - a beautiful veil anchored in place with a headband, wreath, crown, or embellished comb.
Usually the veil is removed for dancing at the reception, so having a headband or hair accessory on hand even if you do opt to wear a veil, is a great idea.  Check out my picks for veils for weddings!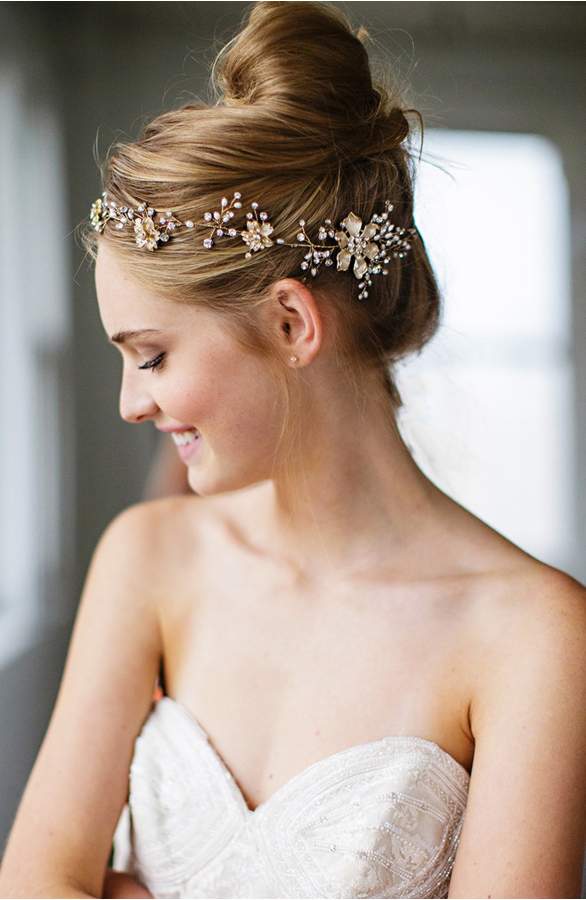 'Ateina' Floral Motif Halo Headpiece or Sash by Brides & Hairpins
Veils For Strapless Wedding Dresses
I personally felt that my super-simple strapless wedding dress needed a veil, because otherwise, it looked like a very simple white gown.
The veils seemed even more necessary when I tried on even more sparse and simple gowns. The simpler they were, the more it seemed to me they really needed a veil to look more like a wedding gown!
However, I actually ended up liking more of my photos where I wasn't wearing my veil. It just made it easier to see my expression, and I felt I looked more like myself without it. I decided to wear mine, because it's really the only event where one is allowed and encouraged to wear a veil.  So wearing it for the ceremony and changing for the reception to something else, worked for me! So why not go for it?
How To Choose A Veil that Suits Your Strapless Dress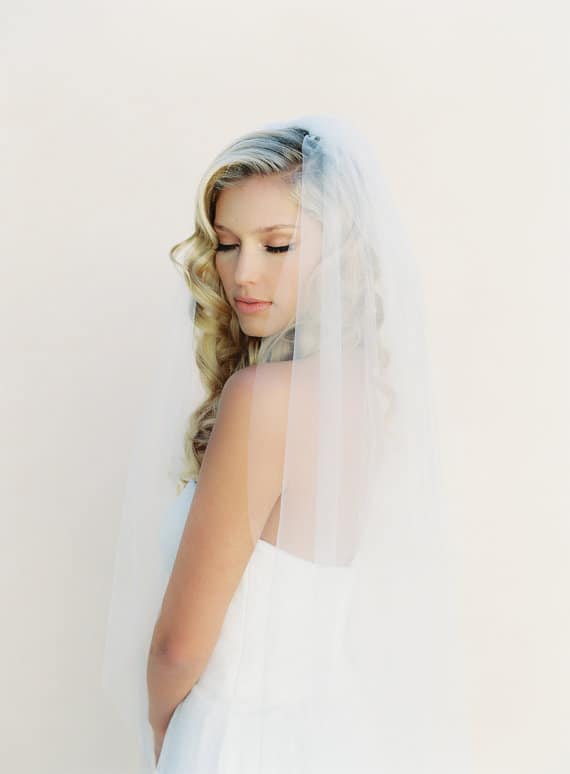 Veil by Veiled Beauty on Etsy.
The length of the veil is also up to the wearer, but your bridal boutique or stylist at the store will be able to help you choose the perfect style for your dress. In general, a longer veil goes with a long gown and grander hemline, and a shorter veil can look best when paired with a short, tea-length or high-low gown.
Generally the grander the venue, the longer the veil. If it's a more casual wedding, and shorter gown, then blusher and birdcage veils can be the best choice. See a few of the wedding veils I love!
Jewelry for a Strapless Bridal Gown
A strapless wedding gown doesn't have delicate sleeves or lace necklines that would catch on jewelry, so a strapless dress won't hinder you from wearing a bracelet, dangling earrings or a necklace with clasps and prong settings that might catch on other styles.
Earrings to Wear with a Strapless Wedding Dress
To me, balance is key, so if you decide to wear a pair of long dangling chandelier earrings, then I would keep the neckline bare, or use a very simple necklace.
I always love the pairing of big earrings and a big bracelet instead of necklaces. Big earrings combined with big necklace can be too much on many wearers, but there are also many who can pull this look off. See what works for you!
Necklaces To Wear With a Strapless Wedding Dress
If it's a statement necklace you have your heart set on, go for it! Obviously the bare open neckline of a strapless wedding dress is a fabulous place to feature a really stunning necklace.
To let the necklace take center stage, I usually back off the size of the earrings try to find complementary earrings perhaps in a cluster style, that brings more attention to the face.
Need help finding bridal jewelry? Have a look at our current picks for bridal jewelry.
Toppers, and Wraps, and Shoulder Jewelry!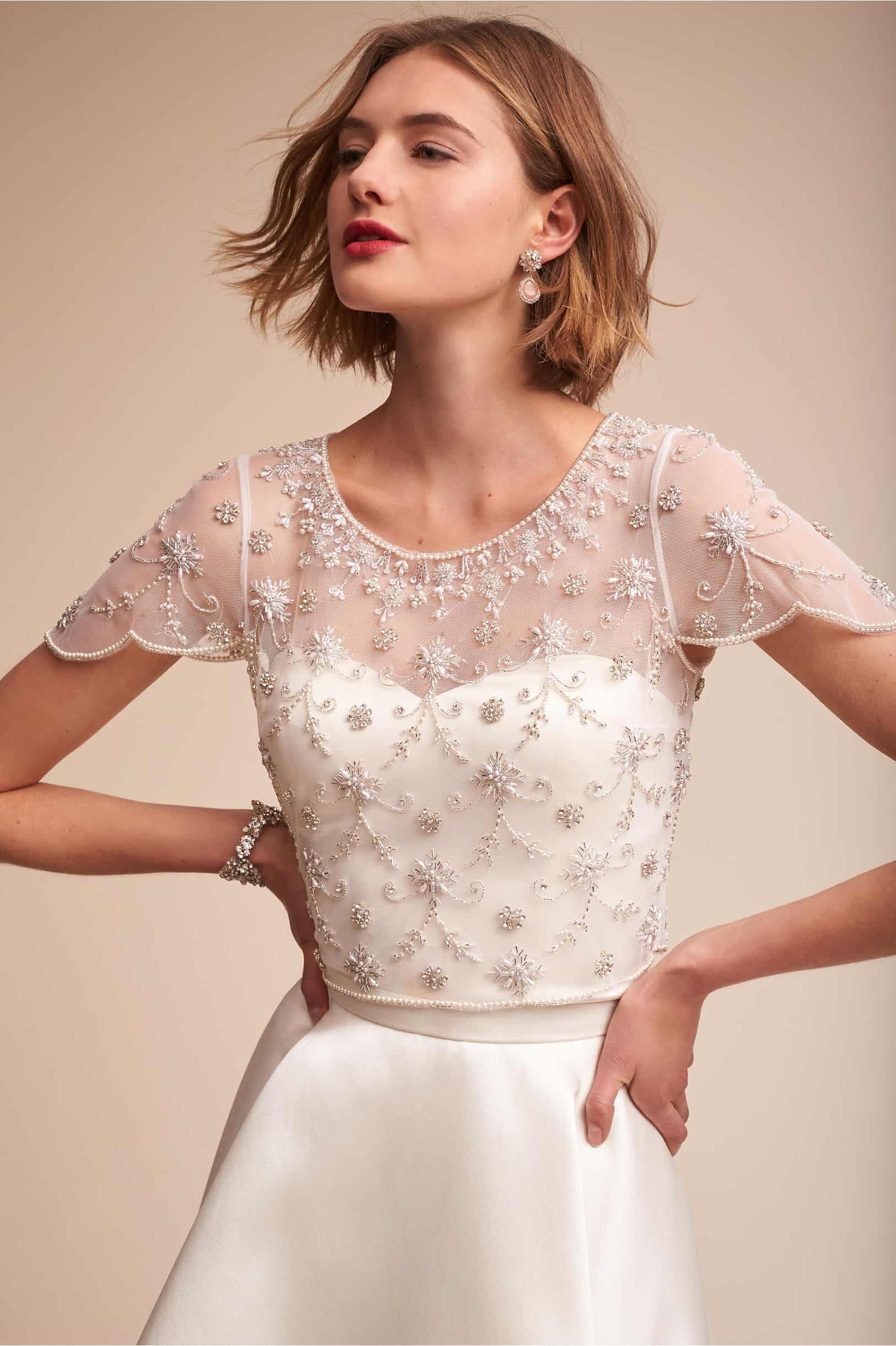 Now this is my all-time favorite tip for strapless wedding dress wearers, and I am so upset that I didn't know about this and employ it at my own wedding!
You can drastically change the look of your strapless wedding dress, and essentially have two different looks for your wedding by wearing a topper or cover up!
This tip is especially helpful for winter or fall weddings, where you may want a little cover-up for warmth!
So if you can't decide between strapless and sleeves, you don't have to! Or if you need your shoulders covered for the ceremony, but want to show a little shoulder at the reception, you can do it!
These light little toppers go over your gown, and when they do, they look like a new dress! Now, of course this style tip works best on a strapless gown that doesn't have much ornamentation or detail on the bodice - if your gown has that, you probably don't want to cover that up. But if you need a little warmth, or want a little jacket to wear to and from the ceremony, these toppers are great.
The best part of these looks is that it's a smaller committment, and you may find yourself wearing the top after the wedding!
See my picks for them in this post all about toppers, wedding capes!
BHLDN has an amazing selection of these goodies, too!  Another option is striking shoulder jewelry! See my picks for those here in this post all about embellished bridal shoulder jewelry.
Clutches for a Strapless Wedding Dress
Clutches are my favorite thing to seek out for a wedding look for a guest, bride, or mother. There isn't any special clutch that is specifically suited to a strapless wedding dress - they all work!
I keep a the shop section stocked with my favorite bridal clutch finds as I go! It's definitely nice to have a little bag to go to for your wedding day essentials.
If you get a clutch in a neutral like gold or silver, or even blush you'll certainly be able to use it again! However, Mrs. Clutches and Bride to Be clutches are just so adorable, they can be hard to resist. You can even rent them!  If you buy a wedding specific clutch, use it for your engagement party through your wedding reception to get maximum time with your special bag! Check out my clutch picks!
Sashes and Belts for a Strapless Wedding Dress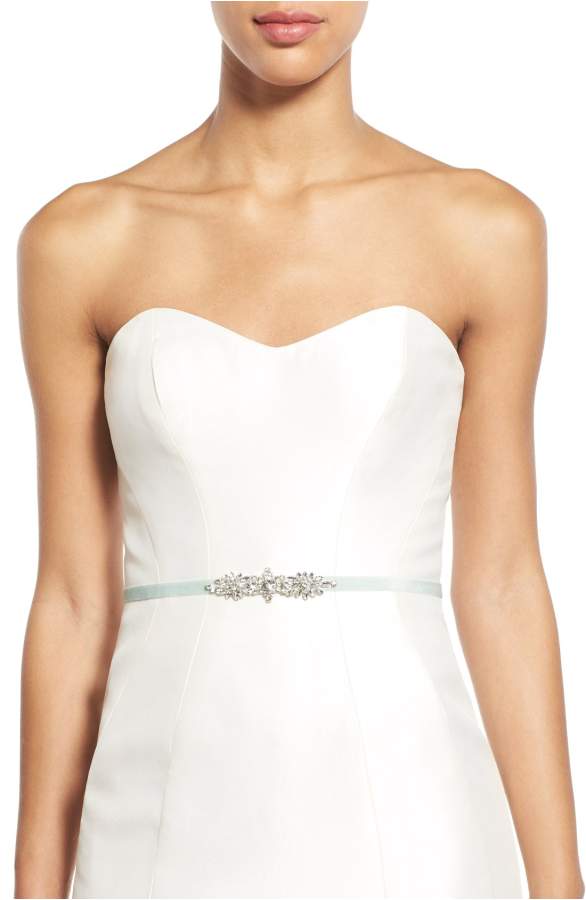 The other thing that really transform the strapless gown is a sash.
I wrote a little bit about the amazing sash I found during my own wedding planning,  so I won't go into detail here, but if your gown is in need f a little detail at the waist, a sash is a great way to get it!
Here's a fun hint - some halo head pieces sometimes double as sashes, so you can wear it as a hair accessory or to accent your waist! For more sashes and belts, check out this post on sashes for wedding dresses!
Undergarments for a Strapless Wedding Dress
There's no doubt that a strapless wedding dress needs something more than the average bra! I have written quite a bit on this subject before, so I won't go on at length, but definitely invest in a perfectly fitting long-line bra or strapless long line shaper.
Your seamstress or tailor may have some great ideas of how to make the bra a part of the strapless wedding dress support you best. Mine was velcro-ed into my gown by my genius seamstress, and so neither the bra nor the gown slipped at all!
It also probably goes without saying, but always be sure to buy your bra soon after you purchase your gown, so you can try on your bra with your dress and take it with you to fittings!
If you already have a strapless bra that you like one, you may want to bring it with you when you try on dresses, even though the bridal boutique often will supply them. Some shops may have improved, but in my experience the shop bras never fit and ended up making the whole fitting experience harder! Read more of our Bridal Lingerie Tips.
Shoes for a Strapless Wedding Dress
Now you might thing shoes are an easy and fun thing to pick out for your strapless bridal gown, and they are-- but you will need to do it well before the wedding, because you need your shoes for fittings.
You see, your tailor or seamstress will want to adjust the hem of your gown exactly to your height in your heels or shoes, so it's crucial to have the shoes by the time of your scheduled dress alterations.
If strapless dress is simple an embellished pair of shoes can be a great way to accent the look. If you have a tea-length or hi-low hem then looking for a fabulous pair of shoes is a great way to go! I always keep a page full of ideas for wedding shoes, have a look!
What to Wear with a Strapless Bridal Gown
As you can see, a strapless wedding dress leaves the a large range of accessory choices wide open for you! Just consider the balance of your pieces, and make sure the style enhances your look!
If in doubt, follow the advice attributed to Coco Chanel, which was "Before you leave the house [or, in this case, walk down the aisle], look in the mirror and take one thing off."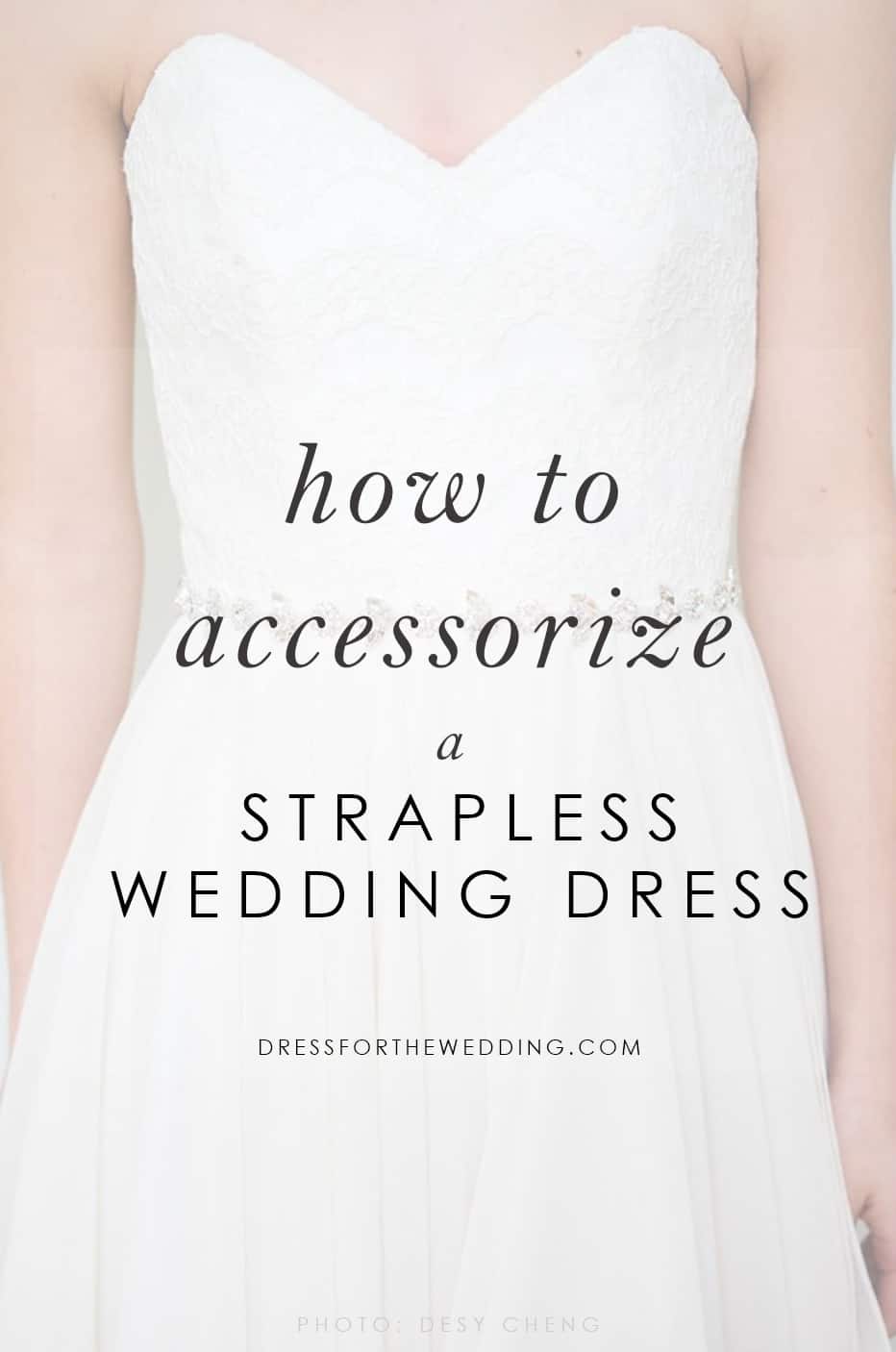 Photo by Desy Cheng via Davie & Chiyo , Dress by Truvelle, Bridal Belt by Davie & Chiyo
If you are seeking more wedding dress inspiration check out:
Shopping sources on this site use affiliate links, which means this site may earn a commission if you make a purchase from our links. 
Shop the Look