Featured Blogger for Your Wedding Experience Philadelphia!
Today is one of the most exciting announcements I've had the pleasure of making on Dress for the Wedding! I've been sitting on this news for a few months, but I don't have to wait any longer! I'll get right to it: I'm delighted to announce that I will be the featured blogger for Your Wedding Experience Presented by David Tutera in Philadelphia on September 13, 2015.  Your Wedding Experience is a completely innovative wedding show with an interactive and specialized approach, and the best tips and trends.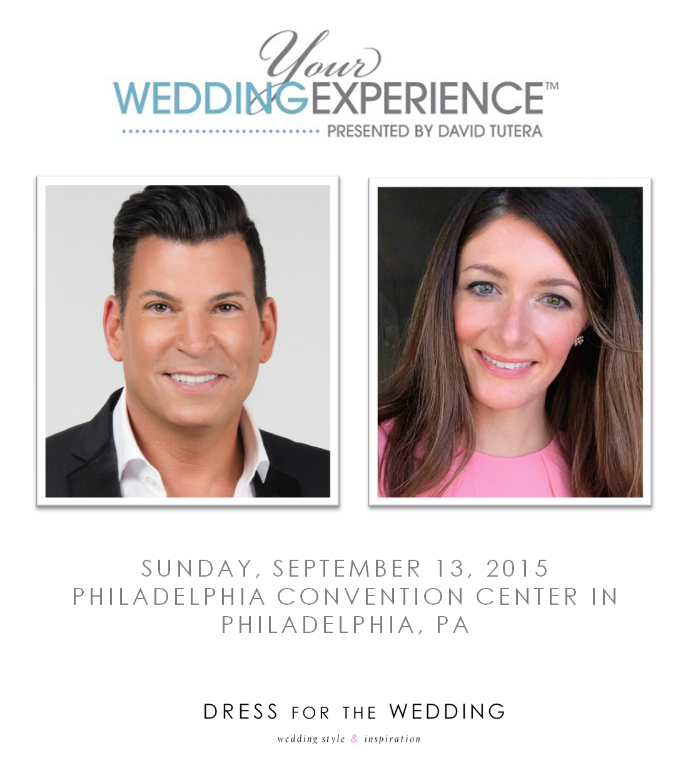 If you're a David Tutera fan like I am, you know that he brings his enthusiasm and energy to every wedding he creates, every party he presents, and all of the stunning dresses, shoes, bridal accessories, and home decor he designs. This wedding event will be full of his signature attention to detail and style, along with an all-star team of vendors who have been approved by David Tutera himself.   Buddy Valastro, otherwise known as The Cake Boss, will also be on hand for this event, judging a Cake and Dessert Showcase! Both David and Buddy will offering not only their advice but also photo opportunities.  There will also be a Wedding Catwalk with lots of wedding dresses to view, and plenty of advice and ideas from top vendors.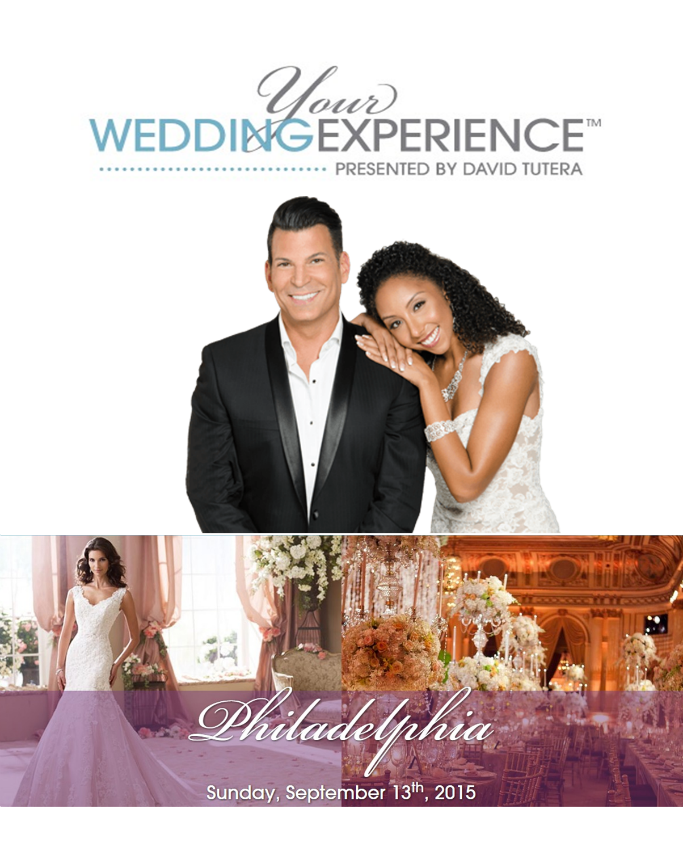 I'll be there too in the 'Meet the Blogger-Something Social' area, ready to talk about all of your dreams for your wedding style. I'll also have a hand-out that will help you keep track of some of your favorite looks and ideas for wedding attire from the show.
There are only 3 of these shows nationwide, so plan to make it to Philadelphia in September one way or another to join in all the fun! Bring your favorite people -- we can't wait to see couples, brides, grooms, bridal parties, even moms and dads of the happy couple!
Here are some ticket details:
Show Tickets: $25,preorder $29 at the door
VIP Access (limited to 300 tickets) : $89 Includes prime seating and entry for special prizes
Show Ticket + Special breakfast event with David and Buddy the morning of the show: $114
VIP Access + Breakfast: $178
Be sure to buy tickets soon check out all the details of the Your Wedding Experience Philadelphia Show, including what to plan on,  special VIP events, and all of the amazing features this showcase has planned. If you're a Philadelphia area wedding vendor, be sure to check out how to exhibit as a David Tutera Approved Vendor!
Also check out my monthly feature on the Your Wedding Experience Tips and Trends page, where each month I'll share wedding attire ideas and tips! Today is my first post - and it's a good one! "How to Find the Wedding Dress that's Right for You!"
Here are a few words from David Tutera himself on how he's making Your Wedding Experience a Wedding Show like no other!