Today, we're showing you an outdoor fall wedding outfit idea for a Mother of the Bride/Groom, plus more Mother-of-the-Bride dresses for small weddings for outdoor, city hall, and backyard ceremonies and receptions.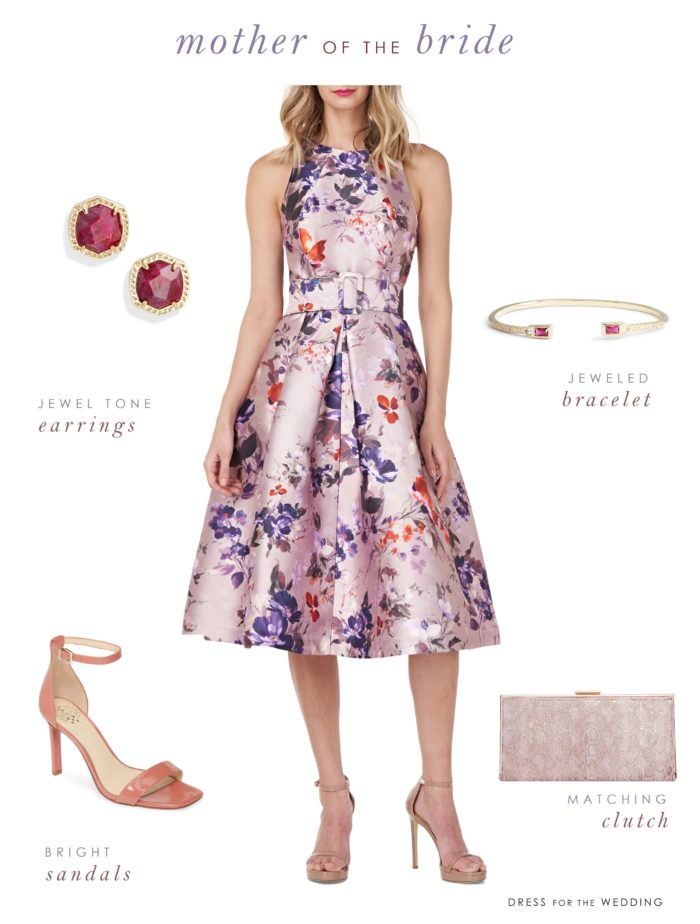 Dress: Jordan Belted Cocktail Dress by Kay Unger from Nordstrom same print also available in a different dress Harley Sleeveless Floral Fit and Flare from Dillard's | Earrings: Davie Stud Earrings by Kendra Scott from Nordstrom | Bracelet: Golden Moment Bracelet from Nordstrom | Clutch: Chelsea Metallic Snake Clutch from Dillard's | Shoes: Lauralie Ankle Strap Sandal by Vince Camuto from Nordstrom
Mother of the Bride Dresses for Small Weddings
While small weddings have always been held, 2020 is certainly a year where intimate gatherings and celebrations with close friends and family-only are the main wedding events we're seeing. With so many weddings this season being downsized and held outside for safety, we are seeing a larger than usual demand for casual Mother of the Bride dresses that suit these smaller and more relaxed ceremonies and receptions. If you've had to have a change of plans or venue, then the ball gown or long beaded dress you may have originally selected for your Mother of the Bride dress may no longer suit the event.
We are also seeing the cases of small vow ceremonies as a part of a change of plans for postponed weddings. Many couples have chosen to move ahead with small vow ceremonies and are planning to hold another larger event in the future when it is safe to do so. In those instances, many mothers are looking for new dresses to wear to the mini-ceremony, because they wish to save their original dress for the upcoming larger event.
What Should the Mother of the Bride or Groom Wear to a Small Wedding?
Just because the wedding is small or has been downsized, it doesn't mean you don't want to dress up! More casual Mother-of-the-Bride styles are often shorter party dresses like the one in our Mother of the Bride outfit. Dresses for small weddings are also slightly less formal material, but they can still be as festive as can be. Long dresses still work as well, especially if it's an informal maxi dress style. Don't feel you have to stick to dresses that are specifically labeled for the Mother of the Bride; many daytime dressy casual dresses or semi-formal cocktail dresses can work perfectly with the right accessories. You might also try a pantsuit, jumpsuit, or just a dressy skirt and top combination. Here are more dress picks below for small weddings.
Shop More Mothers' Dresses for Small Weddings
Here are our latest finds for pretty dresses for casual weddings! Affiliate commission links are used in all shop sections.

Where to Find Mother of the Bride Dresses for Small and Casual Weddings
Nordstrom

Nordstrom has a huge selection of cocktail dresses and daytime dress to add to their already large selection of Mother-of-the-Bride dress styles. Brands like Eliza J, Vince Camuto, and Alex Evenings offer dressy casual styles that are perfect for small weddings.
See More Dresses from Nordstrom
BHLDN

BHLDN has really expanded their selection of short and more informal dresses for Mothers. Also check out their wedding guest and bridesmaid styles, which work for Mothers' dresses too!
Dillards

Since Dillards is located in more southern regions of the US, they always have lighter sundress styles and pretty floral dresses that are perfectly suited for a micro wedding. We also love designers they carry like Adrianna Papell, Tadashi Shoji, and Kay Unger for casual, semiformal, and super formal styles for mothers of the wedding.
Talbots

Talbot's classic style works well for Mother of the Bride dresses. Their more tailored looks suit a city wedding, while their bright prints are perfect for a small beach ceremony.
David's Bridal

David's Bridal has over 400 styles of Mother of the Bride dresses. They also carry a ton of pantsuits and dresses with jackets that work perfectly for a smaller wedding venue. And, if neither of those suggestions suits you, take a look at the offerings for guests and bridesmaids which may be better suited for a small or casual wedding.

More Dresses at Davids's Bridal
More Information for Small Weddings
You may also like this post about Wedding Dresses for Small Weddings or Mother of the Bride Dresses for a Beach Wedding and don't forget to check out Face Masks for Weddings
You might also want to shop Mother of the Bride dresses by color, or see more outfit ideas for Mothers of the Bride.