I hope you saw yesterday's post and enjoyed your introduction to some of the fantastic offerings from Walmart for engagement rings. Today, we're looking at the next step: wedding bands and jewelry for your upcoming wedding day!
Sponsored post. This guide to wedding jewelry has been generously sponsored by Walmart. Affiliate links are also used in this post.
Wedding Rings and Bridal Jewelry
If you are currently engaged -- or planning to be soon -- then the next pieces of jewelry you'll need are special pieces to wear for your wedding day. You'll especially want those very important symbols of your commitment  -- your wedding bands!
Walmart has an amazing selection of wedding jewelry and wedding bands to beautifully accessorize and to wear as a lifelong symbol of your union. First, here are a few pieces I selected for accenting your wedding day attire.
Wedding Day Jewelry Ideas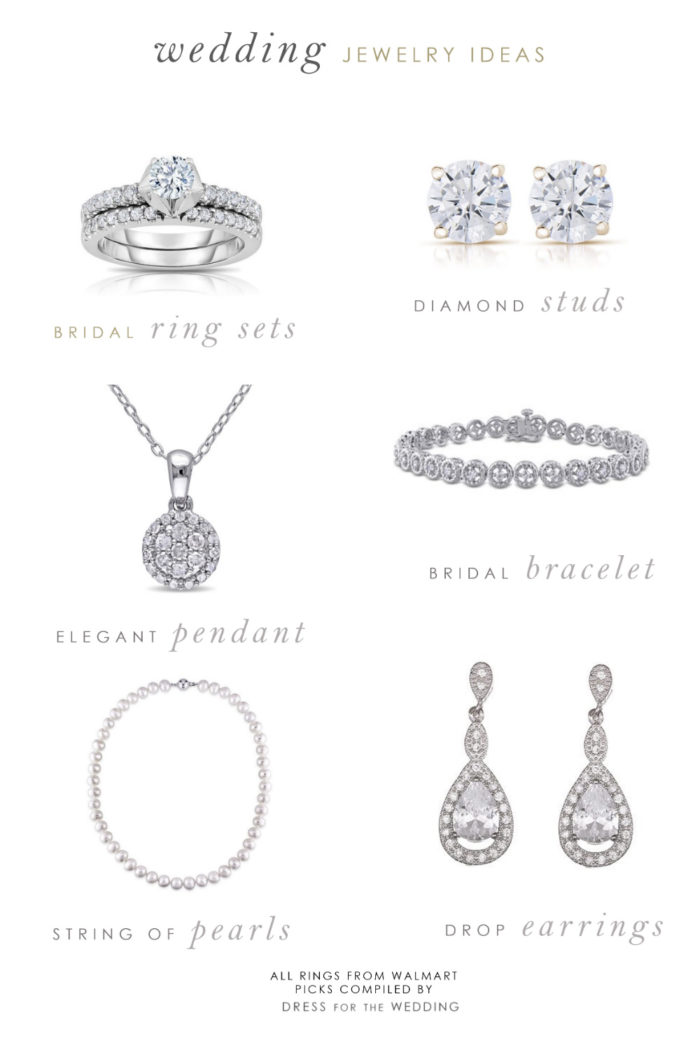 All jewelry from Walmart | 1 | Bridal Ring Set:  1 Carat T.W. Round-Cut Diamond 14kt White Gold Bridal Set | 2 | Stud Earrings:  1 Carat T.W. Round-Cut Diamond 14kt White Gold Bridal Set | 3 | Miabella 1/4 Carat T.W. Diamond Sterling Silver Halo Pendant, 18" | 4 | Bridal Bracelet:  Miabella 1 Cttw Diamond Sterling Silver Tennis Bracelet, 7" |  5 | Pearls: Miabella 9-10mm White Round Freshwater Cultured Pearl Sterling Silver Strand Women's Necklace, 18" | 6 | Teardrop Earrings:  Sterling Silver and Cubic Zirconia Teardrop Earrings
The Wedding Shop at Walmart has some classic bridal jewelry at an amazing value; it's a great way to have beautiful heirloom jewelry pieces without having to part with a chunk of your wedding budget.
Fine wedding jewelry isn't just limited to these bridal ring sets, bracelets, earrings, and necklaces, there are also cuff links and watches, and plenty of accessories for everyone in the wedding party. These pieces also make wonderful gifts for your attendants.
Shop The Look

Wedding Bands and Rings For Her
Your wedding rings and wedding bands will not only be an important part of the ceremony, they'll be something you presumably will wear every day for ever after. That's why it's essential that your wedding band is a perfect match for you in terms of both comfort and style.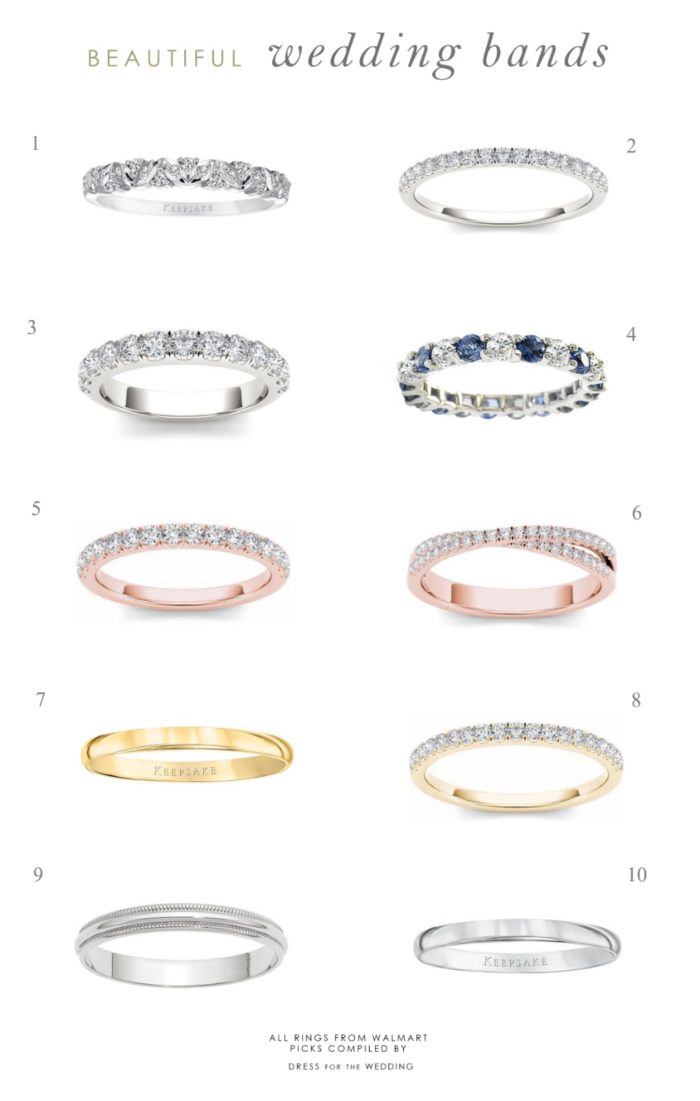 All bands from Walmart: 1 | Keepsake Sweet Remembrance 1/10 Carat T.W. Certified Diamond 10kt White Gold Anniversary Band  | 2 | Imperial Diamond 1/4Ct TDW Diamond 10K White Gold Wedding Band  | 3 | Imperial 7/8 Carat T.W. Diamond 14kt White Gold Wedding Band 4 | Suzy Levian Sterling Silver Blue & White Sapphire & Diamond Accent Eternity Ring  5 |  Imperial Diamond 3/8 Carat T.W. Diamond 14kt Rose Gold Wedding Band  6 | Imperial 1/4 Carat T.W. Diamond Cross Over 10kt Rose Gold Wedding Band 7 | Keepsake 10kt Yellow Gold Wedding Band With High-Polish Finish, 2mm  8 |  Imperial 1/4 Carat T.W. Diamond 14kt Yellow Gold Wedding Band   9 | 14KW 3mm LTW Milgrain Half Round Band  10 | Keepsake 10kt White Gold Wedding Band With High-Polish Finish, 2mm
Walmart has every wedding band style imaginable from popular diamond eternity bands, rose gold wedding rings, classic silver, gold, and white gold bands, along with durable materials like tungsten and titanium.
Shop The Look

Wedding Rings For Him
Walmart offers unisex wedding rings, matched sets, and wedding bands that are grouped by masculine and feminine styles. These more masculine styles offer wider bands, and some durable light metals, details like embedded motifs, and colors like gunmetal gray and jet black.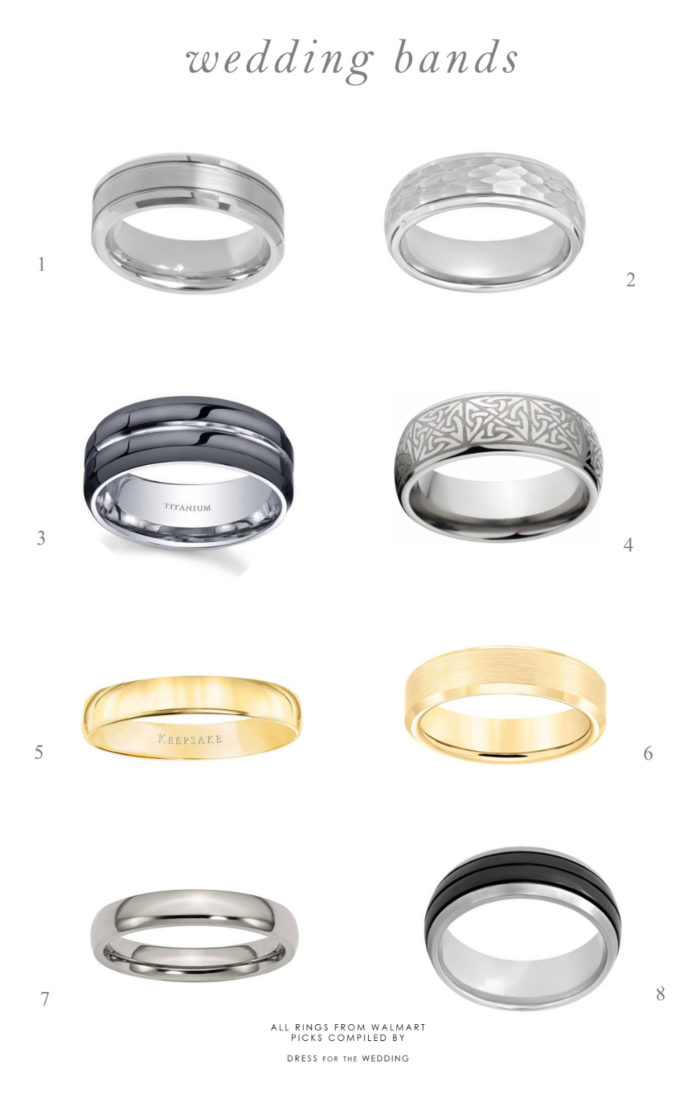 All Rings from Walmart: |1|  Men's 8MM Tungsten Double Grooved Wedding Band  | 2 Men's Tungsten 8MM Hammered Finish Wedding Band  | 3 | Oravo Men's Black Comfort Fit Titanium Wedding Band Ring, 8mm | 4 |  Men's 8mm Celtic Titanium Band with Comfort Fit Design | 5 | Keepsake 10kt Yellow Gold Comfort Fit Wedding Band, 4mm | 6 |  Keepsake Power Yellow TitaniumPlus Mens Wedding Band | 7 | Primal Steel Titanium 4mm Polished Band  | 8 | Men's Two-Tone Titanium Striped Wedding Band
A few tips: If wearing a ring feels unusual for you, try one of the comfort fit styles. If you participate in sports, or regularly do work where your ring could get caught in machinery or equipment, they even have the new silicone ring styles to wear as an alternative. There's truly a wedding band to suit every hand!
Shop The Look

This post was generously sponsored by Walmart; additionally; the shopping sources in this post use affiliate links, which means this site may earn a commission if you make a purchase from our links. 
Shop Wedding Bands, Rings, and Jewelry from Walmart
I hope this look at wedding bands and wedding day jewelry has helped you narrow down the sort of pieces you might like to wear on your wedding day and on your ring finger every day after your wedding. Here, you can shop directly from some of the pieces we loved as we created this post, or visit Walmart for more details on any of these products!