8 Dresses for Flower Girls and Young Wedding Guests
If you've thought in the past that poring over wedding dresses was fun, let me introduce you to what could be your new favorite activity: fawning over flower girl dresses! Oh my heavens,  these little gowns and dresses are cute!  Have a look: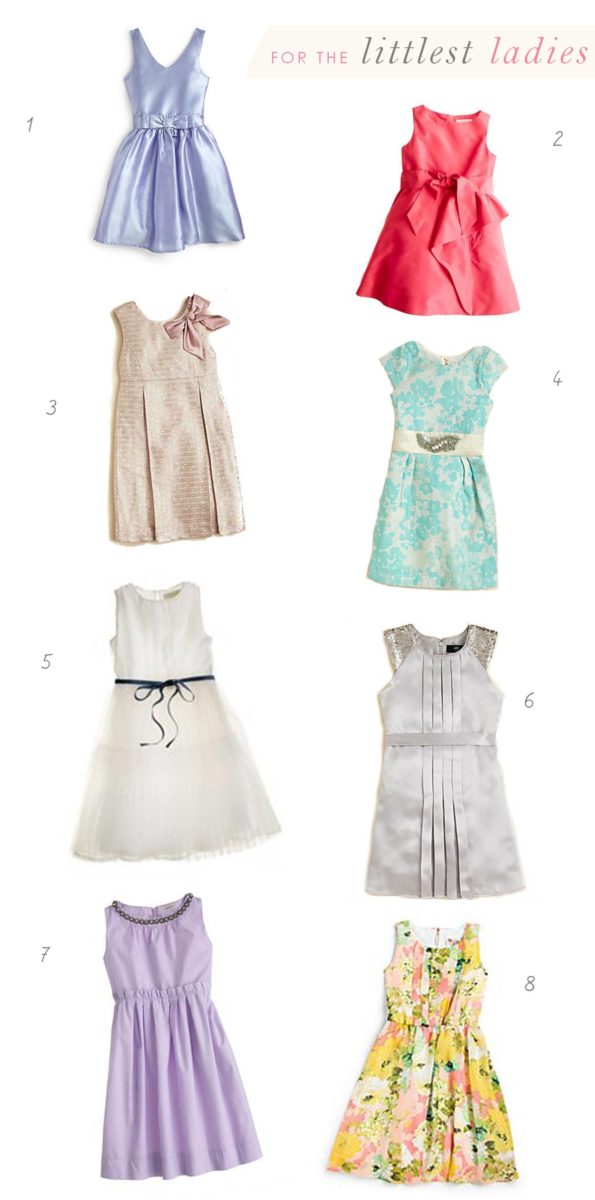 1.   Girl's Jackie O Taffeta Dress by Un Deux Trois 2. J.Crew Girls' Collection Silk Taffeta Tilly dress  3. ABS Girls by Allen Schwartz Girls' Naomi Jacquard Dress  4. Girl's Shimmer Brocade Dress 5. J.Crew Girls' collection tulle Odette dress 6.  ABS by Allen Schwartz Girls' Sequin Sleeve 7. J.Crew Girls' Collection poplin Loulie dress in Dried  Lavender 8. Girl's Floral Pleated Dress from Saks Fifth Avenue 
Welcome to my new pastime, where I spend a good part of the afternoon  finding little flower girl dresses and party dresses. I'm not sure why, but I haven't written much about flower girl dresses since my post where I had Alison, age 8 pick out her dream dresses. Well, I don't mean to slight Alison's wonderful picks, but lately I've been finding lots of dresses I would wear  myself  if  these little mini-confections came in a size that wasn't based on one's age!
I love a traditional flower girl dress in plain white as much as the next person, but I'm really also in favor of having the little tiny ladies have a bit of color. I also don't mind a more casual or modern look for flower girls so some of these may be too casual for more formal weddings.
I'm sure you can see that they'd also make sweet dresses for little girls who have been invited to the wedding to wear (and--quick -- wear them again to birthday parties, and church too, before they grow out of them!)
So, I'm assuming many of you reading the blog might be over the age of 6 -- so which dresses would you pick for the young lady (ies) in your life? Hey, it's ok with me if you pick it based one you'd most like to wear!