Today, we'll be focusing on where to find junior bridesmaid dresses. Our editorial team has searched out some of the top places where you can shop for junior bridesmaid dresses for the young teen and tween-aged members of your wedding party. We've rounded up our picks for some of the prettiest dresses in order to make finding a great dress for junior wedding attendants much easier!


We were recently asked by a friend with two daughters under 13, "Where is the best place to shop for junior bridesmaid dresses?", and to our dismay, we realized we hadn't written any recent shopping guides for finding dresses for junior bridesmaids! So today, we are about to fix that with this guide for junior bridesmaid dresses that feature picks from some of our favorite special occasion sources.
Where to Find Junior Bridesmaid Dresses
Junior bridesmaids and their attire can sometimes get overlooked in the roles between flower girl and bridesmaid. This junior age group is usually rapidly growing, so getting a dress in the right style and with room to grow up until the wedding date is especially important!
The exact definition of a junior bridesmaid is a bit dynamic and really up to the couple picking the wedding party. Usually, it's a family member or dear friend of the couple in the age group of about 9 or 10 up to 16. Fortunately, if you are seeking a junior bridesmaid dress, you have several shopping options for age-appropriate wedding attire. Here are some of the best selections of dresses for junior bridesmaids we've found.

Shop More Junior Bridesmaid Styles
If none of the dresses above fit what you're looking for, here are some more spots where you can look!
Azazie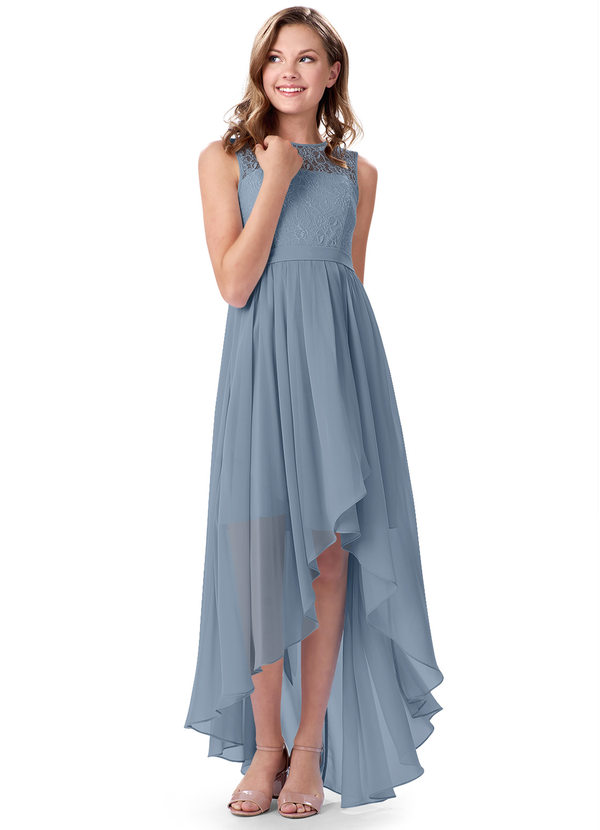 Roslin Dress
Azazie is known for made-to-measure bridesmaid dresses which make fitting for your wedding party a breeze. Their made-to-measure feature is perfect for sizing ever-growing junior attendants. In fact, we did an at-home try-on and review of Azazie dresses a few years ago. Azazie also has one of the largest ranges of colors and fabric, and nearly endless combinations of necklines, sleeves, and lengths. This brand's selection of junior dresses is also at a perfect price point, with most dresses under $70, and several under $60 and $50! When we last checked, there were 167 styles to choose from for these affordable and stylish junior bridesmaids' dresses and about 60+ colors.
Dessy

Dessy is one of the most respected names in bridesmaid dresses. Many wedding boutiques carry this line. That's likely because of their vast selection of dresses for bridesmaids, coordinating formal wear, and their long-standing brand excellence. Dessy's selection of junior bridesmaid dresses is unique with details and upscale styling. The price point is about $220 and the styles are completely elegant, unique, and modern and coordinate well with the bridesmaid dresses offered by Dessy. We especially love the special attention to design details and fabrics like velvet, floral, and satin options.
Kennedy Blue

Ireland Dressfrom: Kennedy Blue
Kennedy Blue has junior bridesmaid dresses in 56 colors and 9 that echo the design elements of their fantastic bridesmaid dresses. We can just picture some junior bridesmaids feeling pretty special while getting to wear these sweet styles! At the time we're writing this, the styles range from $99-129 and come in junior sizes 6 to 16.
See more Dresses at Kennedy Blue
More Junior Bridesmaid Tips
We often see flower girl dresses in all white, or party dress styles that aren't identical to the bridesmaid dresses. However, junior bridesmaid dresses usually do echo the style and color of the main bridesmaid dresses in some way.
Depending on your preference; you may choose to have the junior dresses exactly match the bridesmaid dresses, the flower girl dresses, or to have a distinct style.
If the wedding is over a year or several months away, it can be a good idea to buy the junior bridesmaid dress in a size for the wearer to grow into. It's always easier to have taken in if needed. And, if a junior dress just simply isn't available to match, you may wish to see if your tailor can alter a bridesmaid dress for the junior bridesmaid.
You Might Also Love
This post about where to find flower girl dresses, or browse and find out where shop for bridesmaid dresses by color scheme.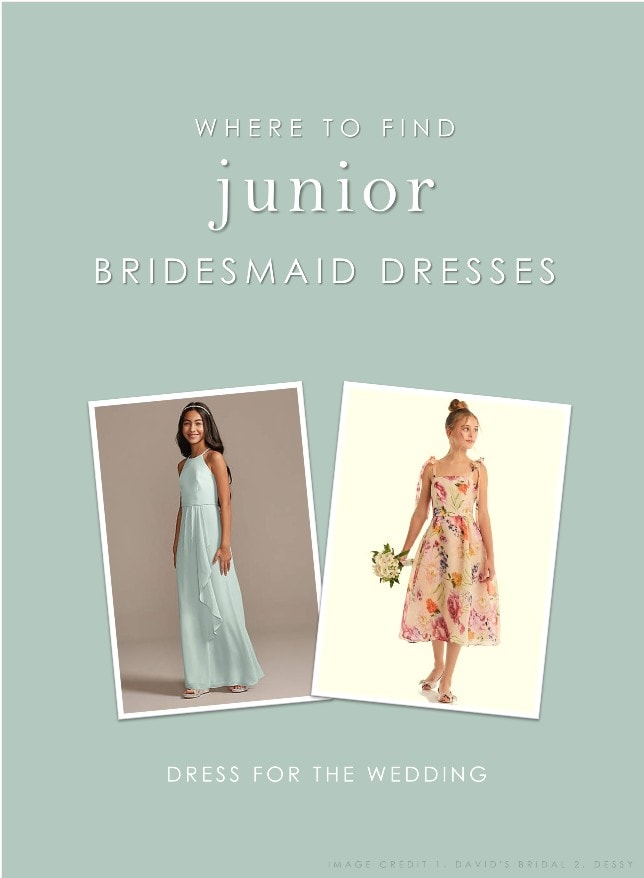 Images and dress details: Blue Dress: David's Bridal Floral Dress: Dessy