Anne Barge Wedding Gowns - Anne Barge Spring 2014 Bridal Collection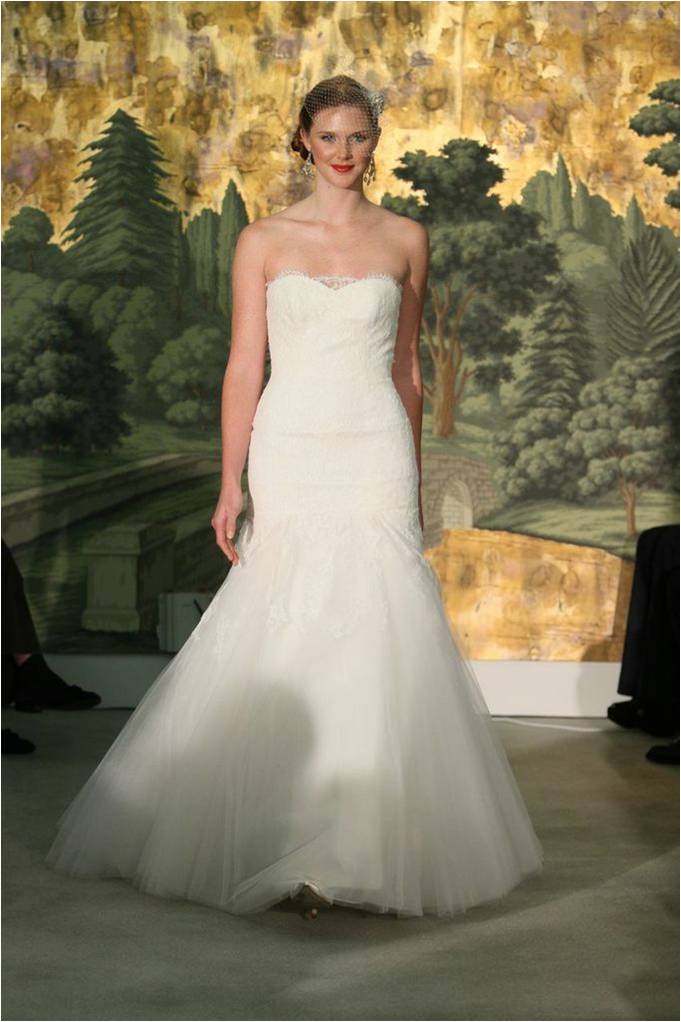 Hyacinthe by Anne Barge
Anne Barge Spring 2014 Bridal Collection
This past Sunday, I had the pleasure previewing the Anne Barge Spring 2014 Collection. Sundays are usually already a bit blissful for me. They might consist of a better-than-normal breakfast or brunch, a little coffee, and usually a day of free time and relaxation. So, if one were to improve upon how to spend one's Sunday, sitting at the Anne Barge show,  ensconced in the elegantly appointed Hyde Room in The London Hotel, previewing the Spring 2014 Bridal Collection, is certainly one of the finest ways to do it.
Always a classic and elegant line, Anne Barge's  Spring 2014 collection continued the legacy as being an impeccable choice for brides.
For the Spring 2014 collection, Anne was inspired by the sense of lightness as evoked by the Impressionist painter, Claude Monet, and combined that reference with with silhouettes inspired by those of famed couturier Pierre Balmain.
I invite you to view these amazing gowns, right from the runway.  I particularly thought  Hyacinthe --pictured above--with a perfect balance of tulle and lace, was exceptionally lovely, Marguerite's neckline and overskirt were elegant, Narcisse was stunning, and Grenadier's herringbone patterning were something to behold as well.
Astère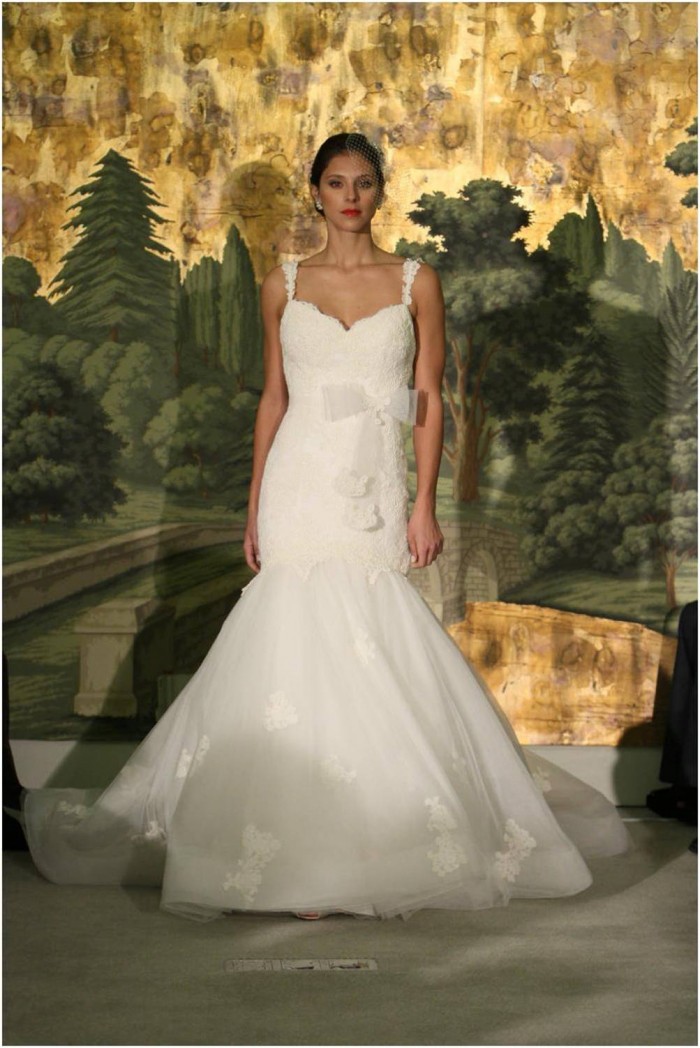 Astère is a spaghetti strap fitted gown with a dropped torso of pearl Alençon lace over silk white charmeuse with matching ballerina lower skirt of layered tulle .
Hyacinthe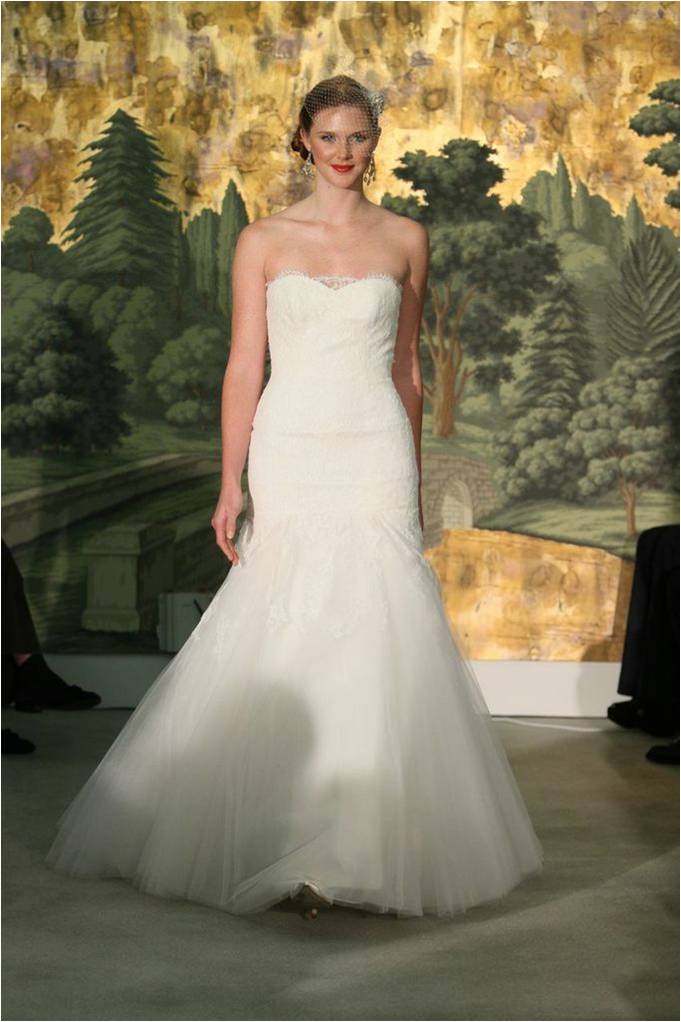 Hyacinthe is a strapless mermaid gown that merges into two different pearl Chantilly laces over layers of pearl illusion tulle; features a tulle horsehair hem.
Marguerite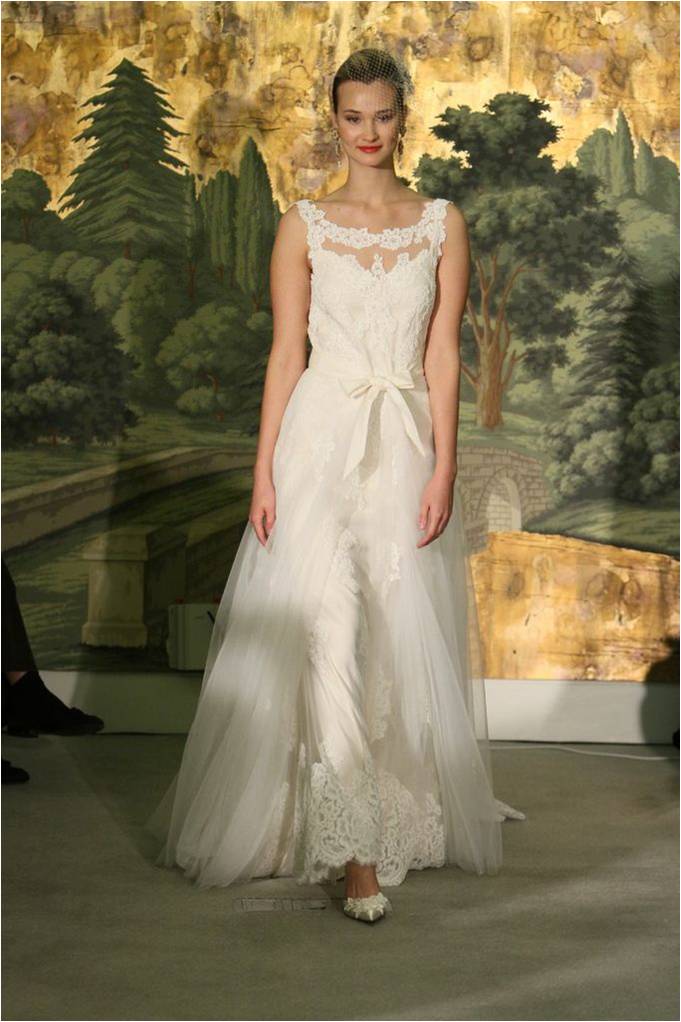 Marguerite is a  fit and flare gown with a Sabrina neckline and a love v- back of pearl Alençon lace lined in honey silk charmeuse accented by a self-tie overskirt of  layered tulle and Alençon lace.
Bouquet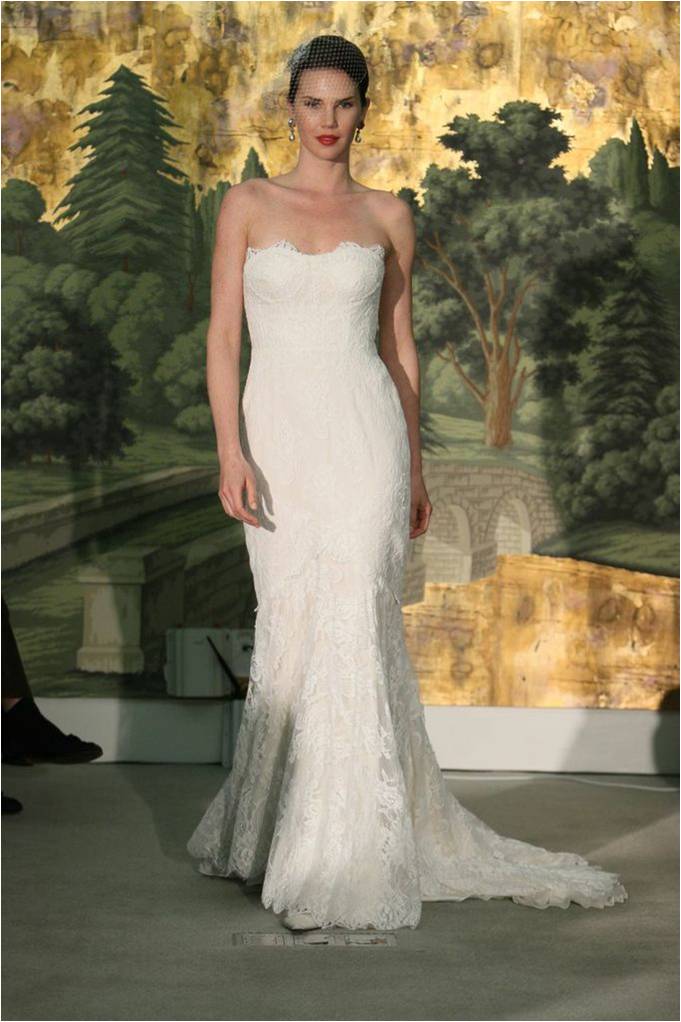 Bouquet is a corseted strapless mermaid shape gown of silk white Chantilly lace over blush silk chiffon and silk white charmeuse. Shown with matching veil.
Grenadier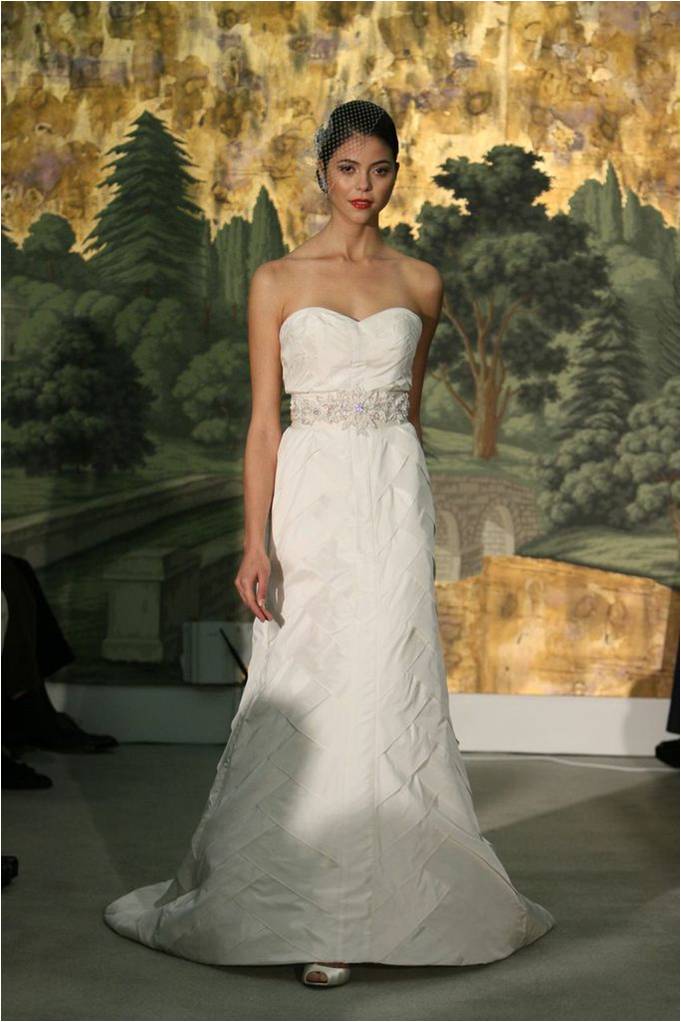 Grenadier is a an architectural strapless gown of folded pearl tissue taffeta in an all over herringbone pattern.
Morelle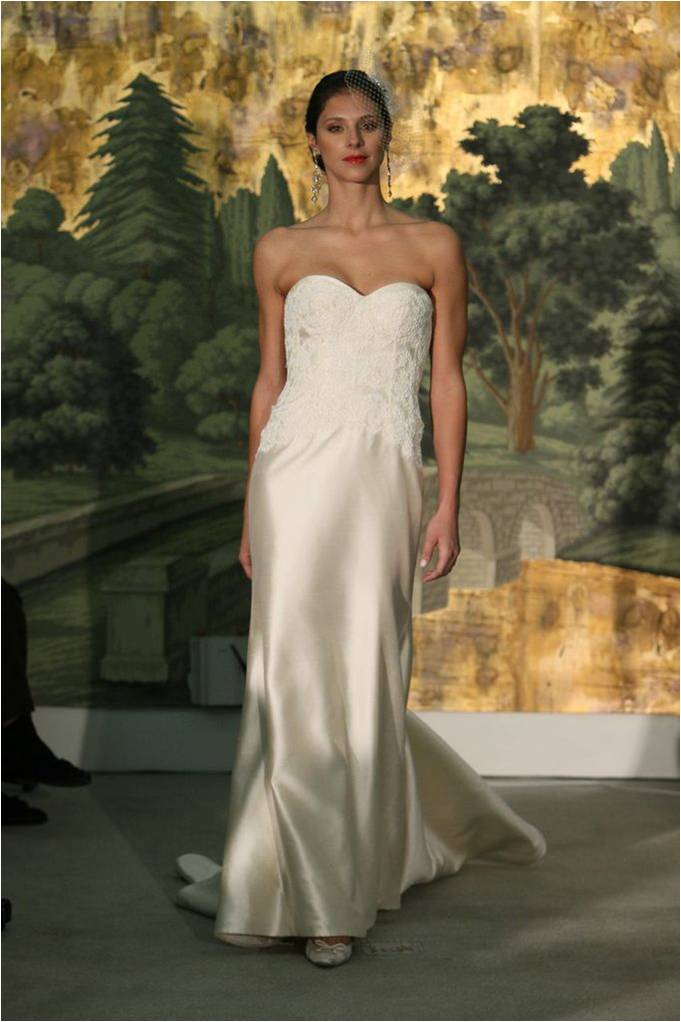 Morelle is a corseted mermaid gown of ivory Raso silk shantung accented by bands of pearl Alençon lace on the bodice.
Osmonde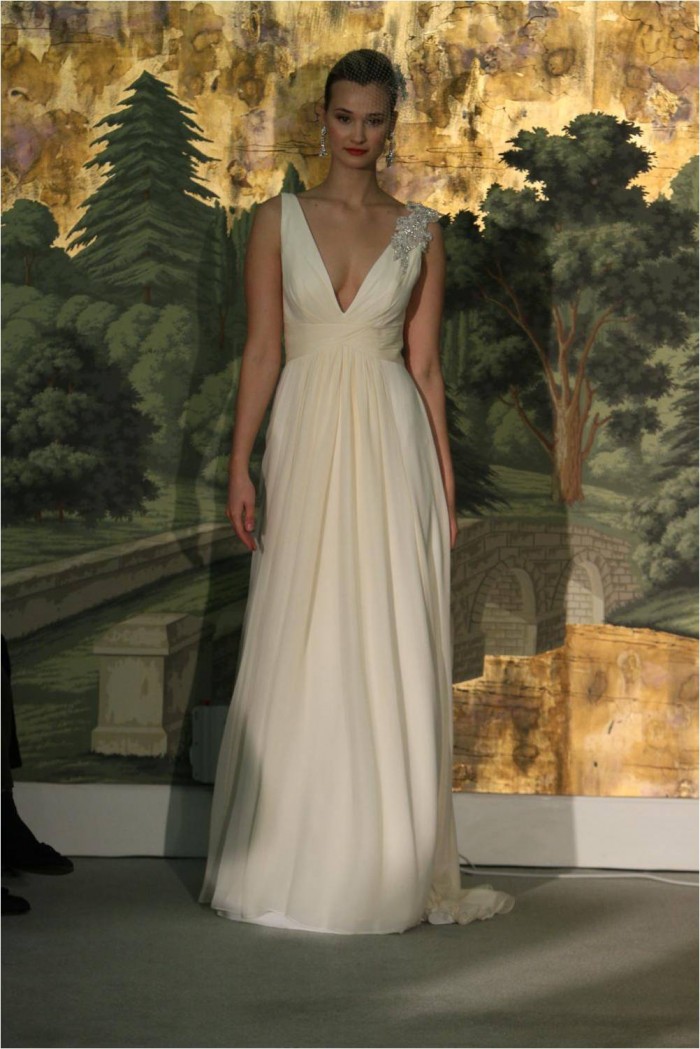 Osmonde is a v-neck goddess gown with shirred criss-cross cummerbund and flowing skirt of butter creme silk chiffon.
Narcisse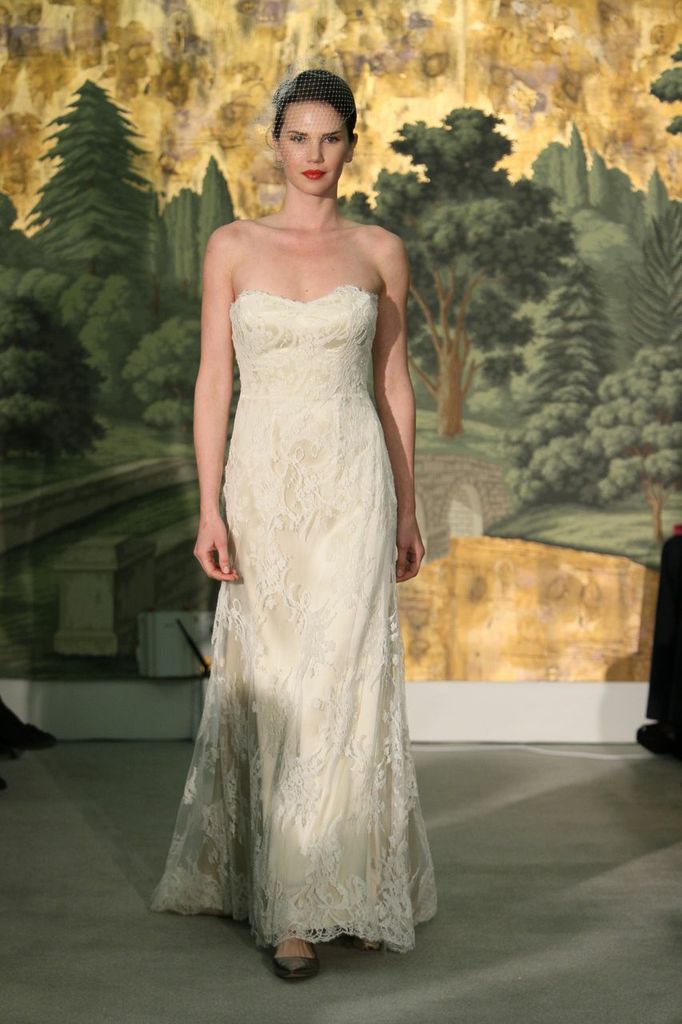 Narcisse strapless fitted and flared gown of greige Chantilly lace line in latte silk charmeause with shirred sweetheart neckline.
Belle De Jour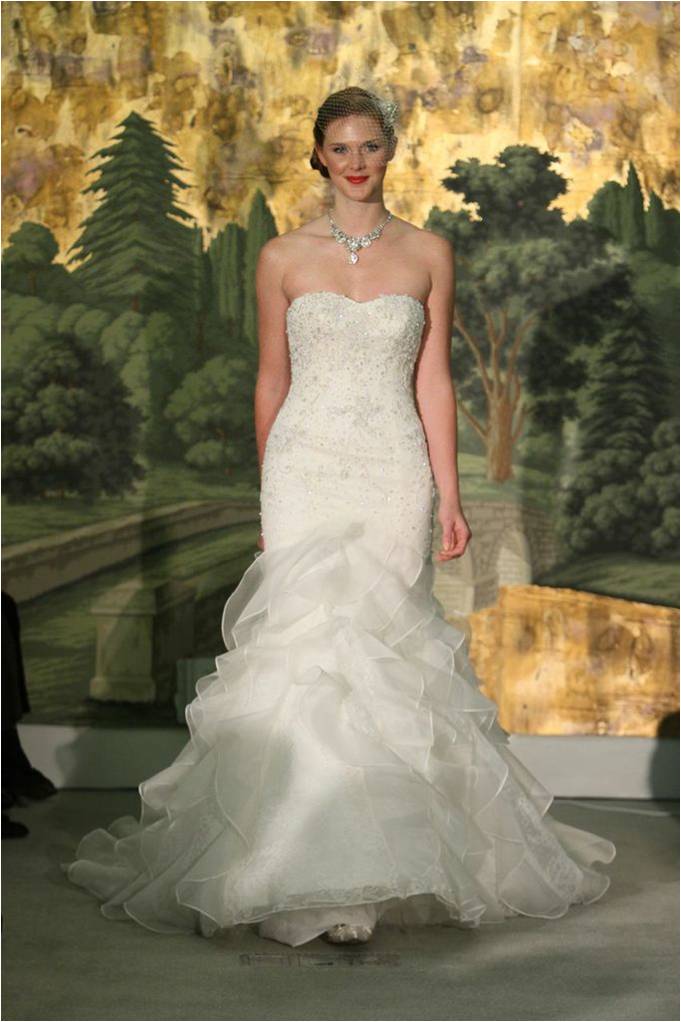 Belle De Jour is a strapless mermaid gown of pearl with beaded Chantilly torso and cascading pearl silk organza ruffles atop Chantilly lace skirt.
Acacia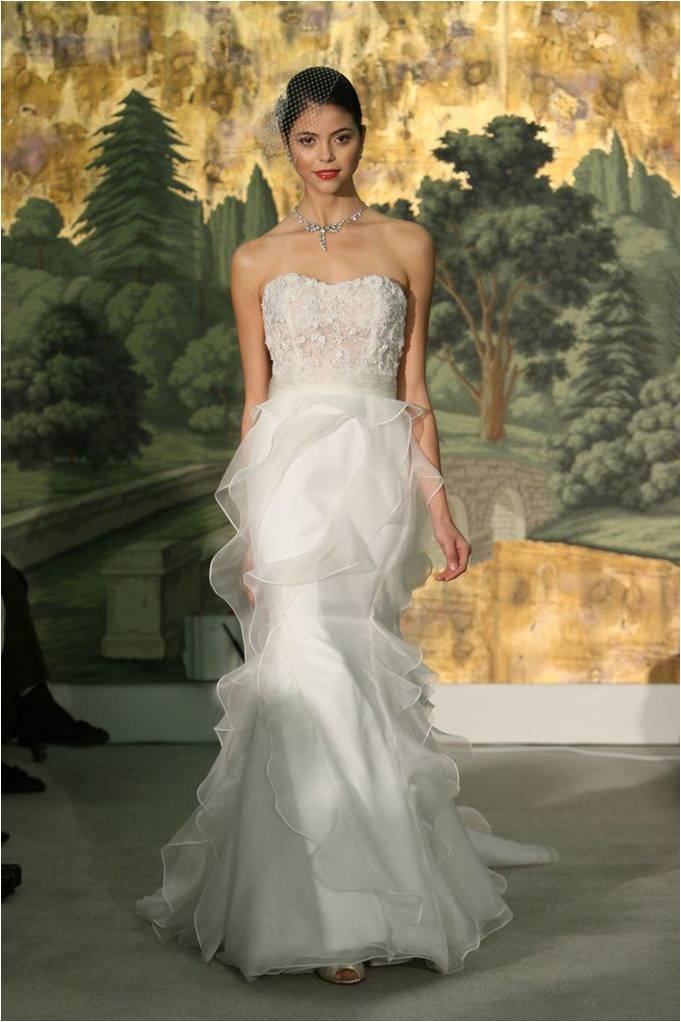 Acacia is a natural waist strapless gown with at corset of pearl beaded Chantilly lace accented at the waist with a pearl silk organza shirred cummerbund and mermaid skirt with cascading silk organza ruffles.
Dahlia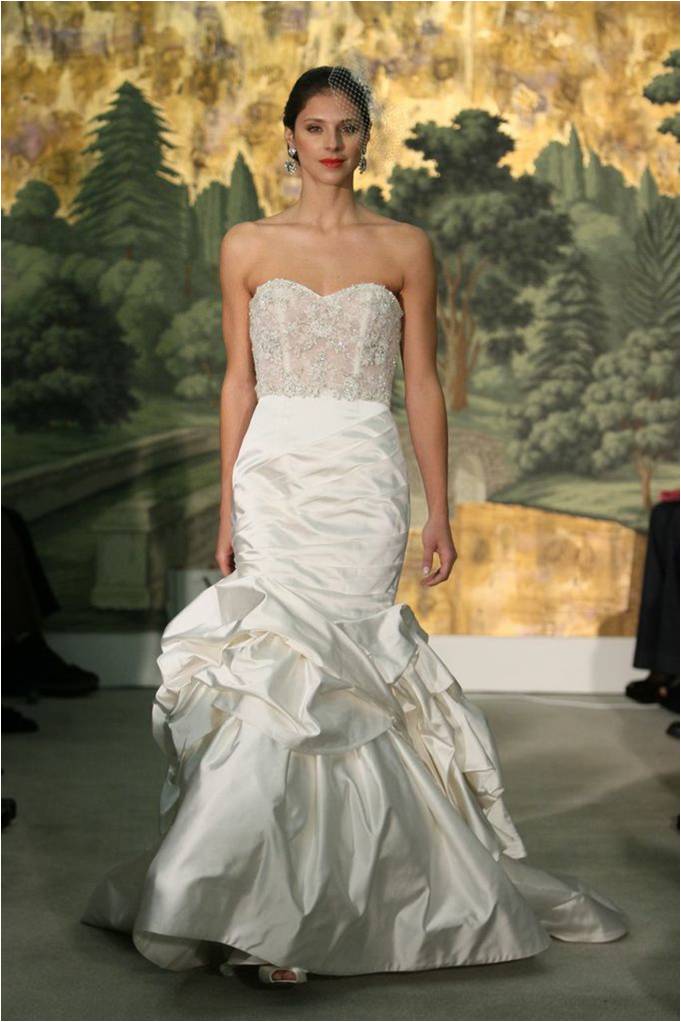 Dahlia is a natural waist gown featuring a corset of beaded Chantilly lace with diagonally fitted and pleated skirt of pearl Duchesse satin that mushrooms into cascading pick-ups and a full lower skirt and chapel train.
Coriandre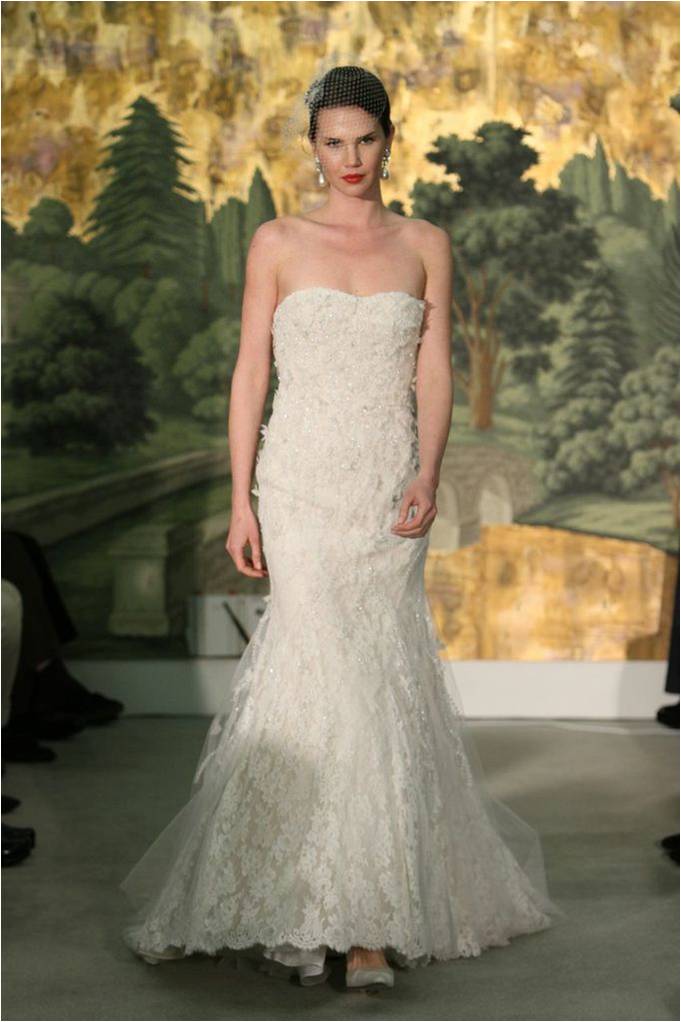 Coriandre is a corested strapless mermaid shape gown of ecru Chantilly lace over nude chiffon and diamond white silk charmeuse overlaid by diamond white embriodery and beading cascading onto the lower skirt.
Anne Barge gowns are available at selected bridal retailers. Find the one nearest you.
Images and descriptions courtesy of Anne Barge.