Silver Strappy Heels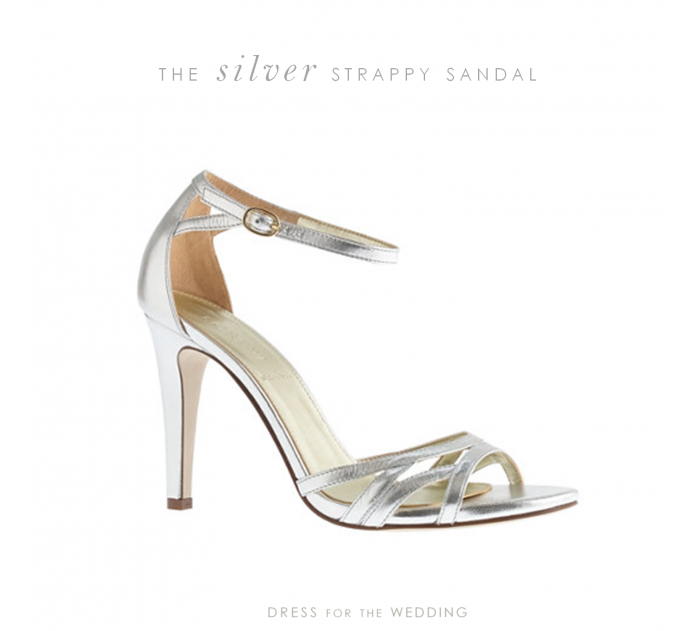 Silver Strappy Sandals for Weddings
The silver strappy heel is my go-to when creating my styling ideas. They are the perfect metallic: not too flashy, just dressy enough, and flattering on nearly everyone because the barely-there style seems to elongate the leg. They are an ideal shoe for brides to wear with platinum, silver, or crystal accessories, and they are also well suited for bridesmaids, since they coordinate with nearly every color of dress, and save you from purchasing a dyed-to-match shoe!
But I'll give you this:  it can be extremely hard to find the perfect pair of silver strappy heeled sandals! For my own seaside/golf course wedding, I wanted my young lady bridesmaids to have a silver strappy sandal that wouldn't dig in to the grass, but would be a little dressier than a silver wedge of flip-flop. It was a search that took hours, and we still ended up with a modified flip-flop-ish look, which was fine for my casual wedding, but just won't cut it if you're having a cathedral wedding or a black tie formal affair.
To save you the agony of your own search,   here's a range of styles I like from bejeweled towering heels, to simple kitten styles, so that you and your wedding party can find the perfect pair! ( They are great for mothers, and female guests, too, of course!)
The style pictured above from J.Crew is a favorite, but for the price,  The Elsa,  Runway or Riviera from Dyeables look nearly ideal to me, too - they are all open, yet offer a bit of structure and support, with an elegant and moderate heel. If you want more glamour, more straps, fewer straps,  more height, less height,  or anything else; here are some other varieties!