Apple Red Bridesmaid Dress for Fall and Winter Weddings
This bright red dress that brings to mind apples and orchard-themed weddings is today's bridesmaid dress style idea to kick off the fall season!
Commissionable affiliate links are used in this post.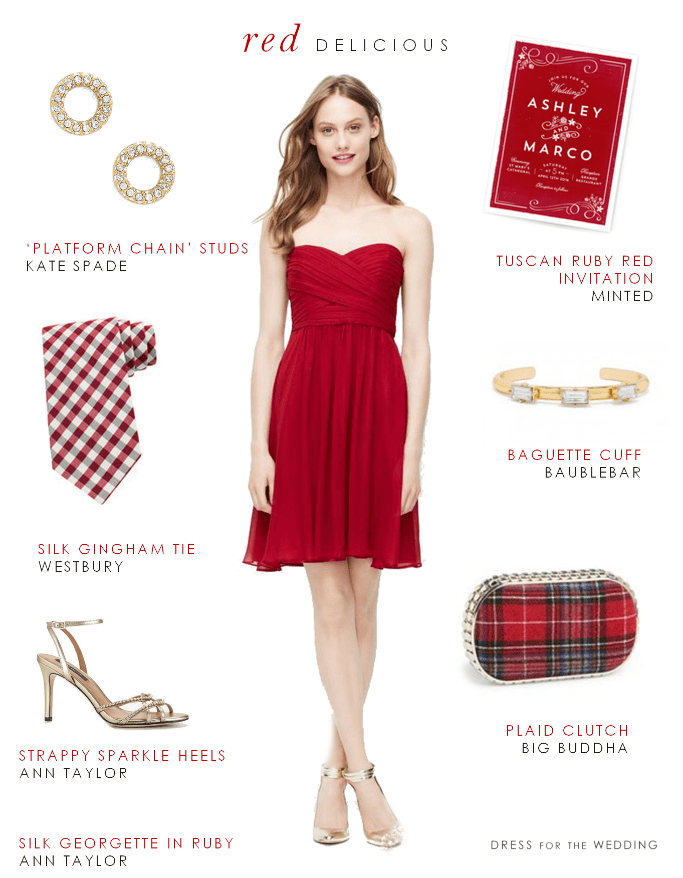 Dress: Ann Taylor Silk Georgette Strapless Dress in Rich Ruby // Earrings: kate spade new york 'platform chain' earrings // Wedding Invitation: Tuscan Wedding Invitations at Minted in Ruby // Bracelet: Baguette Cuff from BaubleBar// Clutch: Angell Plaid Minaudiere Clutch from BigBuddha at Nordstrom // Sandals: Ann Taylor Strappy Crystal Sandals // Tie: Westbury Silk Gingham Tie
It's the first official day of fall, and to celebrate, I wanted to start this mini-series of 'Flavors of Fall' bridesmaid dresses. The colors of fall tend to have flavorful names that echo the fruits and vegetables of harvests they represent. The colors and tastes of these foods and treats that have become synonymous with autumn always make for great wedding inspiration, and perhaps no fruit is more a symbol of fall's first days than bushels of bright red apples. In fact, in most of the fall weddings I've been in, I've worn a red bridesmaid dress, so I thought it was fitting to start the series off with this color.
Not only is red such a cheerful color, but this vibrant red dress could also go straight into winter and through Valentine's day, and can make an appearance again in the summer! I kept the accessories pretty classic since the red itself is a standout color here. But of course, I had to include that little plaid clutch; I'm a huge fan of all those plaids and woolen textures for this time of year. This would be a beautiful choice for an apple-themed fall wedding at an orchard, or winter wedding with a festive red theme.
Commissionable affiliate links are used in this post.



More inspiration:
This post uses affiliate links.