Audrey Hepburn Style Dress for your Bridesmaids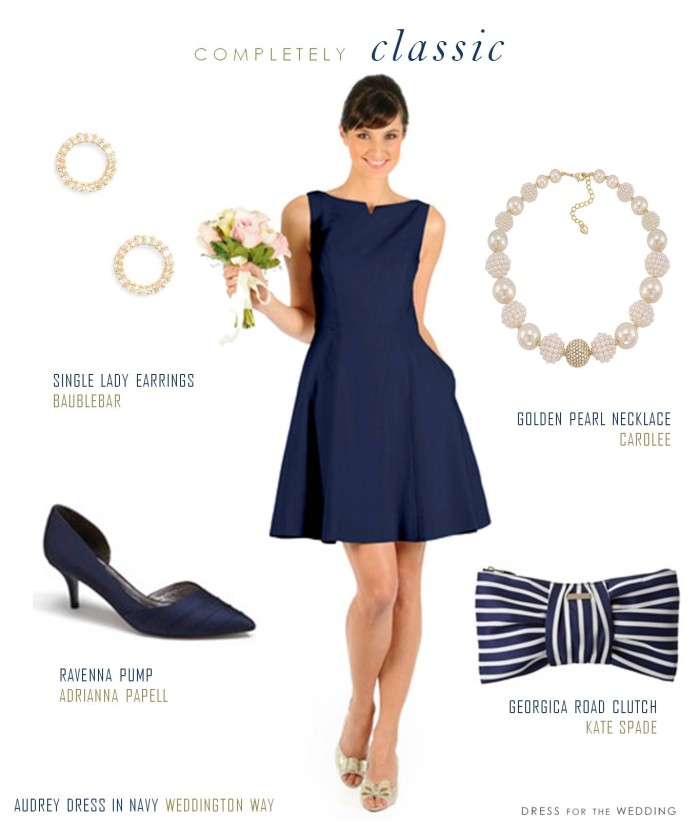 Audrey Dress in Navy at Weddington Way /Single Lady Earring Earrings from Bauble Bar / Carolee Gold Tone Pearl Necklace / Georgica Road Clutch kate spade new york / Ravenna Pump by Adrianna Papell /
Sometimes the simplest things are hard to find! And by simple, I mean classic, structured style.  I know that when I was looking for bridesmaid dresses I wanted elegant shapes that would never go out of style -- but for some reason, that season was full of little fussy add-ons and trendy touches on the dresses.  I was so frustrated! I was recently feeling that way again, when I was searching for that style for a friend of mine.
When I think of that classic style, it's a boatneck dress like this that calls to mind Audrey Hepburn's style in Breakfast at Tiffany's and looks classic and stylish on nearly any lady.  That's why I was thrilled to discover that one of my affiliates, WeddingtonWay, launched a new collection last week, that in inspired by that classic style. The dress is even called Audrey!  The price point can't be beat either - these are all under $150.
Audrey wore a black dress as Holly Golightly, and this dress definitely comes in black ( and 5 other pretty colors too). I just found myself drawn to the navy color today, especially since I've been wanting to put that little striped kate spade new york clutch in my collages for some time!  Wouldn't this be nice for a preppy seaside wedding? Really this dress and shape is one that goes anywhere. I also feel like I say this a lot, but it's really true - this is a definite WIAD ( Wear it Again Dress :)! ) [Yes, it's that kind of day where I decide to go making up acronyms!] If you like to keep it classic as much as I do, I have the feeling you'll love this little dress!
You'll also want to check out more navy looks, the bridesmaid dress shop, and The Collection for more bridesmaid dress ideas.
Love this look? Find out how to win this dress!