Our latest mix and match bridesmaid dress idea with burgundy, floral, and neutrals that would be beautiful for a fall wedding!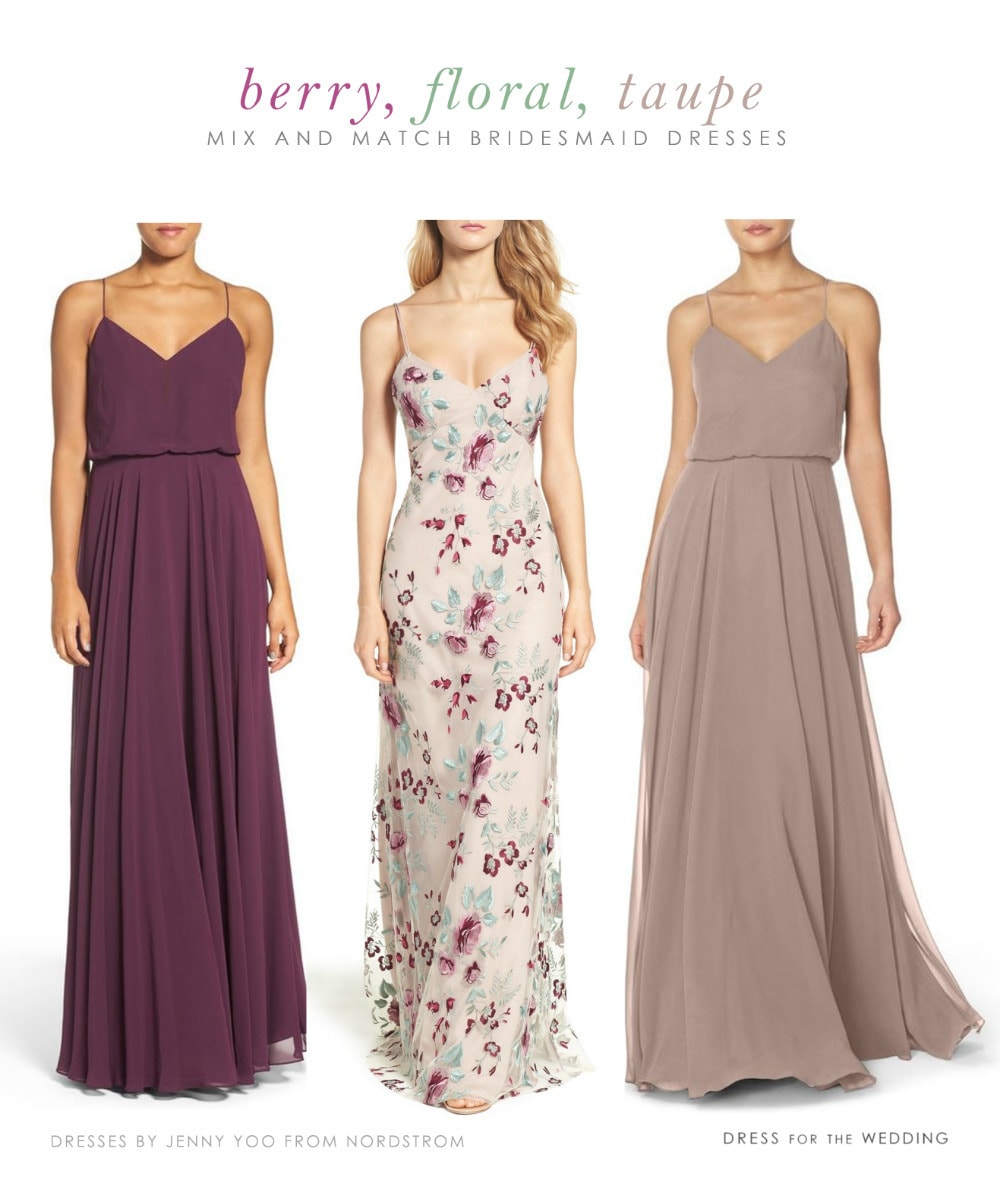 Shopping sources, and links in italics, and the Shop the Look section use affiliate links from our sponsoring retailers.  
1. Inesse Dress in Black Currant 2. Julianna Dress in Berry Vintage Iris 3. Inesse Dress in Wisteria 
Ideas for Mix and Match Bridesmaid Dress Colors
There's no sign of the mix and match bridesmaid dress trend stopping anytime soon - in fact, people are getting even more creative with it! It's actually really fun to mix the different hues and textures together to get a customized color scheme, and wedding attire look that is completely unique to your wedding party!
So, in the spirit of exploring some of these possibilities, I've decided to *try* to do a weekly feature. (I'm terrible with anything that I try to do weekly...but I'll make the attempt!) I'm dubbing this the "Monday Mismatch" where I put up an idea for dresses to mix and match by color scheme.
Burgundy, Taupe, and Floral Mismatch for Bridesmaids
Today I've started with a small collection of 3 dresses, all by Jenny Yoo. I absolutely love the new embroidered floral dresses in this collection, and this one "Julianna", comes in three different color ways - this berry, mauve, green embroidery called Berry Vintage Iris, a neutral, blue and green floral, and a lighter blush, sage, and ivory look. The fabric come in 2 silhouettes, Julianna and Claire - which could be all you need for your bridal party, or they could be an what I call an "anchor" or "color inspiration" dress in other words a dress that ties together all the other colors in the look, and brings in all the colors from which the other dresses can play off of.This anchoring style could perhaps be worn by the maid of honor, or by a few members of your wedding party  This dress would look great not only with berry and taupe, but could also be paired with the softer tones of green, more neutrals, and the pinkish mauve. I chose the Inesse dress, as the solid color dress here, because it is a similar silhouette to Julianna with the spaghetti straps, and comes in several colors which would pair nicely here! I've put it with Back Currant and Wisteria, but Blush and Morning Mist could work too!
If you're looking for more styles to add to the mix, I've done posts in the past featuring neutral mix and match bridesmaid dresses, burgundy and berry bridesmaid dresses, and floral bridesmaid dresses so check those out for more inspiration! Also take a peek at all the bridesmaid dresses by color.
Here are a few more options to put in the mix in the shop section below.
Shopping sources, and links in italics, and the Shop the Look section use affiliate links from our sponsoring retailers.
SHOP THE LOOK: Berry, Taupe, and Neutral Mismatched Bridesmaid Dresses

More style ideas you might enjoy :