Beaded Bridesmaid Dresses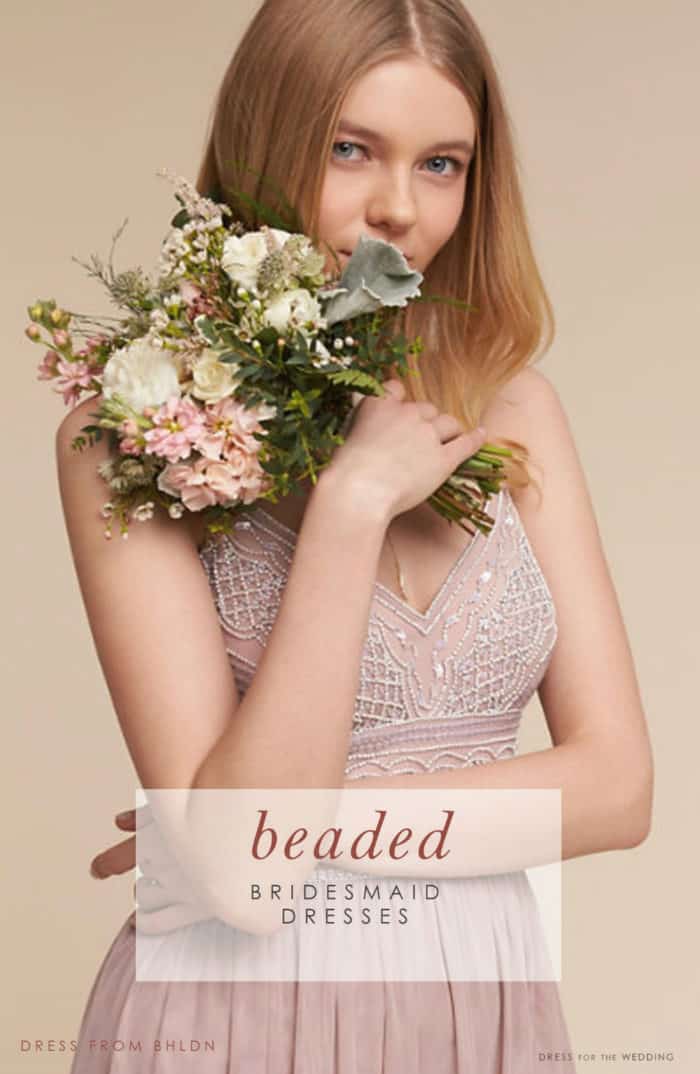 Commission links are used in this post. Aida Dress from BHLDN
No look at bridesmaid trends  would be complete without a little sparkle! While sequined gowns started to capture the limelight in la few years ago, beaded and sequined gowns will still be showing up in wedding parties in a big way, and are now available in a range of pastel and neutral colors. Here's one way to style the beaded bridesmaid dress with sophisticated mixed metallics.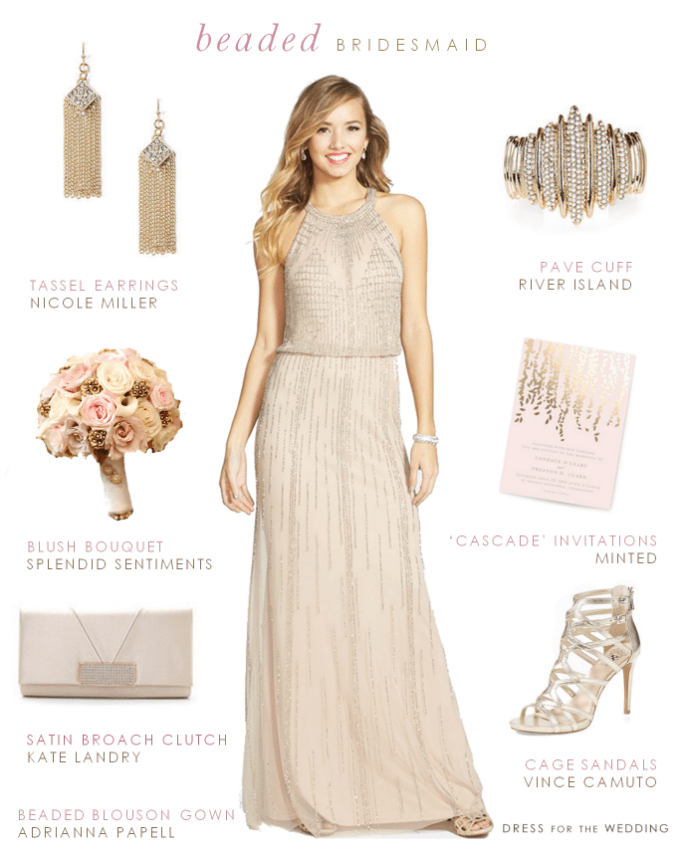 Links from sponsors: Gown: Beaded Blouson Gown by Adrianna Papell at Nordstro(Out of stock now) , but try these other beaded bridesmaid dresses from Adrianna Papell //Earrings: Tassel Earrings by Nicole Miller // Bracelet: River Island Pave Cuff Bracelet // Invitation: 'Cascade' Minted Foil Pressed // Heels: 'Fantin' Platform Sandals from Nordstrom // Clutch: Satin Brooch Clutch by Kate Landry //Bouquet: Blush and Gold Bouquet by Splendid Sentiments Photography by McClusky Photography
The glam beading of  the Art Deco trend of a few years back has staying power! Beaded and sequined dresses seem to be continuing to be popular choice for spring and summer wedding parties and translated into modern new styles. Many bridesmaids will be wearing sparkles, be it through a mismatched look, head-to-toe sequins or beautiful beading such as this.
Adrianna Papell's gowns are the perfect choice for this look and they have expanded the collection into a range of colors like blush, taupe, blue, gray and lavender. These are a great choice for a special gown for a Maid-of-Honor, or to add a little embellished to your entire bridal party. I love these gowns in particular because they come in such a range of shades, silhouettes, and in petite and plus sizes, You can also find vintage-looking beaded dresses from ModCloth and ASOS has a great selection too!  Accent the look with a mix of gold, pave, and silver sparkle, and choose foil-pressed invites like these to show your guests that your wedding is planning to shine!
Where to find Beaded Bridesmaid Dresses:
Adrianna Papell, has an amazing selection - our top pick for beaded bridesmaid dresses in every color.
ASOS, specifically the Maya line has a lot of beaded bridesmaid dresses.
Nordstrom carries beautiful beaded and embellished bridesmaid dresses
BHLDN has a beautiful selection of beaded tulle and embellished bridesmaid dresses that are easy to mix and match.
Here are a few more beaded gowns we love for weddings!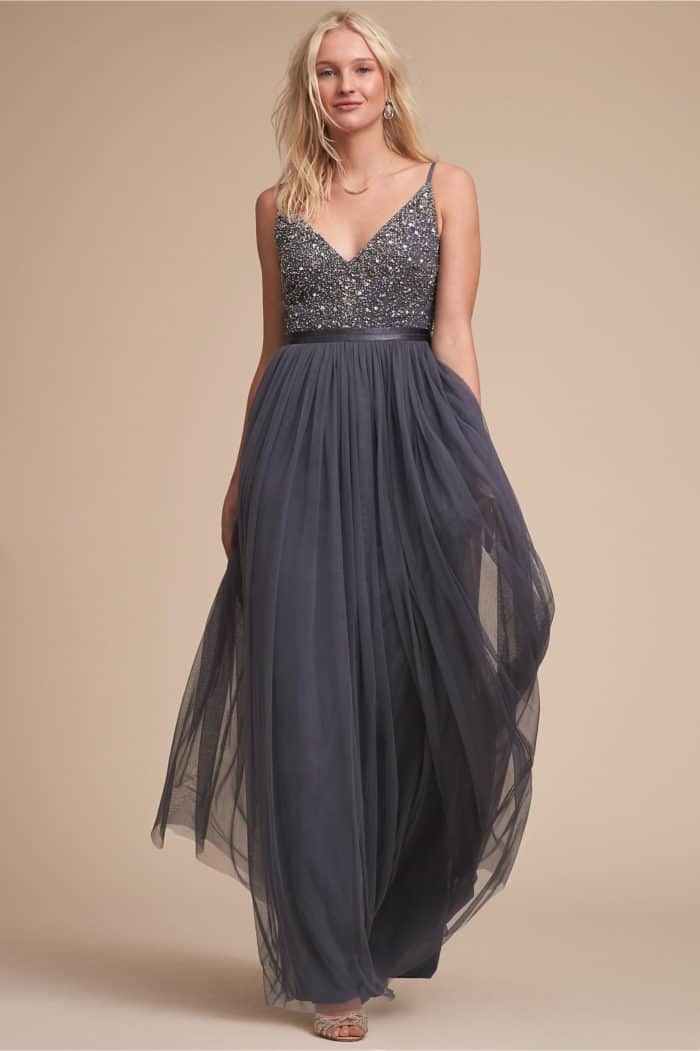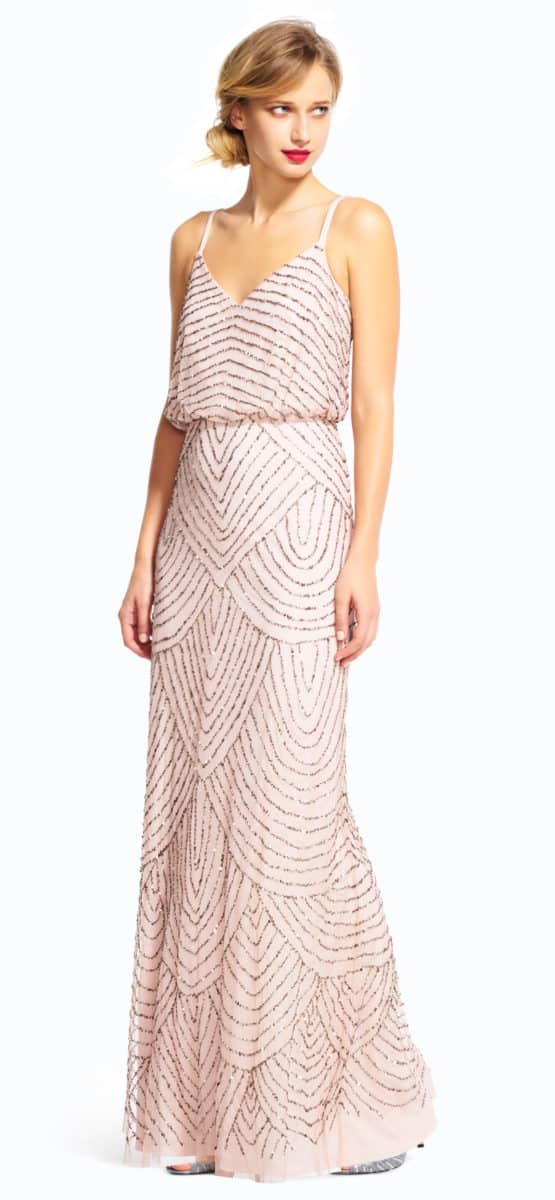 Beaded Blouson Bridesmaid Maxi Dress from Adrianna Papell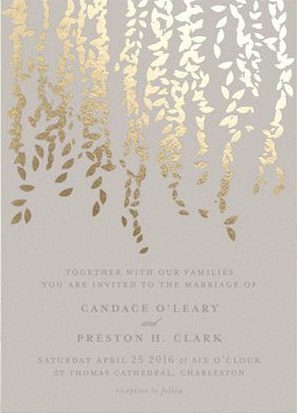 Invitation: 'Cascade' Minted Foil Pressed Wedding Invitation 
SHOP THE LOOK

Some shopping links in this post use affiliate links, meaning that Dress for the Wedding makes a small commission from the retailer, at no cost to you, if a qualified sale is made.