The newest collection of BHLDN bridesmaid dresses just launched today and we're excited to show you one of the first looks at these beautiful dresses. These styles are made to easily mix and match together and with the classic bridesmaid dress colors offered in the BHLDN palette.
UPDATE
Did you hear that the beloved (pun intended!) wedding brand BHLDN is no longer a stand-alone website? But the good news is that they still exist! BHLDN is now Anthropologie Weddings.
All BHLDN products and dresses are under the parent company Anthropolgie and are now labeled as Anthropolgie Weddings.
If you're looking for BHLDN label bridesmaid dresses, they are still for sale under the brand BHLDN at Anthropologie as well as new many new designer bridesmaid dress styles from Anthropologie.
. Anthropologie Weddings now carries all wedding dresses, mother of the bride dresses and wedding accessories that you used to find at BHLDN.
See the Anthropologie Weddings Site
Affiliate links are used in this post. This means this site might earn a commission if you make a purchase from the products we've linked to here.
New BHLDN Bridesmaid Dresses for 2020
The newest collection of BHLDN bridesmaid dresses just launched today and we're excited to show you one of the first looks!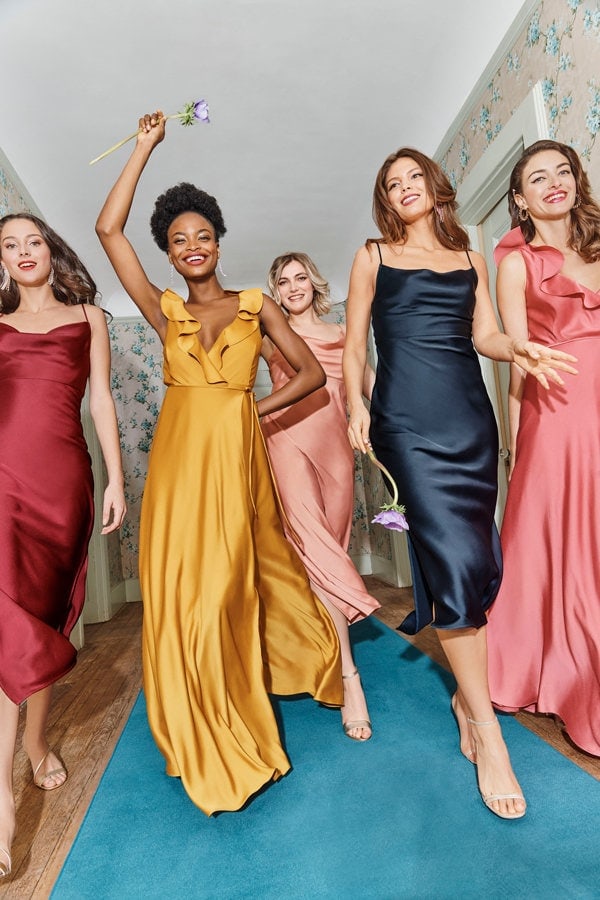 BHLDN always finds the prettiest and perfectly hand-picked bridesmaid dresses from Jenny Yoo, Watters, as well as their own new in-house BHLDN label of bridesmaid dresses. They also always offer colors, textures that set the style for weddings for the seasons to come.
New Fall 2020 BHLDN Bridesmaid Styles to Mix and Match
The newest 2020 collection, is designed to mix in some gorgeous new ways, as seen in some of the imagery for the new looks. Of course, if a mixed bridesmaid palette isn't your thing, you can always do a classic styling of a single color or select a single dress for all of your bridesmaids. Since almost all bridal stores including BHLDN are closed right now, shopping online for your bridesmaid dresses is the best option. BHLDN offers virtual styling appointments for all dresses, as well as their stylists to help you make decisions. Most bridesmaid dresses are ready to ship, so you can get them and try them at home in a few days. Using these color palette suggestions will give you some ideas for how to coordinate your bridesmaid dresses.
Silver Sparkle with Frosty Blue Bridesmaid Dresses
BHLDN also is showing this gorgeous silver sparkle and neutral satin, with the palest icy blues, for a shade mix they are calling Fog + Sky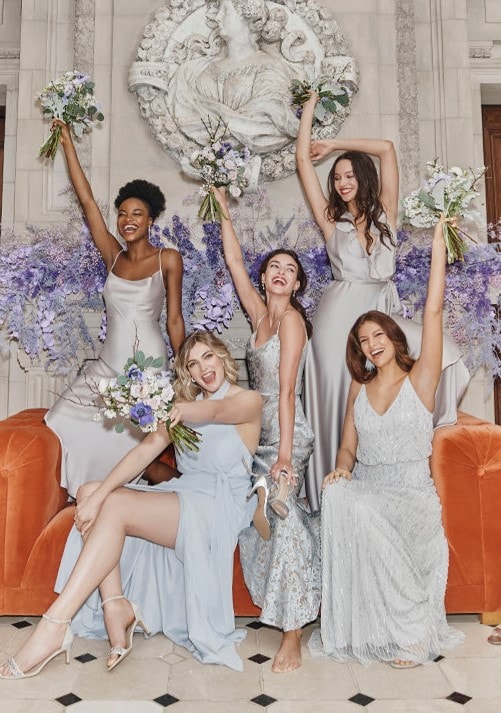 BHLDN Blue and Gray Bridesmaid Dresses called the Fog + Sky Mix
Shop This Look

Satin and Beaded Blush and Neutral Dresses
This mix is a soft blend of blush and champagne colors, and a mix of floral, satin, chiffon, crepe, and beaded textures. BHLDN calls this mix the New Neutrals!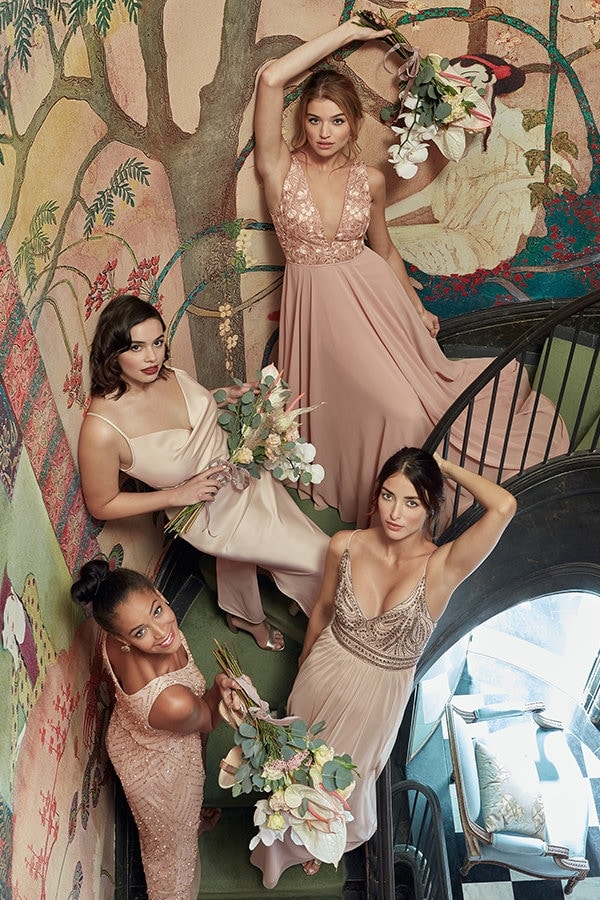 BHLDN Mix and Match Dresses in New Neutrals!
Shop this Look

Jewel Tones in Satin and Velvet Bridesmaid Dresses
We especially love this mix of rich gold, burgundy, greens, Sedona rose, coral pink, and navy blues done in satin slip and maxi dress, which and can also be mixed with crepe and velvet. It's such a rich look for fall and winter weddings. They are calling this mix the Jewel Box mix!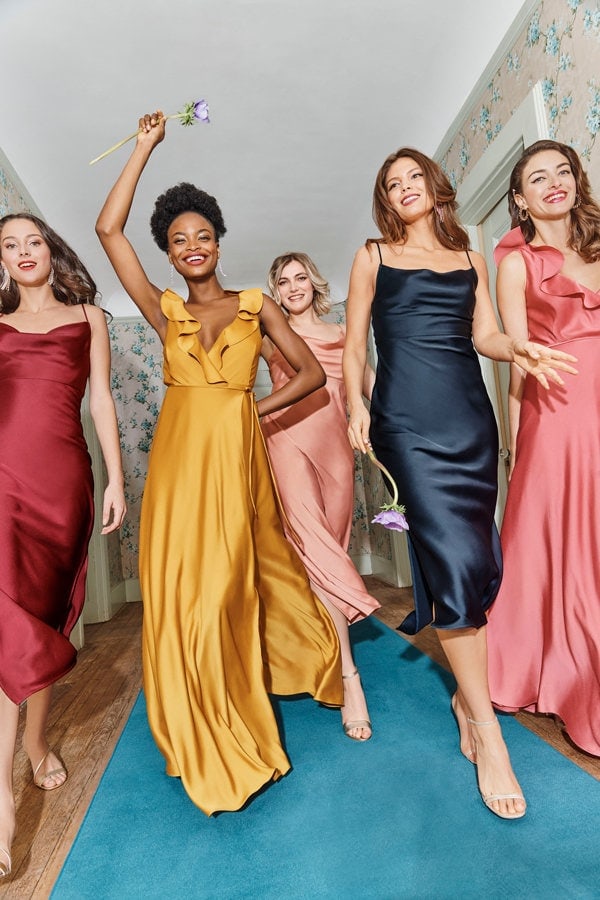 Shop This Look

More 2020 Bridesmaid Dress Mix and Match Color Ideas
If these aren't the colors for you, BHLDN has several other color palettes to check out for 2020, with pretty spring shades.
BHLDN makes it easy to do a desert boho mix of pink, cinnamon, and green with florals in a palette they are calling Desert Rose. A beautiful bold boho vibe in a unique pink, green, yellow, and floral mix called Spring Eternal. You might also love the soft hues and textures of the Pastel Mix, the moody tones of navy, light blue, gray, and dusty blue mix in Out of the Blues.
Shop The BHLDN Bridesmaid Collection
As always, we keep close tabs on the latest BHLDN offerings for bridesmaids. Here's a quick way for you to browse and shop some of our picks from the collection. As always, you can visit BHLDN to see all 176+ Bridesmaid Dress Styles offered at BHLDN!


Please also check out our bridesmaid style posts and features like the Jenny Yoo Spring 2020 Bridesmaid Dresses, Lulus Spring 2020 Wedding Collection, or shop bridesmaid dresses online by color.