This look at this sparking collection of beaded dresses for Mothers-of-the-Bride and Mothers-of-the-Groom, is a partnered post that has been generously sponsored by BHLDN. 
Please note, since this post was published in 2015 many of these dresses are now out of stock!  Below is the current selection of many of the current Mother of the Bride dresses BHLDN offers.  Please also visit our post on Beaded Mother of the Bride Dresses and Sequined and Beaded Mother of the Bride dresses, to see more beaded dresses for Mothers of the Bride and Mothers of the Groom!
Beaded Dresses for the Mother of the Bride from BHLDN

BHLDN Beaded Mother of the Bride Dresses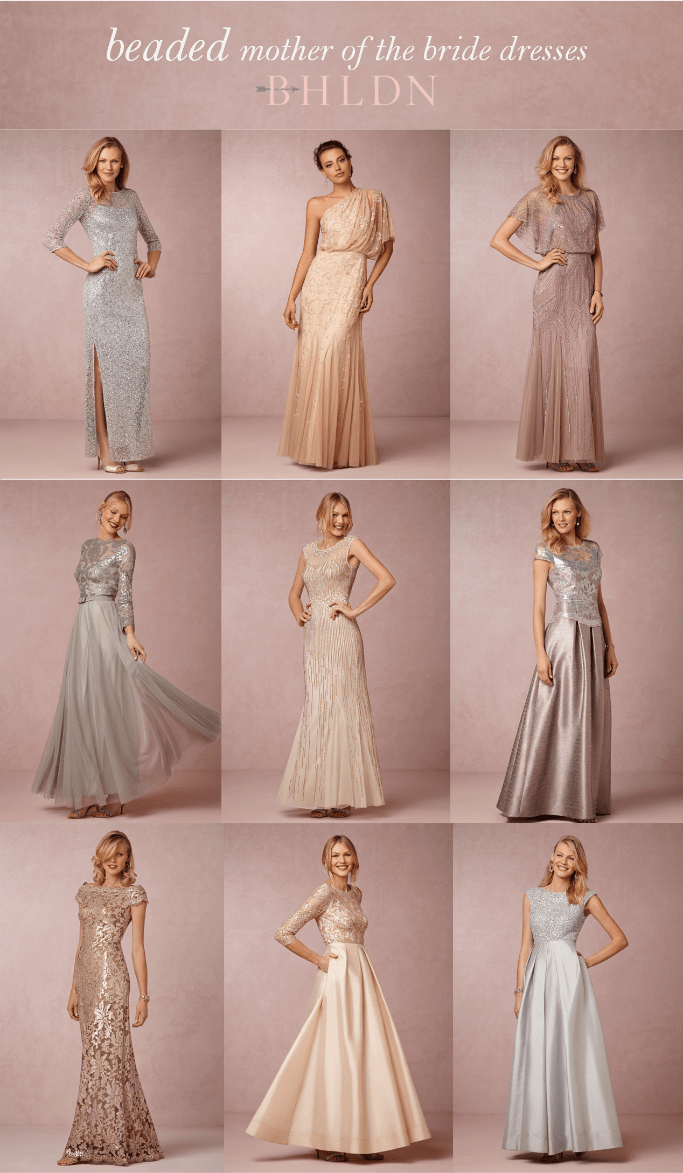 Starting at top row, left to right: 1. Sylvia Dress 2. Raquel Dress 3. Claudia Dress 4. Lucille Dress 5.Emeline Dress 6. Chelsea Dress 7.Odette Dress 8. Viola Dress 9. Azalea Dress
Beaded Mother-of-the-Bride Dresses
The classic beaded gown has been the choice of many a well-dressed mother-of-the-bride or mother-of-the-groom, but finding a beaded dress with appropriate level of beading and sequined detail that won't compete for the spotlight, has sometimes been a tricky task. Enter the Mothers'Collection at BHLDN, which features the most elegant and tasteful beaded and sequined gowns for mothers. With these gowns, one can choose from delicate touches of beaded or sequined lace, hand-beaded bodices that contrast beautifully with smooth satin skirts, or full-length beaded dresses that sparkle from head-to-toe in chic and understated metallic hues. This gorgeous collection allows you to select the right amount of sparkle, beading, or sequins for a dazzling mother-of-the-bride gown that allows its wearer to shine!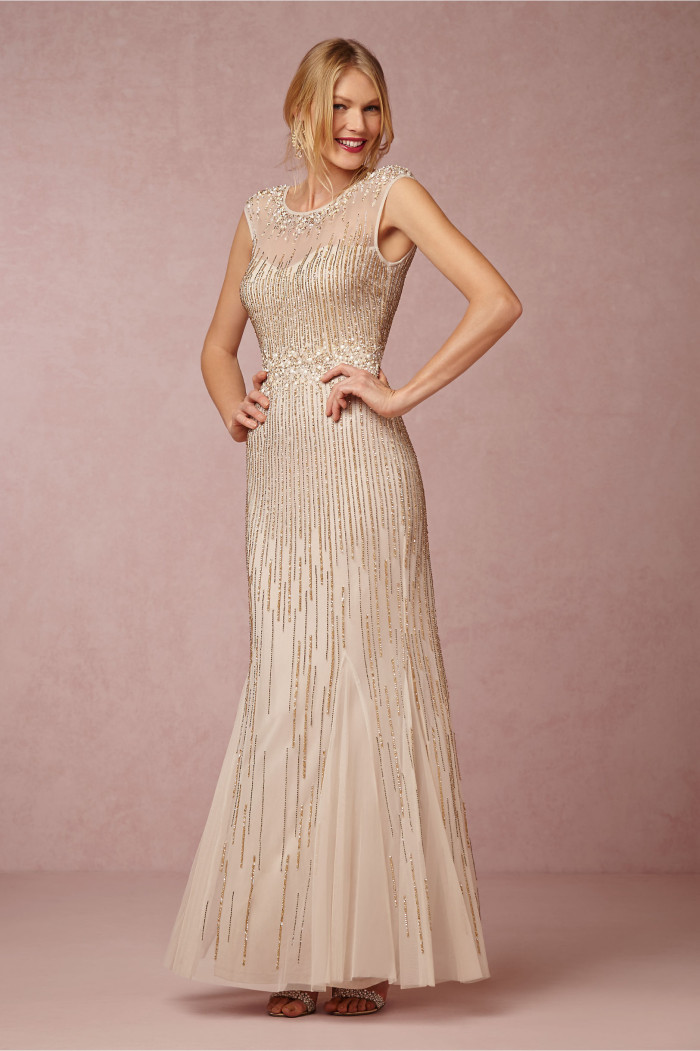 Emeline Dress. There is no question gold gowns are having a moment, and this champagne gown called Emeline, with gold sequins and beads, is a beautiful sparkling statement gown for a mother-of-the bride!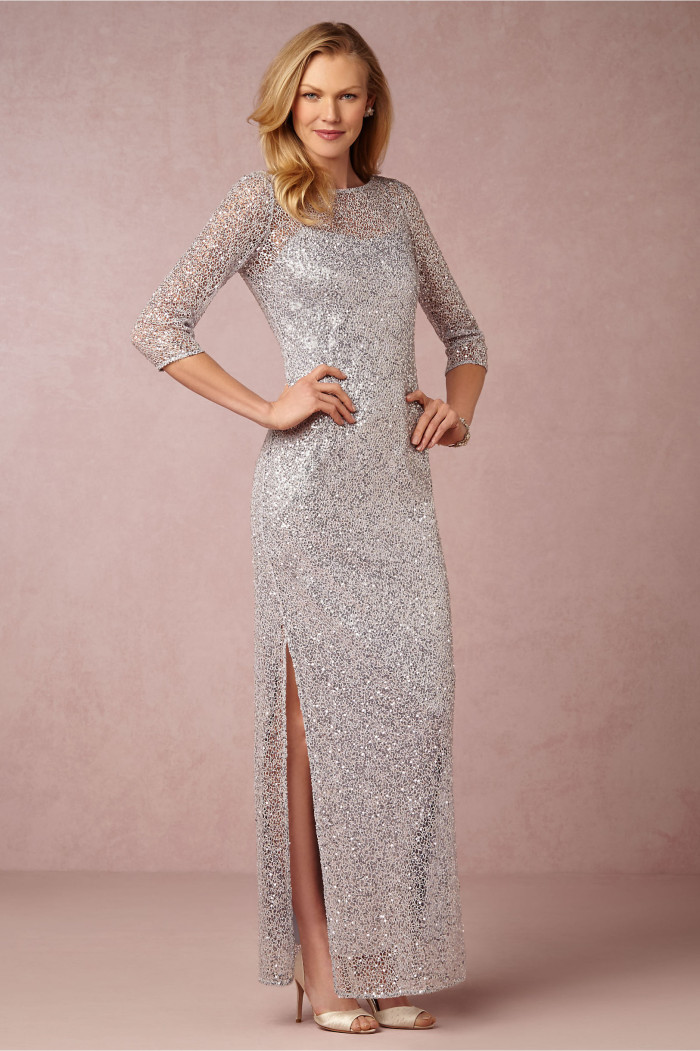 Sylvia Dress combines all-over beading and sequins with a stunning ice blue color, and a very popular detail for a mother-of-the-bride gown: long sleeves!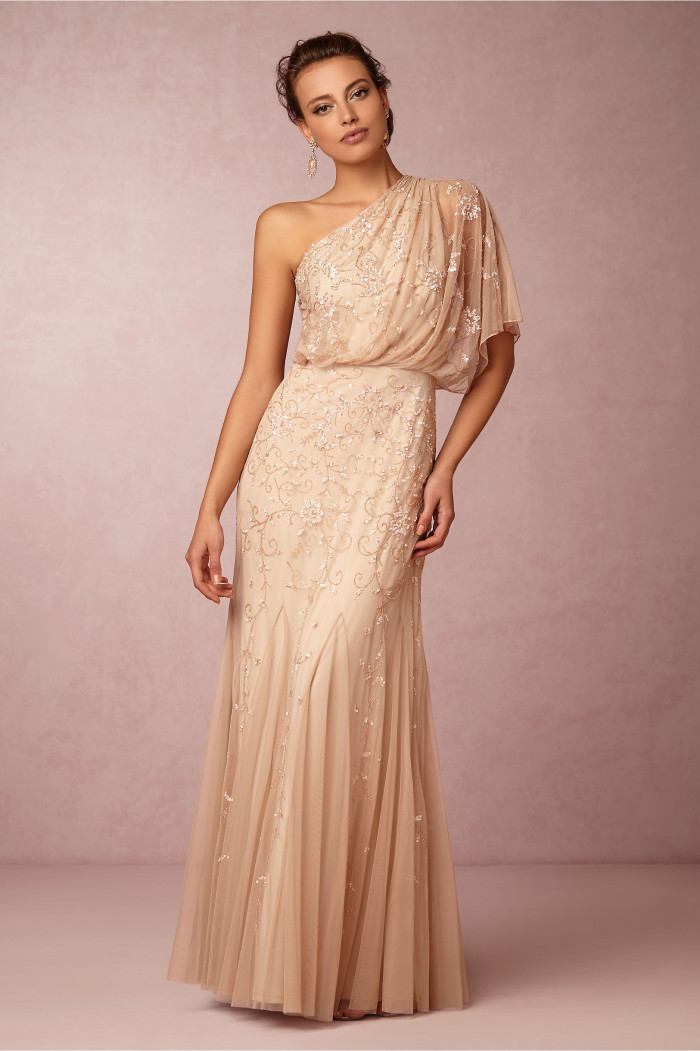 Raquel Dress, is a one- shoulder style that presents a chic choice for mothers and for the wedding party. The blush tulle and scrolled, beaded detail give this gown a light and contemporary elegance.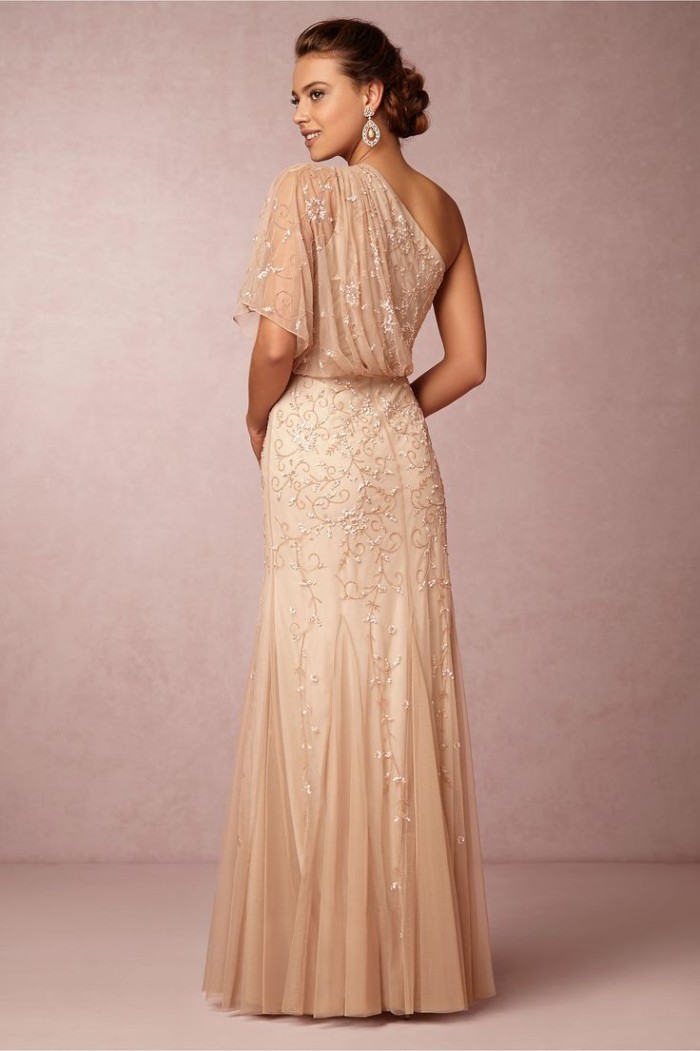 Raquel Dress, back detail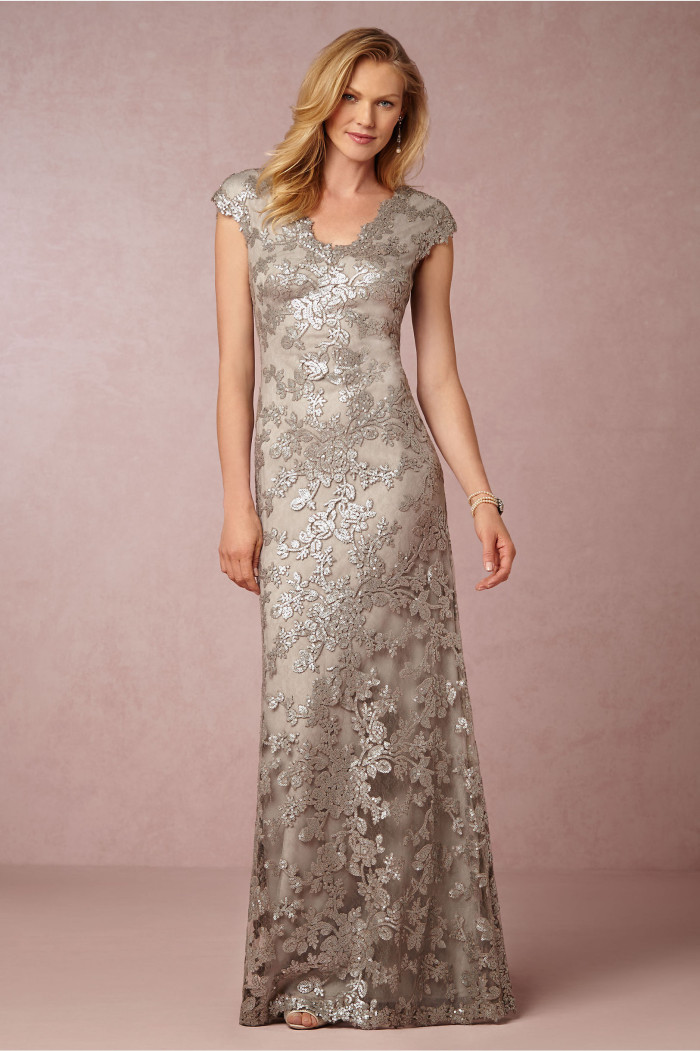 Veda Dress, is a classic by Tadashi Shoji, whose lace dresses and fabrications are uniquely crafted to have just the right dose of shimmer. This silver metallic lace is accented with sequins for a soft sparkle that catches the eye.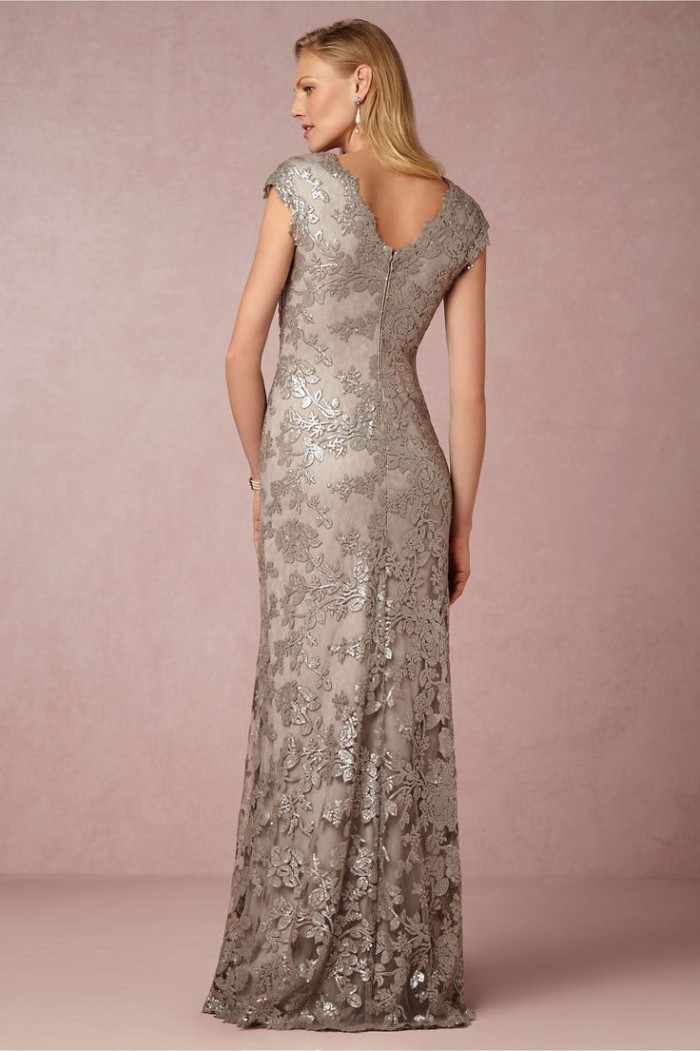 Veda Dress, back detail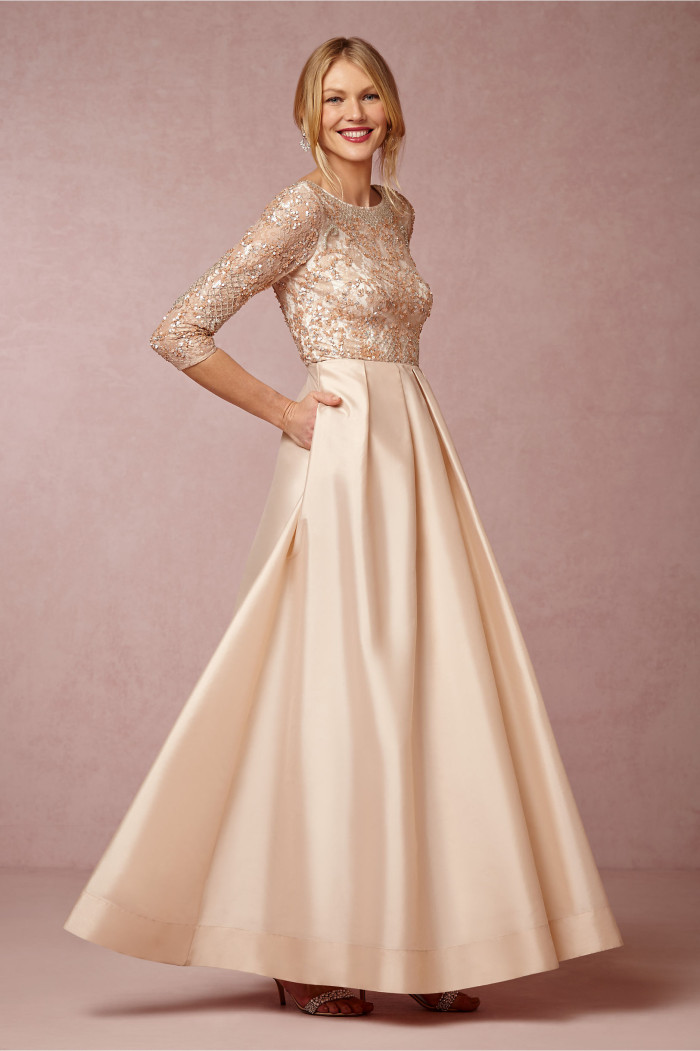 Viola Dress. For those who want a little twinkle with a predominantly tailored look, Viola is it! With a soft blush color and a beautiful contrast between an ornately beaded bodice and a smooth taffeta ball gown that includes pockets, Viola is effortless elegance in a gown!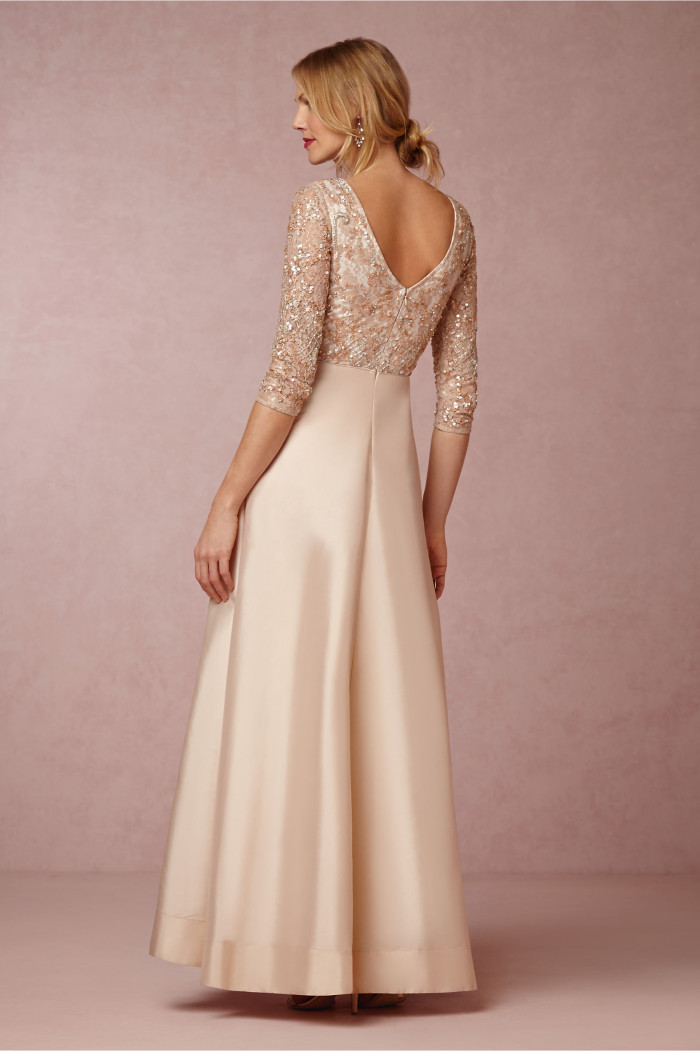 Viola Dress, back detail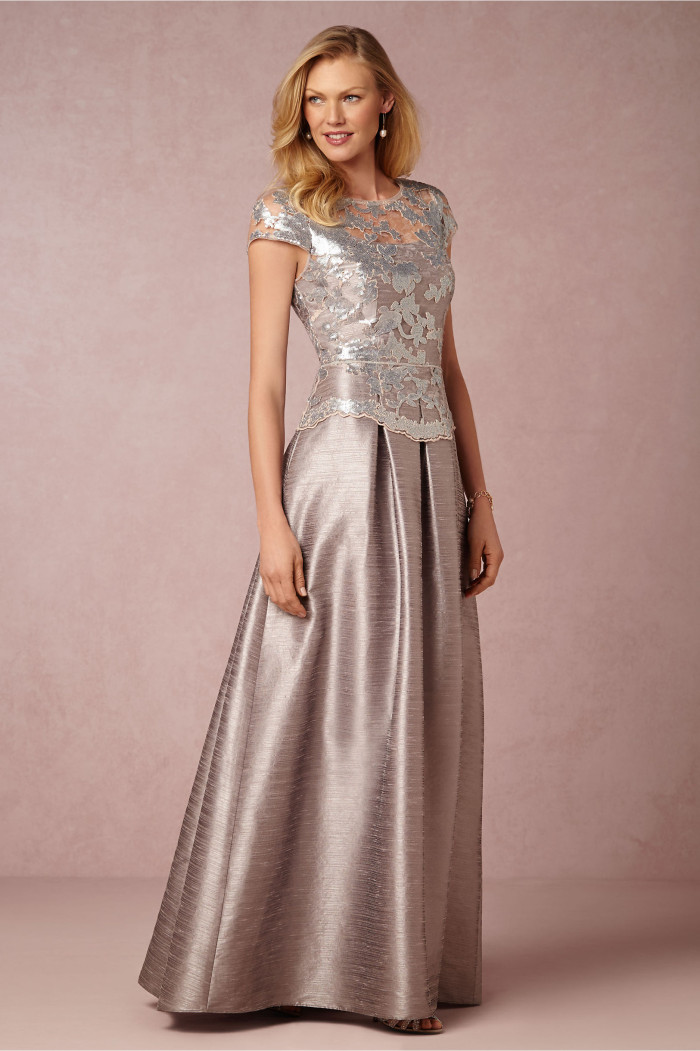 Chelsea Dress.  The lovely Chelsea also offers beaded touches in a refined way. The sequined lace overlay of the bodice provides interest and sparkle that contrasts beautifully with a subtly textured solid silver skirt.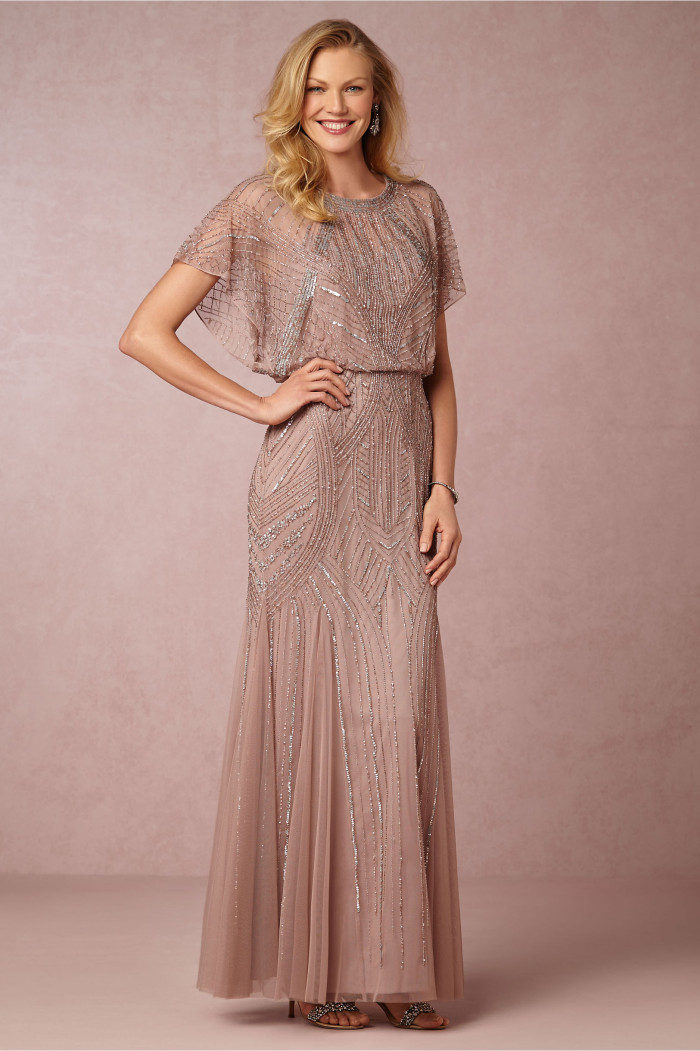 Claudia Dress. This gown is a standout for me! With a nod toward Art Deco styling and modern silhouettes, this beautifully neutral mauve and rose gold gown has all-over beaded detail that is sure to garner many compliments!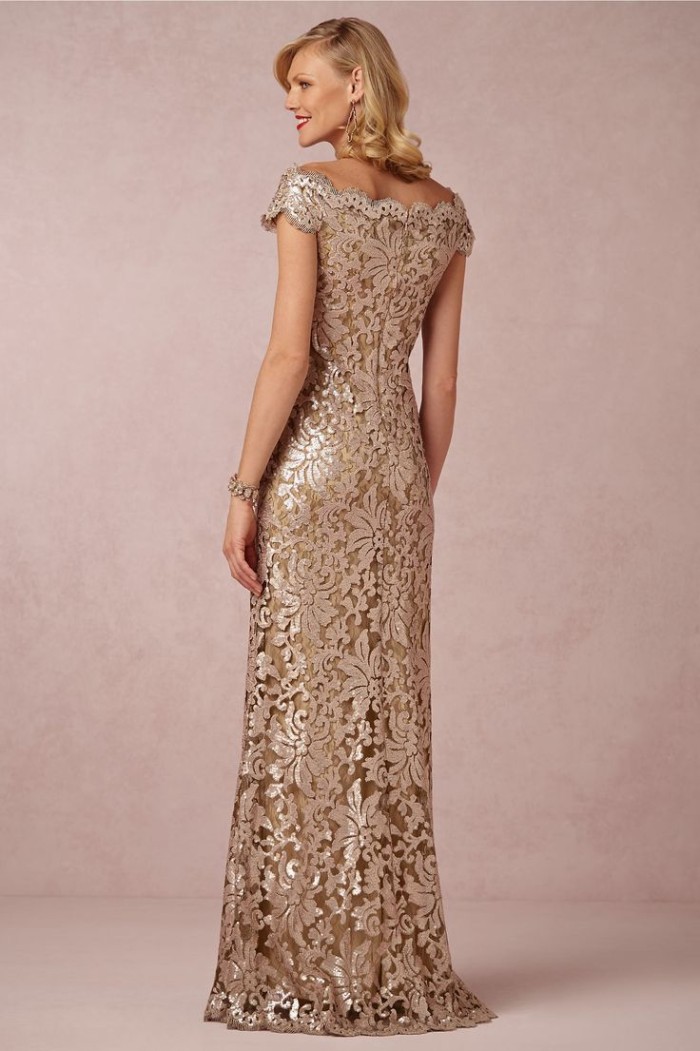 Odette Dress.  This uniquely sequined golden lace makes this gown one of the most popular gold dresses that we've ever featured!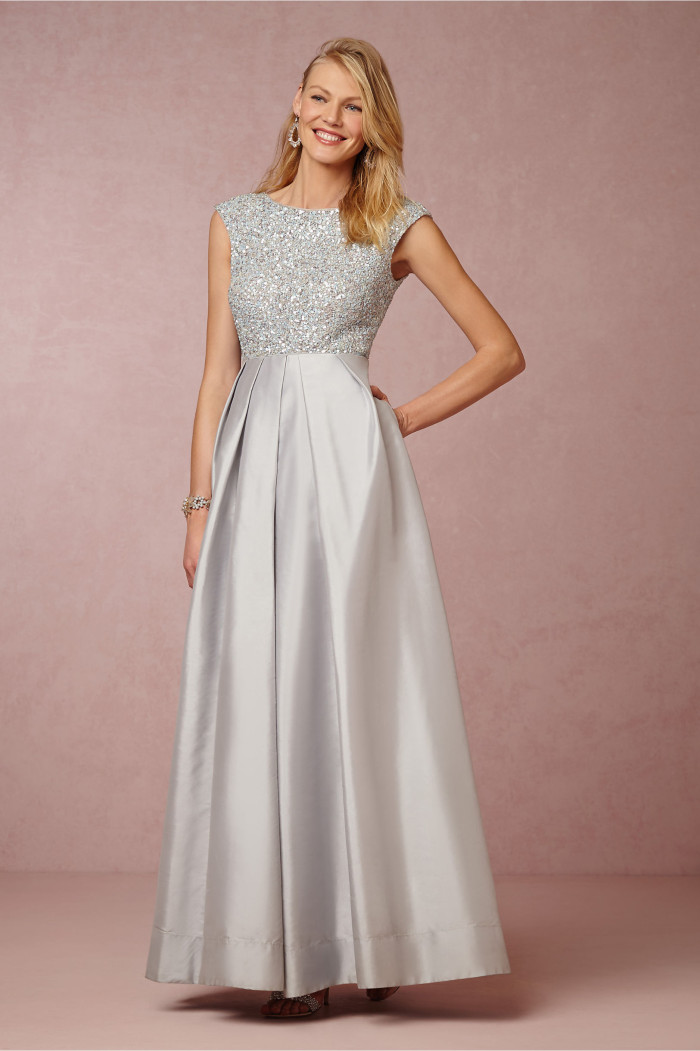 Azalea Dress, offers a beaded bodice, an soft shade of blue and a smooth full skirt, for a balanced and modern beaded look. See it styled here!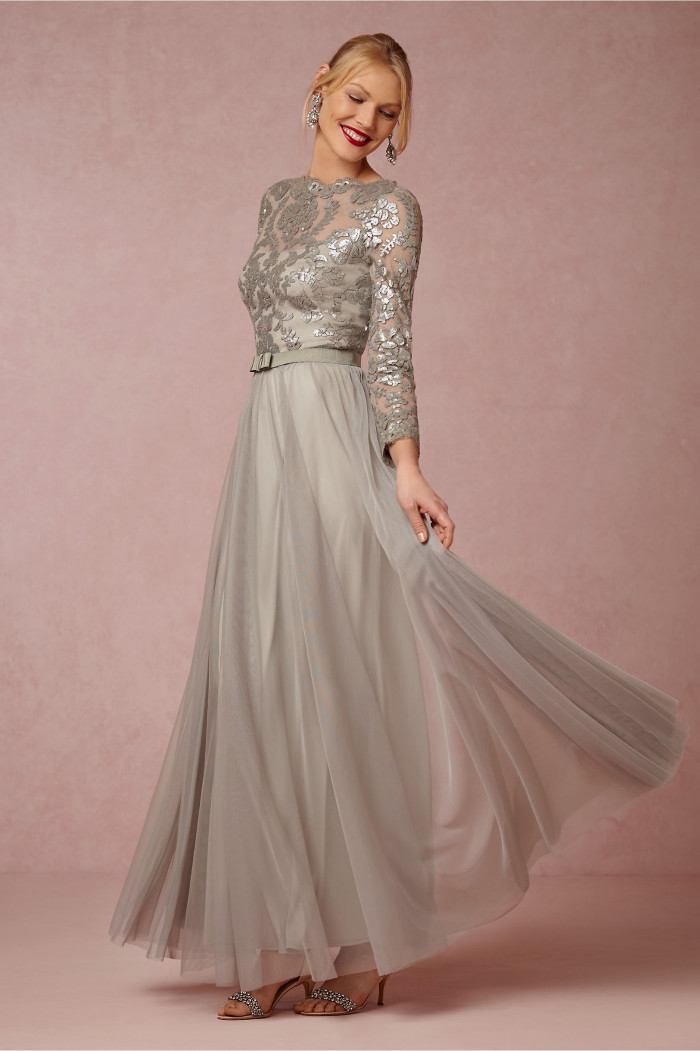 Lucille Dress, has a silver sequined and lace bodice that contrasts nicely to the floating tulle skirt of this mother-of-the-bride gown.
For more looks you might love, see the entire series of BHLDN Mother-of-the-Bride and Mother-of-the-Groom gowns we've been showcasing over the last month:
Mother of the Bride Dresses with Sleeves
BHLDN outfits for the Mother of the Bride and Groom



For more looks to shop from, visit our exclusive BHLDN pop-up shop!