Bridesmaid 'Getting Ready' Robes by Plum Pretty Sugar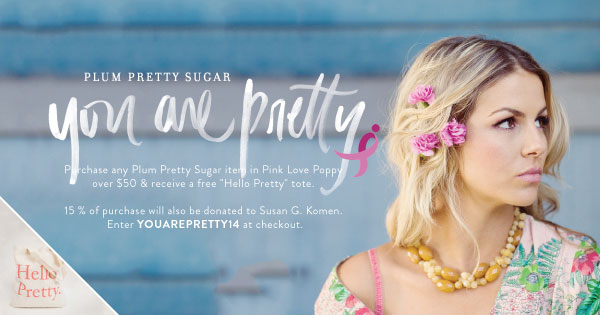 In a few of my posts about bridesmaid gifts, I hope I've conveyed my love for Plum Pretty Sugar robes. Those pretty floral robes seem to be in some of the prettiest pictures of the bride and her bridesmaids getting ready on the big day! Not only does this make for a great photo-op, but it also makes for a great keepsake! Whenever your bridesmaids slip into that robe to get ready for a night out, or to lounge around on a lazy Sunday or quiet night in, they will will remember the fun time you all spent together that day.
Not only does Plum Pretty Sugar do wonders to create beautiful comfortable sleepwear sets, robes, and pretty memories, but they also are wonderful supporters of the Susan G. Komen fund.  This October, which is Breast Cancer Awareness month, they are offering to make a donation to the fund, and provide an extra gift!  Purchase any Plum Pretty Sugar item this month, in the 'Pink Love Poppy' pattern over $50 and receive a free "Hello Pretty" tote. 15 % of purchase will also be donated to Susan G. Komen. Enter YOUAREPRETTY14 at checkout. You're getting a great gift for your friends, and supporting a wonderful cause! Happy Shopping!