Burgundy Mother of the Bride Dress
Much has been made of Art Deco styles and Gatsby themed weddings for the bride and groom, but what should the mother of the bride wear? Well, as I was putting together this burgundy mother of the bride look, it started to emerge as a  slightly Deco style  dress — although it reminds me of Boardwalk Empire style slightly more than The Great Gatsby.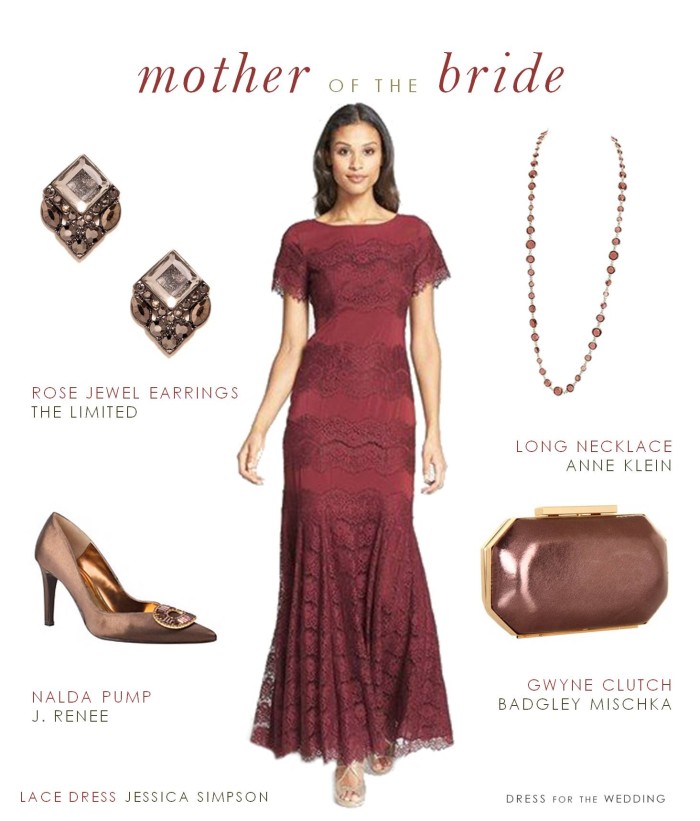 Jessica Simpson Short Sleeve Lace Gown /  Jewel Cluster Earrings The Limited  /Anne Klein Long Station Necklace in Burgundy / Gwyne Clutch by Badgley Mischka / J. Renee Nalda Pumps in Beige Pearl
I wanted to feature this dress because this burgundy color is so lovely for fall and winter weddings, and nearly ever mother of the bride request I get asks for some sort of sleeve on the gown. This  pretty tiered lace looks like it would be supremely flattering. I played up the Art Deco style with the accessories I chose, but this would go perfectly with gold, crystal and diamond accessories as well as ruby and garnet stones, and could be styled with a modern look as well. What do you think? Is it a good choice for a mother of the bride or groom at a winter wedding?