We think a midi dress just might be the ideal thing to wear to a wedding as a guest; especially if you're slightly unsure of the dress code. We've found more than 70 of the best midi dresses and tea-length dresses for wedding guests to make getting dressed for a wedding a breeze!
Commissionable affiliate links are used in this post.
Midi Dresses for Wedding Guests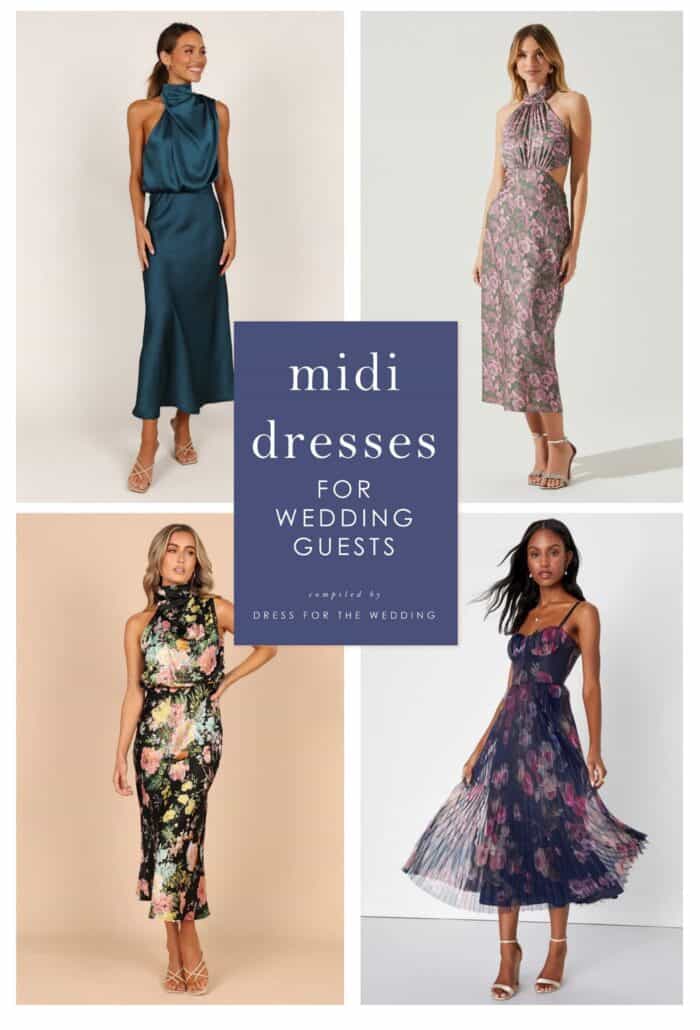 Image credits and shopping sources: 1. Teal Halter Neck Dress Petal+ Pup 2.Amberetta Floral Halter Dress 3. Black Floral Annabelle Halter Midi Dress from Petal + Pup 4. Alluring Invite Bustier Midi from Lulus
Can't decide between short or long dress lengths? Well, you're in luck; demure midi-length dresses and tea-length dresses are making a big comeback! We love midi dresses because they strike an elegant balance between formal and semi-formal, which is ideal because it's in keeping with most standard semi-formal wedding dress codes. Midi dresses also offer a bit of coverage below the knee, which is sometimes a requirement or at least a good idea for a formal church wedding ceremony. Here are a few we love at the moment.
10 Stylish Midi Dresses for the Well-Dressed Wedding Guest
In addition to the 4 dresses we highlighted above, here are 10 more of the midi dresses we think would be ideal to wear as a wedding guest this season.
1.Velvet Midi Dress for Winter Wedding Guest

This velvet floral midi is an ideal choice for late fall semi-formal weddings, holiday parties or to wear as a winter wedding guest. The velvet fabric is an ideal special occasion fabric for colder weather, while the midi slip style makes it a fun fall cocktail dress style. This is the Divine State Velvet Burnout dress from Lulus.
2. Halterneck Satin Midi Dress

The combination of the twist at the halter neck and all-over satin, plus the fact that this satin style comes in several other colors and patterns makes this an ideal pick for a semi-formal evening wedding in any season. This dress is by Astr the Label.
3. Green Pleated One-Shoulder Midi Dress

Pleated dresses are so on-trend this season, and this one-shoulder asymmetrical style is sure to be a compliment-getter. The lime green color and the accordion pleats make this a top choice to wear to a fall or winter wedding, and then again for early spring weddings next season.
4. Long Sleeve Teal Floral Satin Dress

This long-sleeved style in a lovely fall floral color combination of rust orange and teal is a dress we'd want to wear to a rustic outdoor fall wedding, winery wedding, or casual winter wedding.
5. Blue Cap Sleeve Fit and Flare Midi Dress

This dreamy style has a vintage look that reminds us of Dior dresses of the 1950s. This would be a lovely choice for a ay time a classic cocktail dress is in order. We can also envision it as daytime mother-of-the-bride style, or an afternoon early spring wedding. Cap Sleeve Dress by Alfred Sung from Nordstrom
6. Lace Fit and Flare Midi with Spaghetti Straps

This is a classic wedding semi-formal guest dress. The sparkling lace overlay paired with the full skirt makes this one stand out for fall and winter events. This dress is available from Nordstrom
7. Bronze Midi Slip Dress

This warm natural bronze color of this brown satin fabric is such a flattering shade and a trending color for fall weddings. This simple slip dress keeps it elegant and easy to pack up for a weekend away at a hotel or semi-formal wedding. This brown satin midi dress is available from Lulus.
8. Floral One Shoulder Midi Dress

Do you have a destination wedding to attend? Wear this floral one-shoulder midi to your next warm-weather wedding invite! From Lulus, who offers so many great midi dresses for every season.
9. Gold One Shoulder Satin Midi

Nothing looks more festive for the fall and winter season than a gold dress. This one-shoulder satin style is one of our favorite looks for a formal winery, museum, or hotel wedding. It's almost long enough to be considered a maxi but we call it midi because it hits right at the ankle. This gold satin midi dress is from Petal and Pup.
10. Floral Midi Dress

This pleated floral midi with cut outs is available in a few colors including this gorgeous floral style. We love it for early fall outdoor weddings and we'd wear it again in the spring. Abercrombie came out with some amazing wedding guest dresses this season, and this midi is one of them! This is another that is labeled a maxi dress, but it hits above the ankle and looks like a midi to us! From Abercrombie + Fitch
75 Gorgeous Midi Dresses for Guests of a Wedding
Here are a few of our favorite examples of midi dresses to wear as a wedding guest. We update these picks each season, so look for new dresses each month! Commission links are used in these shoppable suggestions.

What is the Difference Between Tea Length and a Midi Dress?
You'll generally see tea-length and midi dresses grouped together when shopping, but there are a few subtle differences.
The tea-length dress has always been a classic that calls to mind the styling of Dior and wearers like Audrey Hepburn. The tea-length dress is usually a little longer and hits just above the ankle. It gets its name from the early 1900s when the dress code requirements for high tea dictated that this length of skirt was the most appropriate to wear to high tea. It has been synonymous with elegance ever since.
A tea length also often has more structured fabrics like jacquard or silk, and sometimes a fuller fit and flare or A line skirt shape.
Contrast this with a midi which hits below the knee, but may be above the ankle, often hitting mid-calf or lower. We often see midi dresses that have a more fitted, sleek silhouette as in the midi length slip dresses or dresses that fit through the hip and upper thigh and end it a bit of a slit skirt. Midi dresses have more of a modern cocktail dress appearance, while a tea-length dress is often a more retro or vintage feel.
Pretty new prints and styles make these dresses great picks for a wedding guest or for mothers-of-the-wedding. In fact, when helping a friend with attire for her wedding in Italy, we learned that in some church settings, knee-coverage is required, making a midi dress or longer a requirement for both guests and attendants!
Where to Shop for Tea Length Dresses and Midi Dresses
There were a few years when tea-length dresses were very hard to find, but they are back in style now, and more commonly seen in the more fitted style midi. There are so many choices in the midi-length that come in flattering shapes to make the traditional below-the-knee and mid-calf hem a more balanced and wearable silhouette.
Here are the designers and shops that we find often carry a good number of midi dresses to choose from.
Lulus

Lulus has one of the most amazing wedding guest dress selections, with so many gorgeous dresses for under $100. They also offer hundreds of styles of midi dresses that are all gorgeous!
Astr the Label

Astr the Label has one of the best selection of midi dresses we've seen! Some of their signature styles like the Marisa dress incorporate a midi length as a key part of the silhouette.
Nordstrom

Nordstrom has plenty of midi dresses of all styles and for all budgets. We particularly love the Mac Duggal and Dress the Population Styles they offer!
Petal + Pup

We love the collections available at Petal and Pup and the high-necked and satin midi dresses they offer are a few of our favorite styles for this season.
Revolve

Revolve has the best designer dresses and their midi dress collection is amazing! If you want a sleek and modern look, Revolve has a midi dress for you!
If you're looking for a tea-length or midi-length wedding dress we'll be writing a post about that soon, but for now, our picks for short wedding dresses have some midi-length ideas. We'll also feature more midi dresses for the mother of the bride, like the one we featured here in our picks for casual and informal mother-of-the-bride dresses.
What is the Difference Between a Midi Length and a Maxi Dress?
A midi dress is usually below the knee but above the ankle, somewhere in the mid-calf region, while a maxi dress is usually flowy and at or below the ankle and sometimes skimming the floor. However, in our searches for beautiful dresses, we see a lot of overlap with long ankle-length dresses that are classified as maxi dresses. We're also seeing a classification called the midaxi which perfectly describes this length!
Links in the shop section are from affiliates and sponsors. This blog may earn a small referral commission from the retailer, at no cost to the purchaser, if a qualified sale is made.
This article was originally published June 17, 2015 and was updated most recently on September 9, 2023.
Other Post You Might Love
Wedding Guest Dresses for June Weddings
Maxi Dresses for Wedding Guests
Light Blue Mother of the Bride Dresses
Styling Suggestion for a Tea-Length Dress
This is an older styling idea from the original 2015 version of this post. Most items are now out of stock. However, we keep these shopping details for continuity in case this pin or image brings you to this post!
I've styled this Adrianna Papell dress with a mother-of-the-bride in mind, and chosen gold accessories to pick up on the pretty gold touches in the free-form floral patterning. Below are some more picks for tea-length and midi length dresses for wedding events..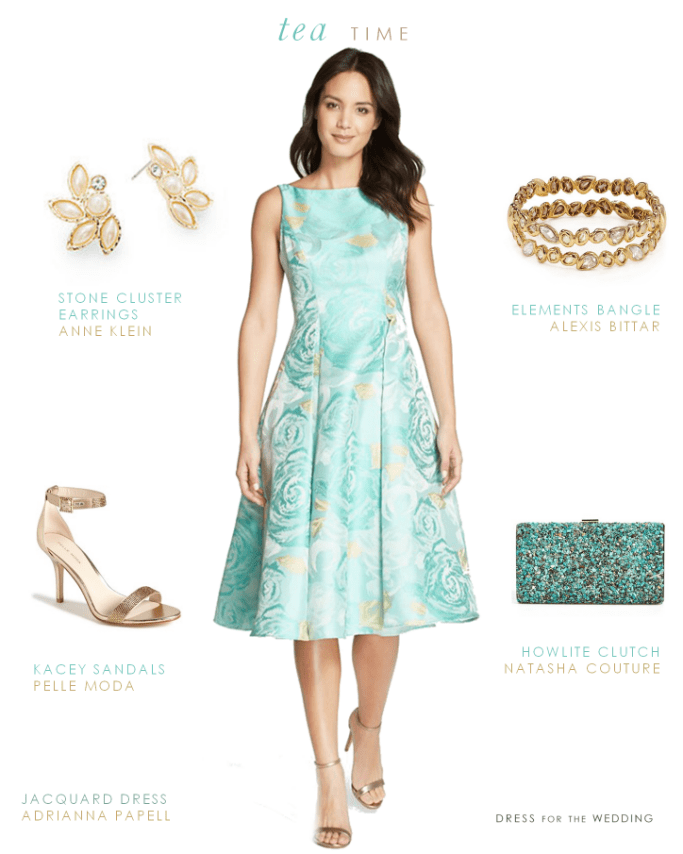 Links in italics are from our affiliated retail sponsors. Dress: Jacquard Tea Length Dress by Adrianna Papell by Nordstrom | Earrings: AK Anne Klein Faux Pearl & Stone Cluster Earrings | Bracelet: Alexis Bittar Elements Stacking Bangle | Clutch: Natasha Couture Howlite Box Clutch Shoes: Pelle Moda 'Kacey' Sandal from Nordstrom