Burgundy Two Tone Dress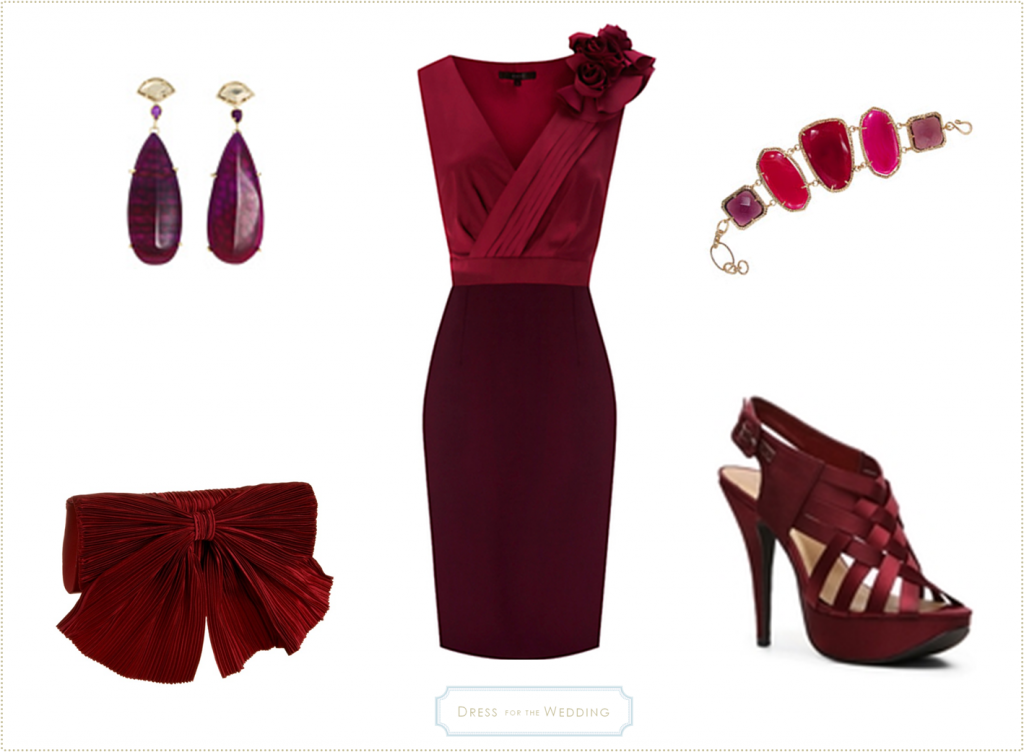 Coast Parisenne Dress ( Sadly this dress is no longer in stock,)| Kendra Scott Wanetta Stone Bracelet - www.lastcall.com | Kendra Scott Sher Earrings - www.6pm.com | C Label Eden-2 Sandal - www.dsw.com | LaRegale Clutch - www.shopstyle.com
Burgundy Red Dress for a Wedding Guest
This stunning burgundy dress might be one of my favorites in my picks for Wendy. It's a bit more formal than some, but because her event goes from afternoon into evening, I still think it will be very appropriate.
Why this dress for Wendy, you ask? Well, Wendy has been to Paris recently, so anything with Parisian flair reminds me of her. I believe we both enjoy a bit of red wine both in color and in beverage, and, as far as the dress is concerned, it has a vintage-y feel, a great neckline, and would be stunning on my brunette friend. I love the little rose detail - very ladylike, just like Wendy! The accessories are similarly show-stopping. That floppy bow on the clutch? Yum! And I added some contemporary shoes and accessories just to keep it frome being too vintage.
Editors note: when I picked this dress it was under $200, but it seems to have sold out at that price at one store, and is over $200 at another, plus exchange rate details. So, Wendy, if your heart is set on this one, let me know and I'll search for sales!
See more burgundy dresses here, or check out other wedding guest dresses.
Click here to see at all my red dress style posts!
This style is sold out, but here are more burgundy dresses for you: