This burgundy dress for a fall wedding is styled for a wedding guest for an afternoon wedding. The midi length and sleeves give it a bit of coverage for falling temperatures, and it's styled in warm autumn hues of peach and gold.
This post uses affiliate links. This site may earn a commission if you make a purchase from our links.
Burgundy Dress for a Fall Wedding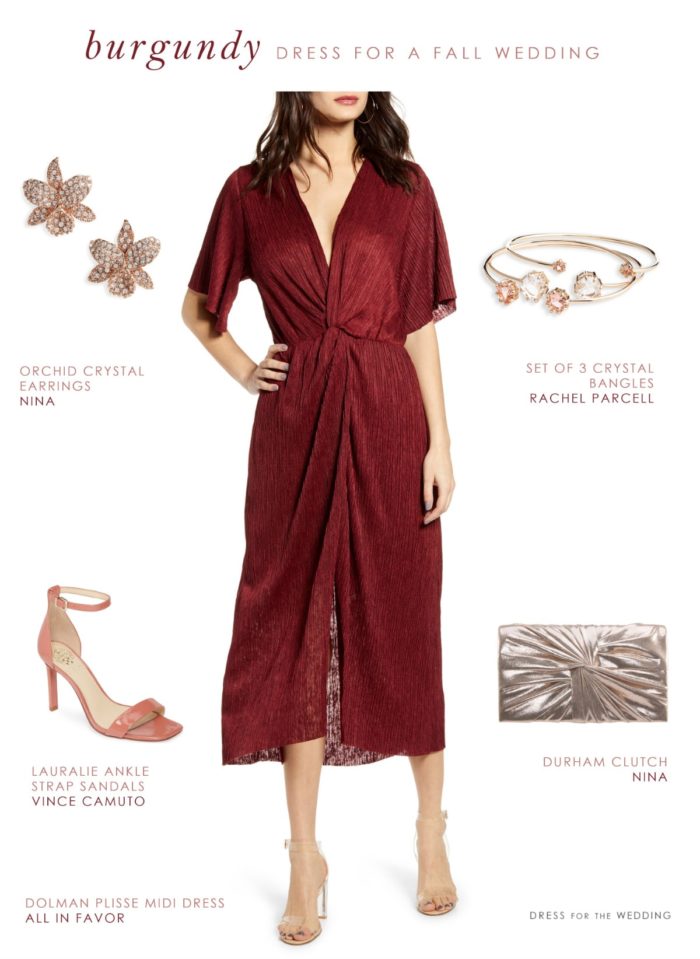 Dress: Dolman Plissé Midi Dress | Earrings: Small Orchid Swarovski Crystal Stud Earrings by Nina from Nordstrom | Bracelets: Set of 3 Crystal Bangles by Rachel Parcell from Nordstrom | Clutch: Durham Twisted Knot Clutch by Nina | Shoes: Lauralie Ankle Strap Sandals by Vince Camuto
Burgundy Outfit for a Fall Wedding Guest
This post was one of the first posts I created on Dress for the Wedding in late August 2012, and the original collage image that used to be associated with this post no longer works because the tool I used to use for styling collages doesn't exist! It's a fun moment to see how far the dress styles have come in 7 years' time, but it was definitely time to update the collage and the post.
So above is a new burgundy outfit styled for Fall 2019 with a new burgundy dress! This one is shimmery and light and has current styling of dolman sleeves, twist neckline, and a shimmer pleated plisse fabric. The best part is that this dress is under $59! If this isn't your style or isn't exactly the style for the wedding you're attending, I've selected many more burgundy dresses to wear to weddings below. I've included everything from casual daytime burgundy dresses to formal burgundy red dresses.
Shop The Burgundy Wedding Guest Outfit

Styling a Burgundy Dress for Fall
It's great to pair a warm color like burgundy with other warm colors. I was drawn to shades of coral and pink as a contrast to the red, and as a way to combine the coral pink shades of summer with the jewel red tones of fall during this transitional season.
Shoes and Accessories for a Burgundy Dress
Since this dress is slightly between dressy and casual, I wanted to make sure it was wedding appropriate with sparkling and metallic accessories. Rosy crystal bangles and earrings accomplish this. The gold lame clutch adds a fun 70s look to this dress, which has a chic 70s vibe to me already. I especially like how the twist in the clutch mirrors the twist in the neckline of the dress -- a fun little detail that ties the two styles together without being too matchy.
The shoes were the biggest toss-up for me. I settled on these peach-hued strap sandals because the warm color acts as a fun contrast but also a bit of a neutral. I also thought about pairing these rose gold pumps for a closed toe style, or these snakeskin sandals for a more fall neutral color but it creates a casual look. These patent strap sandals that I did choose come in several other colors like tan and brown that would also work here!
Shop More Burgundy Dresses
This post uses affiliate links. This site may earn a commission if you make a purchase from our links.

Burgundy Cocktail Dress for a Fall Wedding
You may also want to look at our current picks for fall wedding guest dresses for 2019, or red dresses for wedding guests.
Here's some older content from the original 2012 post!
One of the colors I love for this upcoming fall season is burgundy, which has nice rich brown undertones to it. Today's dress pick features that color, paired with some brown and gold accessories.
I'd wear this dress as a guest to a late afternoon wedding. To wear it for evening, I'd put it with some much sparklier accessories as an evening cocktail dress.
Looking for Burgundy bridesmaid dresses? Check out the Red Bridesmaid Dress Picks and Purple Bridesmaid Dress Picks.
The original image from our first style idea here presented in 2012 is now unavailable. The dress and other accessories are listed here, but likely out of stock.