Burgundy Bridesmaid Dresses to Mismatch or Match
Several styles of plum, blackberry, and burgundy bridesmaid dresses to match or mismatch.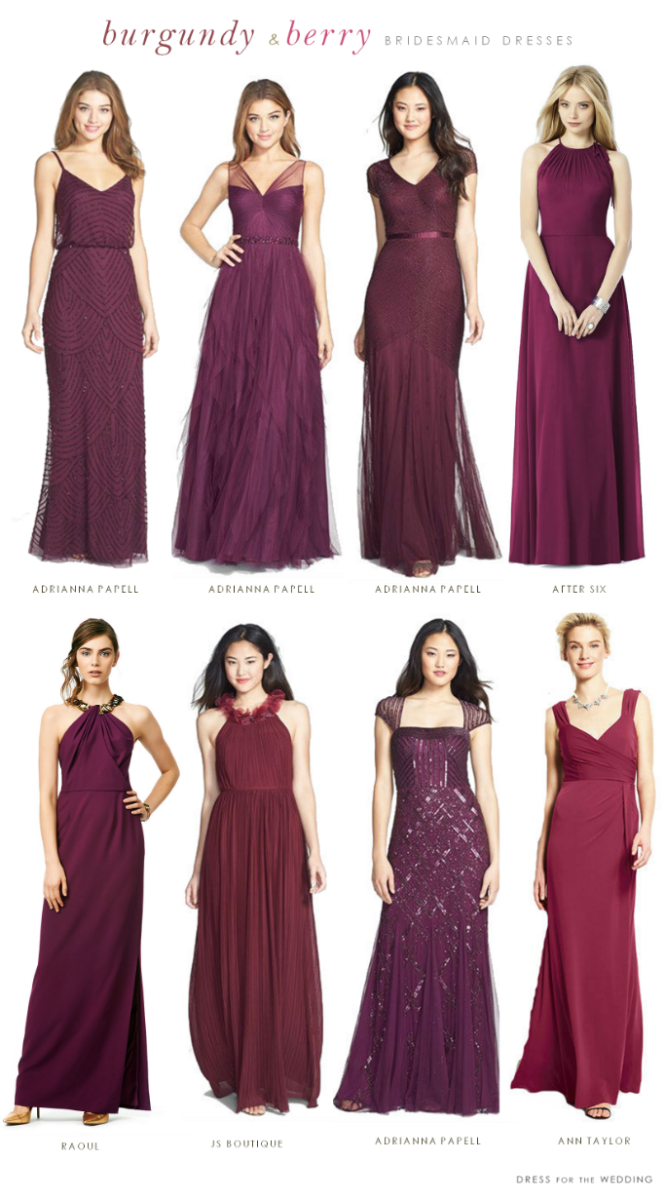 Links in italics are from affiliate partners. Top:1.Adrianna Papell Beaded Blouson Gown in Cassis 2. Adrianna Papell Tiered Chiffon Gown 3.  Adrianna Papell Beaded Cap Sleeve Gown 4. After Six Style in 6704 in Ruby
Bottom: 1. Halter Neck Gown 'Prosser Gown' by Raoul available at Rent the Runway 2. JS Boutique Embellished Chiffon Gown  3. Adrianna Papell Beaded Mesh Mermaid Gown at Nordstrom( Now sold out)  Try these purple dresses 4. Ann Taylor Bridesmaids Jersey Tucked Strap Gown (Discontinued)
Mismatched Burgundy Bridesmaid Dresses
This mix of burgundy gowns, that edge on a plum, or berry color, is one of those mismatches that would be a beautiful choice for a late fall or winter wedding. As you know from my earlier posts on mismatched bridesmaid dress techniques, I love it when the color has a slight variation and a nice mix of texture and fabric. And if that fabric happens to have a little sparkle -- all the better! The red bridesmaid dress styles at Nordstrom are often specifically designed to coordinate in this way, and major designers they feature have several gowns in this wine color that make it easy to get a little sparkle and a coordinated-- but nuanced-- mismatch.
Shop for Burgundy Mismatched Bridesmaid Dresses

Burgundy, Red, and Berry Gowns for Weddings
If you wanted to add more purple tones, you could include one of these gowns for the purple mismatched bridesmaid post. To include a burgundy with little more red, try burgundy, claret,  for more ideas!
Shop Purple Bridesmaid Dresses
Shopping links are from our sponsors and affiliated retail partners.
Places to find more burgundy bridesmaid dresses:
More style ideas you might enjoy :