Cayenne Colored Dress for a Wedding
Is everyone looking forward to the return of spring as much as I am? Even if we can't wear light spring clothes now, at least we have the spring color forecast to tide us over and give our eyes something fun to look forward to! As you may have heard Pantone named "Cayenne" as one of the top colors for Spring 2014, and it's definitely a festive and fun choice!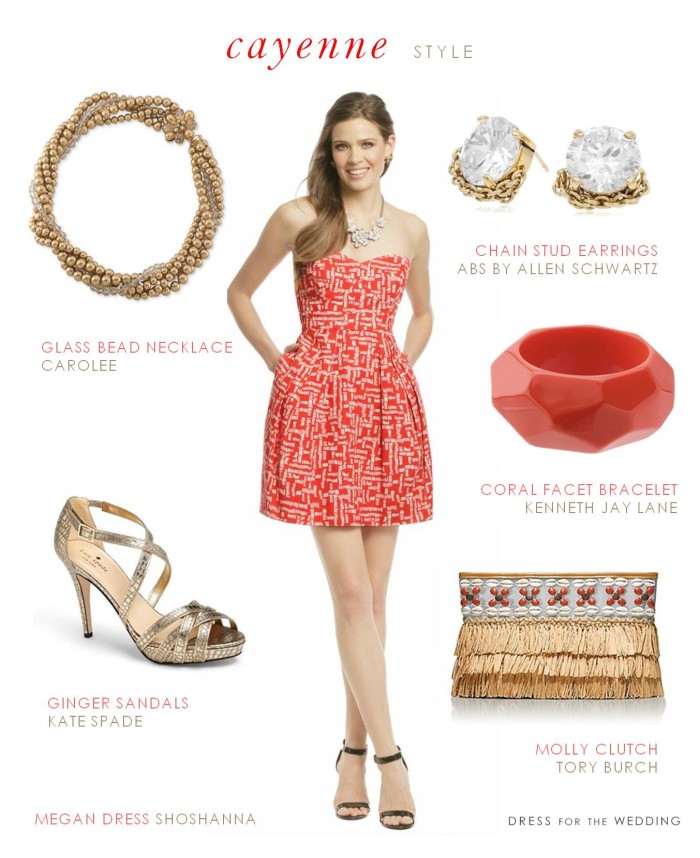 Shoshanna Megan Dress at Rent the Runway / Carolee Torsade Gold Bead Statement Necklace / ABS Allen Schwartz Chain Wrapped Stud Earrings / Kenneth Jay Lane Coral Facet Bracelet / Tory Burch Molly Clutch  / kate spade new york "Ginger" Sandal
What color is Cayenne exactly? To my eye, it's very close to what most people think of as coral, but with a little less pink (although it still has a dab) with slightly more red, orange, and brown undertones. I think it even has a touch of mauve thrown in. Quite honestly, I don't think anyone will be correcting you if you call it chili, coral, paprika or anything else that sounds like it looks!
I was inspired by a cayenne and sand board my friend Tamika over at Bajan Wed recently created to pair this pretty little cayenne-colored dress by Shoshanna with sandy and metallic neutrals. Since it already has a little bit of a tan print, I thought it worked well! If you haven't checked out Bajan Wed yet, you should! Tamika creates the prettiest inspiration boards, and always has the best taste in Pins on Pinterest.  Every time I visit her blog, it's like a little visit to the Caribbean without the time and expense of a plane trip! Thanks, Tamika, for the inspiration!
This little Cayenne dress would work for so many things. I can envision it on a  guest at a destination or beach wedding, or on a bridesmaid in a destination wedding, or on guests at summer wedding celebrations too!  I'd love to see more brides ask their bridesmaids to wear print. I think this is the year it might happen! ( The Bridal Detective is running a great series on print and pattern right now - don't miss it!) I can just picture this for bridesmaids of a Southwestern wedding, with boots at a country themed rustic wedding, or a Hawaiian luau wedding. It's one of those prints that is just that versatile!
So move over coral ( but just a little - I still love you!) and make room for your sister in the color spectrum - cayenne! This festive color is sure to heat up many weddings this spring, summer, and into the fall!


Some links are from our retail partners. Learn more.