If you've been invited to a wedding at a vineyard, you may be wondering what to wear to a winery wedding! This post will give you a wedding guest outfit idea for a winery wedding, as well as 20+ more wedding guest dresses for a winery wedding!
Shopping sources on this site use affiliate links, which means this site may earn a commission if you make a purchase from our links.
What to Wear to a Winery Wedding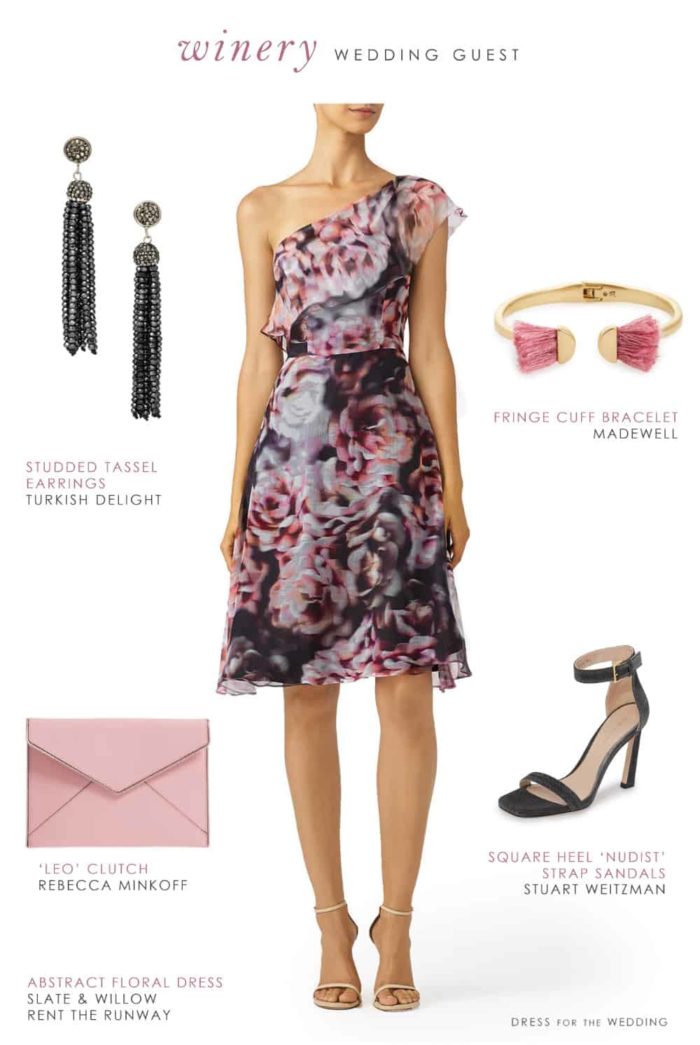 Dress: Slate & Willow Abstract Floral Dress from Rent the Runway | Earrrings: Turkish Delight Studded Tassel Earrings | Bracelets: Fringe Hinge Cuff from Madewell | Sandals: Square "Nudist" Strap Sandals by Stuart Weitzman from Nordstrom | Clutch: Rebecca Minkoff 'Leo' Clutch Rent it from Rent the Runway or buy from Nordstrom
What to Wear to a Wedding at Vineyard
Most vineyard weddings I have attended (which were two, and at the same place (ha!) are set outside, at least part of the time, on the grounds or a terrace overlooking the vineyards. The party may also venture indoors or have a tented reception, but for the most part most vineyard weddings are chosen because the couple wants you outside enjoying the scenery of the vineyard, as well as the wonderful wines!
Winery wedding can also vary in dress codes. Usually they are dressy casual to semi-formal attire, but some may be black tie. If you are hosting a winery wedding, do give your guests a little bit of a guideline either on the invitation on your wedding website, of the kind of attire you expect.
If the dress code hasn't been defined, I would tend toward dressy or semi-formal attire, but with a touch of that quintessential vineyard style. You've seen the wine commercials; women wearing flowy dresses, gentlemen in an elegant neutral suit - perhaps navy, or gray. That's the look we're after!
What Should A Female Guest Wear to A Winery Wedding?
In general: Most winery weddings lie between semi-formal and dressy casual attire, so a pretty cocktail dress or floral wedding guest dress or maxi dress would be my first pick. A special occasion skirt and top, jumpsuit, or dressy combination of pants and a top if you don't want to wear a dress, are also appropriate.
Specific picks: I particularly love floral dresses like the one I've pictured above for a winery wedding. There's something about an outdoor natural setting that just calls for florals! I also think maxi dresses are a beautiful choice for a winery wedding, again in a floral print, or with a bit of detail like a ruffled hem.
I also think a chic tailored knee-length cocktail dress is highly appropriate. Just as you would wear to any other afternoon wedding, a semi-formal dress in a stretch lace, or my new favorite fabric, stretch scuba.
20+ Dresses, Accessories and Outfits to Wear to a Wedding at a Winery

What Not To Wear to a Winery Wedding
Just avoid white, as always, and you may also want to avoid other light colors in case of a spill!
Now this is overkill, but you may also want to avoid wearing a literal solid wine red or burgundy color to a winery wedding, because I have seen a fair number of vineyard weddings who use the wine theme and have the wedding party outfitted in burgundy or similar shades.
I like the outfit idea I chose above because it has a pretty blush mauve peeking out with the gray, to balance with a wine color, but not repeat or compete with it!
Footwear and Accessories for a Winery Wedding
Usually a winery wedding will be during the afternoon, or early evening so that guests can see the beautiful scenery. In that case it's important to remember to bring sunglasses, and also perhaps to apply a little sunscreen before doing your hair and makeup.
Footwear is another consideration! Because you may be on soft ground, and uneven terrain for part of the wedding, stiletto heels can be tricky! If you must wear them, wear these Solemates High Heelers on the heels. (If you end up not needing them, they are so easy to stow in your bag. ) There are also so many dressy and chic block heels and wedges available now, that those might be the best choice. I chose a wider square heel above, because I couldn't get the right block heel for the look in the collage, but you'll see I've included some in the shop the post section!
What Should a Male Guest Wear to a Winery Wedding?
Unless a very formal or very casual dress code has been indicated, a suit or your favorite blazer and pants combination is a great look for a winery wedding. I am less of an expert when it comes to men's attire, but I think a navy suit, navy blazer, or gray suit and tie would be appropriate. I can see in a more semi-casual setting that the tie may not even be necessary, but it's better to err on the side of formality and go with the suit and tie! Of course if specific black tie attire has been requested, then always defer to that and rent or buy a tux . Our what to wear to a rustic wedding post has a section on men's attire that has some picks that would work in this setting too!
Wedding Guest Dresses for a Wedding at a Winery
A wedding at a winery is a popular setting for so many weddings from spring through to fall wedding season. If you are lucky enough to live in near a local vineyard, in the middle of wine country, or are attending a vineyard wedding as a part of a destination wedding to Italy, Napa, or other West Coast wineries, I hope this guide is helpful! See more dresses to wear to a winery wedding below!
Related:
Follow us on Instagram for more ideas for what to wear to a wedding!