Find the Right Wedding Dress for Your Body with Sincerity Bridal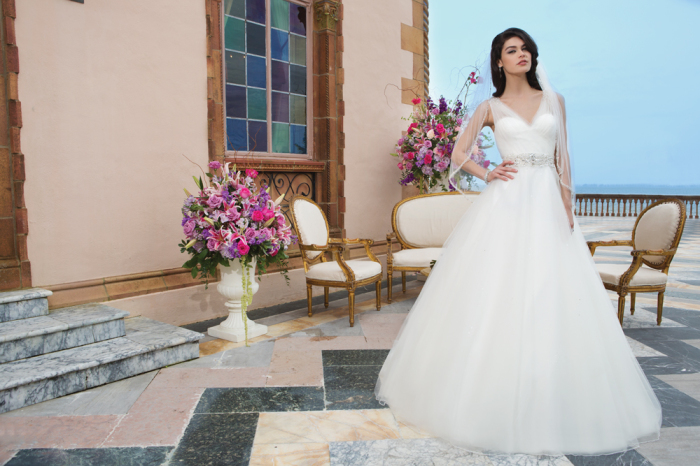 Sincerity Bridal has gowns to fit every bride's personal style and shape!
If you're like me, you have certain clothes in your closet that you just love to wear. The pieces you love probably show off your best features, and make you feel lovely every time you wear them. And so it should be with your wedding dress! However --be warned--you can spend hours falling in love with the look of a dress online, but unless it's the right style for your body type,  it may not accent what you want it to and it might not make you feel as spectacular as you had hoped!
Fortunately, Dress for the Wedding sponsor Sincerity Bridal, not only creates feminine wedding gowns with details and delicate beadwork to fall in love with, but also designs their collection with all sorts of gorgeous figures in mind.  Finding the perfect gown can be as simple as understanding the shapes and features that will accent what you love most about your body and will fit your frame the best. Today, we'll take a look at Sincerity Bridal's  latest collection for Spring 2015, and use these wedding gowns to help you find the best wedding dress for your body type! Keep in mind, all figures are to be celebrated, and you may not fit into just one type; you might be a mix of petite and curvy or broad shouldered and slender--or perhaps what one woman wants to minimize, is exactly what you want to maximize! This guide from Sincerity Bridal is to help you find whatever look you love most on you.
Best Wedding Dress Styles if You're Larger on Top
Let's get right to it!If you have a larger bust you may want to both open up your neckline and accent this lovely feature, but not show too much decollete. You may also want some support. Finding a dress with a wide neckline is the perfect way to go!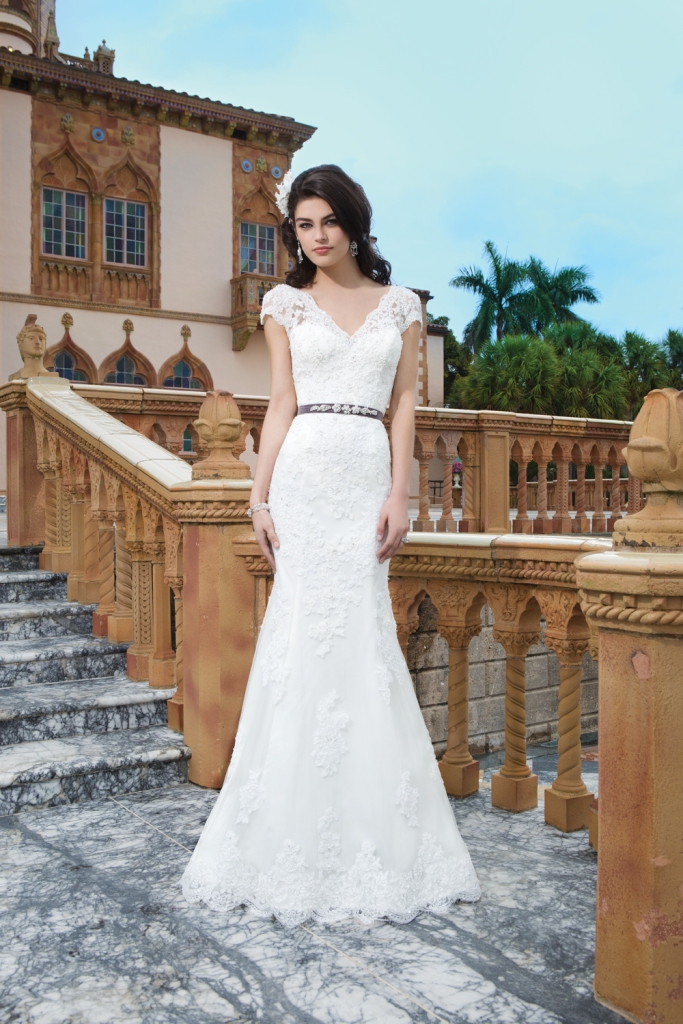 Style 3831 from Sincerity Bridal has a v-neckline, lace details and beautiful cap sleeves.
A v-neck silhouette like  Style 3831 can be a great choice for this body type, because it follows and accents the chest, but keeps things modest.  If you have broad shoulders, the fit and flare silhouette creates a slimming effect on the hips and adds balance at the hem, which creates focus on the waist and balances the overall shape.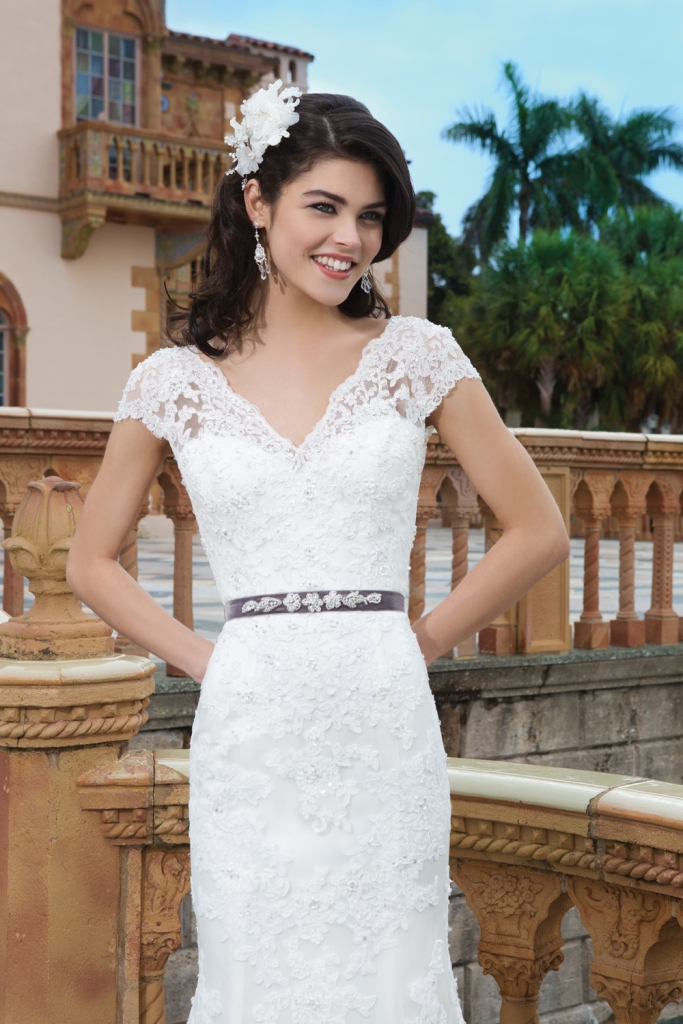 Style 3831 also features lovely embellishment and a classic style.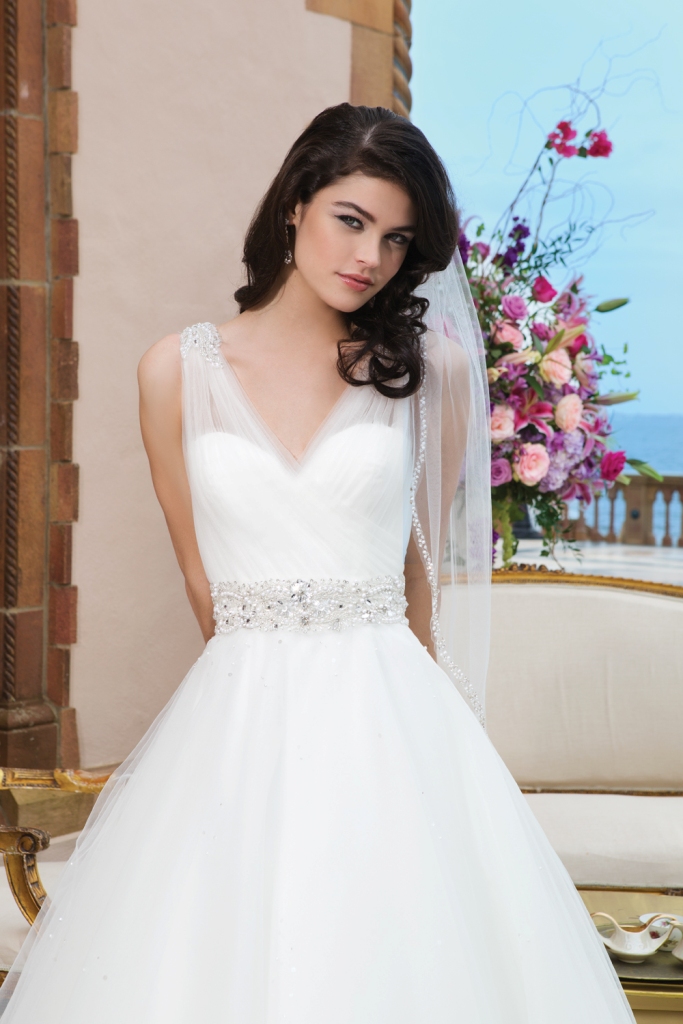 A gorgeous v-neckline and full tulle skirt are a lovely look! Style 3843.
Another wonderful choice for a larger top is Style 3843. The ruched V-neckline of this wedding gown will accent and streamline your top beautifully and will offer some support from the elegant tulle straps.  The full tulle skirt creates balance between the hem and shoulders, while the structured bodice and delicately beaded belt accents the waist, creating a well-proportioned hourglass look.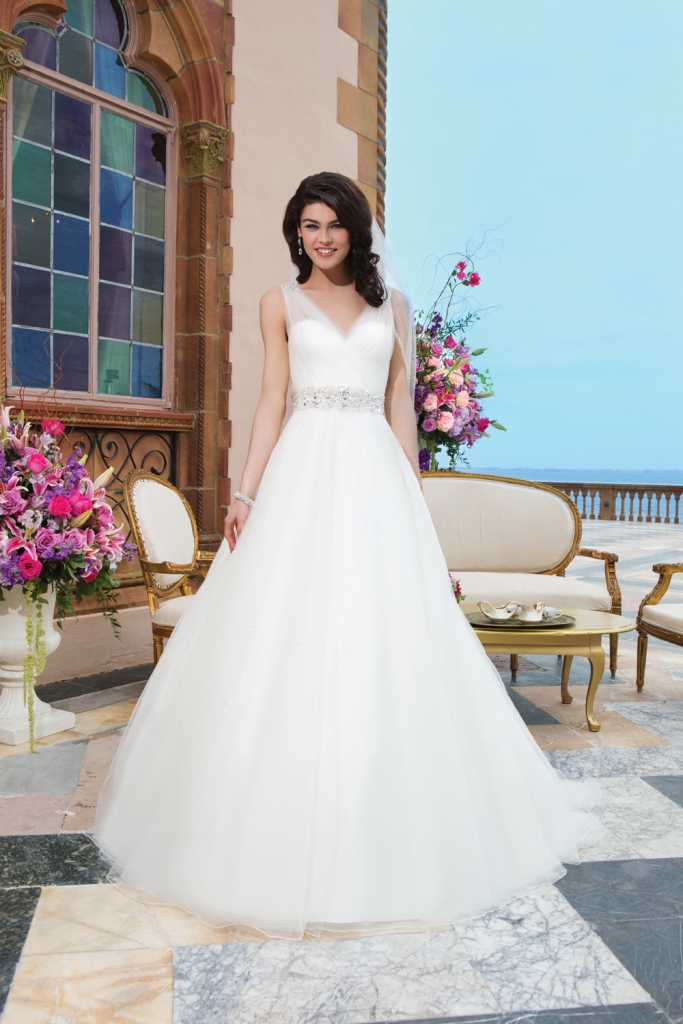 Style 3843, is a stunning tulle wedding gown
Best Bridal Gowns to Consider if You're Larger on the Bottom
Some brides like to accentuate their curves or lower half -- after all, it might be your favorite feature! The choice is yours, but if you want a gown that pulls attention up and away from your lower half, you can accomplish this creating balance between your shoulders and hips like we did before -- just in the opposite way this time.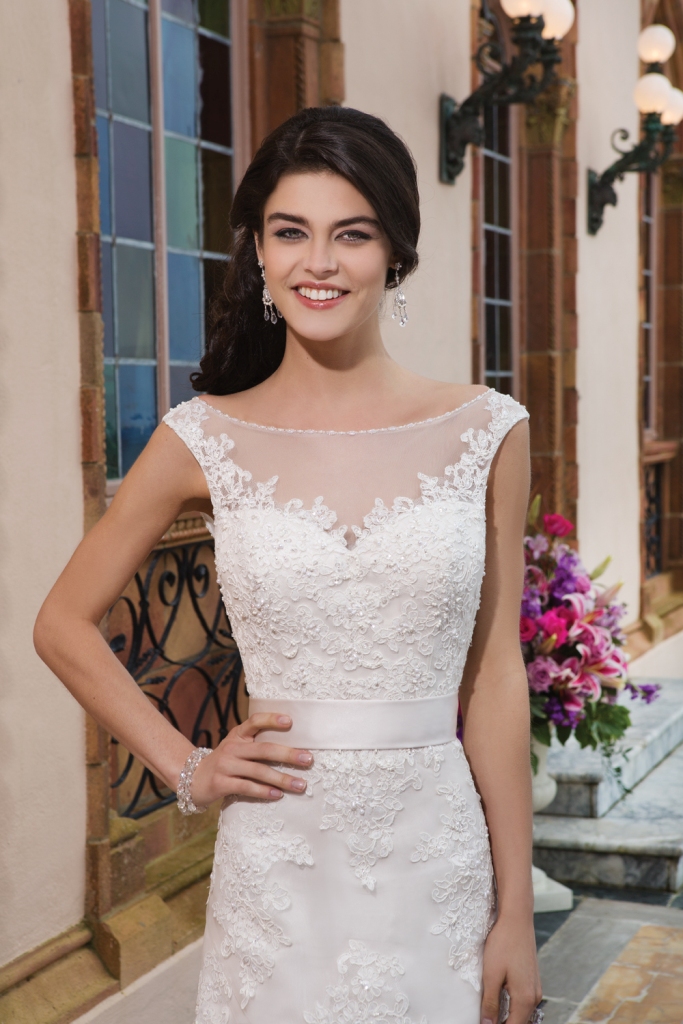 Style 3822 has a beautiful neckline, which draws the attention up to the face and neck.
To balance the top and bottom, choose a gown like Style 3822 which has an elegant neckline to draw eyes to the face and shoulders.  The A-line silhouette skims over the lower body, rather than clinging to every curve.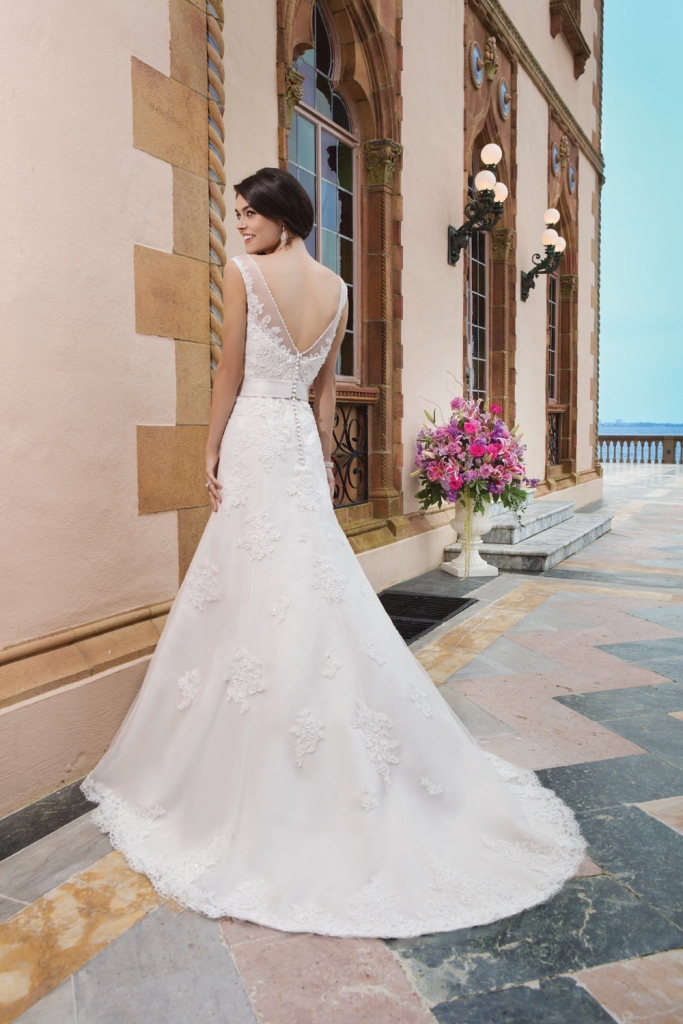 Style 3822 has a beautiful back and A-line skirt.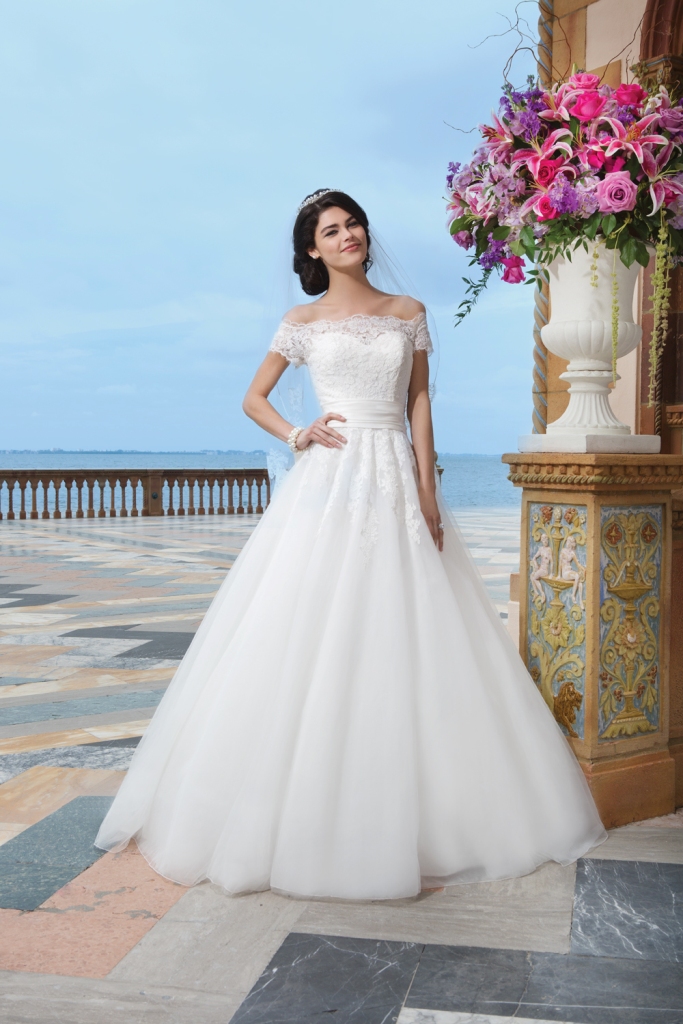 Style 3836 , this gorgeous off-the-shoulder wedding gown.
Style 3836 also works for this figure, because it has a beautiful off-the-shoulder look, and a ball gown skirt style, which stands out from the waist, and draws all the attention to the upper body and face and creates balance between your upper and lower halves.
A detail of Style 3836  from Sincerity Bridal with a graceful lace top and beautiful buttons up the back. 
Wedding Gowns for Curvy Women
If you already have a beautiful curvy balance between your top and bottom or consider yourself a full figure; you may want your wedding gown to sit atop those curves and also accent your waist! These styles will show off your great shape.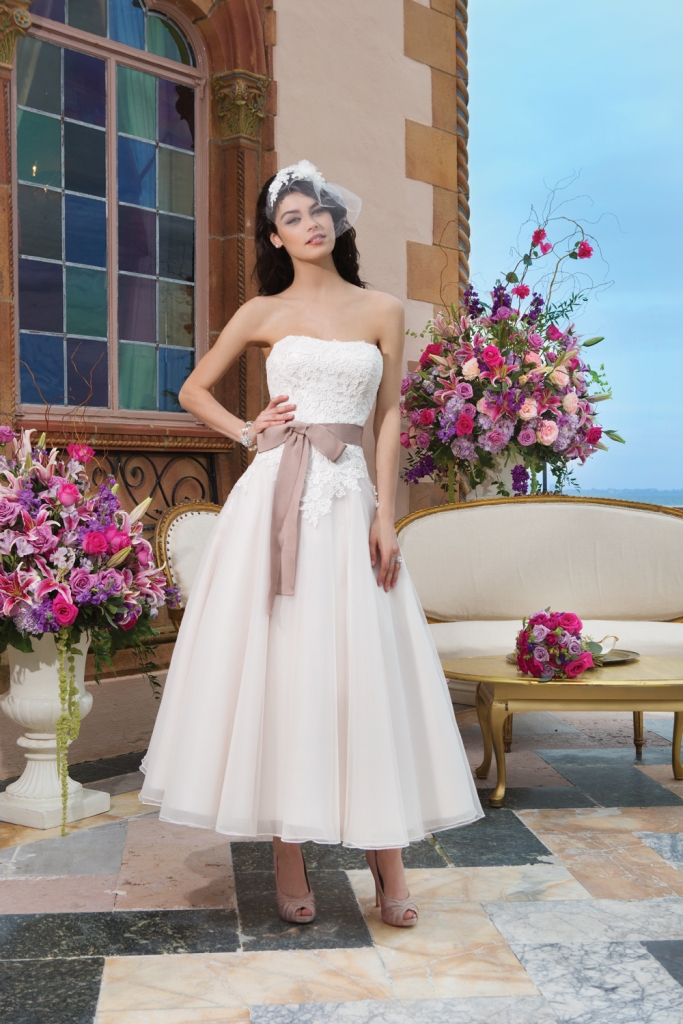 Style 3820 is a beautiful ankle-length gown that would be such fun to dance in!
Try Style 3820: its full circle skirt and ankle-length hem, creates a nice line which gives a lovely nipped-in look at the waist. The bow sash highlights the waist even more!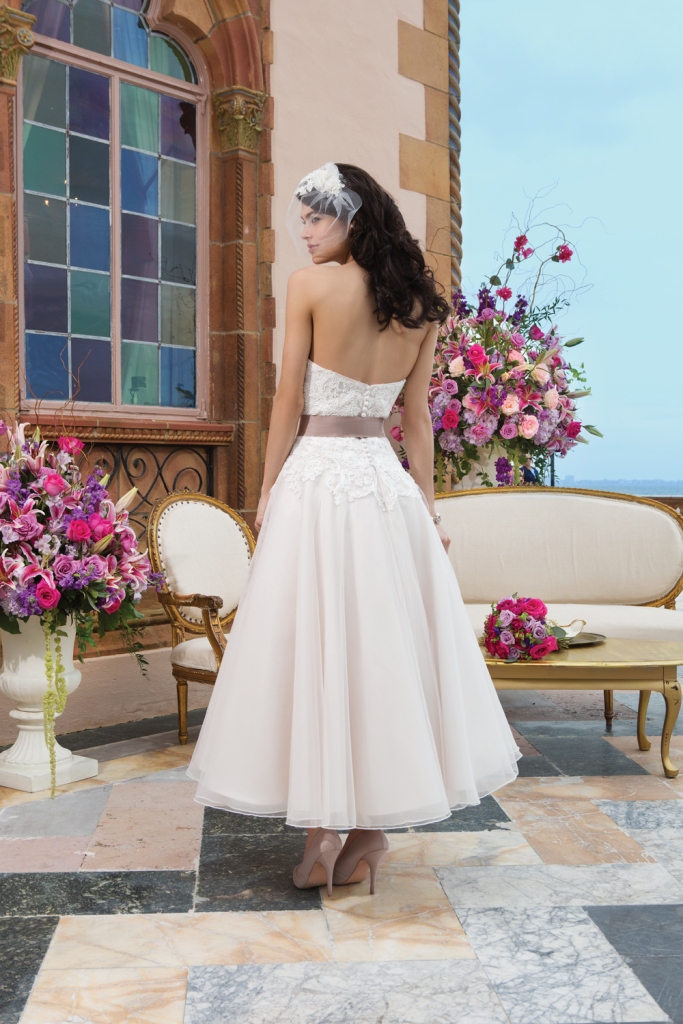 Style 3820 detail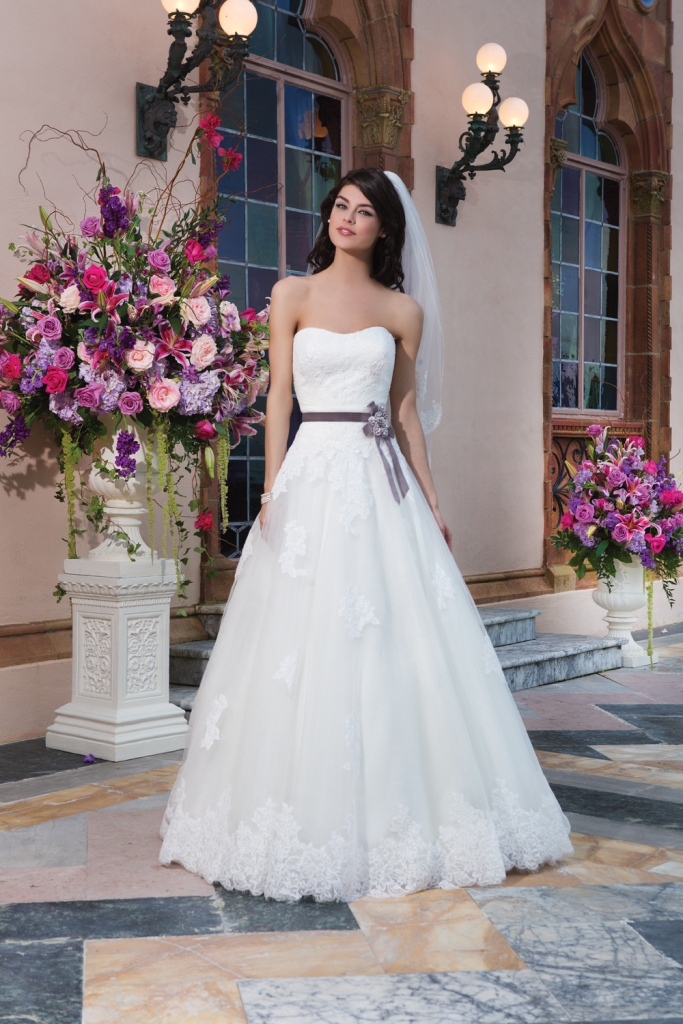 Style 3832 The ball gown features a ruched tulle detail that creates focus at the waist.
Another great choice for women with curves, is the romantic and princess-like Style 3832 which is a classic ball gown wedding dress. The ruched tulle detail brings attention to the waist and accentuates curves.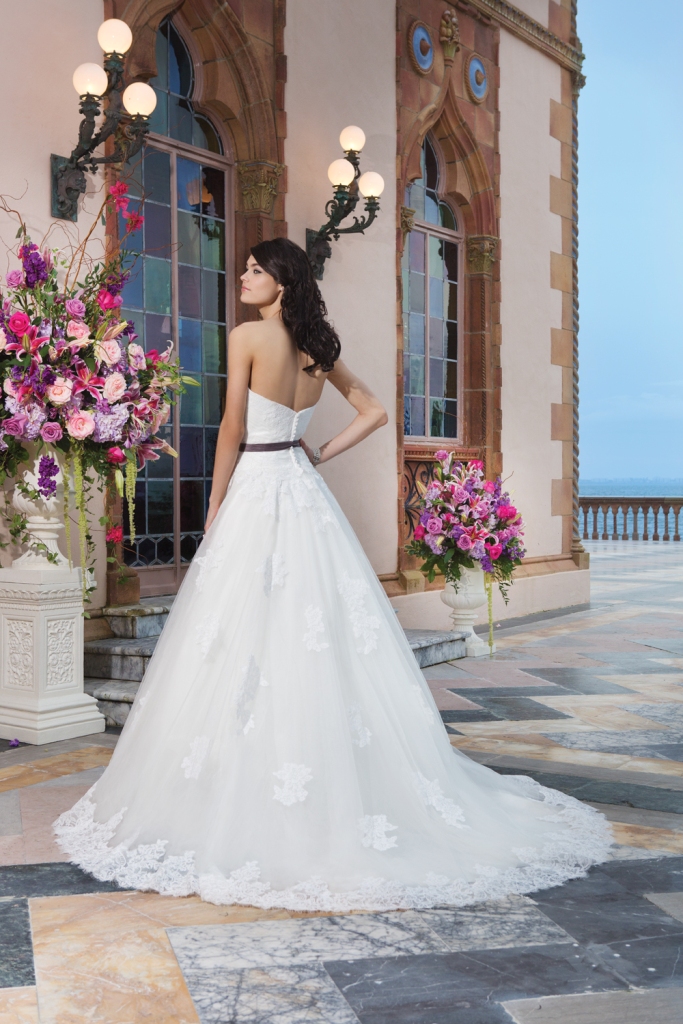 Style 3832 This full skirt ball gown is a beauty!
Dresses for Slender or  Straight Up-and-Down Body Types
If you don't have prominent curves, (i.e., your shoulders, chest, waist, and hips, are all in nearly in a line) you can flaunt that slender look, but if your wish is to create the illusion of more curves, you can pick a wedding gown that gives you the illusion of an hourglass figure.
Style 3821 Has beautiful lace overlay, a Queen Anne style sweetheart neckline, and keyhole back.
Style 3821 has a keyhole back which opens up the silhouette to give curves from the back. In the front, the Queen Anne-style sweetheart neckline and delicate bow detail create more soft curves and show off the waistline. The trumpet skirt tapers out gracefully to create an hourglass look.
Style 3821 back detail with keyhole shape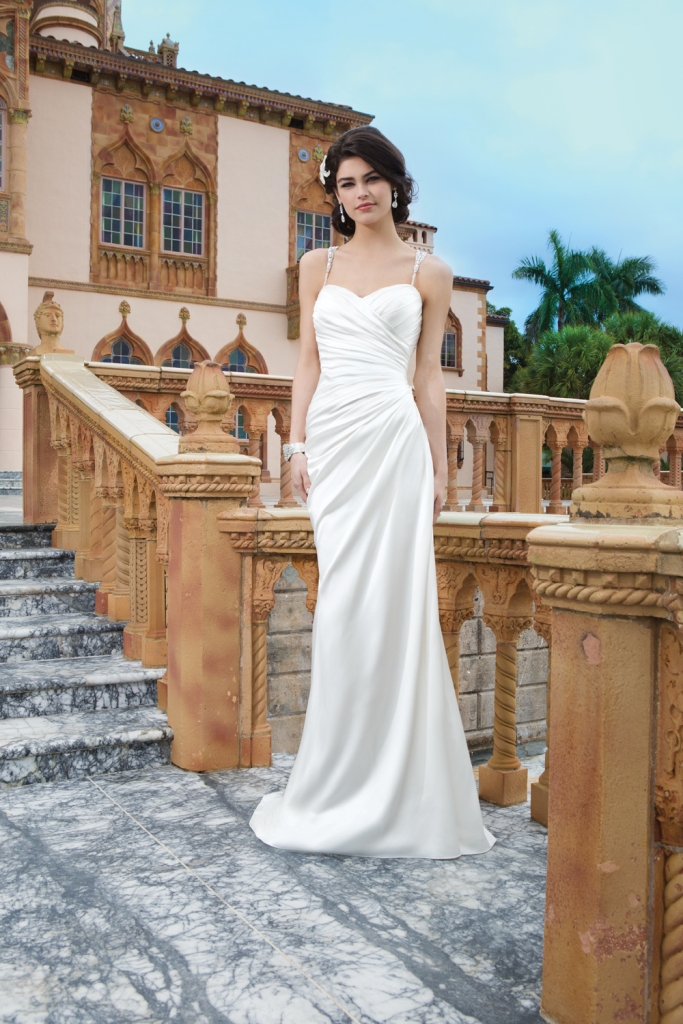 Style 3847 is a retro style with jeweled details that creates the illusion of curves all over!
Another option for those who want to add curves is Style 3847. The satin ruched feature across the bodice and back  adds dimension and bias-cut sheath offers a wrap shape that gives even more curves to the wearer. I also love the retro style of this gown! Check out the beautiful back!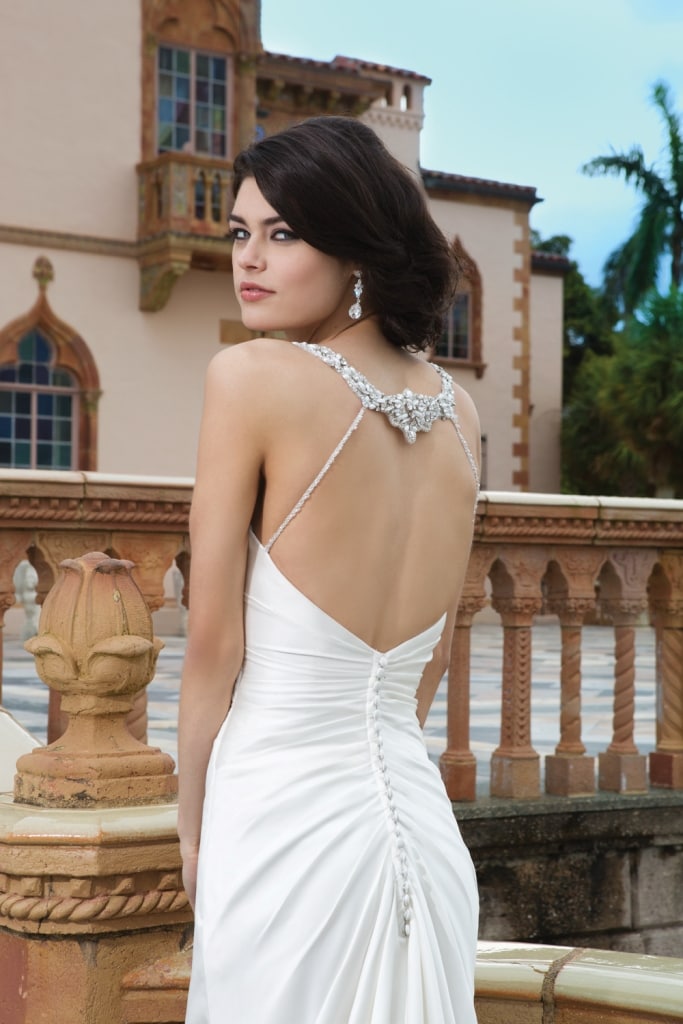 What a statement detail! Style 3847  from Sincerity Bridal
Bridal Gowns for Petite Women
If you'd classify yourself as Petite bride, the yards and yards of fabric found in some wedding gowns can easily overwhelm your small frame. In addition to getting your gown well-tailored, these dress styles will suit your petite build wonderfully!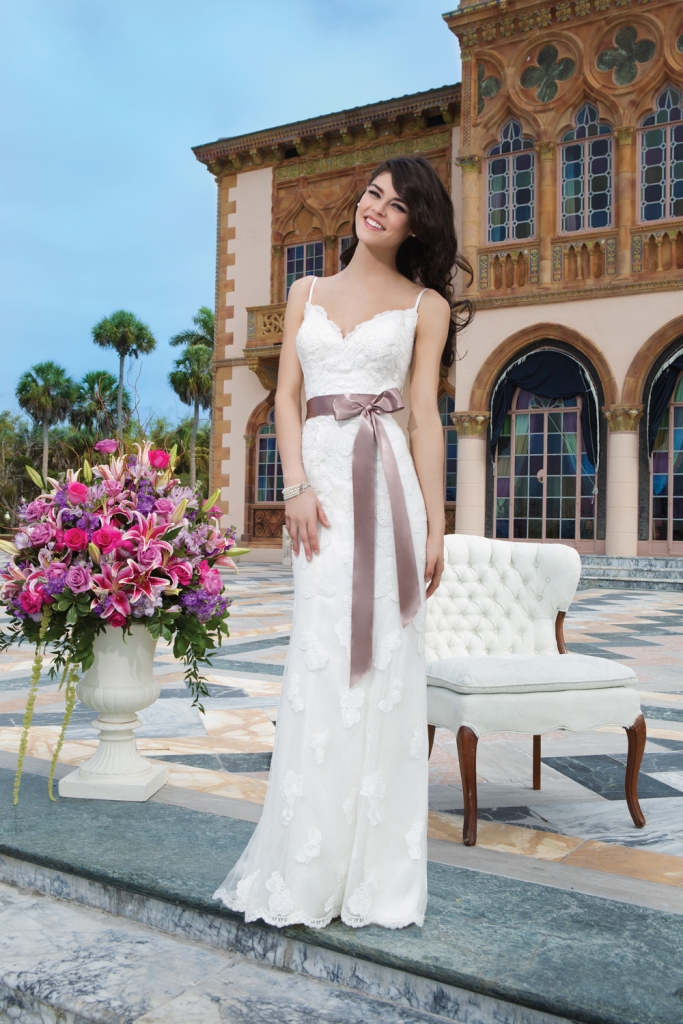 Style 3823, an beautiful spaghetti strap sheath wedding gown with overlay
Style 3823 is an ideal choice for petite brides because it is an airy sheath dress, that won't smother a smaller frame in fabric. This gown also features a v-neckline which draws the eye to the face and neck, and gives the illusion of length throughout the body. The detachable belt can be placed at the bride's natural waist, so that it does not cut in at the wrong place and inadvertently shorten the frame.  This beautiful silhouette also flows freely (i.e., doesn't have any stops and starts to the lines) which helps elongate the look.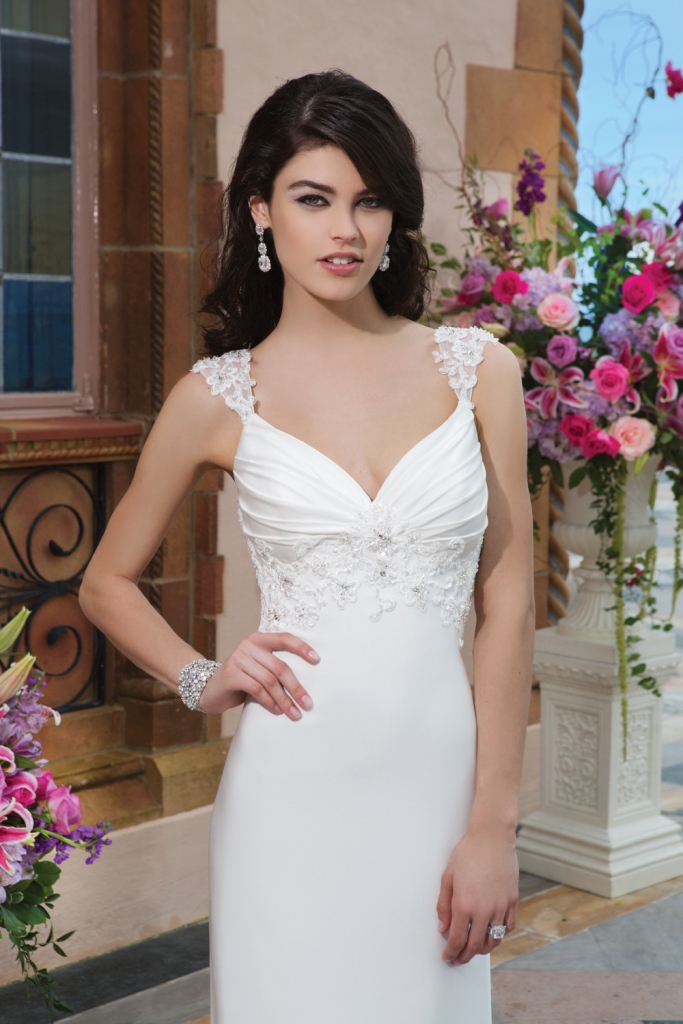 Detailed bodice on Style 3829
Style 3829 is another wonderful choice for petite women. The empire waist and embellishment up top contrasts beautifully with the clean lines of the skirt, which elongates the lower half of the body and keeps the correct proportion. The simple details add just the right amount of embellishment, but won't overwhelm a smaller frame with fussy trimmings.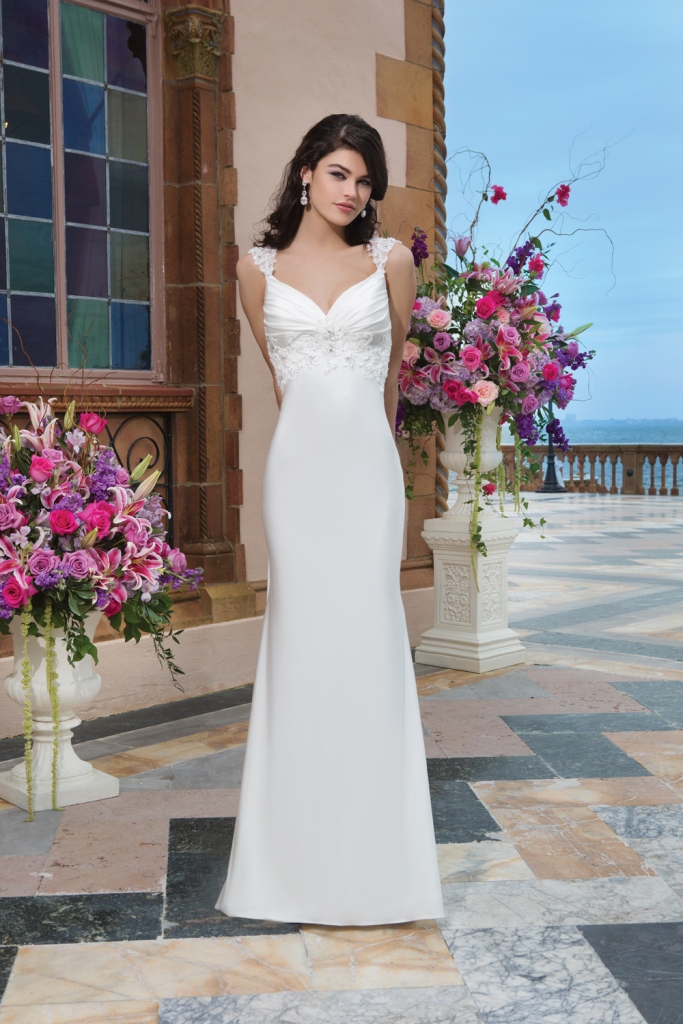 A beautiful empire wedding gown with sheath styling. Style 3829
By now I hope you've fallen in love with fabulousness of  your own shape, as well as these sweet and romantic dresses from Sincerity Bridal. Now you have a better idea of which one might best suit your figure, I think you're ready to go wedding dress shopping! Find the boutique that carries Sincerity Bridal nearest you, and try on these lovely gowns!
Sincerity Bridal has graciously sponsored this post, but the delighted words about these wedding gowns are all mine!