Plaid Ties and Ties for Winter Weddings
Ties for winter events and winter weddings with cozy style and lots of plaid!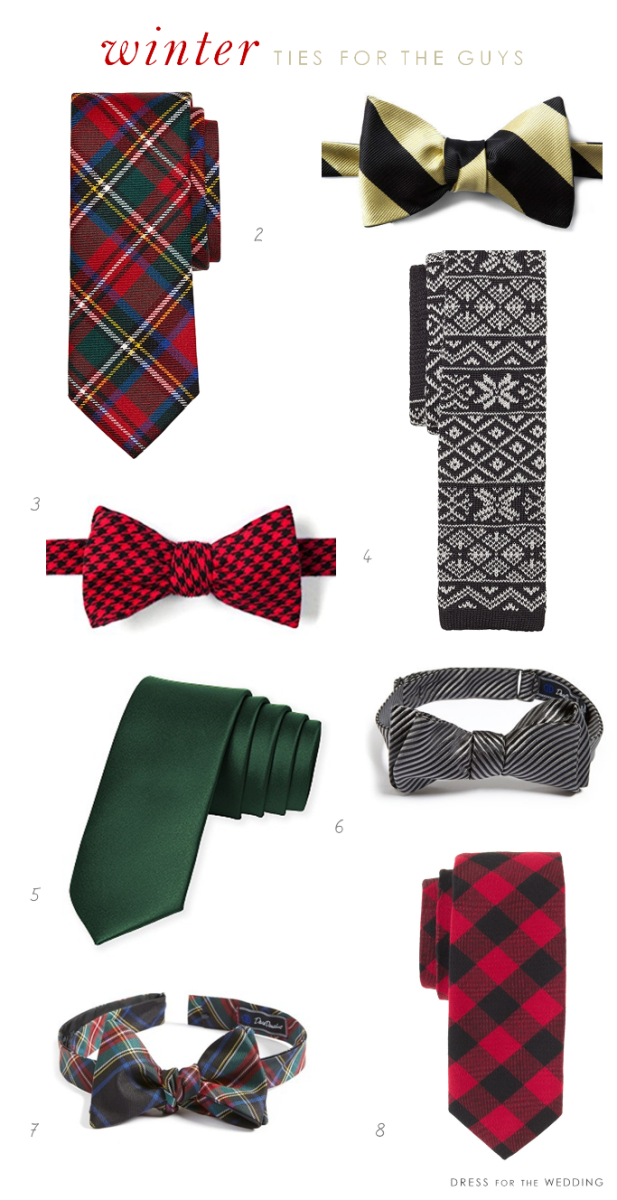 Links to sponsors: 1. Modern Prince Charles Edward Tartan Tie at Brooks Brothers  2.Black and Gold Stripe Bow Tie from Ties.com  3. Red Blair Houndstooth Check Tie  4. Fair Isle Knit Tie from Brooks Brothers 5. Matte Skinny Tie in From The Dessy Group in Hampton Green 6. Graphite Gray Silk Bow Tie  7. Plaid Silk Bow Tie 8. Cotton Tie in Buffalo Check from J.Crew
As you've seen by now today's 'Ties for the Guys' post has plenty of pattern and plaid! I tried to limit myself, but there is something about this time of year that calls for plaid, prints and peppy bow ties! I tried to mix it up with a few stripes, solids, Buffalo checks, and a houndstooth pattern, but I truly could have gone on and on with the plaid ( I put more in the shop section below)! Some of the more formal ties are the perfect way to give winter black tie looks a little spirit, while the knit looks are great touches for those attending or throwing a rustic winter wedding! I also thought that the black and gold tie was that fine line between festive, stately, and preppy!  There's no need to uncomfortably don wear an ugly sweater -- unless you want to -- just show up to a holiday party wearing one of these! (I think most of these will still ship in time for you to wear them under the mistletoe! If these are a bit too much spirit for your event, try a solid tie with wintry silver, gray, deep and light blues, greens or burgundy colors -- they are also perfect for the season!
Other posts you might like:
Attire for Grooms and Groomsmen
*The shopping links and section of this post uses affiliate links, meaning that Dress for the Wedding makes a small commission from the retailer, at no cost to the reader, if a qualified sale is made. 



More style ideas you might enjoy :