A look at the latest collection of Amsale Wedding Dresses for Fall 2019.
Amsale Wedding Dresses Fall 2019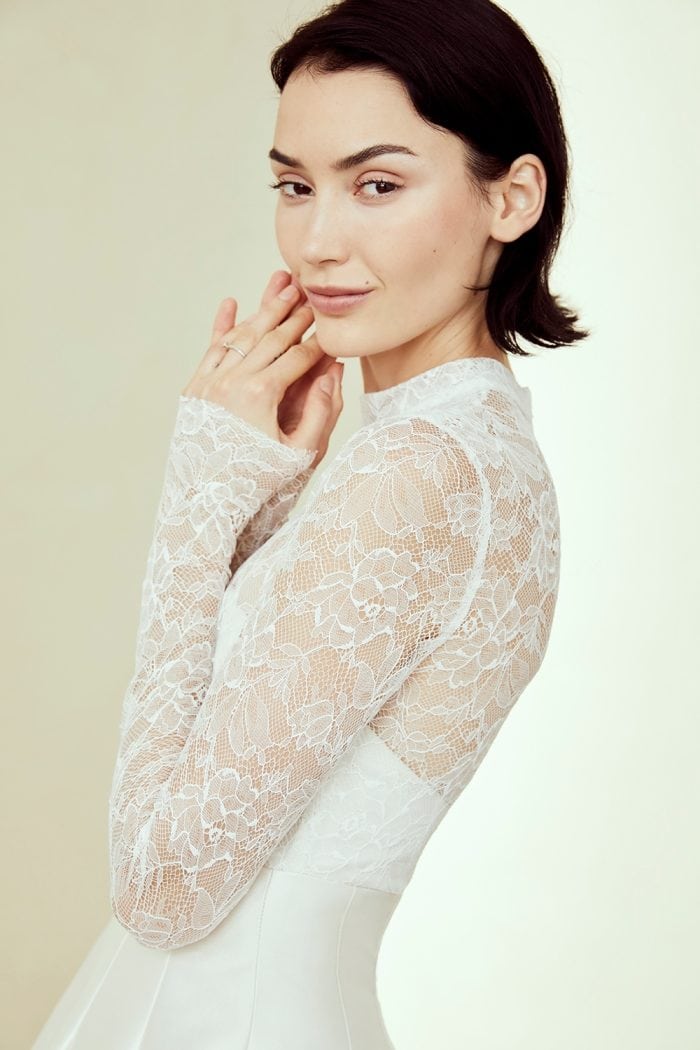 In the Amsale Bridal Fall 2019 Collection, the ever-present signature of Amsale's modern aesthetic meets with new structural silhouettes, unique sculptural necklines and bodices, and subtle embellishment. Noteworthy details include the pocketed ballgown styles, sheer overlays, unique long sleeve options, soft draping and oversized bows. For more information on any of the Amsale bridal gowns seen here, and to find an Amsale retailer near you, please visit Amsale.com. Please enjoy this look at the Fall 2019 Amsale Bridal Collection.
Denver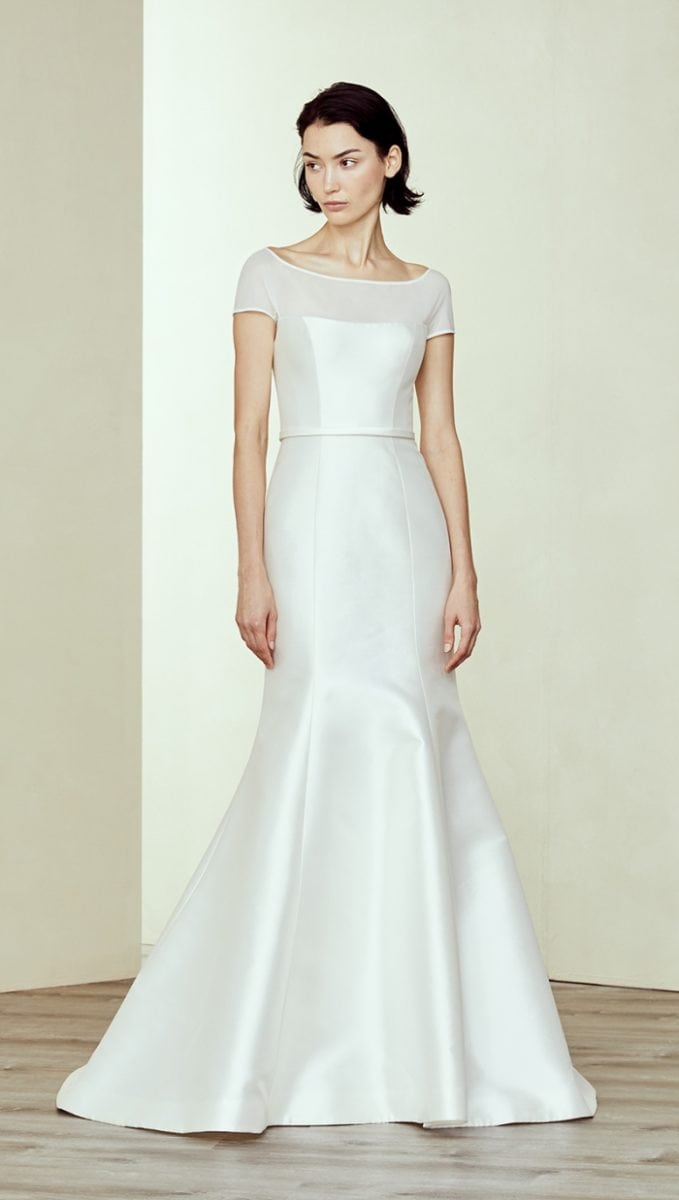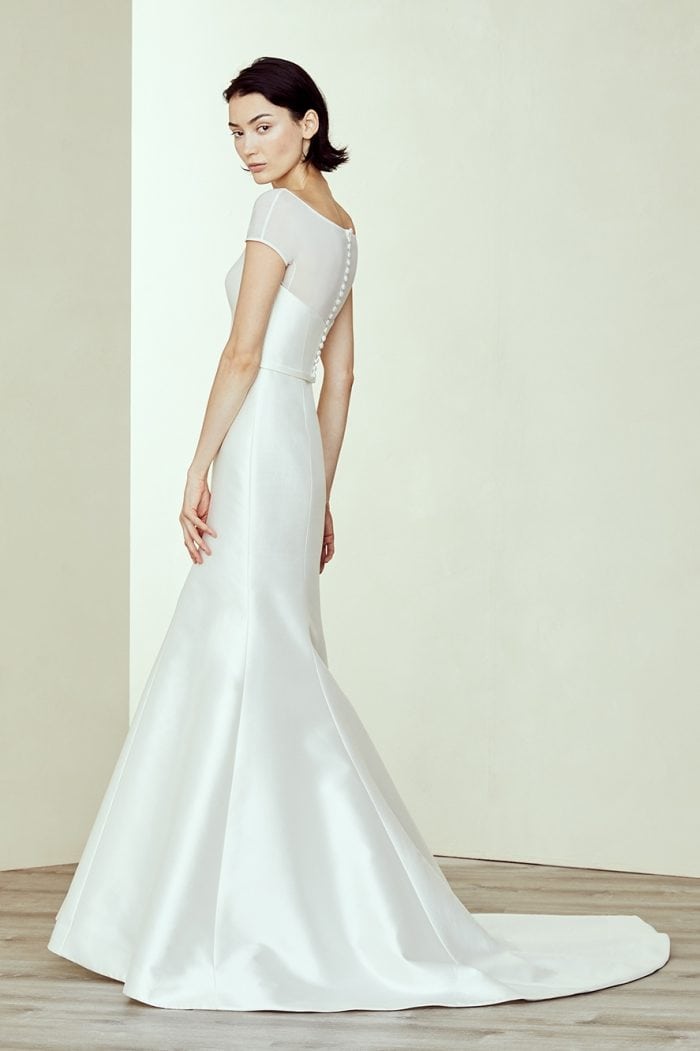 The Denver gown is a fit-to-flare wedding dress with a short sleeve stretch organza neckline and buttons up the back.
Weston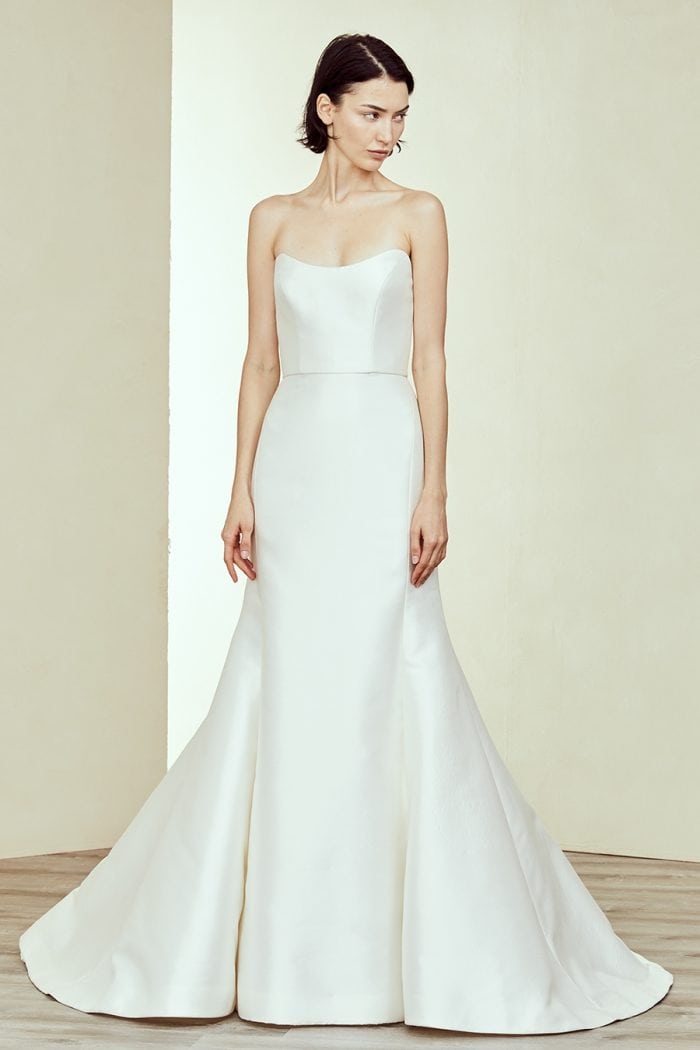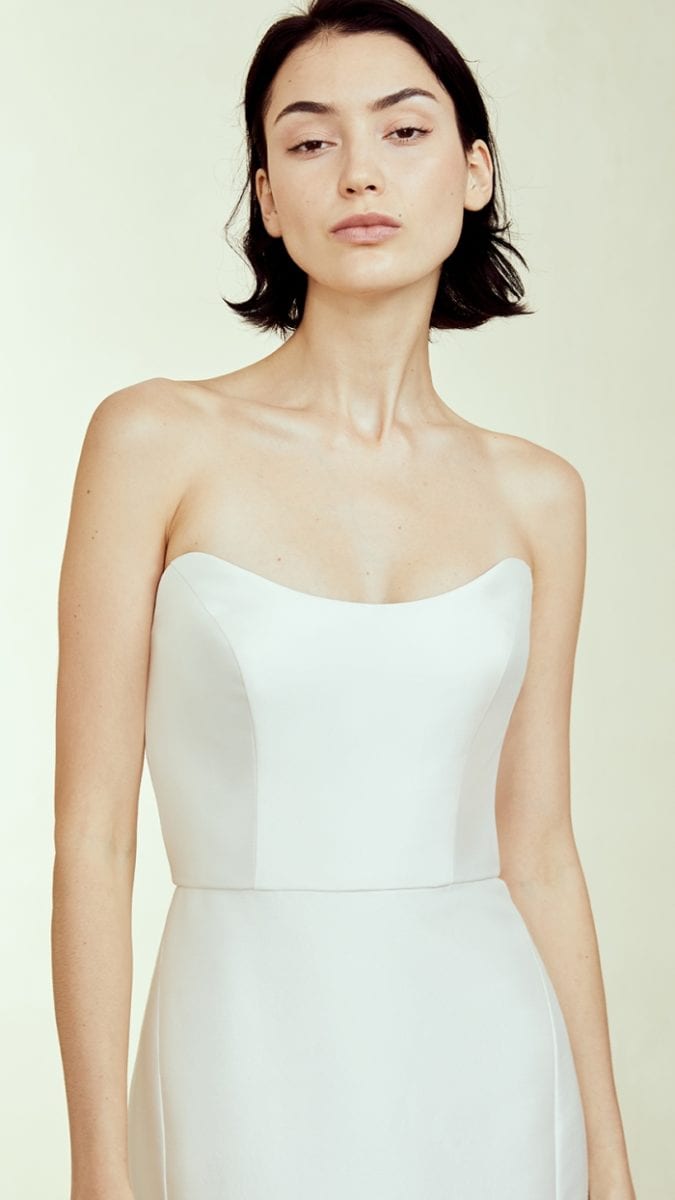 Weston is a sculptural, strapless silk fit-to-flare gown with carved (and curved!) neckline and buttons down the back.
Emery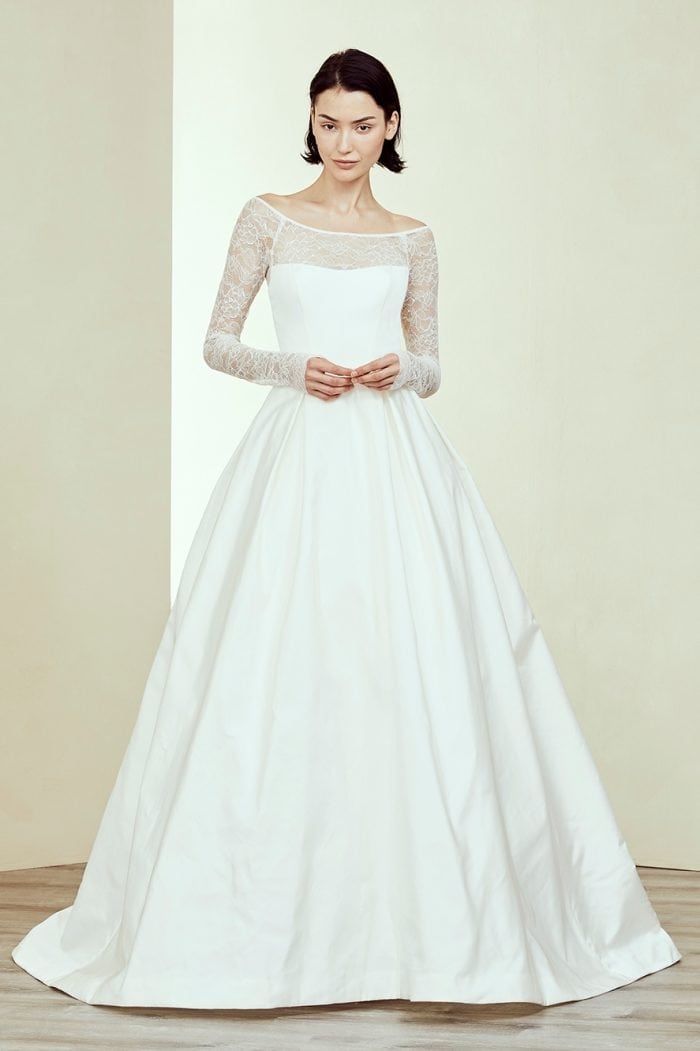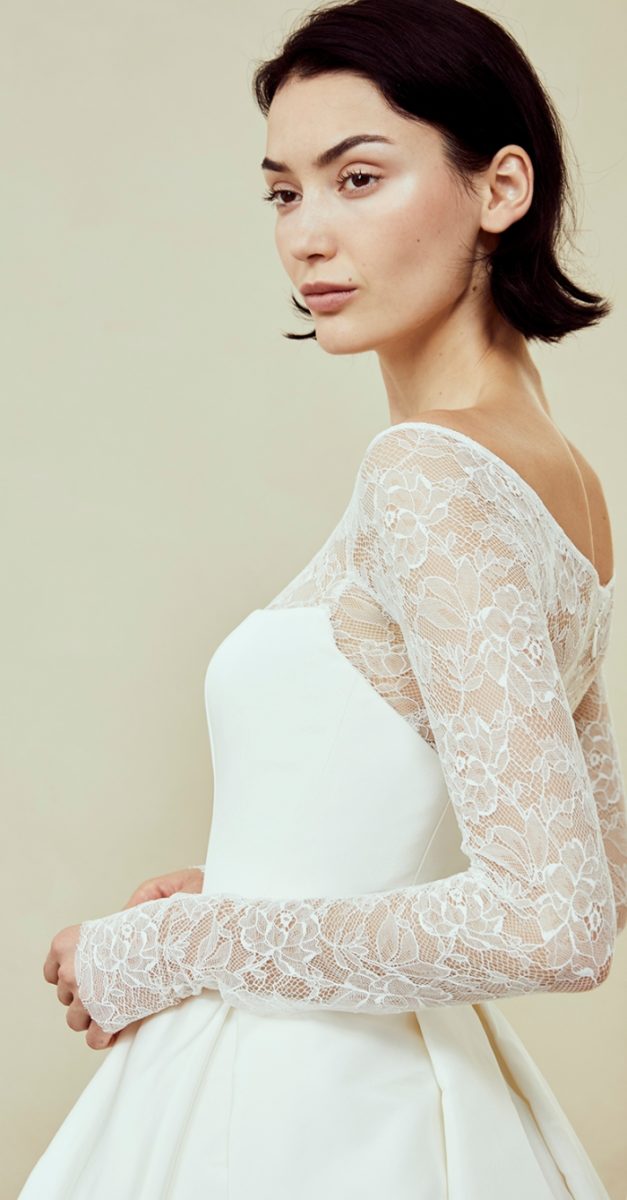 Emery by Amsale is a silk ballgown wedding dress with off-the-shoulder stretch lace neckline and sleeves.
Emeline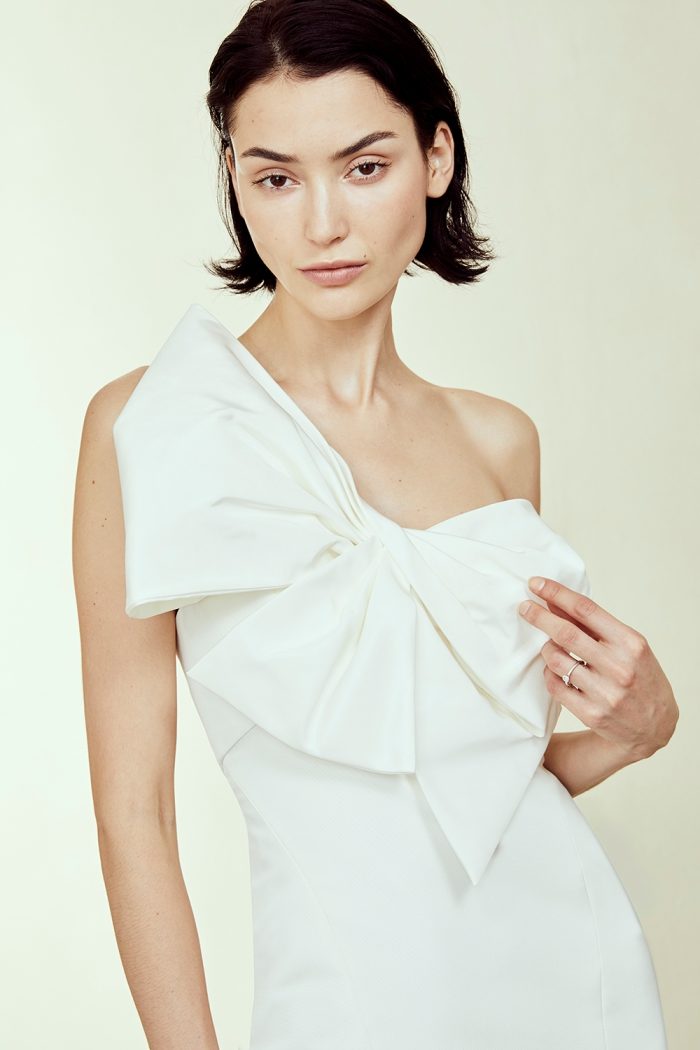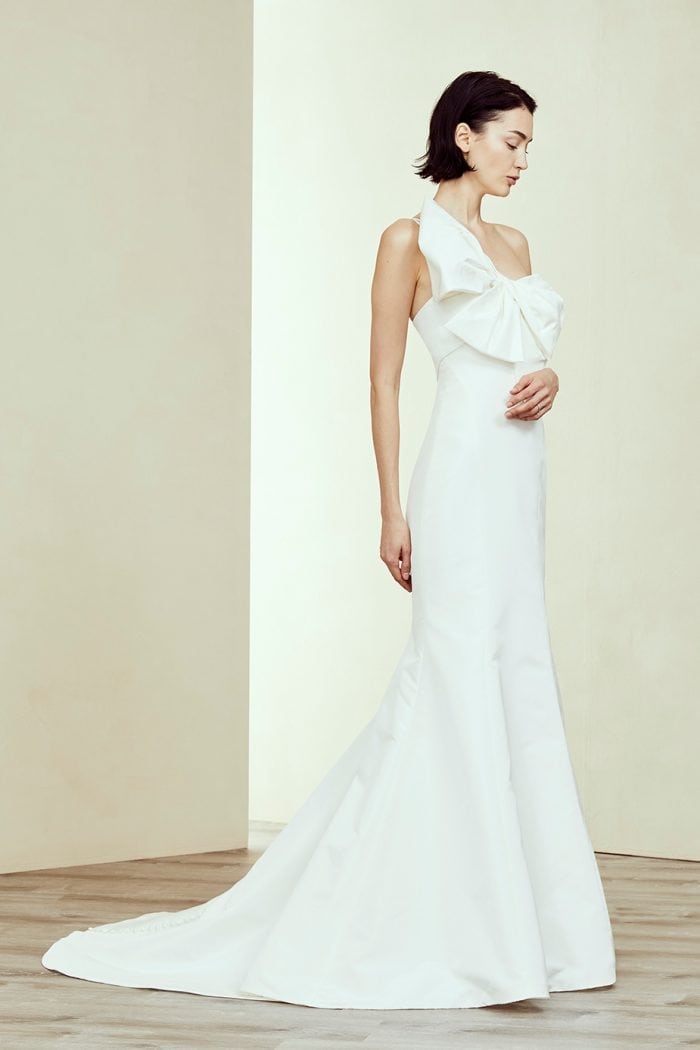 Emeline is silk fit-to-flare bridal gown with an oversized dramatic bow one-shoulder neckline and buttons down the back.
Lillian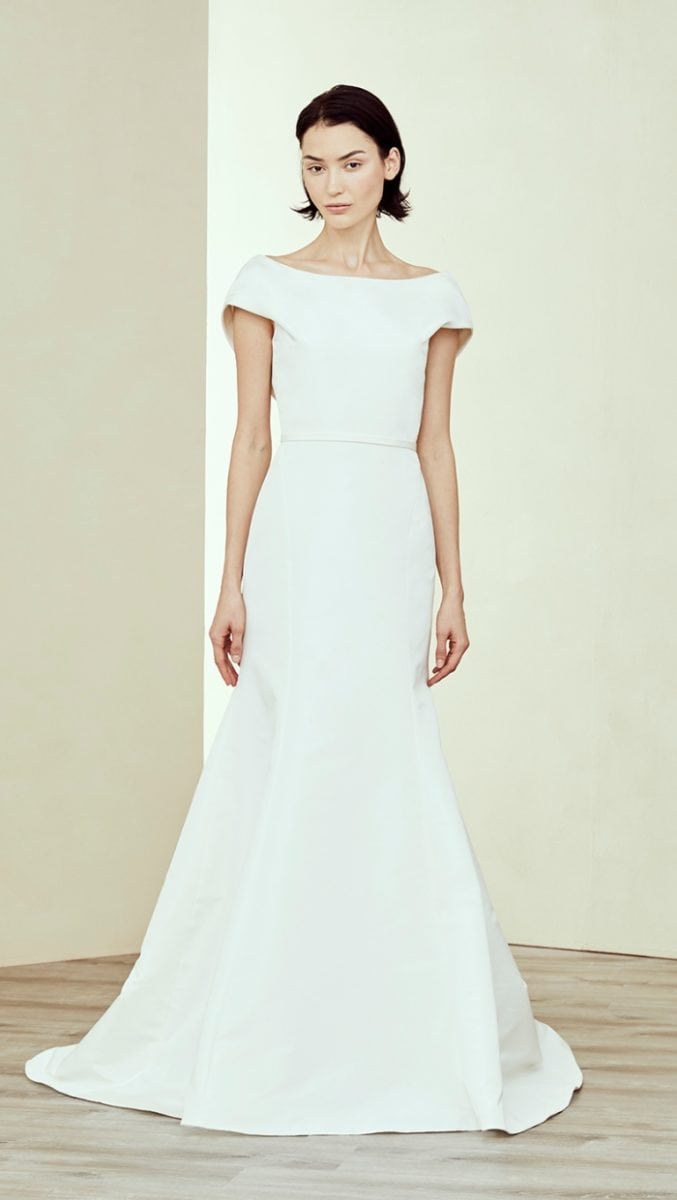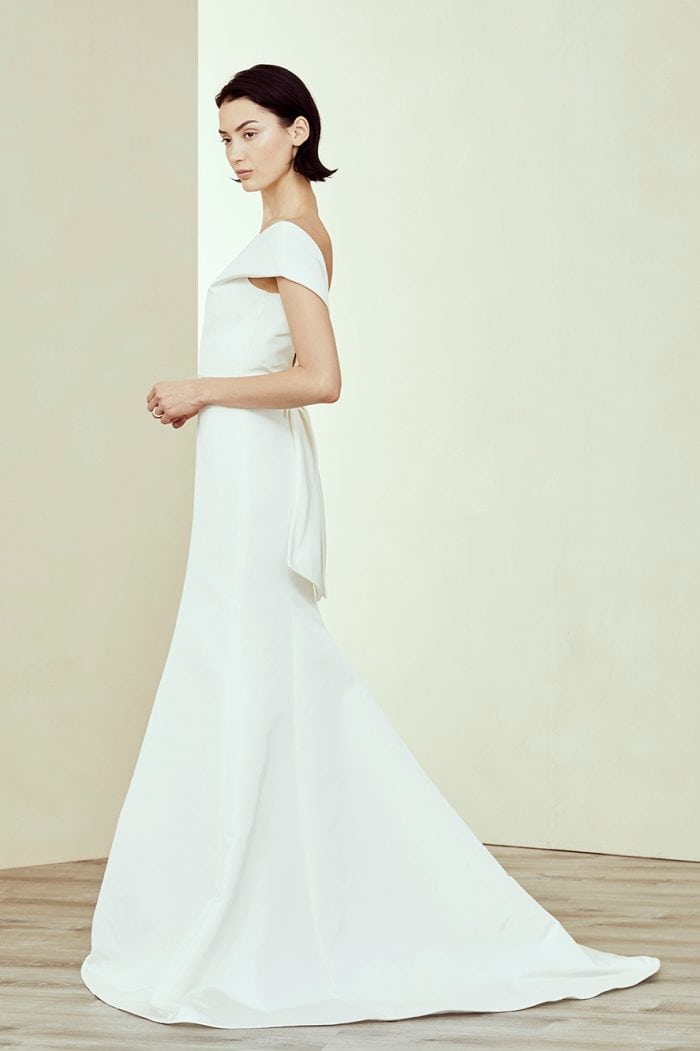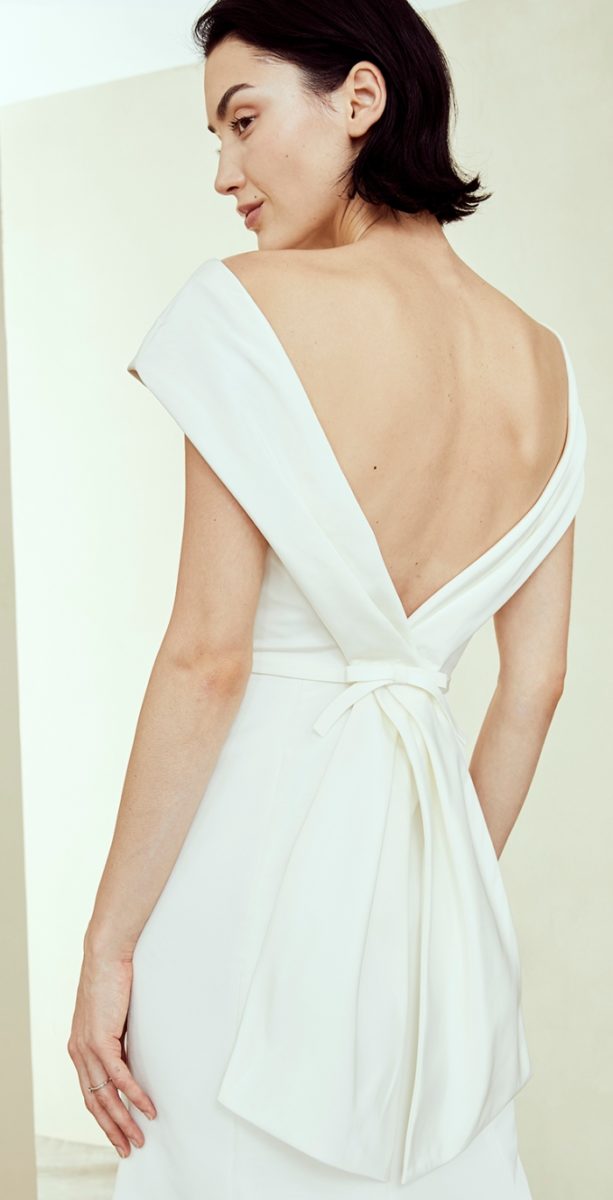 Lillian is a silk off-the-shoulder, fit-to-flare bridal gown with short cap sleeves and plunging V draped back neckline accented with a delicate bow.
Karime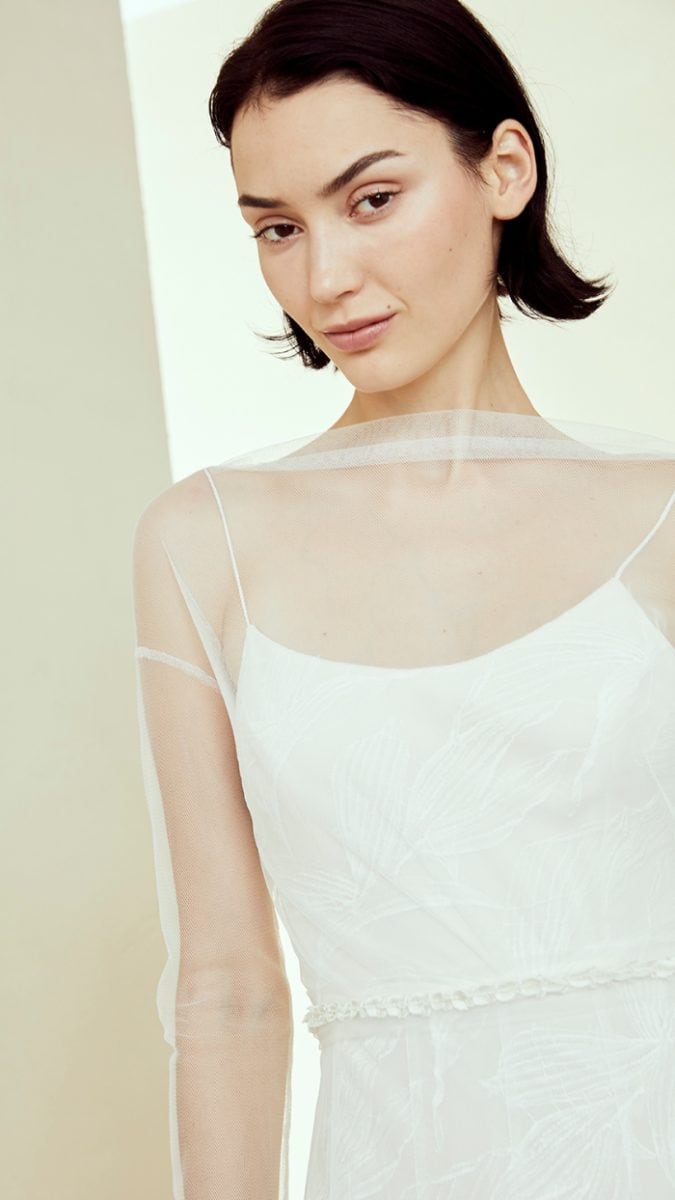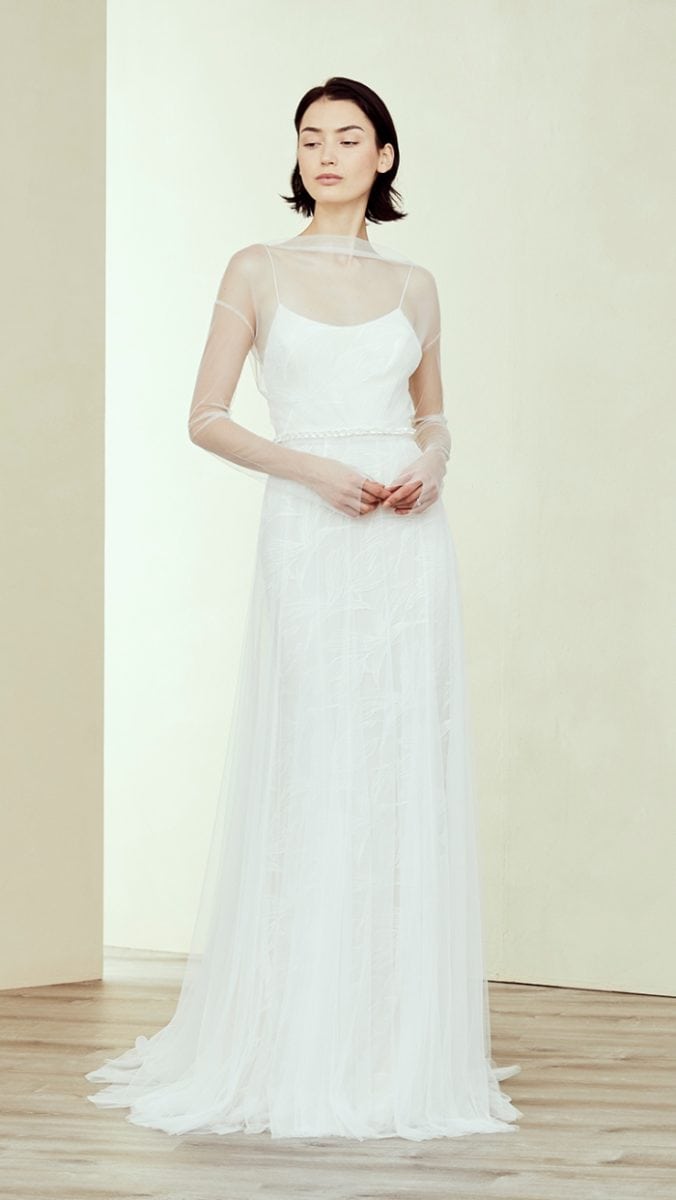 Karime is a high neck gown overlay done in a soft tulle A-line gown which is worn draped over leafy lace fabric fit-to-flare bridal gown
Kai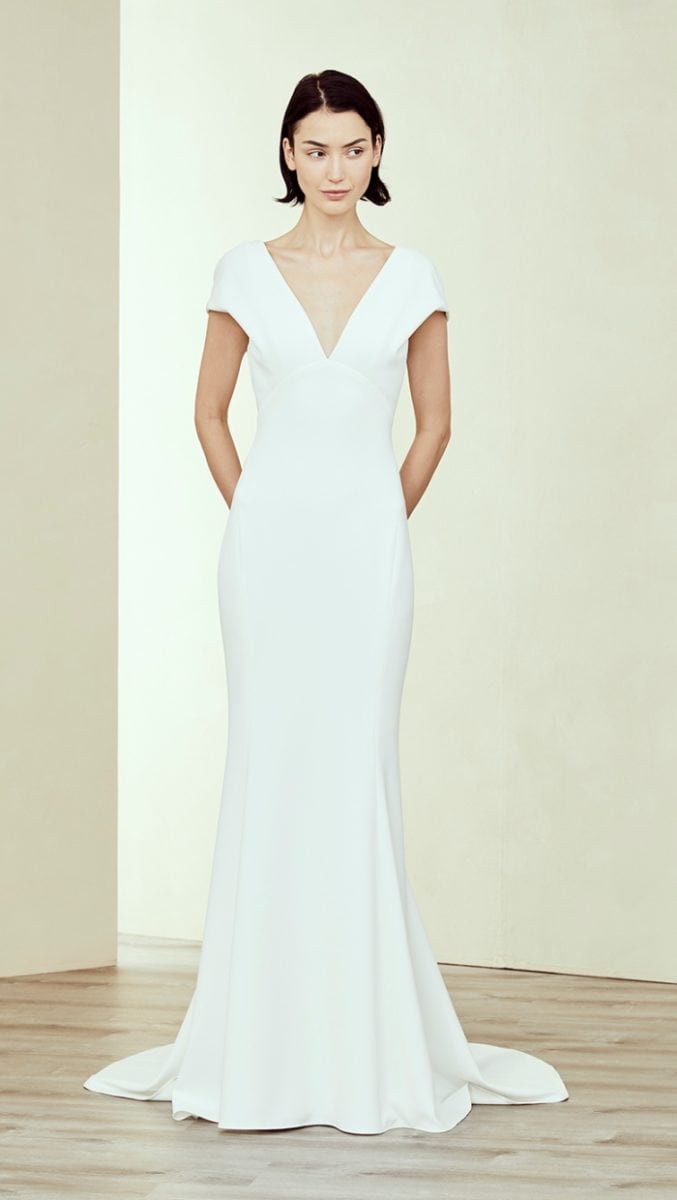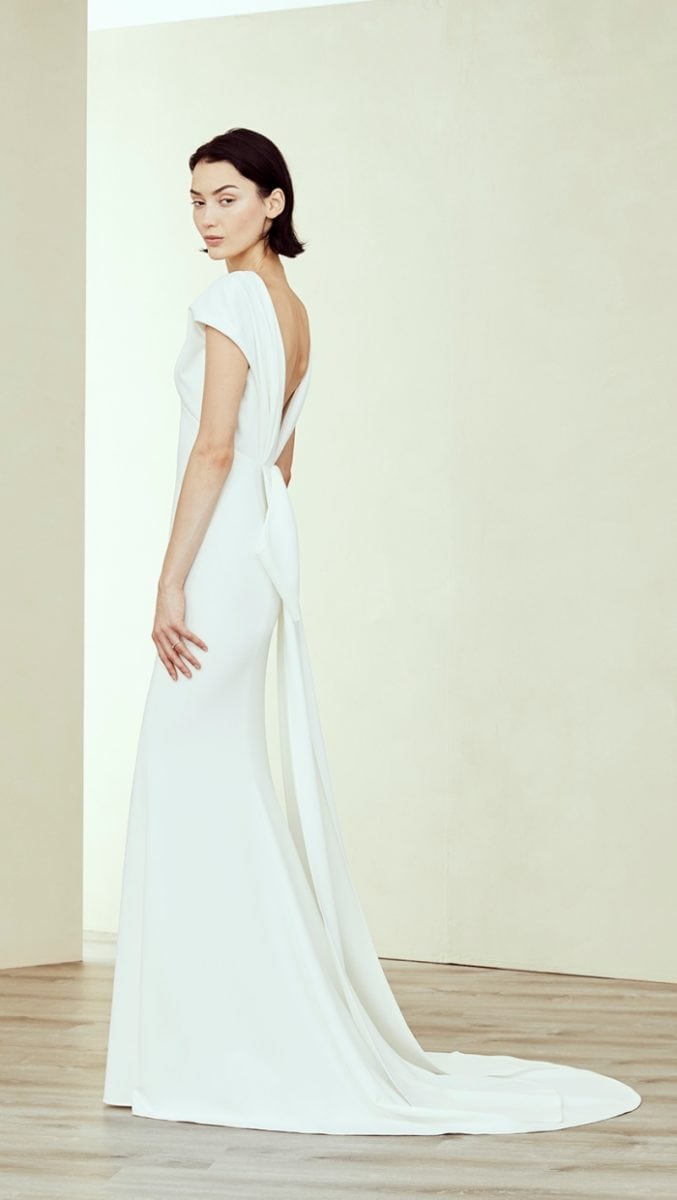 Kai is a deep V neck cap sleeve fit-to-flare wedding dress with low draped V back neckline and bow.
Billie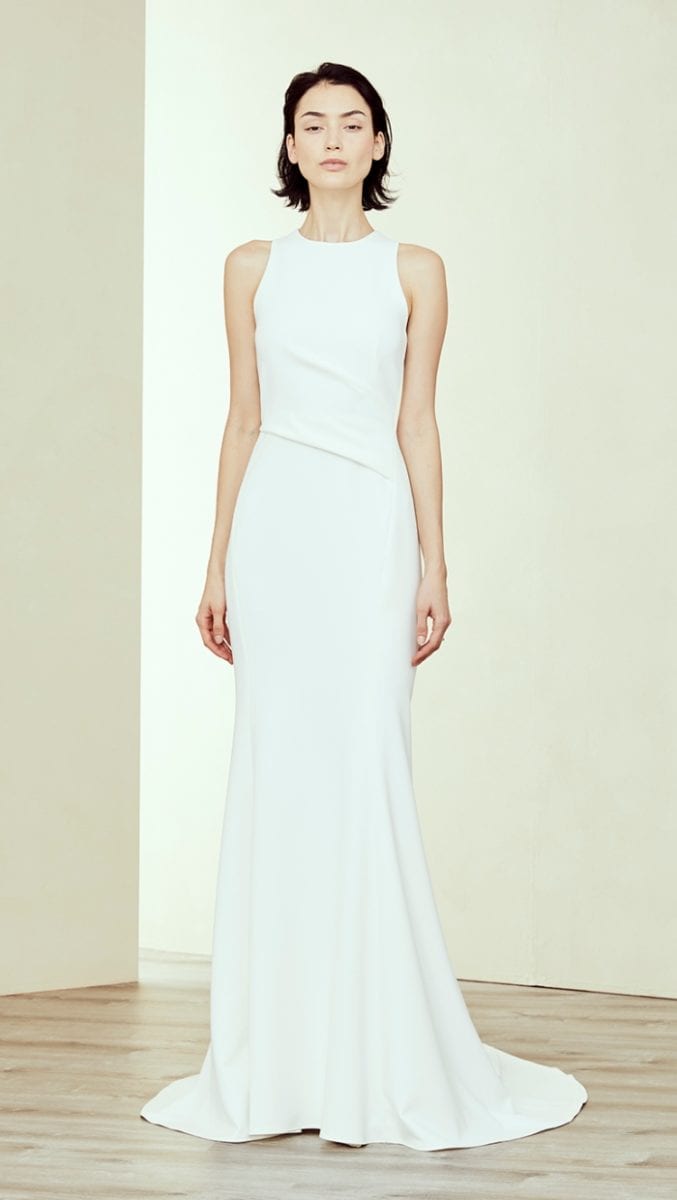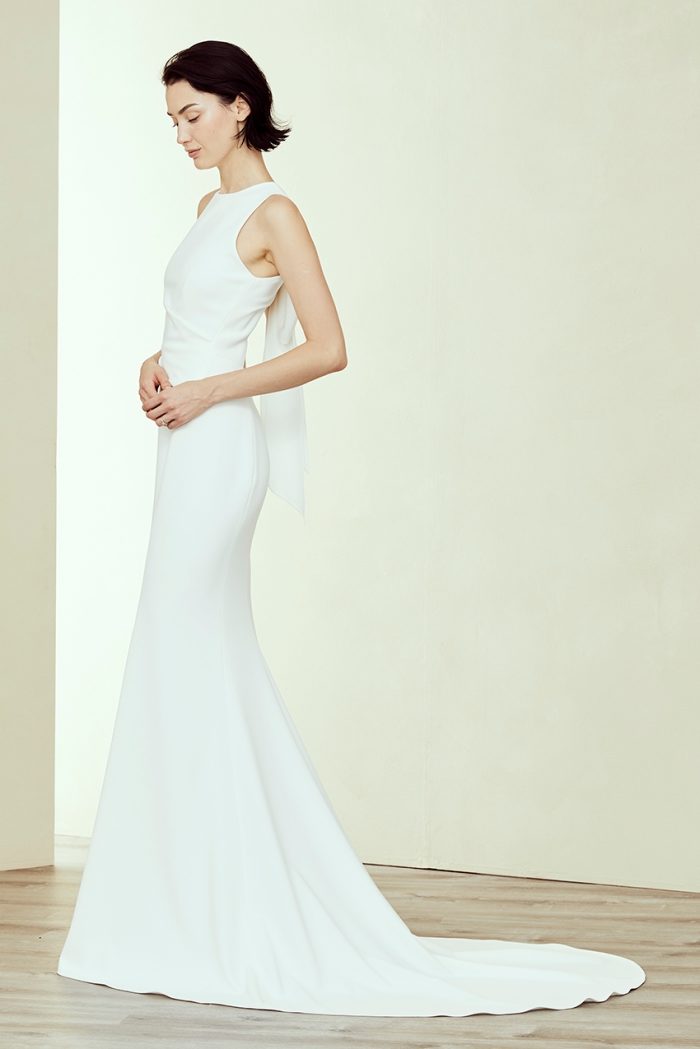 Billie is a high neck fit-to-flare bridal gown with open back accented with a draped bow.
Olive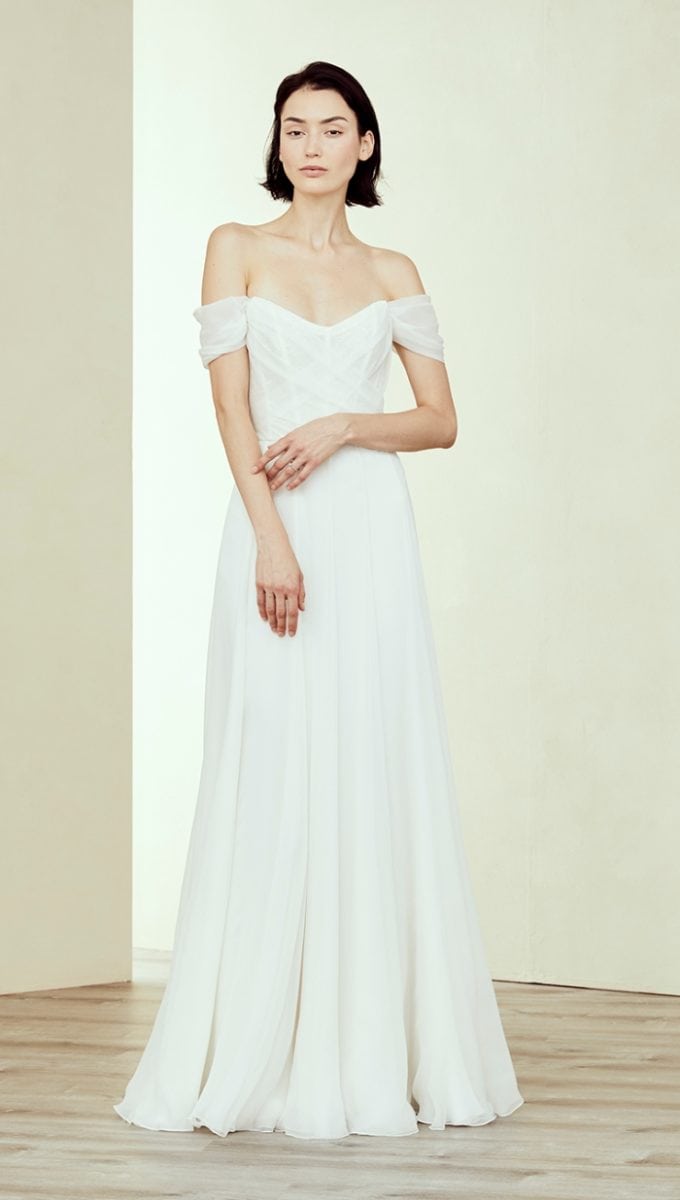 Olive is an A-line wedding gown in soft chiffon with off the shoulder neckline. The criss-cross bodice is done in a beautiful stretch lace fabric with sheer draped sleeves at the arm.
Ryder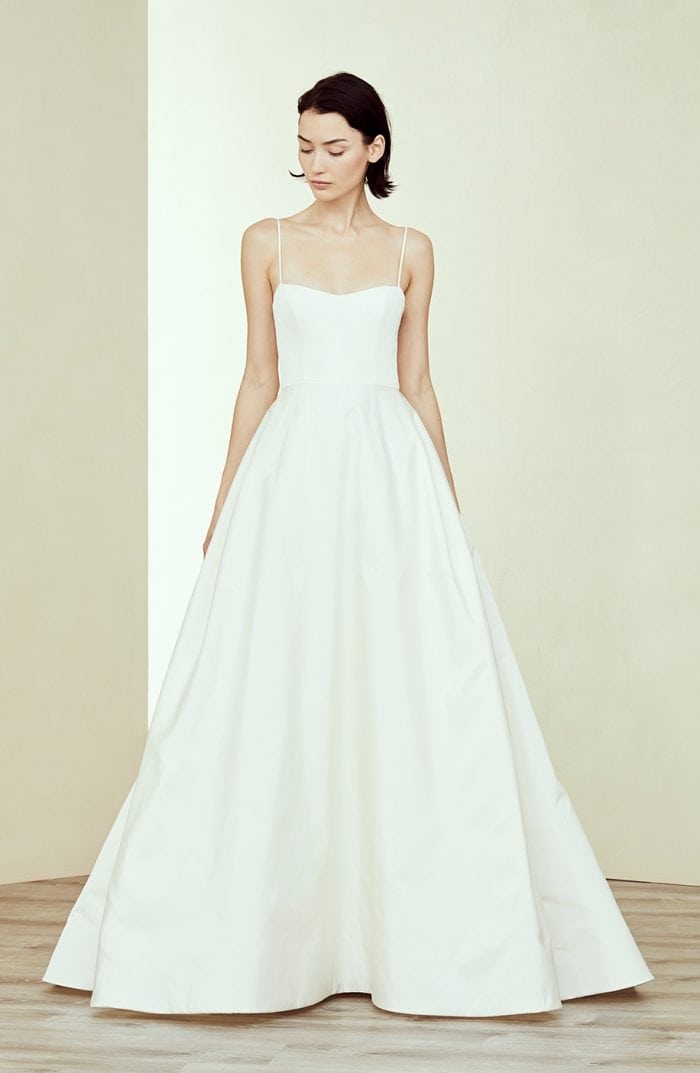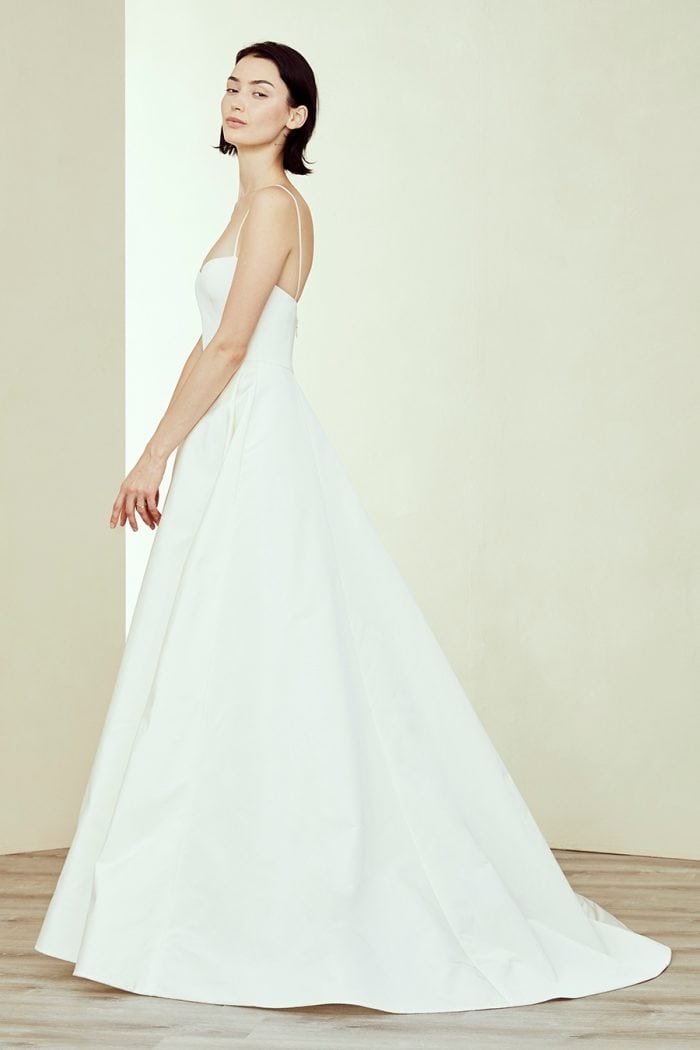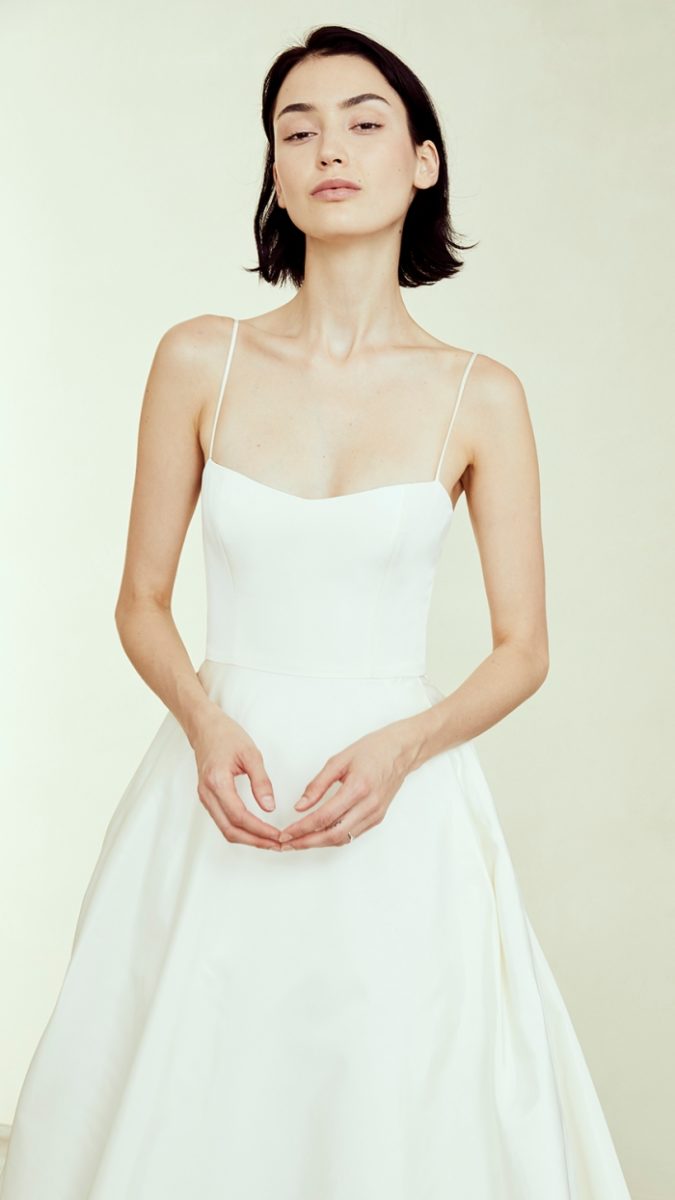 Ryder by Amsale is a classic, simple, and modern silk ballgown with a full pleated skirt and spaghetti strap bodice
Nova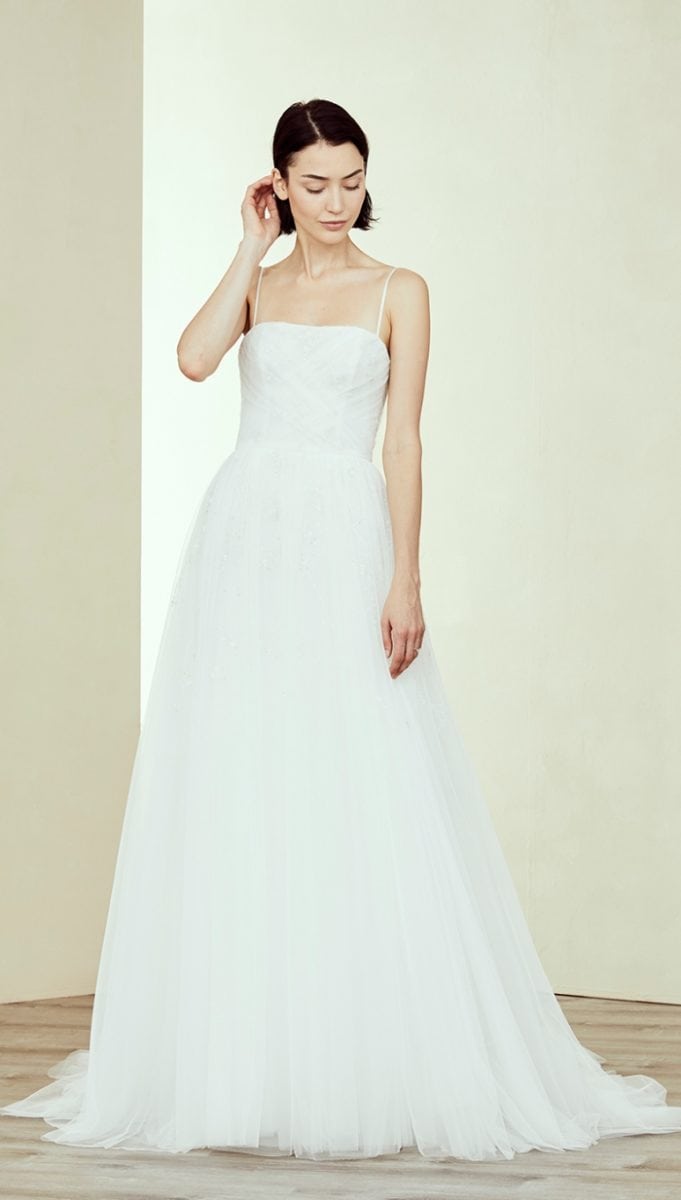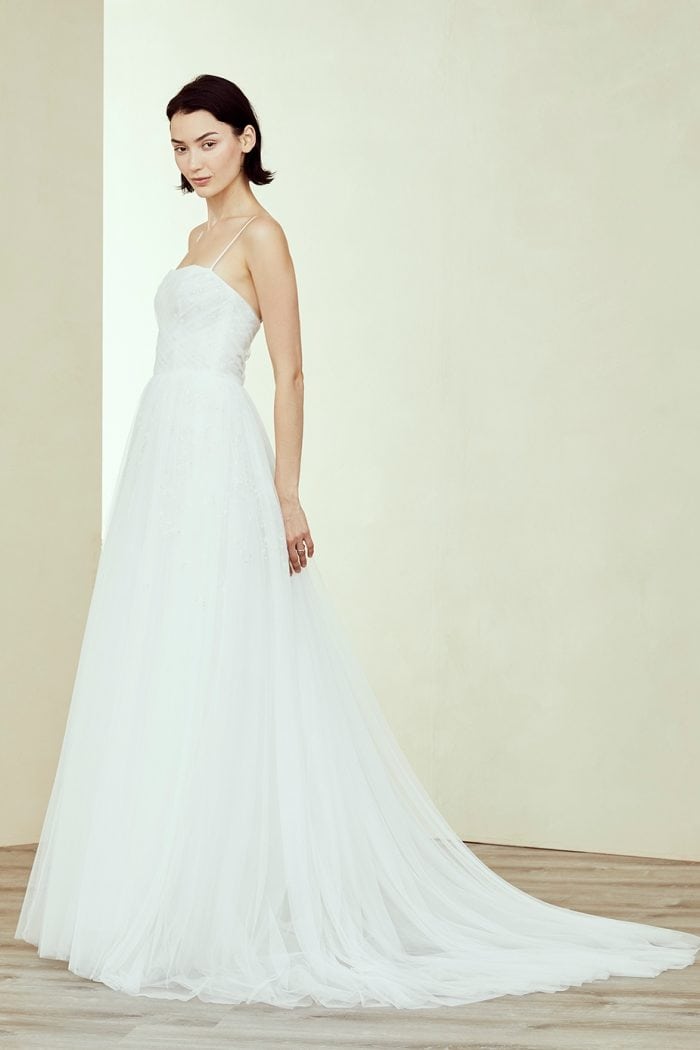 Nova is a spaghetti strap ball gown wedding dress in soft tulle with a draped bodice and veiled crystal bead embroidery.
Holden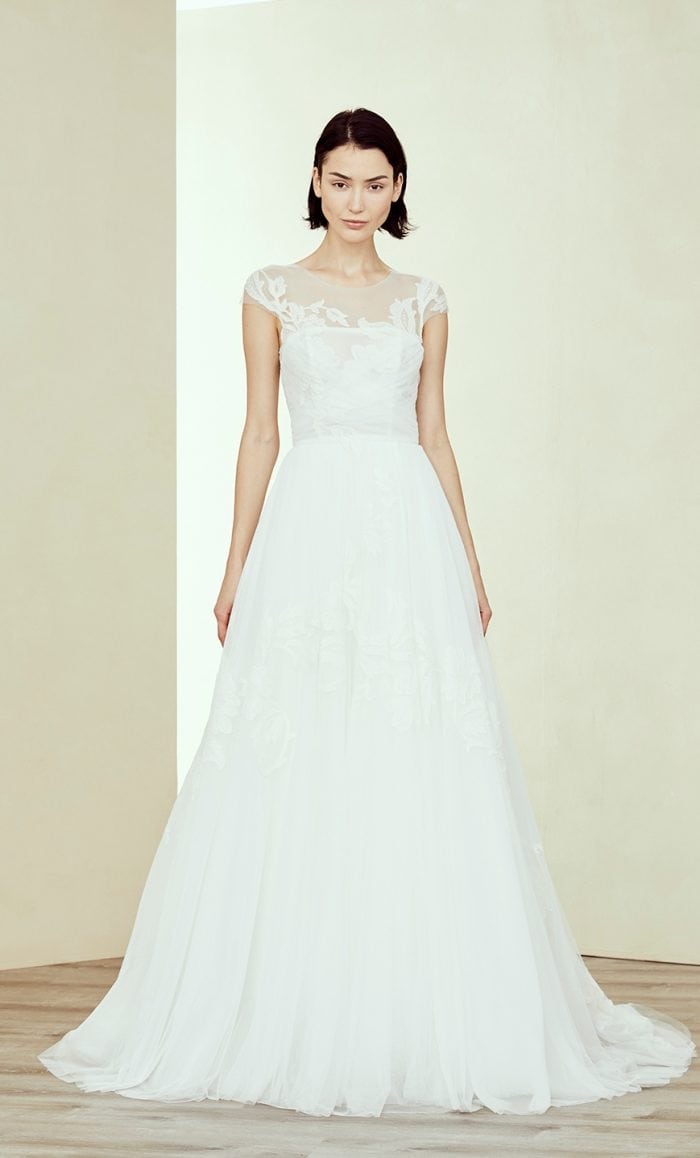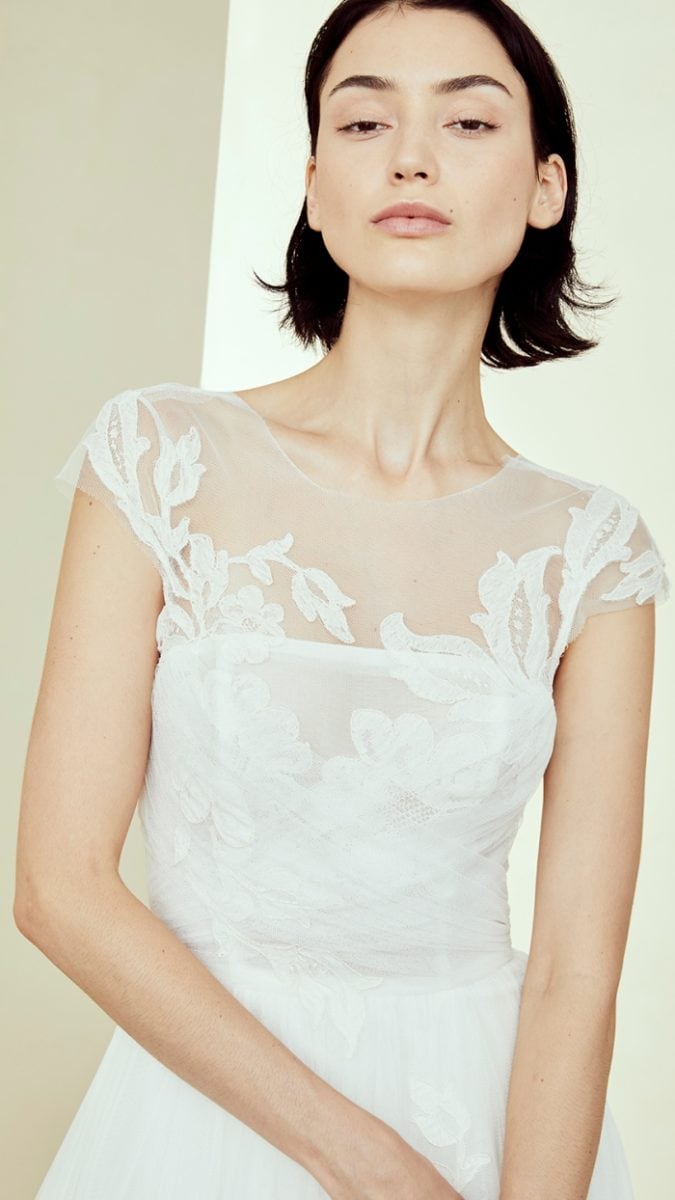 Holden is a cap sleeve ballgown in tulle with hand-placed Lyon lace on the bodice and skirt.
Max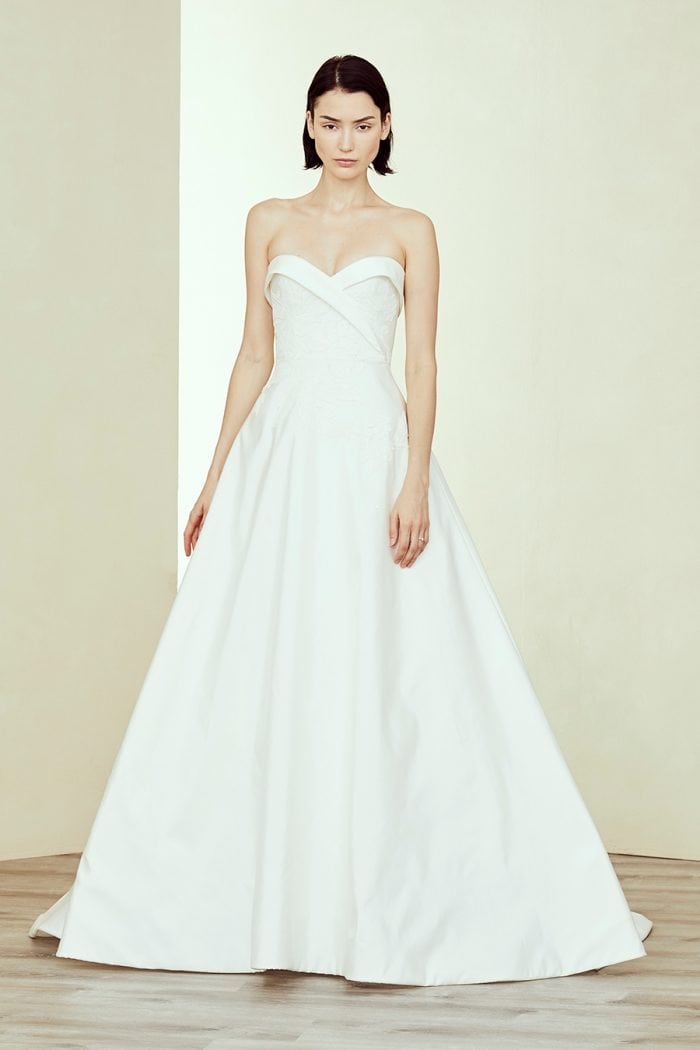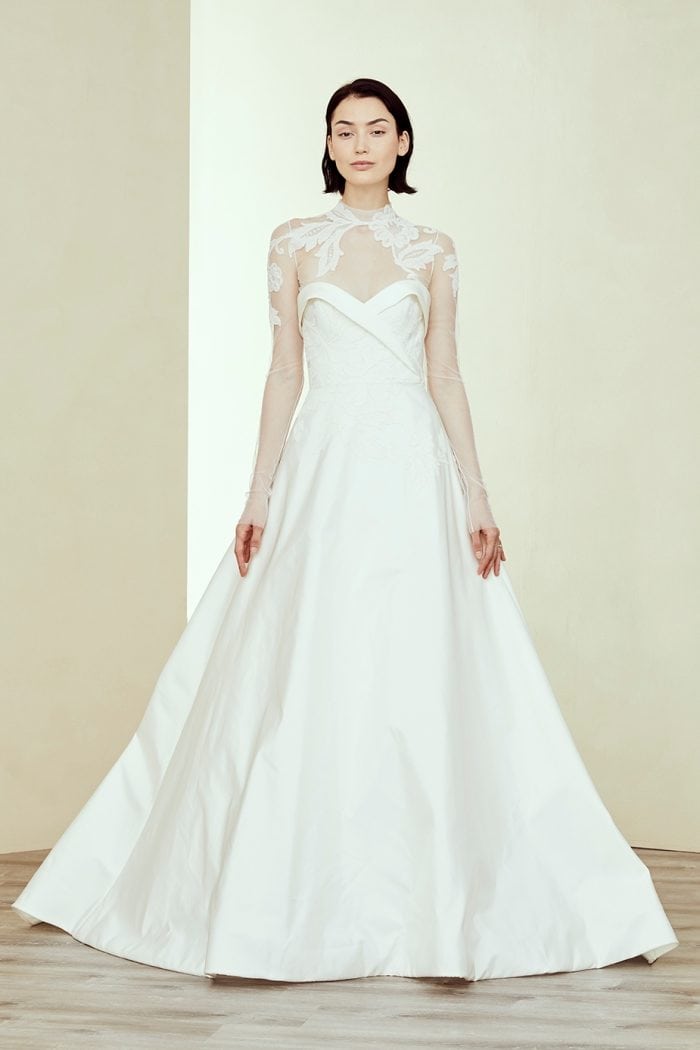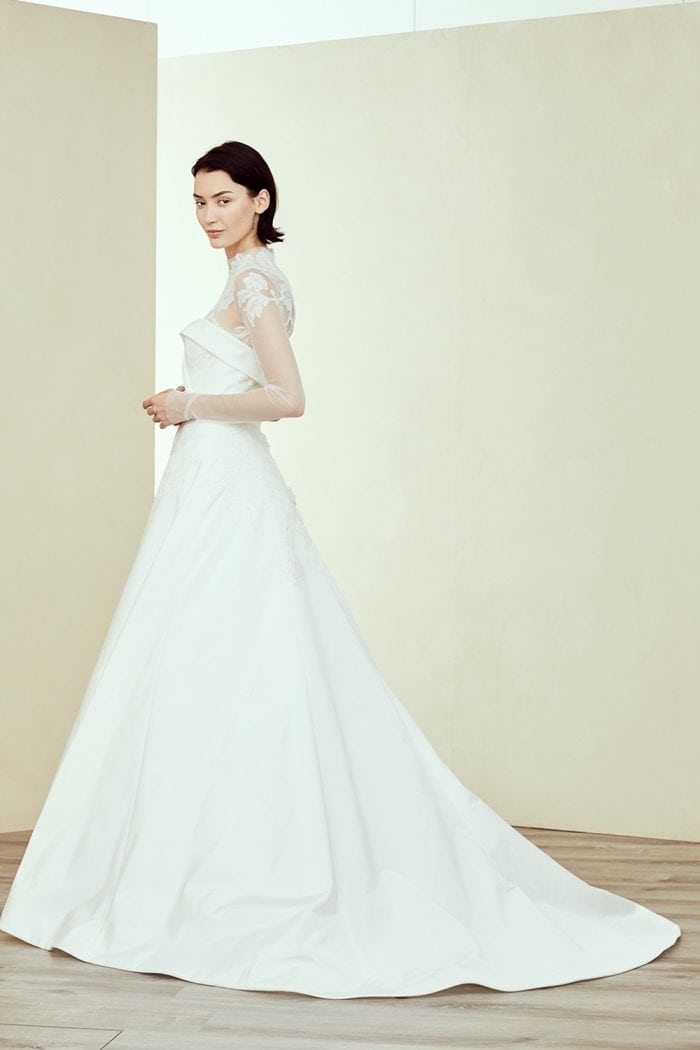 Max is a strapless silk ballgown wedding dress with a folded sweetheart neckline and hand-placed Lyon lace on bodice. Optional styling with long sleeve sheer lace topper shown as well.
Saida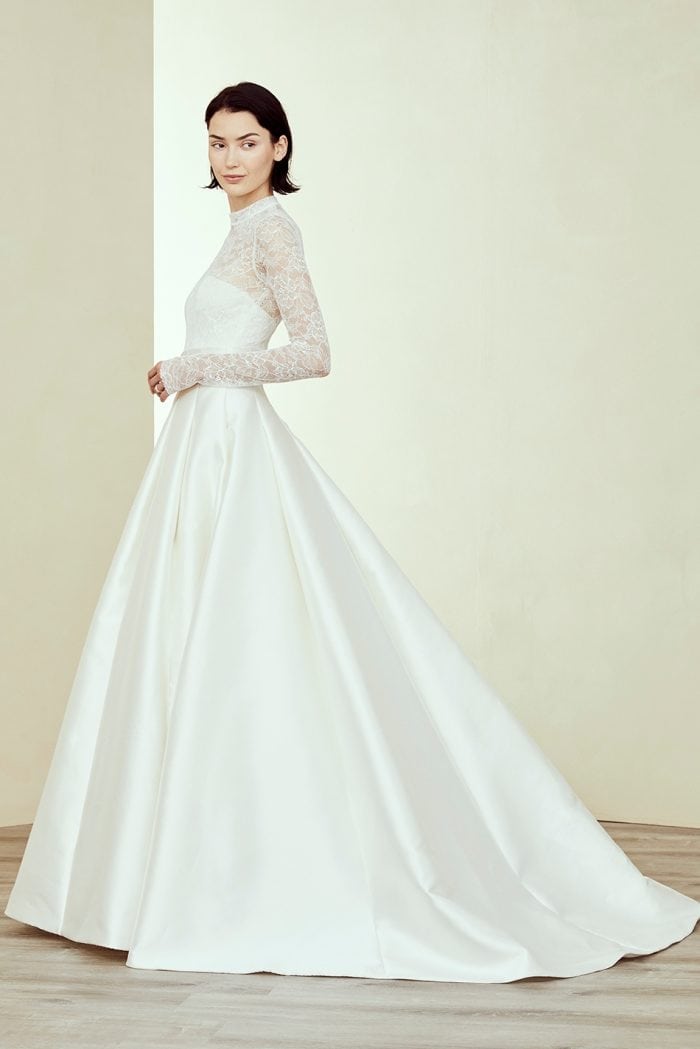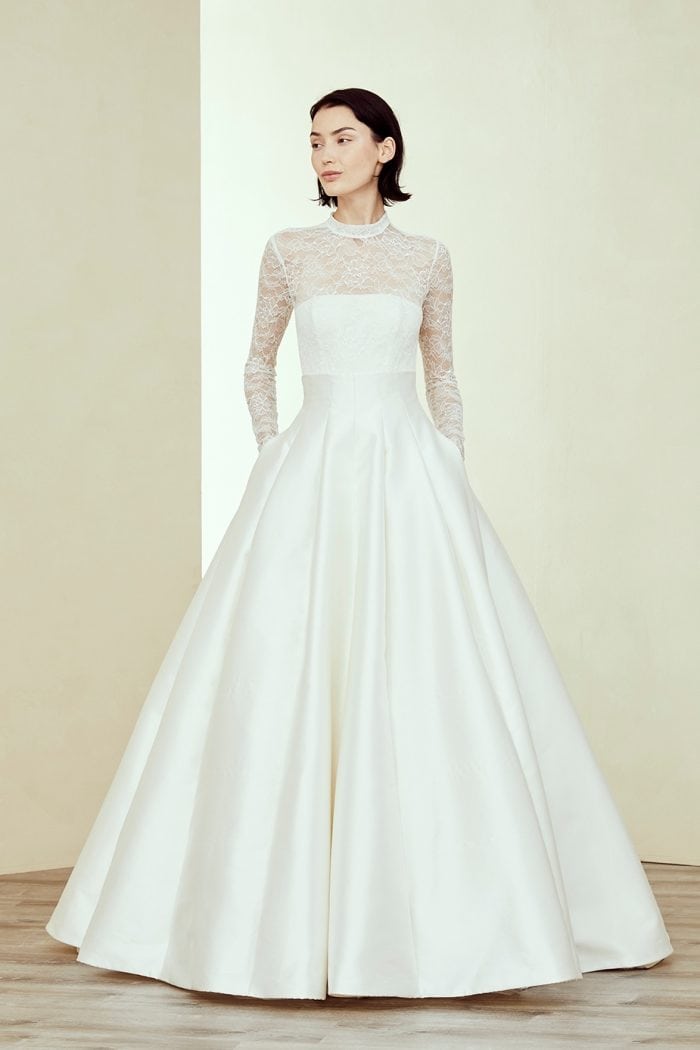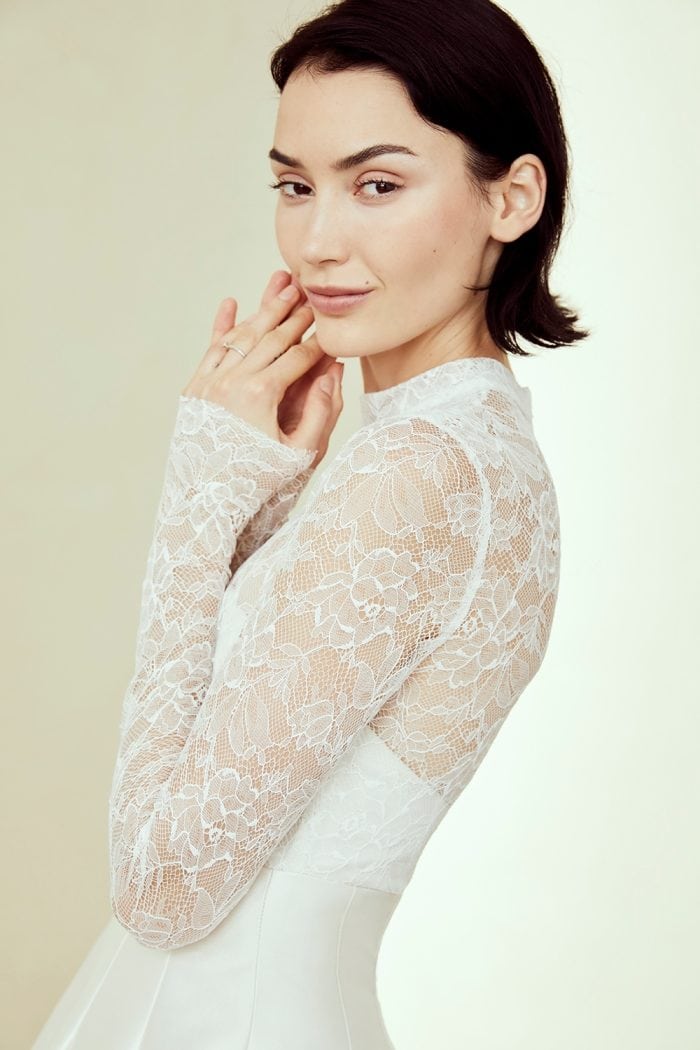 Saida is a silk high-waisted silk ballgown wedding dress with stretch lace long-sleeve overlay over the bodice.
Laleh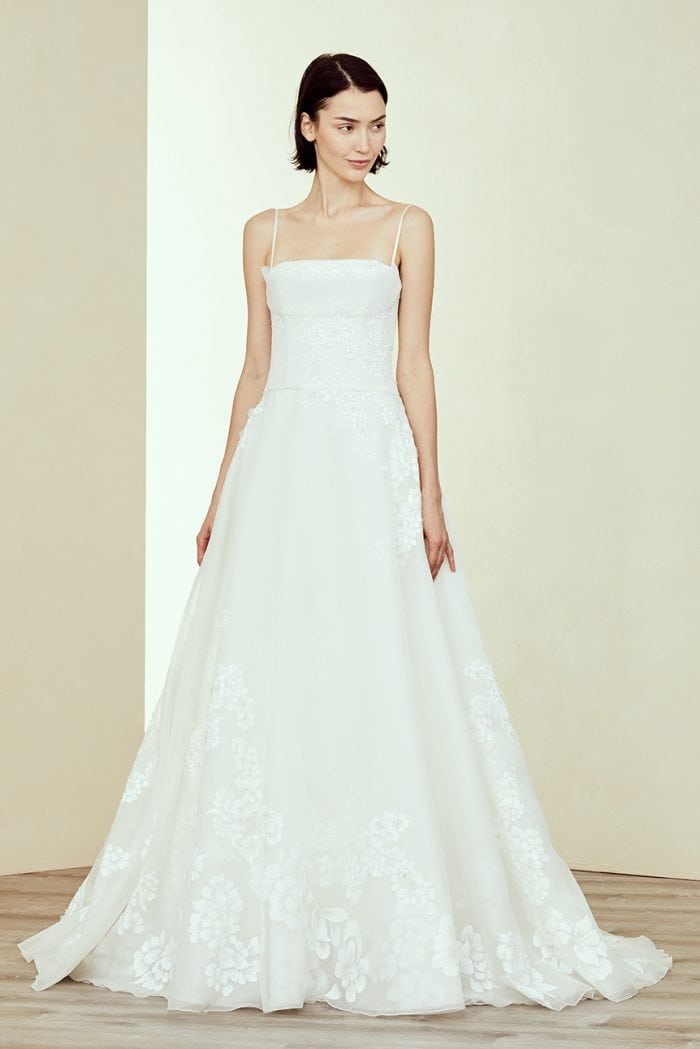 Laleh is a gorgeous A line ballgown wedding dress with spaghetti straps a double-layered hand-painted organza bodice and skirt.
Bingham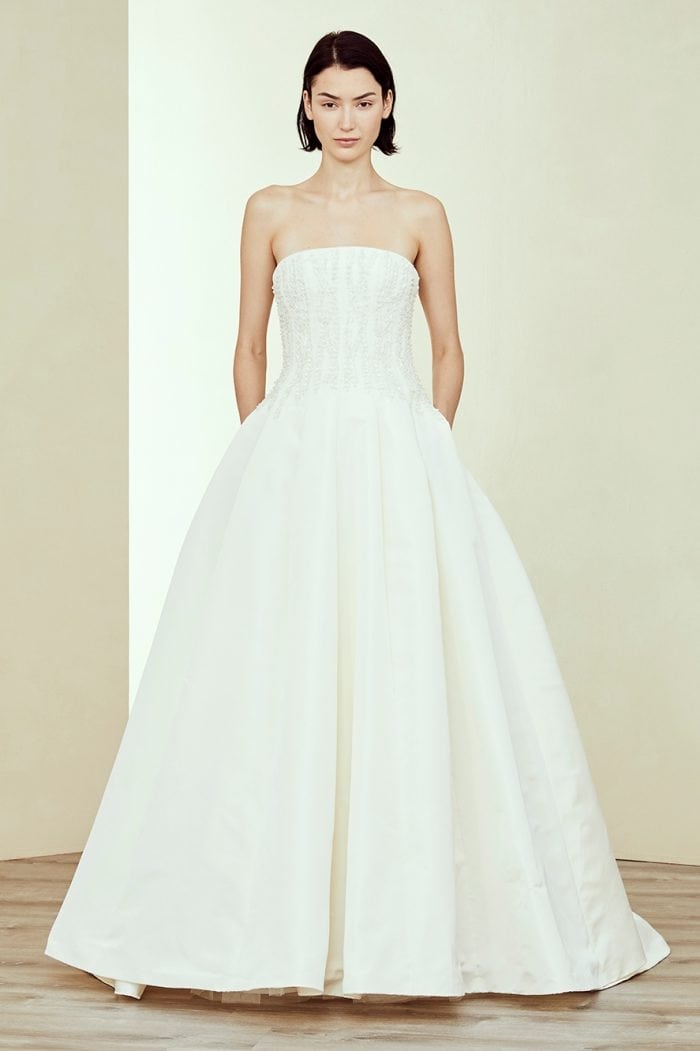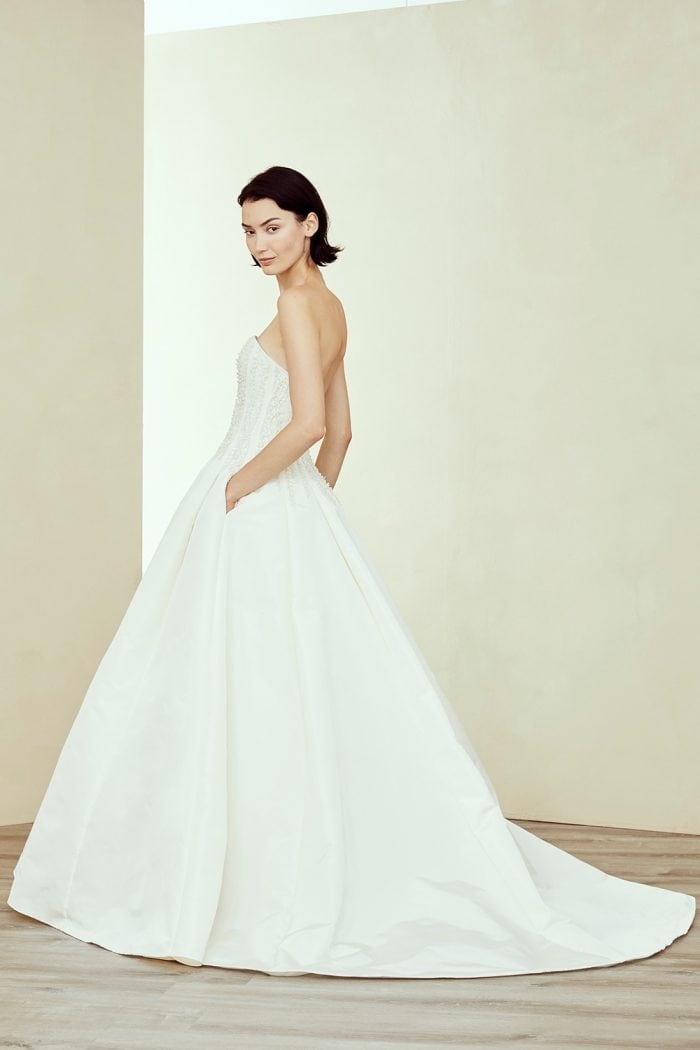 Bingham is a strapless seamed silk ballgown wedding dress with pockets. Ivory crystal beading and leaf embroidery decorate the bodice.
More Wedding Dresses and Bridesmaid Dresses by Amsale
For more information on any of these gowns, please visit Amsale.
You might also enjoy our feature of the Fall 2019 Collection of Amsale Bridesmaid Dresses, Nouvelle Amsale Wedding Dresses Spring 2019 or New Little White Dresses from Amsale
You may also want to pair these gowns with some stunning bridal accessories or wedding shoes.
Are you looking for more wedding dress inspiration? Be sure to follow us on Facebook, Instagram, and Pinterest! You'll also want to take a look at all the designer wedding dresses we feature in our hundreds of wedding dress collection features! We also have lots of picks for bridesmaid dresses by color and dresses for the mother of the bride.
Wear it With
Commission links are used in this shopping section.
Selected Amsale dresses are available at some in-store Nordstrom Wedding Suite locations.
This shoppable selection shows recent picks for bridal accessories that you might want to consider to pair with your wedding gown. This section features items not affiliated with the designer or the dresses pictured.