Coordinated Style for Grooms and Groomsmen by Allure Men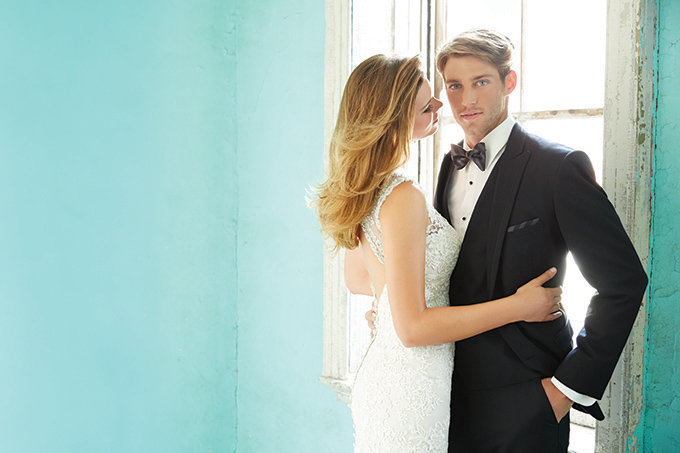 The collection of suits, tuxedos, and accessories from Allure Men is specifically designed to combine beautifully with Allure Bridals wedding dresses. Just look at the perfect pairing on this stylish bride and handsome groom!
Modern Attire for Grooms and Groomsmen
Allure Men has generously sponsored this post.
The groom's style posts here on Dress for the Wedding are always so popular, and that tells me that many of you are looking for stylish attire for room and groomsmen, and are eager for some fresh ideas. I have just that kind on-trend style for you today from Allure Men!  Allure Bridals wedding gowns and bridesmaid dresses are known for incredible style, and they now have a full line for men to make sure the groom and his groomsmen are just as impeccably dressed. The Allure Men collection is fully thought out with modern bridal party style in mind. These suits, tuxedos, ties, shoes and accessories are all designed to pair with and complement the colors, styles, and trends that Allure Bridal and Allure Bridesmaids are known for.
If you watched recent awards ceremonies and saw all the  red carpet looks, you'll remember some of the most remarkable styles weren't on the women --they were on the men. There were tuxedos and formal suits in fresh colors, and even the most classic tuxes had contemporary tailored touches. While I love a good tuxedo, no longer is it enough to just throw on a plain tuxedo that has been in the rental shop for years. It's important that the gentlemen in your wedding party suit the style of the day and are able to show a little individuality and style of their own.  Allure Men has modern tailoring with lapel details, new fabrics, and on-trend accessories that give even the most classic style a distinctly fresh look.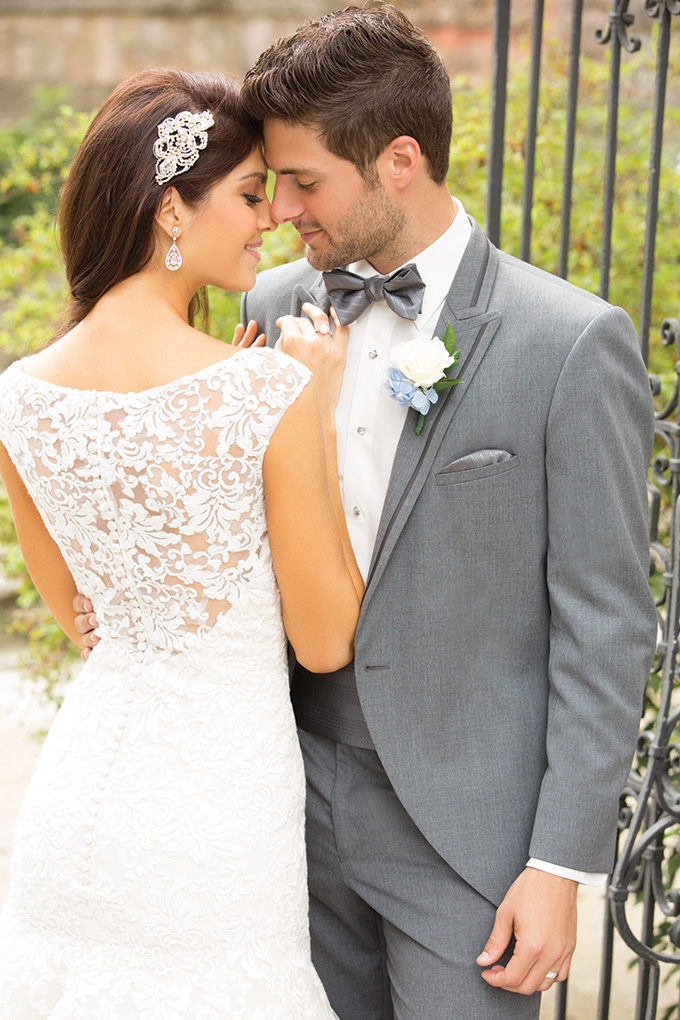 The perfect match; a gray tuxedo for the groom, and a lace gown for the bride!
Now, you know how I try to make sure that Dress for the Wedding presents coordinated looks that are easy to shop from to simply your process for finding wedding attire. Well, the Allure Men collection was designed with that in mind too. Their full collection of ties, pocket squares, and fabrics all coordinate with the bridesmaid collections, and compliment the rich colors and textures. (And they feature a lot of stripes, my absolute favorite!)
Allure Men even thought of footwear with comfortable oxford and on-trend (and wear again!) chukka style shoes designed to work with these modern styles. Take a look at these images from the Allure Men lookbook, and get inspired by these coordinated and contemporary styles.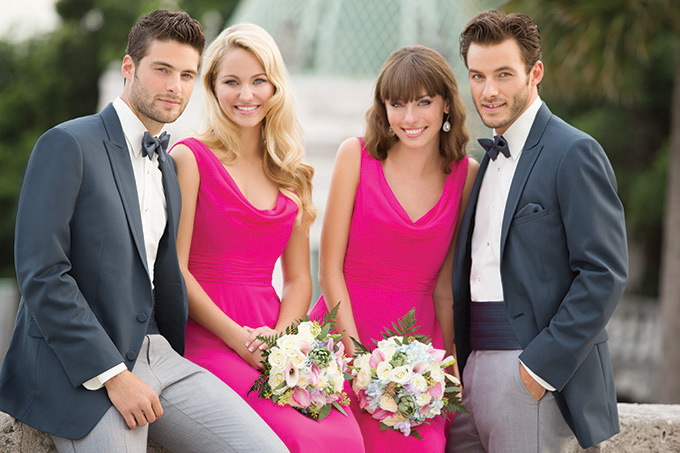 The classic cummerbund and bow tie gets a refresh with the Allure Men collection. I love the mix of fabric on the jacket and paints and how the groomsmen's attire compliments and pops with the bright pink Allure Bridesmaid dresses.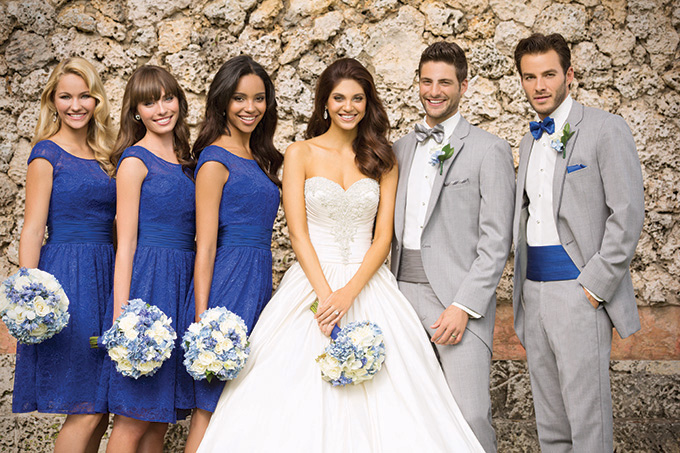 Allure Men accessories are designed to match perfectly with the colors in the Allure Bridesmaids Collection. This group shows how royal blue bridesmaid dresses, a beautiful Allure Bridals gown , and gray tuxedos with gray and royal blue accessories makes for a stylish wedding party.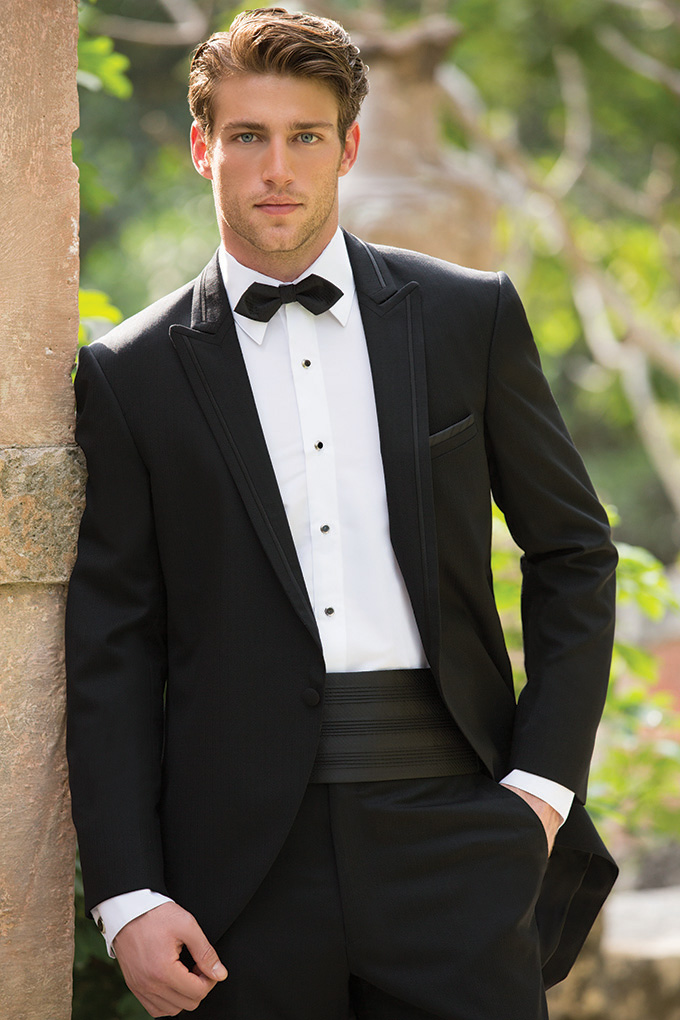 Lapel details and updated accessories, like a pointed bow tie and textured cummerbund, give a new twist to the classic black tuxedo.
How I  love a bow tie! The bow ties, cummerbunds, and pocket squares in the Allure Men collection come in rich colors, and fine fabrics designed to coordinate perfectly with other each other as well as Allure Bridesmaid dresses.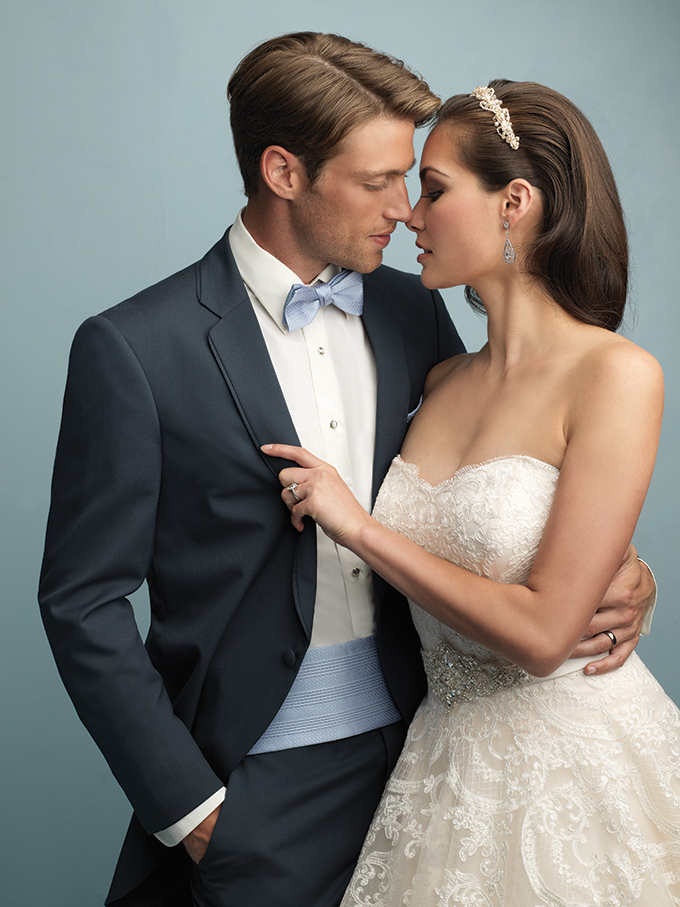 This crisp Allure Men tuxedo with blue accessories is a striking partner to this beautiful lace gown. A modern classic!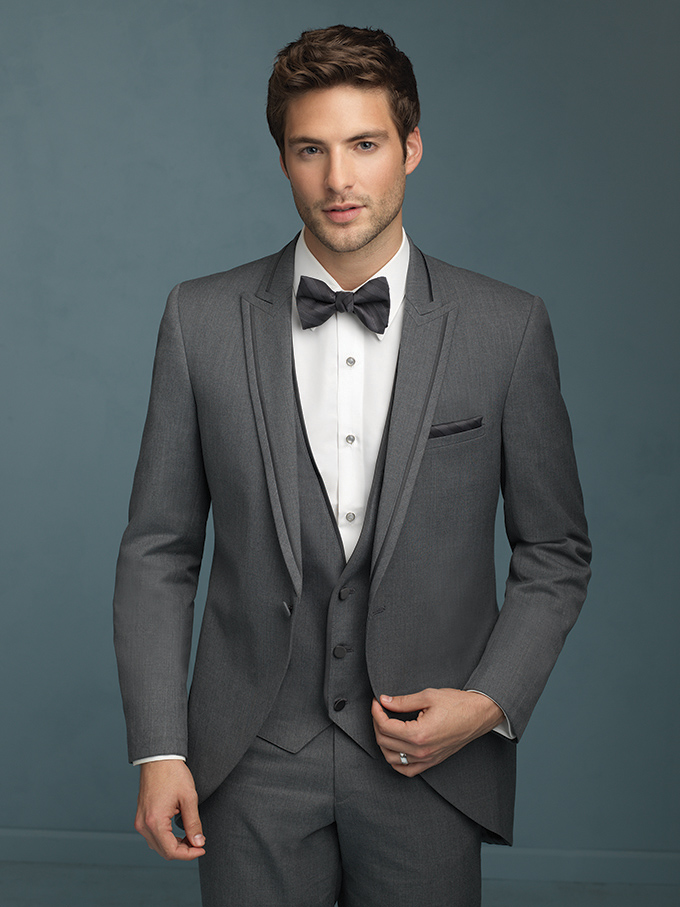 Grey is such hot color for weddings, and the perfect alternative to black for grooms and groomsmen.  Add a vest and coordinating bow tie like this for a complete look.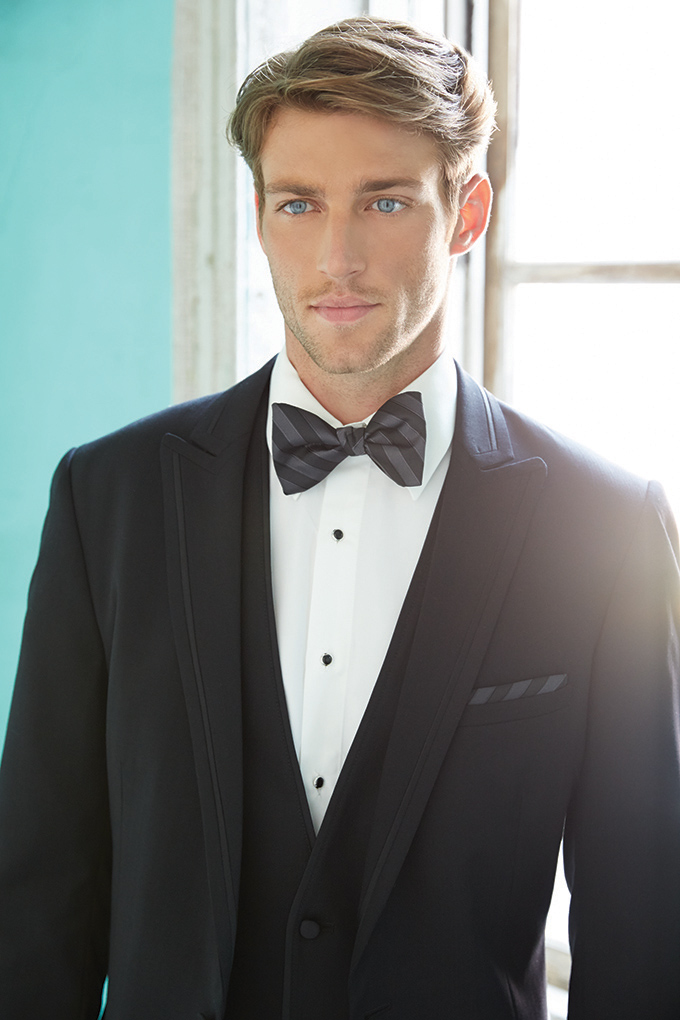 A striped bow tie, pocket square, and perfectly tailored vest make a handsome accompaniment to this stylish tuxedo for the groom and his men.
If you'd like to see more of these pairings in action, see this video of how the Allure Men looks come together seamlessly with the Allure Bridal collection. Then start mixing and matching your favorite pieces for your wedding party from Allure Men !
Allure Men has generously sponsored this post, the content is written by the editor of Dress for the Wedding.