Where to find Rusty Rose, Desert Sunset, and Terracotta bridesmaid dresses, to get that desert sunset boho wedding look!
Affiliate commission links are used in this post.
Terracotta Bridesmaid Dresses
We've seen this shade of bridesmaid dress referred to as rust, dusty rose, terracotta, sunset, Sedona rose, and more! But for the easy dress searching purposes, we're calling these dresses terracotta bridesmaid dresses!
If you've seen recent boho wedding inspiration on Instagram, then you've certainly seen this color and various palettes. This earth shade calls to mind desert colors, and shades of the sun at sunset. It's a very modern boho style for weddings, and is perfectly suited to a desert wedding, or a fall wedding -- but certainly not limited to just those venues and times of the year.
Where to Shop for Rusty Rose, Sedona, Sunset and Terracotta Dresses for Bridesmaids
If you're wondering where to shop for bridesmaid dresses in this terracotta shade, here's our guide to where to find these dresses. Whether you pick just one shade and silhouette or have your bridesmaids mix and match the look, this is a great shade! We hope this guide helps you find the perfect dresses!
Birdy Grey

We love that Birdy Grey bridesmaid dresses are under $100, and have pockets, have convertible necklines, come in a range of sizes including plus and have gorgeously modern styles! And now Birdy Grey has a new shade for 2020 called Terracotta that makes us oh-so-happy when seen on their oh-so-pretty dresses! See more about Things We Love About Birdy Grey Bridesmaid Dresses
Shop More Dresses in this Color at Birdy Grey
BHLDN

BHLDN is always showing the most stylish and top trending looks for bridesmaids, so it's no surprise they were on the desert sunset color palette before anyone else! They are still offering some gorgeous dresses in their color Sedona, including some of the prettiest patterns from Jenny Yoo and silky and satiny slip dresses and gowns. See more BHLDN Bridesmaid Dresses we love. BHLDN styling examples are also full of ideas and other colors to mix and match within this palette.
Shop More Dresses in this Color at BHLDN
Lulus

Ever since Lulus expanded their already fantastic range of dresses into wedding-focused looks we can't stop sharing Lulus dresses for weddings! They are affordable, style-forward, get great ratings, and are often wear-again! Best of all they ship quickly and are returnable! Lulus has a shade called Rusty Rose that we love, and it mixes with their blush shades nicely too. (Hint, hint!)
Show Me Your Mumu

Show Me Your Mumu bridesmaid dresses are -- to us -- the original pioneers for boho bridesmaid style and the cool girl look! So, we're not surprised they've nailed this earthy shade of bridesmaid dress as well! Their easy to wear, easy to mix and match maxi dresses for bridesmaids come in a shade called Rustic Mauve, which is available in a crisp crepe or satiny fabric, that is the perfect sunset shade. Mix with their blush colors, or warm it up with neutral and gold shades.
Shop More Dresses in this Color at Show Me Your Mumu
David's Bridal

David's Bridal always keeps on top of the freshest colors and new silhouettes that combine class fits with emerging trends. They offer over 300 bridesmaid dresses and colors like Desert Coral, Sedona, Sand, Cinnamon
Shop More Dresses in this Color at David's Bridal
Dessy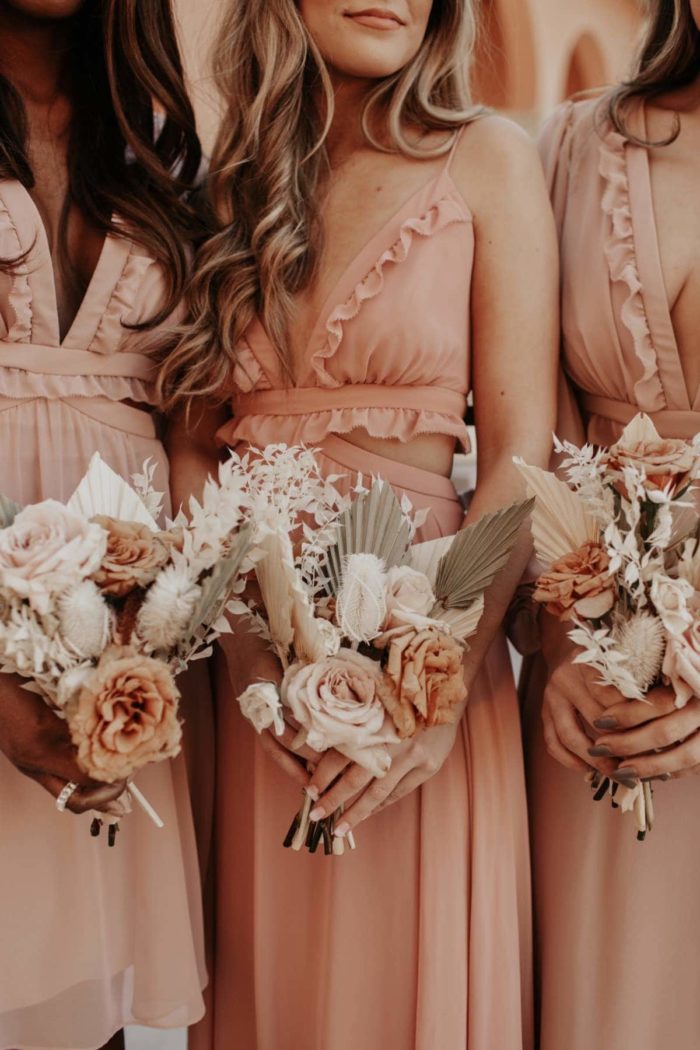 Image used with permission via Dessy
We featured The New Lovely Bridesmaid Dress Collection from Dessy, and warm shades of terracotta and desert rose were front and center of this collection. We especially love how it looked on these silk midi dresses and boho long sleeve dresses with cut-outs! Their shades of desert rose, toffee, bliss, auburn moon and more are great desert-inspired shades!
Shop More Dresses in this Color at Dessy
Azazie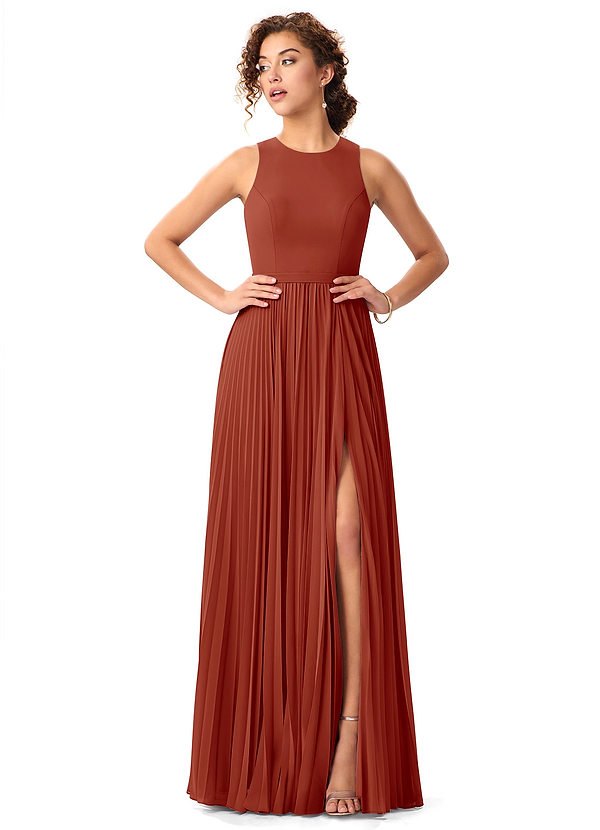 Azazie Lindie Bridesmaid Dresses | Azazie
We reviewed Azazie bridesmaid dresses last year and found them to be good quality, with the added bonus of being under $150 and pre-tailored for a custom fit. Azazie also has nearly every color you can think of available across so many styles. We like Rust or Desert Rose, Peach, or Papaya to get that desert earth color.
Shop More Dresses Like This at Azazie
Kennedy Blue

Erica
from: Kennedy Blue
Kennedy Blue offers bridesmaid dresses in a shade called spice, which is a great burnt orange color. Best of all, many of these bridesmaid dresses have pockets!
More Dresses from Kennedy Blue
Terracotta and Desert Earth Shades: Shop The Look
This shop section allows you to shop for more bridesmaid dresses in these earthy rusty hues. The shop feature uses affiliate links. Here's another shopping hint - this color also goes with (and goes by shades like) Rose Gold Bridesmaid Dresses and Coral Bridesmaid Dresses.