Navy Blue Dresses Under $100
Hi! This post featuring navy blue dresses under $100 is a little bonus post to yesterday's late afternoon post featuring navy blue wedding ideas! Great ideas await those of you planning a navy blue wedding or just looking for a dress on a budget!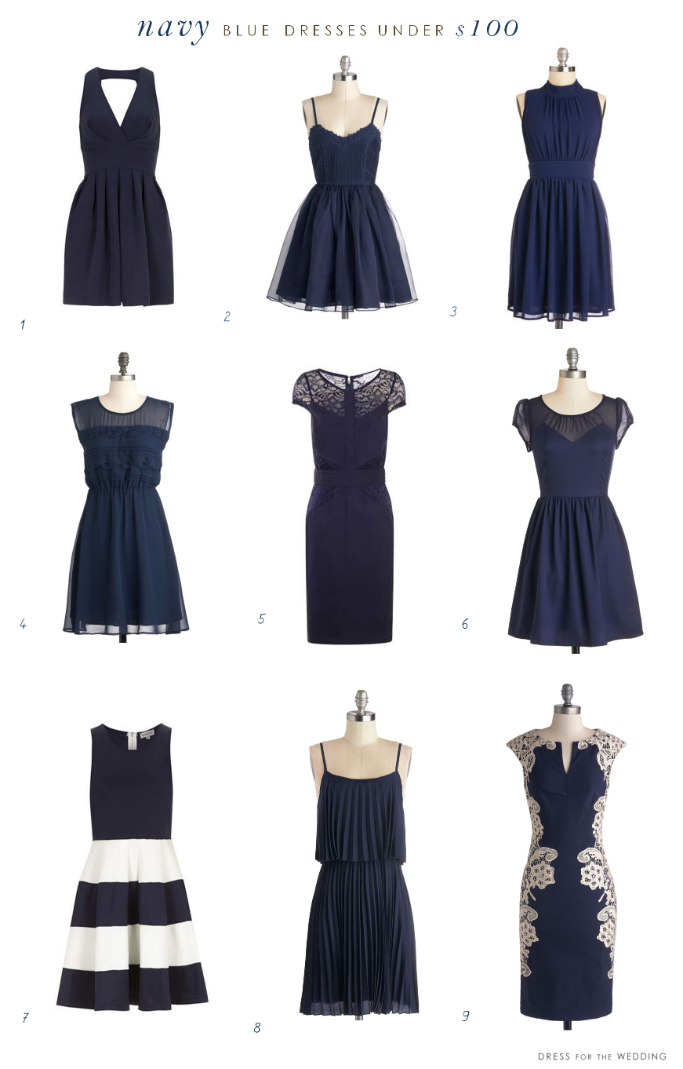 1. Navy Crossover Dress by Closet at Dorothy Perkins $89.00 2. Navy Too Late Dress at ModCloth $84.99 3. Windy City Dress in Navy $69.99 4. Vogue Wave Dress at ModCloth $49.99 5. Paper Dolls Navy Lace Dress at Dorothy Perkins $99.99 6. Arrive With Aplomb Dress at ModCloth $49.99 7. You Nautical Skater Dress at Dorothy Perkins $57.00 8. Clock Strikes Farewell Dress at ModCloth $54.99 9. Lakeside Libations Dress at ModCloth $89.99
Cute Navy Dresses Under $100
As I mentioned a few weeks ago, I'm trying to find more dresses under the price point of $100, since that seems to be the ideal budget for many of us. Navy is a staple of my wardrobe, and will be even more so since it has been named one of the hot colors for fall! These navy dresses will work for bridesmaids, wedding guests, or just to wear to any of life's events. Navy is rarely out of place and is a great alternative to the little black dress. If the nine dresses above don't quite fit the bill for you, I've collected a few more ideas.
my other finds:

Nordstrom has several great navy lace dresses under $100. This one by BB Dakota is $88, and this one is only $49.99 by EnCreme, and this one by Marina for $99.
ASOS is another store where the styles are great and the prices are too! I'm a fan of this navy lace dress at ASOS, and this navy skater dress with lace inset.
Many of you know I love swiss dots, so this Swiss Dot Skater Dress at Forever 21 is a favorite! Another great store when you want sweetly retro dress styles at reasonable prices is Ruche, and the have plenty of Navy Dresses for less than $100 . As you can see there's no shortage of fun navy dresses for the rest of summer and fall. Try several together for a mismatched bridesmaid look that will not only be timeless, but a cost-saving wear–it-again style and color!



For more dress ideas see:
Navy Blue Dresses for Weddings
You might also want to follow my Pinterest boards:
Navy Weddings, Navy Blue Bridesmaid Dresses, Wedding Guest Dresses, Blue Dresses
More style ideas you might enjoy :