Black and Navy Blue Floral Maxi Dresses
Wedding style trend alert! Since late last fall, and perhaps even before, dark floral prints have been making their way onto the chicest boutiques and best-dressed ladies everywhere. We're going to look at some of the prettiest styles of black floral dresses for weddings!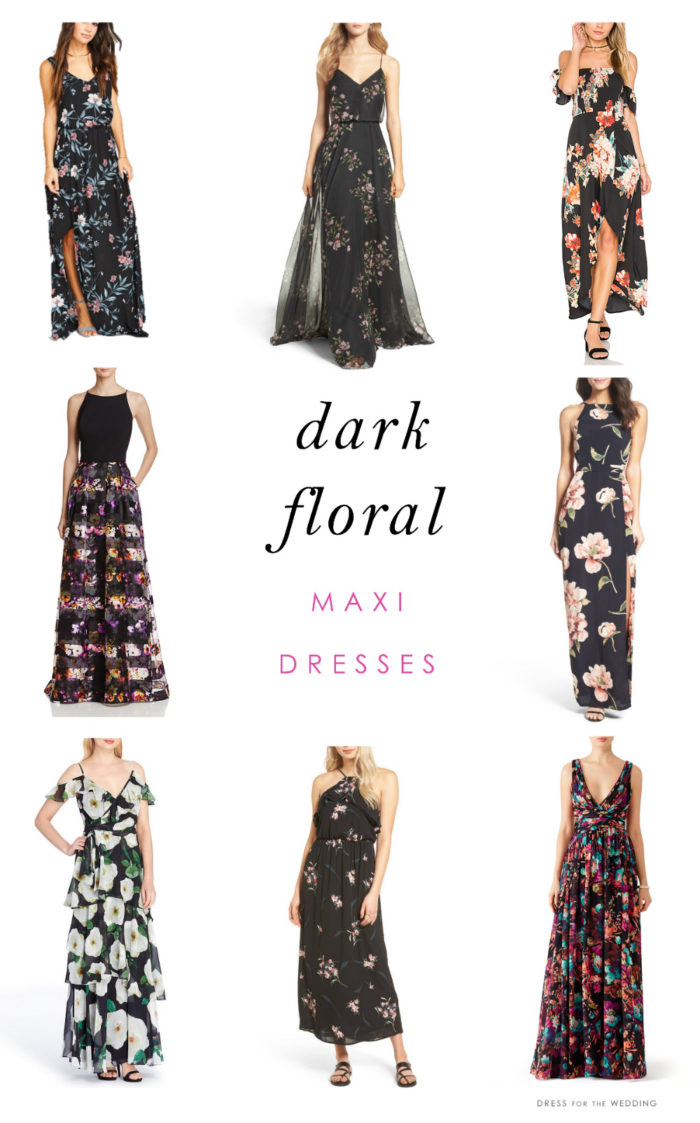 More details about these dresses below! 1. Kendall Maxi Dress 2.  'Inesse' Dress 3.  Large Floral Print Maxi from Band of Gypsies 4. Two-Piece Floral Formal Gown by Aqua from Bloomingdale's 5. Roe and May Lido Crepe Long Dress from Nordstrom 6. Tahari ASL Floral Gown from Dillards 7.  Lush Ruffled Maxi Dress 8. Badgley Mischka Dark Floral Gown
Dark floral dresses are a natural choice for fall, and the trend really started hitting stores in full-force then. But even with the advent of spring, these darker floral maxi dresses haven't totally given way to pastel prints, in fact we're still seeing a lot of florals set on black or navy blue backgrounds for spring and summer. When you think about it, this style is ideal for weddings, because they a cheery way to wear a black or navy blue dress, in a floral print that is almost always upbeat. We showed a short black floral dress a few years ago, and this navy cold shoulder maxi.  Here are a few more dresses in this trend that we think are great for guests, and some that are perfect for a mix and match look in a bridal party!
Dark Floral Print Maxi Dresses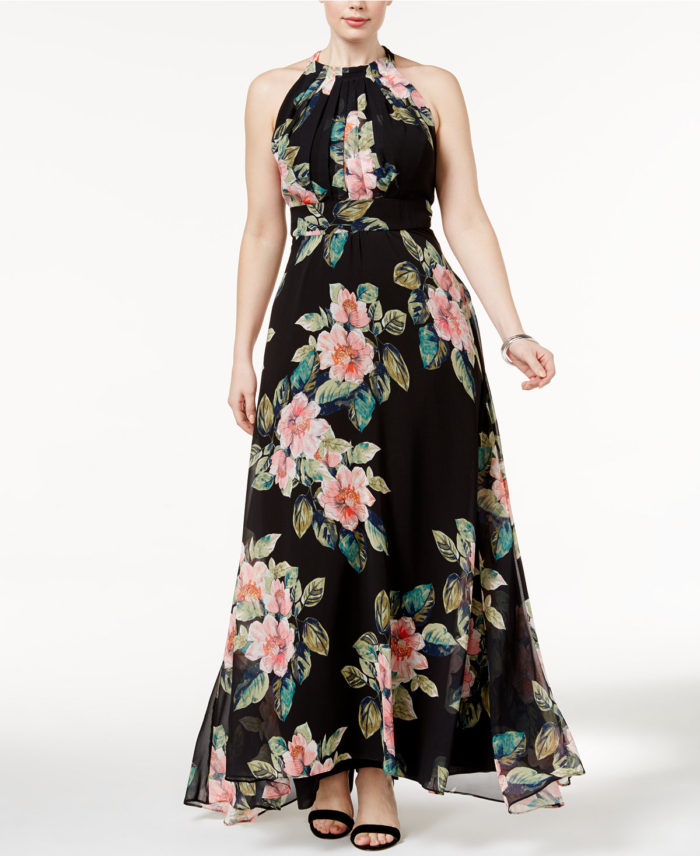 International Concepts Maxi Dress from Macy's would make a gorgeous choice for any spring wedding, it would also be a beautiful choice for a mother-of-the-bride dress for a outdoor casual wedding.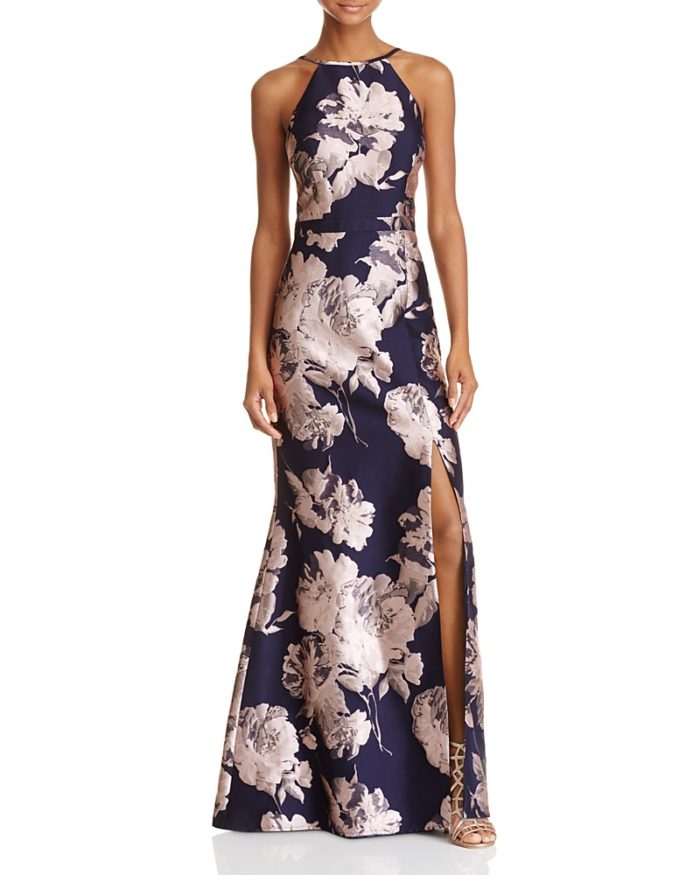 Floral Jacquard Gown by Avery G from Bloomingdale's. This richly textured navy and blush high-neck formal style is ideal for a spring formal or black tie wedding.

Give Me Amore Black and Pink Floral Print Maxi Dress from Lulus offers a stunning off-the-shoulder style. A truly romantic dress for spring weddings.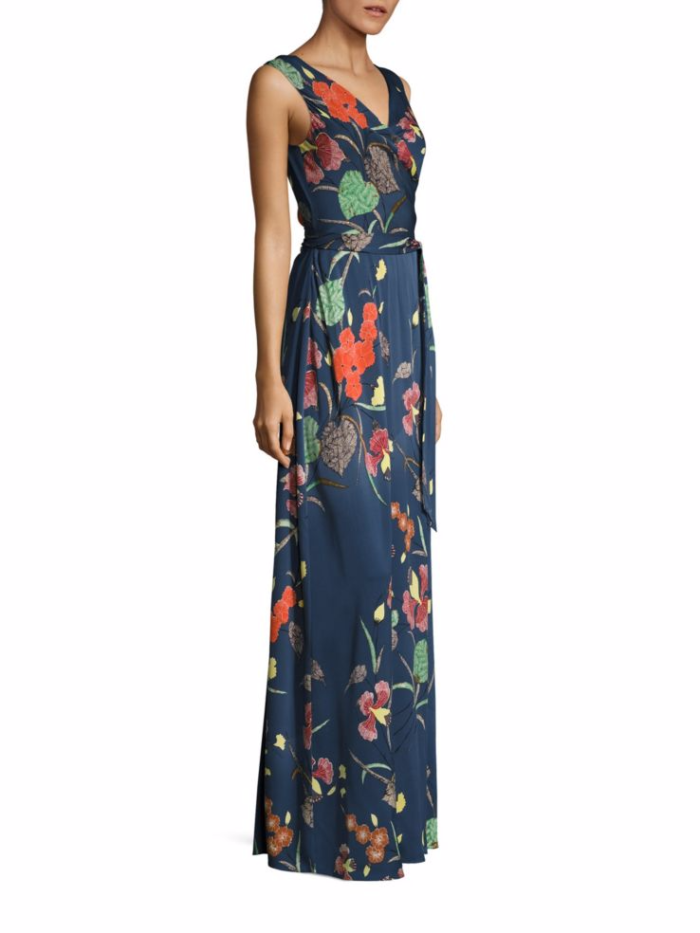 Sleeveless Wrap Gown from DVF from Saks Fifth Avenue. An elegant formal length and eye-catching print, make this a great pick for everything from a semi-formal wedding to black tie reception.

Wondrous Water Lilies Black Floral Print Maxi Dress Sleeve-seekers, take note! This all-season style is a wonderful high-style choice for early-spring, to give a little added coverage (and warmth!) for those chilly wedding weekends!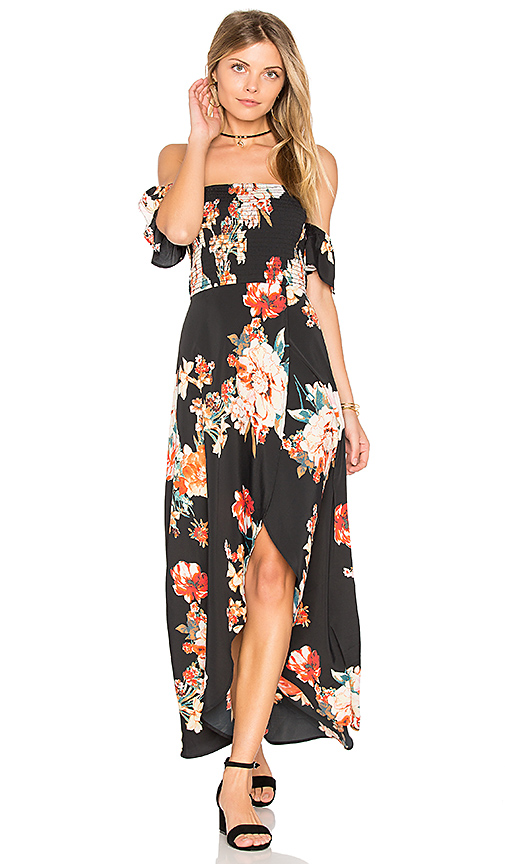 Large Floral Maxi from Band of Gypsies A beautiful bold boho-print with off-the-shoulder top for beach weddings or outdoor wedding receptions.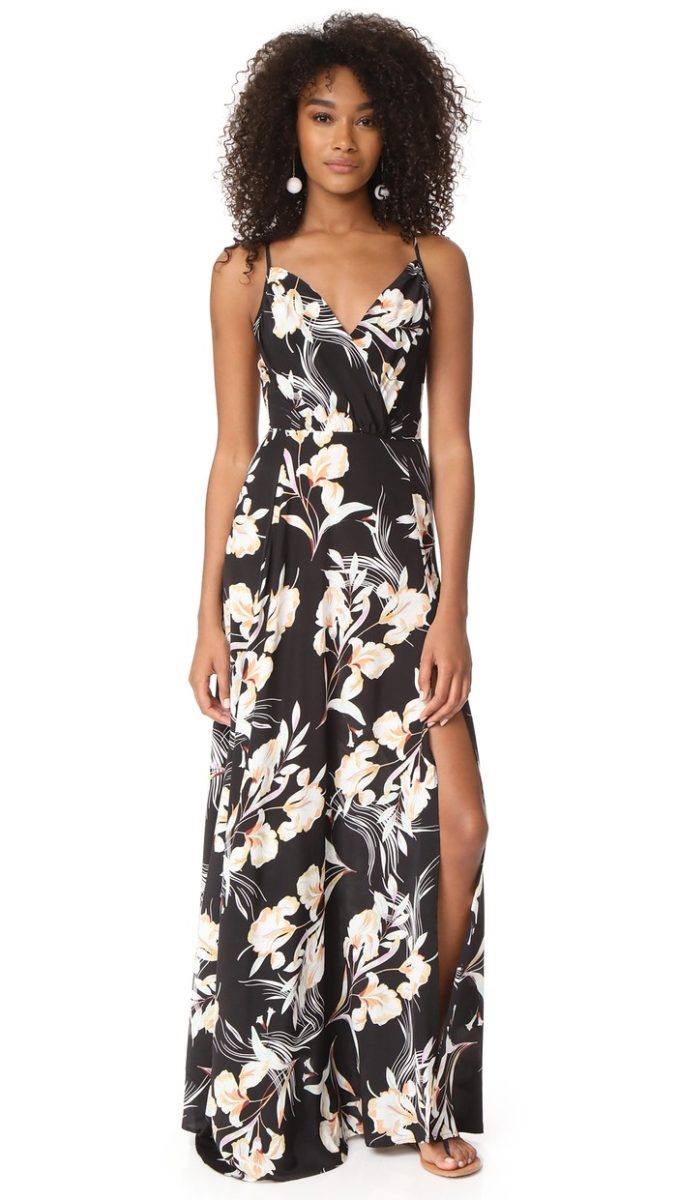 'Kat' Dress by Yumi Kim from Shopbop A striking print and flattering wrap style make this a gown that can go to nearly any wedding in style!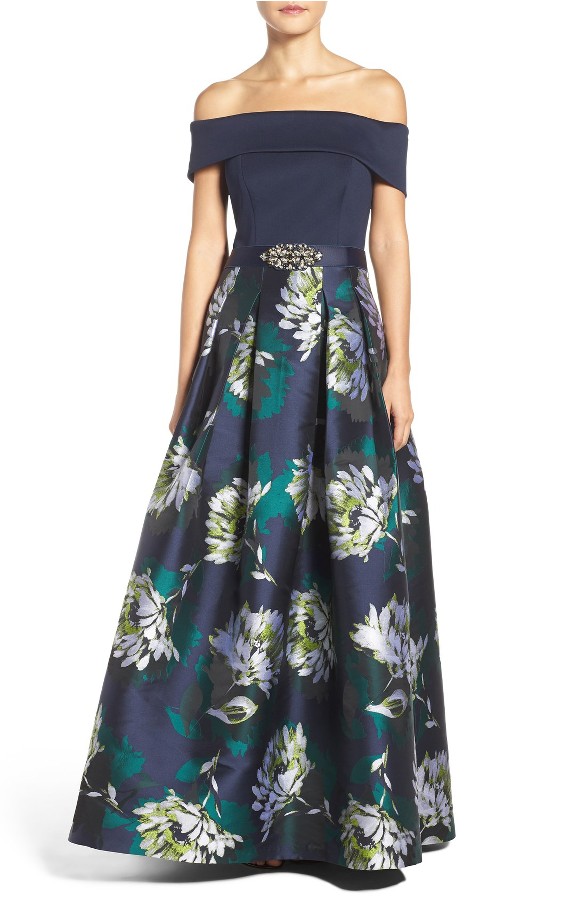 Off-the-Shoulder Ball Gown in Navy Blue by Eliza J from Nordstrom This formal off-the-shoulder style is done in an eye-catching combo of navy, green, and yellow. This ballgown would be ideal for black tie events or for a supremely stylish Mother-of-the-Bride gown for spring, summer, or fall.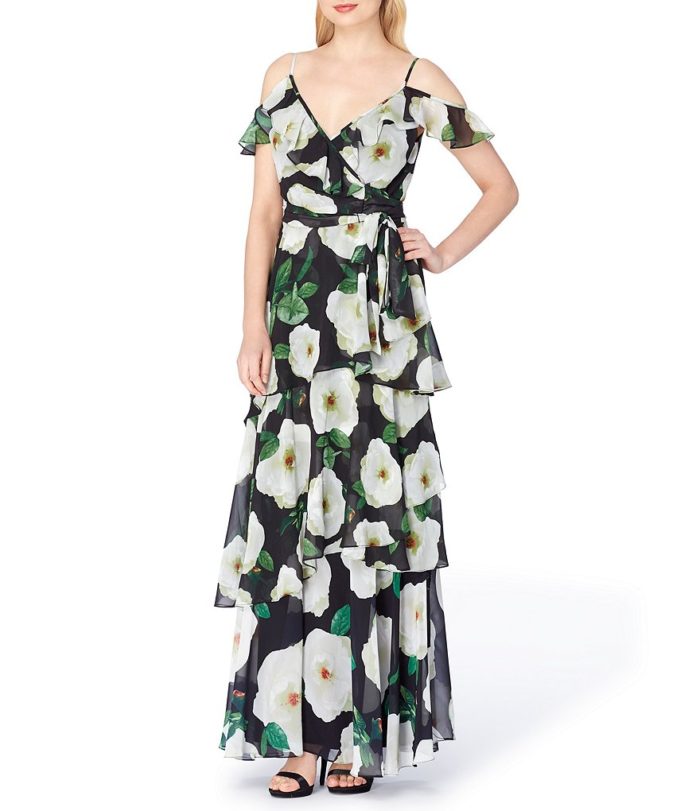 Tahari ASL Floral Gown from Dillards Pretty tiers and just the right amount of shoulder. This dress would be at home at a rustic wedding, a winery wedding, or any outdoor wedding reception.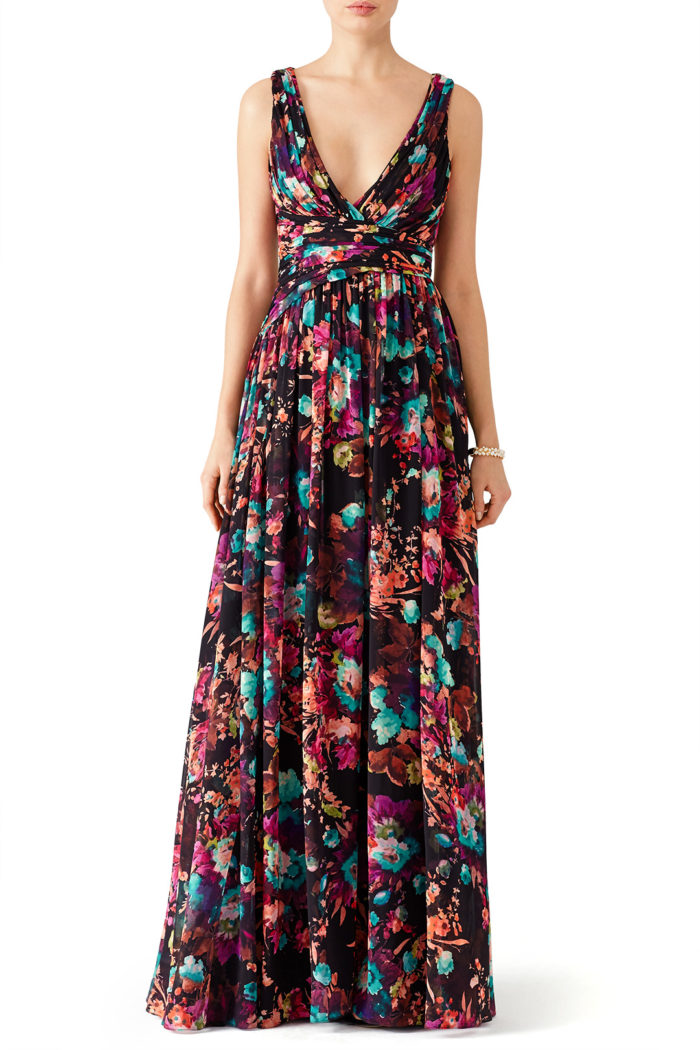 Badgley Mischka Dark Floral Gown from Rent the Runway This designer gown can be rented for a fraction of the retail cost, and this bold, bright print is perfect for semi-formal and formal invitations!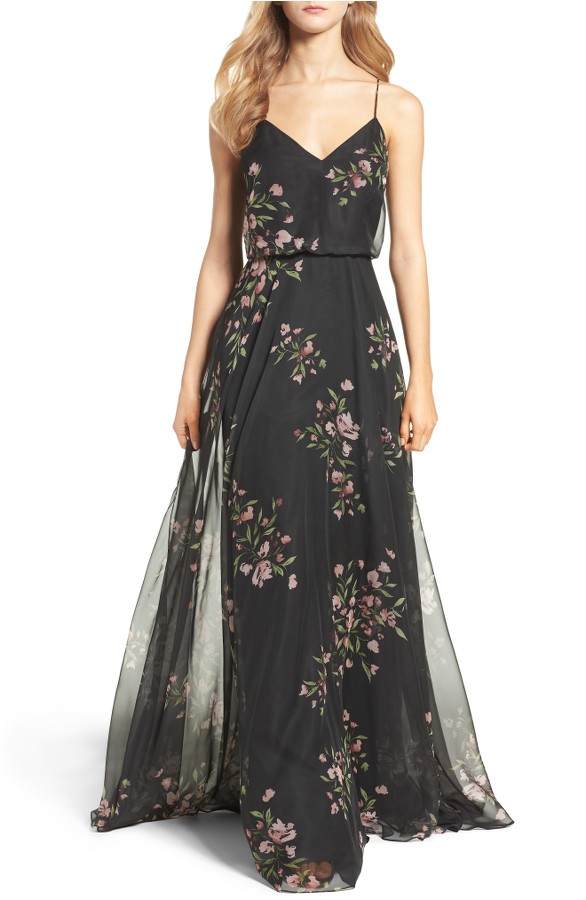 'Inesse' Dress in Black and Cinnamon Rose by Jenny Yoo from Nordstrom  This dynamic style is a gorgeous wedding guest dress, but also is made to pair with Jenny Yoo's line up of stunning bridesmaid dresses. Mix this with blush, cinnamon, or solid black dresses for a beautiful wedding party style.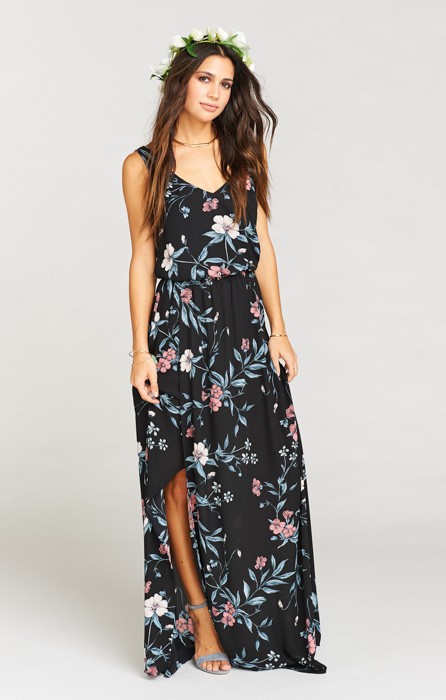 Kendall Maxi Dress in Wedding Soiree from Show Me Your Mumu Another bridesmaid pick that would be lovely for a tropical destination wedding or beach wedding, or as a summer wedding guest style.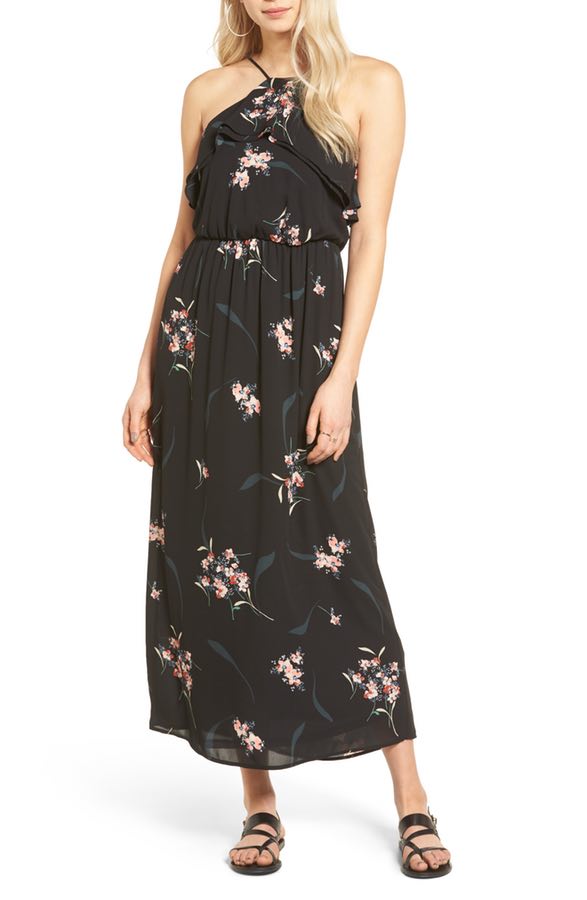 Lush Ruffled Maxi Dress from Nordstrom (Only $55!) Dress this one up with a pair of heels and some statement earrings and a clutch to wear as a guest of a outdoor wedding or rustic wedding.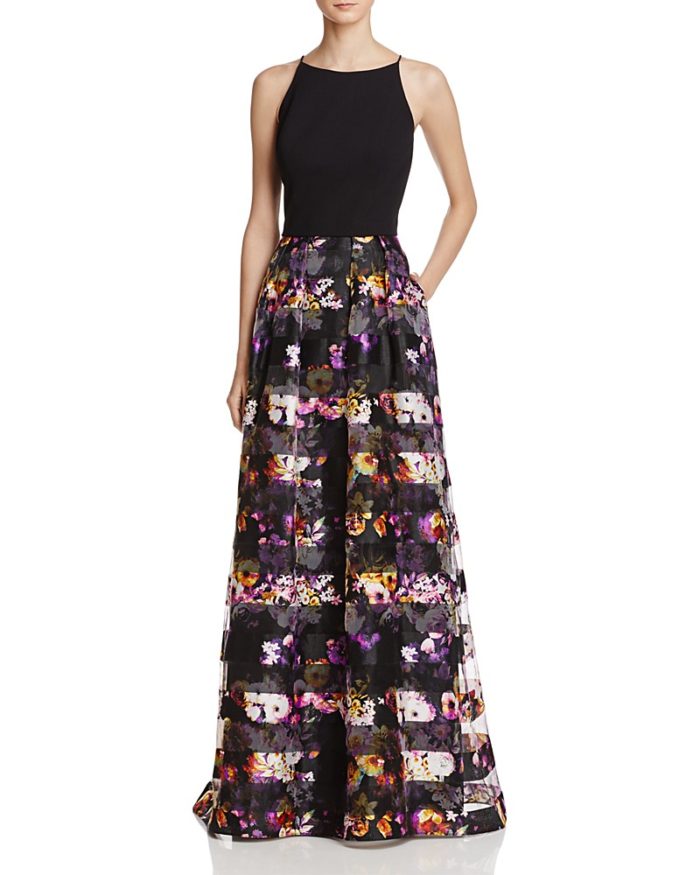 Two-Piece Floral Formal Gown by Aqua from Bloomingdale's. These chic separates are a great style for a modern formal wedding.

Legendary Romance Black Floral Print Wrap Maxi Dress Sweet and romantic style for a guest of a rustic or garden wedding.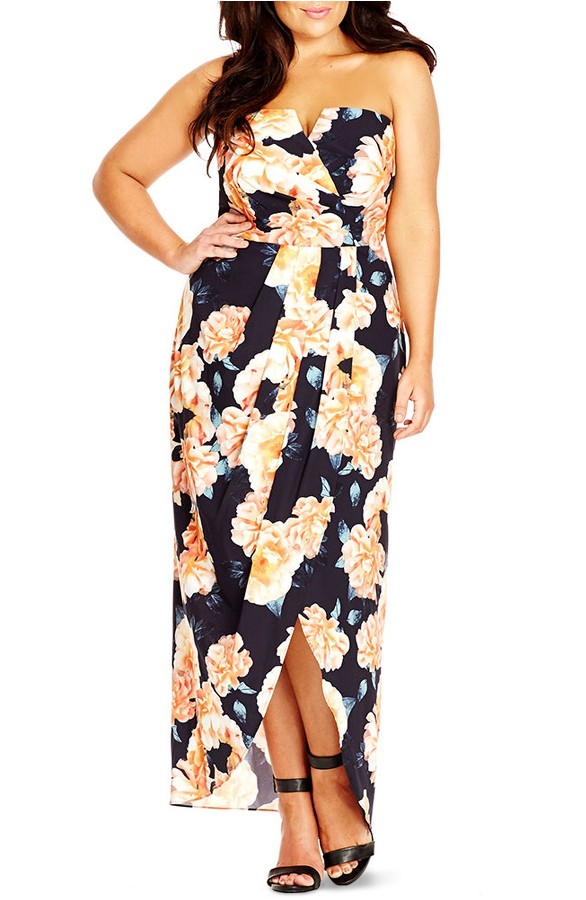 Tulip Time Strapless Floral Maxi Dress from Nordstrom A pretty little strapless style with plenty of flower power for  semi-formal cocktail wedding and reception attire.

A Dream Realized Navy Blue Floral Print Maxi Dress. A beautiful high neck flowing gown for daytime wedding or afternoon wedding.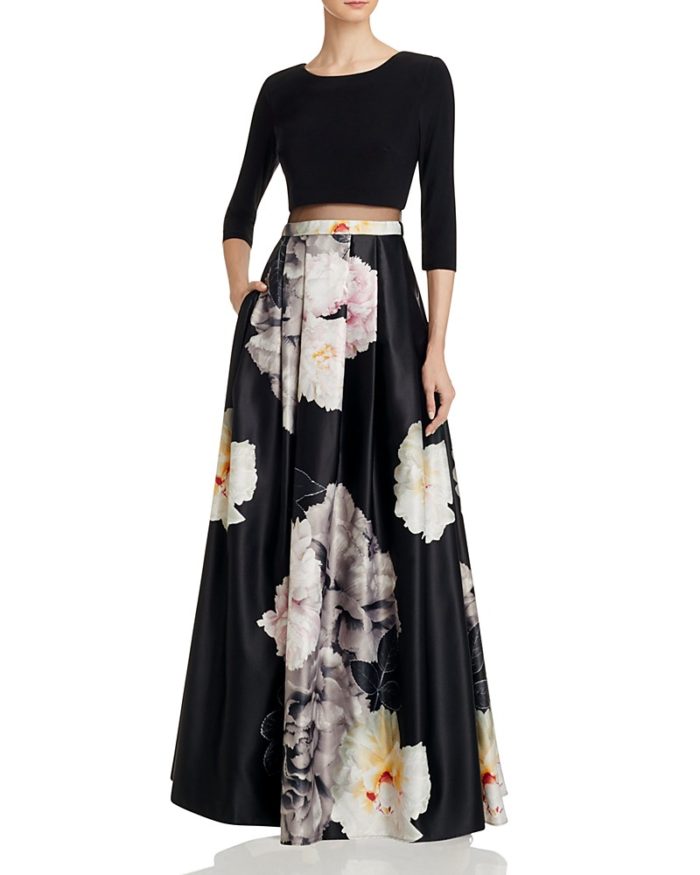 Dylan Gray Illusion Waist Gown from Bloomingdale's Elegant sleeved style for a formal evening wedding!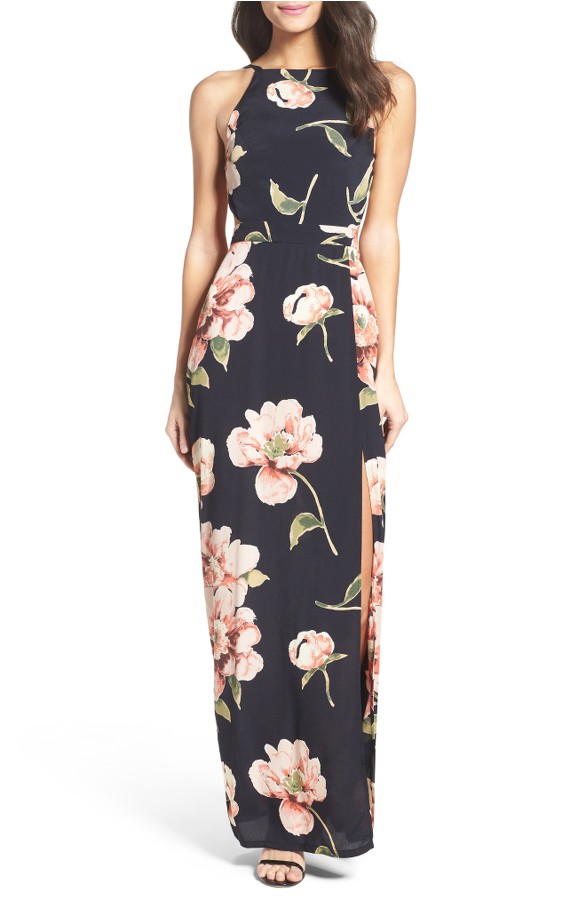 Roe and May Lido Crepe Long Dress from Nordstrom a chic and versatile style that can be worn to an afternoon wedding to more formal evening wedding events.
More Outfit and Dress Ideas for Guests of Weddings
Check out more looks!
Maxi Dresses for Wedding Guests
Black Dresses for Wedding Guests
Navy Dresses for Wedding Guests
our recent style idea for how to accessorize a floral print cold shoulder maxi dress!
SHOP THE LOOK