In case you missed it, here's a recap of the guest post I did for Bayside Bride this week, on Annapolis and nautical-themed wedding attire. If you're planning a wedding in the Chesapeake Bay area, Bayside Bride is an excellent resource. Check them out at baysidebride.com. Enjoy!
Nautical Wedding Look: Dressing For A Bayside Wedding
As a lifelong lover of weddings and anything nautical, I was thrilled when Bayside Bride invited me to do a guest post. I love to create looks based on themes, so naturally when thinking of the quintessential Bayside Bride, influences like the wonderful preppy looks I often see in Annapolis, blue and gold colors, and nautical style came to mind to inspire the elements of "Dressing for a Bayside Wedding."
The Bayside Wedding Guest
The first look I've created is for any female guest who may be attending a Bayside Wedding. I love green as a color for guests to wear to weddings, because it's cheery, never out of fashion, and appropriate for nearly every season. I wanted to give the guest a slightly preppy and nautical look, in the style of an effortlessly chic Annapolitan.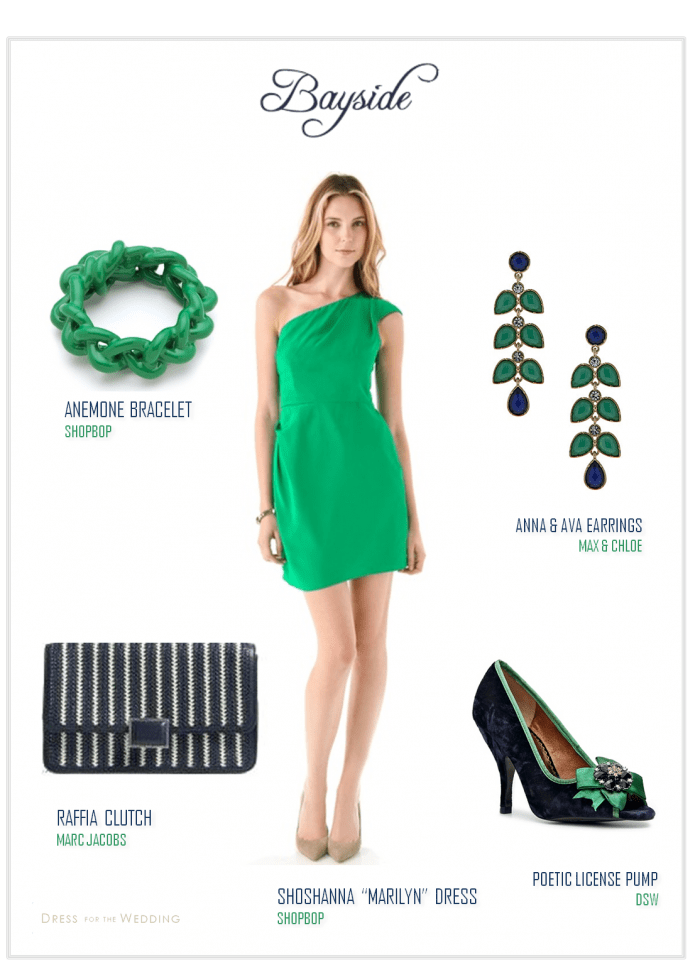 Shoshanna Marilyn Dress
/
Anna & Eva "Emma" Earrings
/
Poetic License Pump
/
Marc Jacobs Raffia Clutch
/
Orly Genger by Jaclyn Mayer Anemone Bracelet
Dress For The Bayside Bridesmaid
I wanted to have some fun with this bridesmaid look since I think there are so many ways a bride can incorporate little nautical touches into her maids' attire, and the effect when seen repeated on all of your bridesmaids can be beautiful.
The focal point of this look is this amazing bridesmaid's dress by LulaKate. I know I'm not alone in thinking that a nautical wedding needs stripes, and I love the bold look of this fun little dress. LulaKate's line offers many styles, and colors, so your bridesmaids can all pick a style they are comfortable wearing, and everything--including the color and fabric-- can be customized. They even have seersucker! LulaKate's line is available through Bella Bridesmaid which has locations across the United States.
To set off the bold stripes, I thought a preppy statement necklace from J.Crew would be perfect for a strapless neckline like this one, and it helps bring in a little color. The little anchor earrings match the stripes on the dress perfectly, so I had to show you those, but if it's too matchy-cutesy for your wedding style, just some simple pearl studs will do!
The finishing touch is this adorable nautical clutch called "For Sail" from Tipsy Skipper. I've seen bridesmaids carry clutches instead of bouquets, but if that's not your plan, these simply make perfect bridesmaids' gifts for your ladies to stash their wedding day essentials. Tipsy Skipper will also create custom clutches that match your wedding colors, and embroider the clutches with monograms for your ladies, making them beautiful personal keepsakes.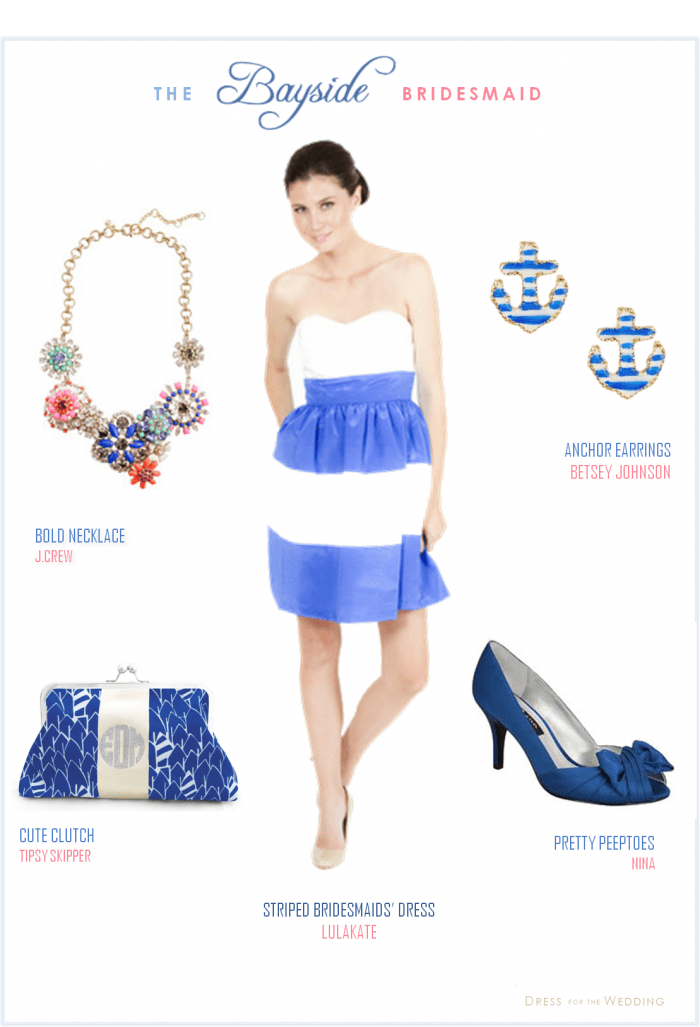 LulaKate Sassy Stripes Bridesmaids' Dress
/
Betsey Johnson Anchor Earrings
/
Nina "Culver" Peeptoe Pumps
/
Tipsy Skipper Captain Morgan Clutch in "For Sail"
/
J. Crew Flower Lattice Necklace
Dress For The Bayside Bride
For the bridal look, I've envisioned a Bayside bride who wants to pay tribute to her Annapolis heritage by wearing blue and gold. The deep navy and gold looks so elegant when contrasted against this gorgeous lace Coren Moore "Chloe" lace bridal gown. Coren Moore's designs always look so refined and have been the choice of many a Coastal bride and bridesmaid. She also has amazing bridesmaids' dresses and ties for grooms and groomsmen, Her line can also be found at Bella Bridesmaid locations across the US and in Baltimore and at Garnish Boutique. I've paired this with some regal sapphire and gold earrings (they remind me a little of the Kate Middleton's engagement ring!) and a stunning blue and gold nautical statement necklace. The striking navy sash is handmade by Nia Person, who also offers a whole range of colors or can customize the sashes to your liking. I finished the look with one of my favorite finds -- these gorgeous bejeweled navy and gold satin heels. They are delicate, bridal, and most importantly, something blue (and gold!)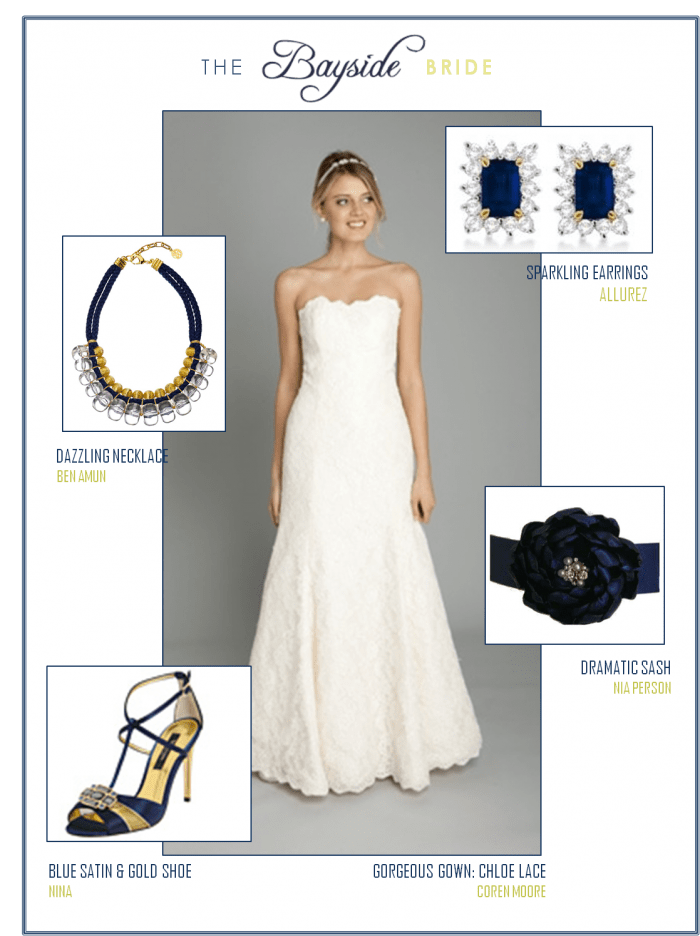 Coren Moore "Chloe" Lace Gown
/
Allurez Emerald Cut Sapphire Earrings
/
Nia Person Navy Flower Sash
/
Nina Caskade Blue and Gold Strappy Heel
/
Ben Amun Necklace
Accessories For The Bayside Bridal Party
Just in case you can't get enough blue, gold, and nautical, I've included some more accessories like this amazing crab critter tie from Coren Moore and Vineyard Vines that is just perfect for any grooms and groomsmen to wear for Chesapeake Bay-themed nuptials.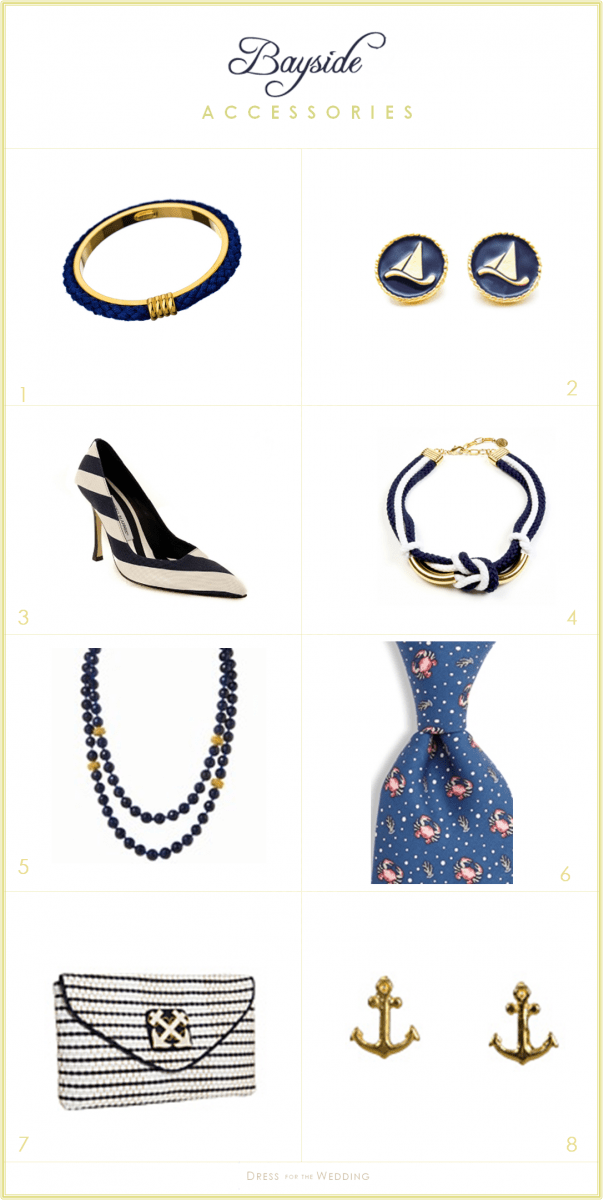 1.
Ben Amun Blue Cord Gold Plated Bangle
/2.
Tipsy Skipper Earrings
/ 3.
Manolo Blahnik Striped Pump
/ 4.
Ben Amun Yachtmans' Knot Necklace
/ 5.
Julie Elizabeth Faceted Blue and Gold Necklace
/ 6.
Coren Moore/ Vineyard Vines Crab Tie
/ 7.
Lilly Pulitzer "Anchors Away" Summer Chic Clutch
/ 8.
Dogeared Jewelry Anchor Earrings
I hope these ideas provide some inspiration to all the Bayside Brides-to-be. Wishing happy weddings to all of you!