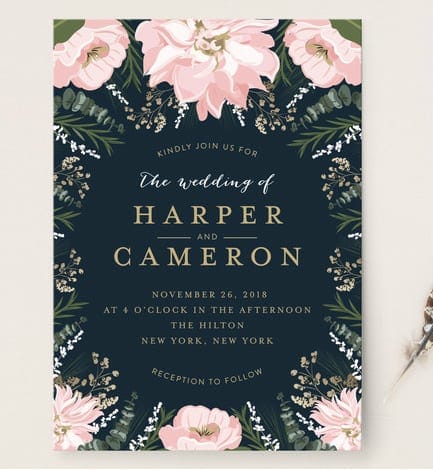 This post about a sale on wedding invitations has affiliate links from our sponsors, which means this site may earn a commission on sales.
Cute Wedding Invitations "Peonies & Berries" - Customizable Wedding Invitations in White or Blue by Susan Moyal from Minted!
Great Sale on Wedding Invitations!
If you're in the start of wedding planning mode, ordering your wedding invitations is probably a big priority on your list! Well, October is a great time to finalize and order your wedding invitations from Minted, because they are offering 15% off wedding invitation suites and ceremony and reception essentials!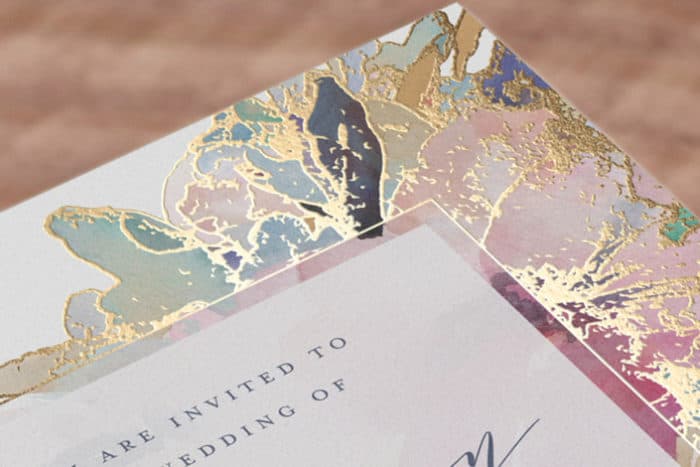 Detail view of 'Gilded Drape' Wedding Invitations from Minted
This means you not only can order and customize your invitations with Minted, but you can also coordinate and save on all the other details: signage for your wedding, place cards, menus, table numbers, decor and more!
Minted has also just introduced a line of custom and personalized belly bands! (To the uninitiated --as I once was --  belly bands are those cute little wrappers that keep your invitation suite together in the envelope!) I was obsessed with so many DIYs - including creating belly bands at my wedding - it was so time consuming for something that didn't get saved! Order them instead and be done with it!
When you're ready to order your wedding invitations,  use CODE WEDSTYLE for 15% wedding invitations and ceremony and reception details! (Hurry, though, this only goes through Monday, October 9, 2017!)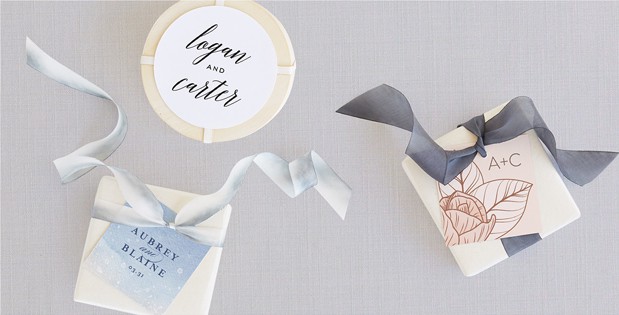 Minted has favor tags (above) and belly bands (below) - such time savers - and so beautifully coordinated with their wedding invitations!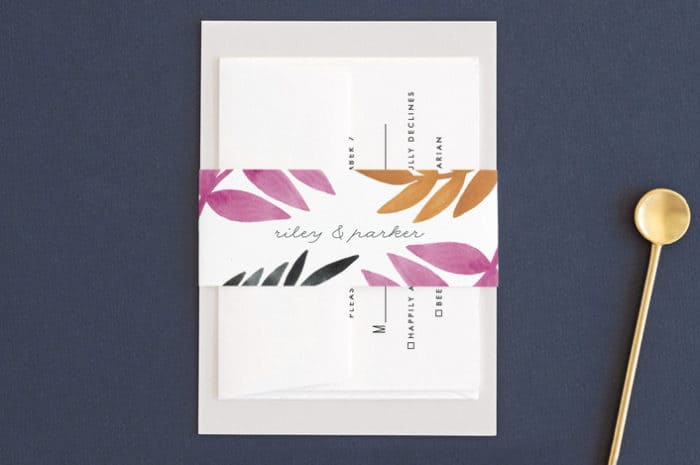 Beautiful Wedding Invitations on Sale!

Holiday Cards on Sale
Now if you already have your invitations, or aren't in wedding-planning mode, you're still in luck, because Minted's Holiday Cards on are sale too! Now, if you are in fall mode, you may forget - like I always do - that THIS is the time to order your holiday cards, too! You are in luck because Minted is offering 15% off holiday card orders.
Get out there, take pictures if you do those - or use your wedding photos if you got married this year, or just pick a pretty design - Minted has some of the best styles! Use code EARLYBIRD17 for holiday cards.  (Ends October 9, 2017!)
Here are a few favorites!
Cute Holiday Cards on Sale