Wedding Dress of the Day: 'Remember' a Sheer Wedding Dress by Monique Lhuillier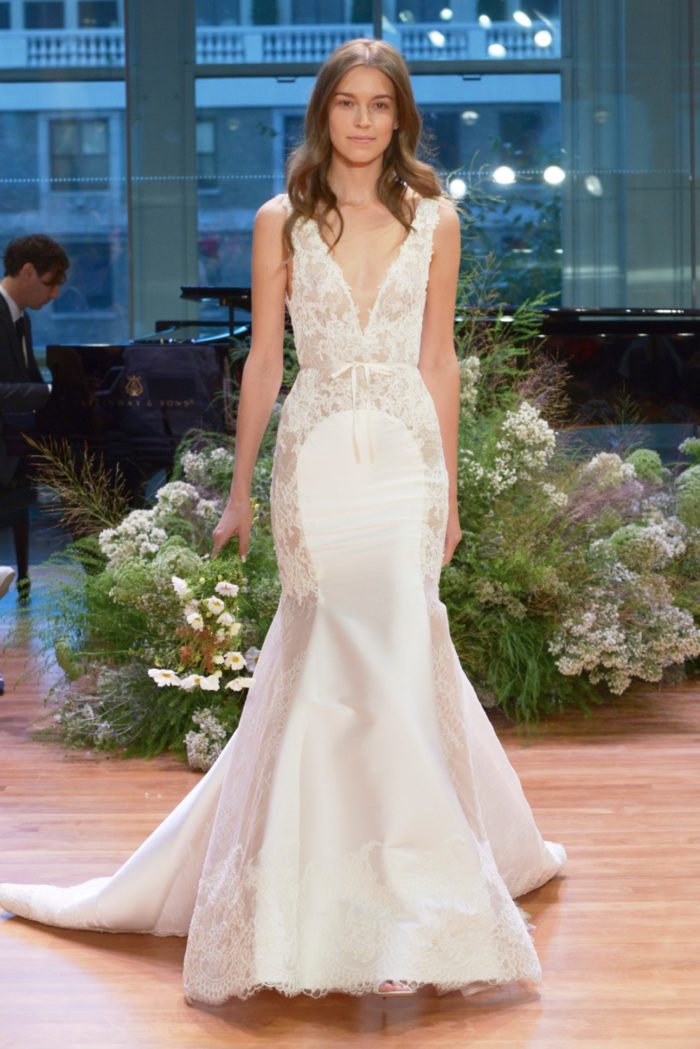 'Remember' by Monique Lhuillier from the Fall 2017 Bridal Collection
Ok everyone, I've said this before, but this time I'm serious. Wedding Dress of the Day is back. I have a month's worth of  wedding dresses to show you, and they are ready to go! Today's wedding dress of the day, is from one of the most sought-after designers we've shown here on Dress for the Wedding, and for good reason! Monique Lhuillier wedding dresses never fail to stun even the most jaded fashionistas, and always succeed at pleasing the most discerning brides.  The entire Monique Lhuillier Fall 2017 Collection was a stunner, perfectly representing the sheer barely-there wedding dress trend in the most refined and ethereal way.
Sheer Lace Wedding Dress
This gown, called 'Remember', immediately stood out for its perfect balance of sheer lace in all the right places, intertwined with perfect structure and modern styling.  I have the feeling 'Remember' will be etched memory of anyone who sees it and will be on the must-have list of many of you seeking a stunning bridal gown!
To see more wedding dresses check out past Wedding Dresses of the Day. Also don't miss our feature on Monique Lhuillier Bridesmaid Dresses.
For more information on the boutiques that carry Monique Lhuillier wedding dresses please visit moniquelhuillier.com.
Selected Monique Lhuillier wedding dresses are available from our one of our sponsors, the in-store locations of The Wedding Suite at Nordstrom.
Links in italics and pieces in the 'Wear it with Section' use affiliate links.
Images are copyright and courtesy of Monique Lhuillier.


See more: