Elegant Dresses for the Mother of the Bride and Wedding Guests
When a wedding guest or mother of the bride requests that I find an amazing evening gown or cocktail dress for them, there are just some designers and labels I know will have the perfect dress. Teri Jon (www.terijon.com) is at the top of that list, because I always know I'll be able to find an exquisite gown that will make the wearer feel her absolute best for her special event.
This post was sponsored by Teri Jon and also uses affiliate links.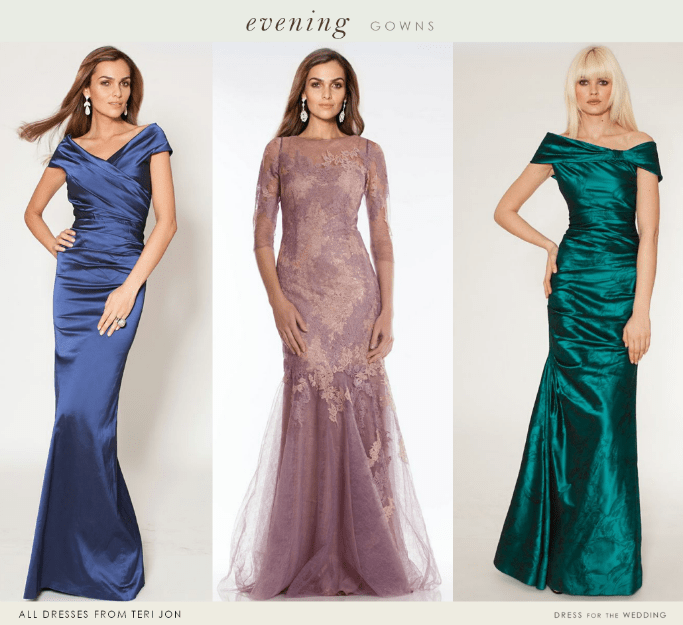 Ruched Portrait Collar Gown | Mauve 3/4 Sleeve Lace and Tulle Gown |  Portrait Collar Taffeta Gown in Teal
Elegant Cocktail Dresses
I'm consistently impressed by the quality, details, and impeccable styles designer Rickie Freeman brings to her Teri Jon line.  Mother-of-the-bride gowns are a specialty of this line, but these gowns are also wonderful for wedding guests, and for anyone looking for a spectacular evening gown or cocktail dress. Today, I'm thrilled to partner with Teri Jon to present a three-part series of looks featuring some selected dresses from their collections; all are absolutely ideal choices when it comes to evening gowns and cocktail dresses for weddings.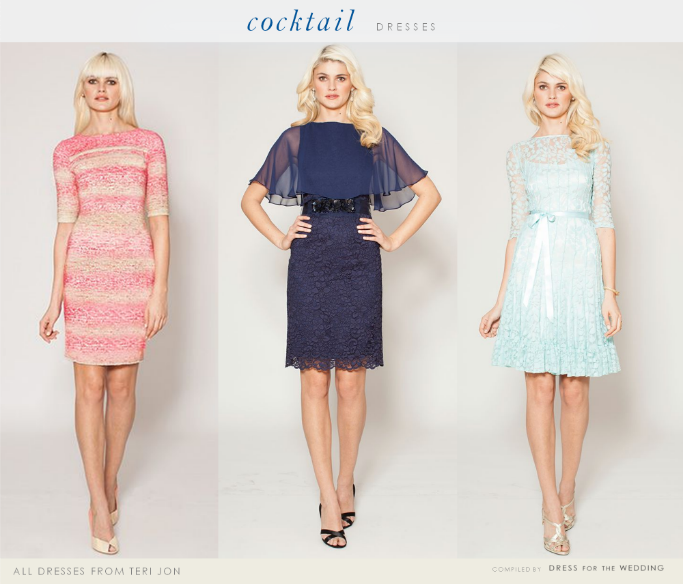 1.    3/4 Sleeve Boucle Dress 2. Lace Flutter Sleeve Dress 3.  Light Blue Cocktail Dress with Sleeves
A mother-of-the-bride or groom wants to look her best and find the perfect dress that will reflect the excitement she feels about her special role in her daughter or son's wedding. A wedding guest wants to dress up, look lovely, and choose a dress that is tasteful and appropriate. No matter which role you are in, Teri Jon has just that sort of dress for you!  Please scroll down the home page today or use the links below enjoy this series below of three wedding-ready looks; I hope  they inspire your next wedding outfit!
See all three looks:
Formal Navy Evening Gown for the Mother of the Bride
Elegant Blue Cocktail Dress for a Wedding
Teri Jon is an affiliated retail partner, and has graciously sponsored this post, but the words of enthusiasm and excitement about these dresses are mine!
Shop Teri Jon Elegant  Special Occasion Dresses