What colors and styles should the Mother of the Bride and mother of the groom wear? Well, there are so many perfect dress styles and colors for the mother of the bride and the mother of the groom to choose for their child's wedding. It just takes a little bit of coordination. Selecting hues and silhouettes that suit the wedding's spirit, formality, and location is a great place to start. This guide will help you do just that!
What Colors the Mother-of-the-Bride or Mother-of-the-Groom Wear for the Wedding?
As with all wedding attire, long gowns and embellishments are more suited to formal and semi-formal weddings. Light fabrics, shorter lengths, and more casual styles are suited to daytime weddings. And most colors -- aside from white -- are perfectly suitable for mothers of the bride and mothers of the groom.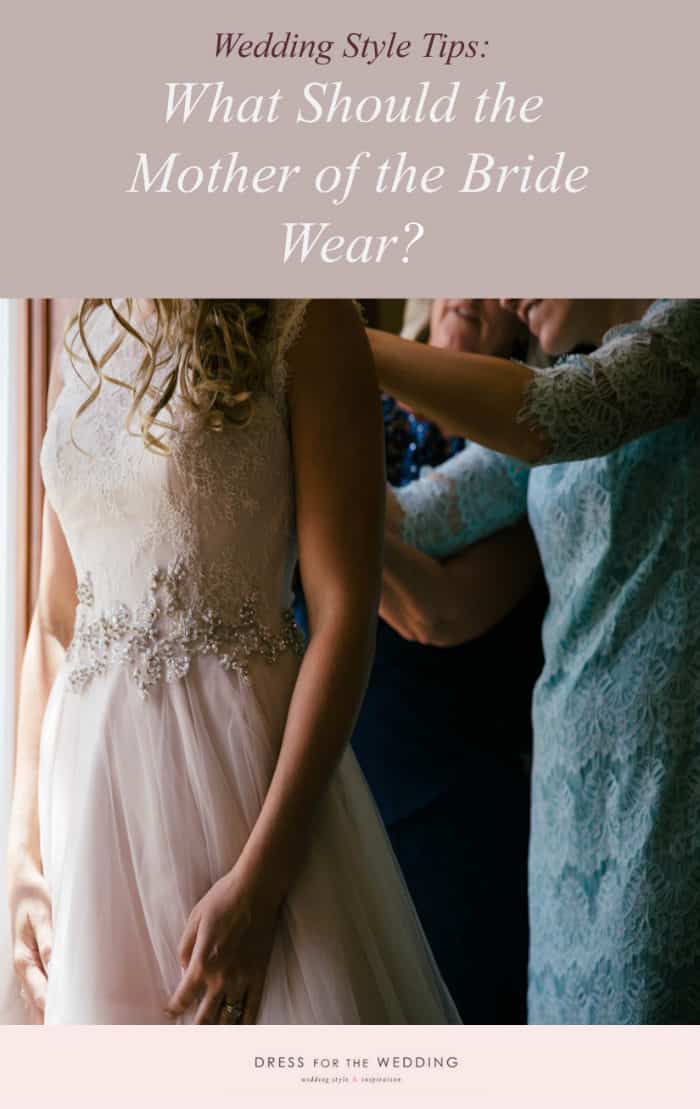 What Colors Should the Mother-of-the-Bride and Mother-of-the-Groom Wear?
We'll go into detail below about which colors you should avoid and which colors are acceptable, but some of the colors that seem to coordinate with many color schemes are: neutrals, champagne, taupe, navy blue, blush, gray, sage green, plum, burgundy, and rose.
And don't forget about textures: metallic beaded and sequined dresses, florals and prints are also great choices. However, you are not limited to only those colors and styles!
If you'd like to browse dresses in these colors, here are quick links to our shop sections where we have these colors!
Gold | Sequined | Burgundy and Ruby | Rose Gold
Pink and Blush | Coral and Peach | Yellow | Light and Dark Green
Light Blue | Dark Blue | Purple and Lavender | Silver and Gray
Taupe, Beige, and Neutral | Black
Favorite Mother of the Bride Dresses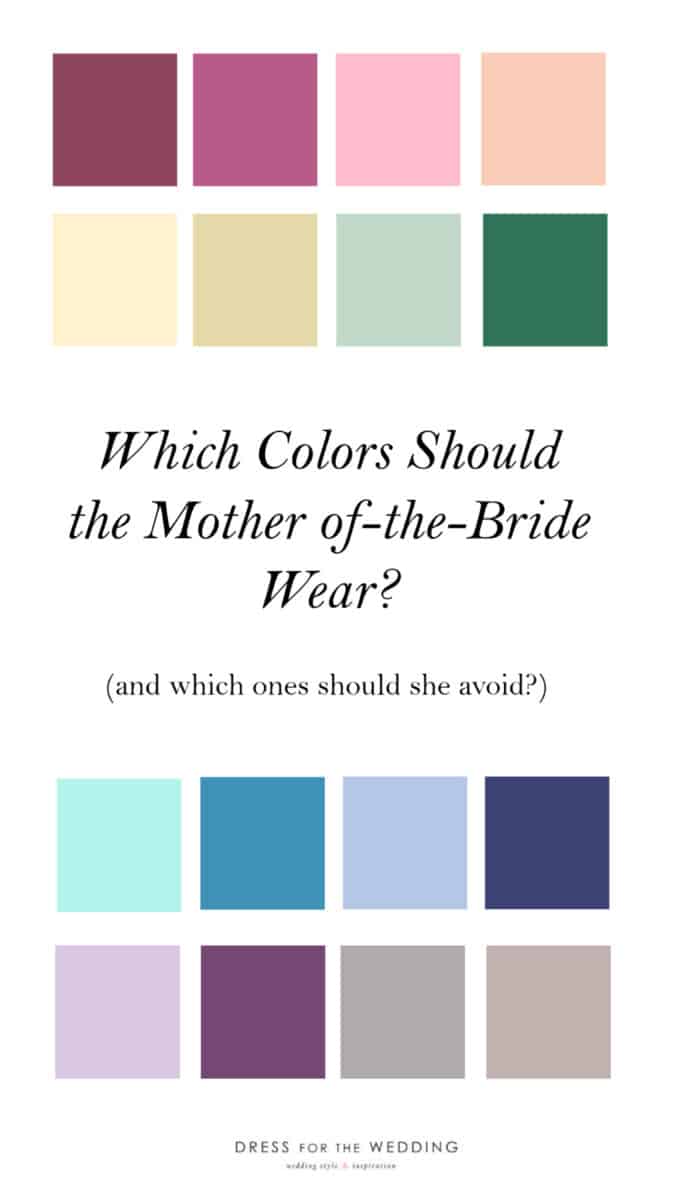 Mother-of-the-Bride Dress Colors to Avoid - Or At Least Check with the Couple Before Wearing
There really aren't any universally off-limits colors for the Mother-of-the-Bride, but there certainly may be particular colors you want to try to include -- and some to avoid -- for your particular wedding. It really is important to get input from the couple on their color scheme, and what the wedding party will be wearing.
Are White, Ivory, and Cream Inappropriate Colors for the Mothers' Dresses?
The wedding rule of not wearing white to a wedding, usually also applies to mothers. However, cream or champagne is a little different. We have seen some mothers wear a beautiful cream or champagne Mother of the Bride gown or dress, or an almost whitish pale silver or blush and look beautiful and appropriate.
When Can a White or Cream Gown Work for a MOB?
While it's still a best to avoid a solid dress in cream or ivory, a floral dress with a white background or a structured suit in buttery cream or taupe sheath dress and jacket looks so different from most wedding gowns, that it can look perfectly suitable. In fact, we are seeing more and more brides choosing blush or black wedding gowns, and couples choosing to ask the guests and family to wear all white. So your child may encourage you to wear cream or white, (especially if they may be wearing blush or a non-white wedding dress). However, these are very special cases. In most situations white or ivory is off-limits for a Mother-of-the-Bride dress. It's also not usually ever appropriate at all for the Mother-of-the-Groom.
Are Red and Coral Mother of the Bride Dresses Off-Limits?
Bright colors like vibrant red, hot pink, and coral can also be up for discussion, and may be colors to avoid for certain weddings; especially those with a subtle neutral or pastel color scheme or theme.
Some couples and guests may regard a bold red dress as too attention-getting. This is not only an issue for the ceremony; the color may stand out too much in pictures. However, if the entire wedding is full of bold and bright colors, then the mother of the bride or groom can usually choose a more saturated color with no issue.
As with anything, there are more exceptions. An elegant jeweled ruby red can be especially appropriate for a holiday or winter wedding, and it can look lovely for a fall wedding too.
If you love to wear red, usually a muted red mother of the bride gown in a color like burgundy, raspberry, dusty rose or auburn is the best choice, and will suit many wedding themes and color schemes. Coral dresses are a little less attention-getting, and can be lovely in spring or summer. Here are some coral mother-of-the-bride dresses we love. Even if bold colors are ok, it's still just a good idea to run any color choice by the couple.
Are Black Dresses OK for the Mother of the Bride?
Black dresses, which were once off-limits for weddings, are ok in the right setting! While a black gown is probably not the first color one should consider, as long as it is festively embellished, a black mother of the bride dress can work well for an evening or formal wedding.
If you do choose a black dress or gown, just take care that the black gown is very festive, and suits the occasion. If it is at all somber, pass on it. Instead, opt for navy or a dark gray. One should also usually avoid black for a morning or daytime wedding.
Styles of Mother of the Bride Dresses
When looking for mothers' wedding attire there are so many options! There are long formal gowns, two-piece jacket and dress ensembles, pantsuits, and short and chic cocktail dresses in a myriad of colors and styles.
Lace mother of the bride dresses, metallic fabrics, beaded gowns, colorful cocktail dresses, intricate illusion necklines, and embellished details are all in style for mothers' attire this year.
Shopping sources on this site use affiliate links. That means that this site may earn a commission if you make a purchase from our links.
Mother of the Bride Dress Codes
Here some dress and fabric ideas for mothers-of-the-bride by dress code.
Black Tie - A formal floor-length gown, ball gown, or evening gown is best. See our picks for Black Tie Mother-of-the-Bride or Mother-of-the-Groom Dresses.
Formal - You may choose a full-length gown or a festive and special occasion cocktail dress with formal cut, hemline, and embellishment.
Semi-Formal - A cocktail dress, or long formal gown. After all, as the mother of the wedding, you're entitled to dress up more than most!
Casual - A more casual cocktail-length dress, in a chiffon or silk fabric, a maxi dress, pantsuit, or lace sheath dress.
Daytime - Shorter gown, a skirt and dressy top, a floral print mother of the bride dress, lace or chiffon dress, or a sheath dress with a jacket.
Rustic - Lace and floral dresses or midi length dresses with beading can look great in a rustic setting. I also like jacket and dress combinations for rustic weddings. See our picks for Mother-of-the-Bride Dresses for a Rustic Wedding.
Beach - Beach weddings are often breezy but also sometimes hot! Choosing a fabric that stands up to beach climates is important. Choosing a chiffon maxi dress, pantsuit, short lace or even cotton or silk cocktail dress for a beachside or coastal wedding. See our picks for Mother-of-the-Bride Dresses for a Beach Wedding.
Should the Mother of the Bride Coordinate with the Bridesmaids?
The Mother of the Bride dresses usually shouldn't exactly match the bridesmaids' dresses, unless the couple wants that level of coordination. However, we personally like the look of when the mothers select a dress in a color a few shades up or down from the bridesmaid dresses (i.e., Dusty pink with blush, or navy with light blue), sort of playing on the idea of ombre shades and mix and match bridesmaid dresses. However, many prefer, that mothers choose a complimentary - but totally different -color than the bridesmaids. It's all a matter of personal preference!
How Should Mothers in the Wedding Choose Their Dress Colors?
Our tip is to find a secondary or tertiary color in the wedding color scheme (i.e. in the invitations or colors in the flowers or decor) and go with that. If you're really unsure, a print or pattern that picks up on the colors in the bridesmaids' dresses.
Here are some pairings that can work well for example. I'll do more specific pick in separate posts for each color soon!
For instance, if the bridesmaids are wearing blush, the mothers may want to try dresses in these colors: a darker pink, rose gold, a beaded pink or gold, burgundy, navy blue, sage green, taupe, silver, or champagne.
If the bridesmaids are wearing light blue bridesmaid dresses:, perhaps the mothers will choose navy blue, gray, silver, pink, or pale green, or tan.
It is especially helpful if the couple can specify any colors and styles they want the mothers of the wedding to avoid, and any colors and styles they'd particularly like the mothers to consider.
Within those guidelines, there should be lots of flexibility so that each mother may select a dress or outfit that suits her personal style.
What are the Best Colors for Mother of the Bride Dresses?
The mothers' attire can be a wonderful way to introduce some of the other colors in the wedding color scheme, or to accent the rest of the wedding party's attire for a cohesive appearance in pictures.
Silver, Neutral Gold/Champagne, Navy Blue, and Pink are some of the top colors we see for Mother-of-the-Bride dresses. Keep in mind sequined and beaded mother of the bride dresses can be a wonderful neutral choice. A floral printed mother of the bride dress is another great way to bridge in several colors.
Should the Mother of the Bride or Mother of the Groom Coordinate Colors?
Traditionally, the Mother-of-the-Bride will select her gown or color first, and then she will communicate with the Mother-of-the-Groom about her choice so that they may select attire of generally equal formality in harmonious colors. However, the mothers' dress styles do not have to exactly reflect each others' choices -- certainly, they do not need to match in color, and different hem lengths, and fabrics, -- as long as each style is appropriate for the wedding itself -- are acceptable as well.
Should You Consult Your Son or Daughter Before Purchasing Your Dress?
Yes, once the mothers have found some options, both mothers should run their selections by the couple, in my option. I think it's important to communicate with the couple before a mother makes a purchase to ensure the dress they have selected is in keeping with the wedding day.
Where to Find Mother of the Bride Dresses
in addition to our shop section of Mother-of-the-Bride Dresses to Buy Online, most bridal boutiques will have dresses for the Mother-of-the-Bride in stock for you to try. You can also buy a mother of the bride dress online from reputable sources. The best places we've found for Mother of the Bride and Mother of the Groom Dresses are:
Saks Fifth Avenue Neiman Marcus
Try Brands Like:
Alex Evenings Pisarro Nights Adrianna Papell
All have great service and return policies, and allow you to try on at home!
Mother Helping Bride Photo by Heather Miller on Unsplash